Category Archives:
Walt Disney World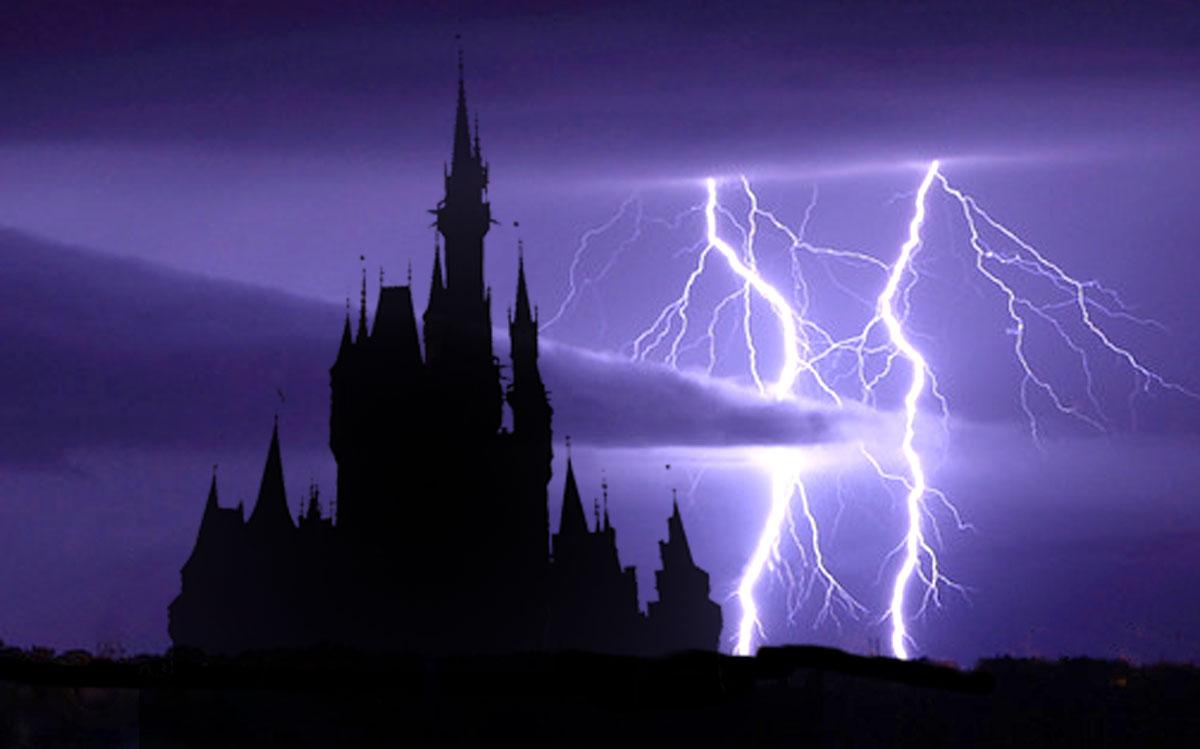 Lighting can strike twice: Parkeology is up to something…
In our previous post, we took a look at Disney's most recent animated features, trying to pick the best theme park tie-in from each one.
As we discovered, great theme park ties are few and far between. How can this be? Isn't Disney a company built first and foremost on animation?
Maybe, but it's also a company that doesn't like to bet the farm on movies that might turn out to be financial or critical busts. Animated film need to age like fine wine or Morgan Freeman before they're worthy of several million dollars in theme park infrastructure. When we last left our heroes, we were working our way backwards through the 54 canonical features, finishing up on Emperor's New Groove, which happened to be released in the first year of the new millennium. Now we're about to enter the 1990s, a time that many consider to be the Second Golden Age of Disney Animation.
Wish us luck…
#39 – Dinosaur
Okay, not exactly the Second Golden Age of Disney Animation. Dinosaur was technically impressive, but pretty dry and forgettable.
But there's no denying that we've finally reached a film on this list that produced a bonafide attraction tie-in, and a pretty good one to boot!
Dinosaur at Animal Kingdom may have been just a bare re-skin of Countdown to Extinction, but fortunately CTX was already awesome. The real bummer here is that in order to gain a Dinosaur tie-in, we lost the better title for the ride. But other than a single clip of Aladar in the pre-show, and a new statue out front, the Dinosaur ride didn't change much. A lot of the elements already overlapped (intentionally): Iguanadon, Styracosaurus, Carnotaurus. This one is a winner.
#38 – Fantasia 2000
Technically, the Sorcerer's Apprentice was a segment in Fantasia 2000, and Sorcerer Mickey and those brooms are everywhere, but it seems like cheating to use that as a tie-in.
The movie has a lot of good sequences, and is under-appreciated as a whole, but has not seen a lot of crossover into the parks.
In Florida, the silly flamingo with the yo-yo is often sold as a lawn ornament, and the Jack-in-the-Box and Ballerina appear with the Tin Solider as statues at All-Star Movies Resort.
Disneyland briefly included the whales from the Pines of Rome sequence in a parade in the early 2000s.
I'm going to give the nod to the World of Color show at Disney California Adventure. The Spring Sprite from the Firebird Suite and the Whales from Pines of Rome have featured in the show since its inception.
Photo by Sk8ngDad
#37 – Tarzan
I love this movie, but I'm not too thrilled about my park choices. We have a couple real attractions to choose from. Animal Kingdom's Tarzan Rocks show ran for several years before Nemo moved in — often being ridiculed by me as "the one with the rollerblading monkeys." Oh, and Terk was painful to watch. Tarzan and Jane would perform rope climbing/swinging maneuvers in concert with the rock band pounding out Phil Collins songs.
Ugh.
But then you look at my next option, and it's Tarzan Treehouse at Disneyland, which evicted my beloved Swiss Family in favor of a mirror gag, a static jaguar, and some background music. The treehouse is still basically the same, but yet…
No way. I'm not giving this award to anything that infringes on the Swiss Family Treehouse. Call me biased, but rollerblading monkeys are better.
Photo by Tancread
#36 – Mulan
Mulan managed to snag an attraction of her own. Well, technically it was Mushu. He took over hosting duties from Robin Williams in the current incarnation of the Magic of Disney Animation at Disney's Hollywood Studios.
Unfortunately, that show is just not up to snuff. Mushu is funny enough, but he's hamstrung by a silly gag in which a Cast Member pretends to be an animator and interacts with Mushu. And also features some horrendous acting by actual animators in filmed segments.
The better choice is the Mulan parade that debuted in Disneyland the same year as the movie. Maybe it was just a relief after the nightmare of Light Magic, but the Mulan parade featured enchanting floats and fun images — and had the added benefit of running at night, as opposed to the carbon copy that Disney MGM Studios received.
Photo by ste3ve
#35 – Hercules
As we will see, a lot of the 90s movies got their own parade, and they were uniformly excellent. Hercules is another prime example. He got daytime parades at both Disneyland and Disney MGM Studios, and that's the best Herc has been able to muster in the parks.
His other tie-ins are limited to other things like character greetings, a Hades poster in Philharmagic, and Hades's guest spot on Fantasmic — though it is worth noting that Hades does play the role of host on the Disney Cruise Line's Villains Tonight show. Which is kind of average, as far as those things go.
Photo by Paul-W
#34 – Anastasia
This romantic tale of a young Russian woman escaping peril and finding adventure was a modest hit at the box office. Master Disney animator Don Bluth used a lot of big name stars to bring the tale to life, but Anastasia never really caught on in the Disney pantheon of princesses.
Nevertheless, her park presence has been solid. Anastasia appears in the closing montage during the Great Movie Ride, and a show themed around a Russian Grand Ball ran for several years at Disneyland Paris.
Still, the biggest impact has to be the delightful Bartok the Bat "living character" that had a short-lived run at Asia in Animal Kingdom. The bat would interact with youngsters, giggle incessantly, and could even hang upside down from some of the trees.
Just kidding, people. Anastasia isn't even a Disney movie! (I hate it when people do that)
#34 – The Hunchback of Notre Dame
Okay, the real #34… Quasimodo and company never got their own parade, but they did get their own stage show at Disneyland and Disney MGM Studios. Of the two, the MGM show was better (and was far superior to the other character-based shows which still run at the Studios. *cough* beauty-and-the-beast *cough*)
The show featured live actors and none of the traditional foam head costumes (although the gargoyles were dangerously close to them). Performers sang all the songs themselves, and the presentation was augmented by puppets and nice theatrical effects. It focused mainly on the songs, but did a basic recounting of the story and made nice use of the venue.
I believe it was the last permanent show to play in the Premiere Theater until the Frozen singalong moved in — and this was before the theater was enclosed in its current aluminum siding pole-barn form.
Photo by Wyscan
#33 – Pocahontas
Pocahontas is getting her own land at Animal Kingdom called Pandora. That makes her the winner.
Okay, sorry, I couldn't resist. She really did have her own show at Animal Kingdom, which featured standard North American animals like skunks and raccoons, which ran for many years at Camp Minnie Mickey. Sadly, the show was not that good. Neither was the stage show incarnation at Disneyland.
Slightly better are the Grandmother Willow booths at Conservation Station, which at least have a decent use of the 3-D aural soundfield effects.
But probably the best thing Pocahontas has going for her is her segment in Walt Disney World's version of Fantasmic. It's unique to Florida (and a poor substitute for the excellent Peter Pan scene in Disneyland), but we get some high-flying stunts from John Smith, torch-lit Indian canoes, and Pocahontas herself appearing like a beacon on top of the mountain.
Photo by ddindy
#32 – The Lion King
Lion King has been literally everywhere.
Parades, check. Stage shows, check. Animal Kingdom signage, check. Magic Kingdom puppet show, check. Epcot environmental film, check. Philharmagic dance sequence, check. Awful Tiki Bird incarnation, check.
About the only place Simba's gang hasn't been is inside Victoria and Albert's, and I'm pretty sure they are trying to find a way to get Pumbaa on the menu.
Still, considering that it was until recently the biggest Disney animated hit of all time and has been around for 20 years, it's kind of surprising that we don't have some truly mammoth attractions choose from.
We'll go with the Animal Kingdom version of Festival of the Lion King (it's also in Hong Kong). The show has been a fan-favorite since the park opened, and is still the only place where you can see a guy spinning fire around with his bare feet. The new Harambe theater district is also truly excellent.
Photo by insEyedout
#31 – Aladdin
If ever a Disney animated feature called out for a mega-budget E-ticket dark ride adventure, it's Aladdin.
Unfortunately, it never got the green light.
Aladdin — for all its awesomeness — is surprisingly relegated to small-time stuff. Though to be fair, this a lot to choose from:
There are Magic Carpet spinner rides in Florida, Paris, and Tokyo — For some reason Tokyo thinks the carpet belongs to Jasmine, not Aladdin.
Tokyo DisneySea also has a Magic Lamp Theater attraction, which is a 3-D (4-D) style magic show featuring the genie.
In Florida's DisneyQuest, the genie is your elevator host when you first enter the building. And the Aladdin virtual reality game has been a mainstay ever since DisneyQuest first opened (it originally appeared at the short-lived Imagineering Laboratories at Epcot).
And of course Aladdin got his own parade at Disneyland and Disney MGM Studios. We kind of expect that by now.
Still, if I had to pick the absolute best tie-in, I would go with the Aladdin musical at Disney California Adventure. It's hard to mess up a show with Aladdin's music, and the DCA show doesn't disappoint, tossing in a fantastic rapid-fire (and always pop-culture relevant) genie, along with inspired dance numbers. It might possibly be my favorite thing at DCA, and this is from someone who hates theme park shows.
Photo by Simply Mad Photography
#30 – Beauty and the Beast
We close out the 90s with the only film on our list to be nominated for Best Picture. And once again, we are shocked that we don't have huge, classic attractions to choose from.
We've got a stage show at Hollywood Studios, which is tolerable once and then moves on to painful. Belle and Beast show up in a few different character greeting spots around the globe, and in the obligatory Fantasmic cameos and such. Be Our Guest is a sequence during Philharmagic.
It was only recently that we got some nice Beauty and the Beast stuff at the parks, in a section of New Fantasyland. Enchanted Tales with Belle, Gaston's Tavern, and the Be Our Guest Restaurant make up one corner of the new development. Taken individually, they are not especially fantastic, but each of them is solid. I love the animatronics and effects of the Enchanted Tales, but that show is derailed by the "audience participation" stuff and devolves into basically an elaborate character greeting area. Gaston's Tavern and the Village are very well done, but it's not a huge section of work.
In the end, I'll give the nod to the Be Our Guest restaurant. The showbuilding with the rockwork and the castle is phenomenal, and the inside has some very nice stuff too (though too much of it is just an open seating area.)
So there you have it. Possibly the most respected film on the list and we got a nice restaurant out of it.
Photo by Spread The Magic
Summary
Wow, kind of surprising, right? The 90s had tons of big, classic movies, but there's not a lot of big, classic attractions coming with them.
I would even go so far as to say the best attraction on the list is Dinosaur (from the weakest film in this post), and that wasn't even really related to Dinosaur except in name only!
It's clear that the 90s was a time of parades and stage shows — a trend they really need to buck. And I'm not optimistic as we head into the 80s and 70s that things will improve. There are a sprinkling of classics in there, but I have a feeling there's some dark times ahead as well.
In the year 1505 — barely a decade after the discovery of North America by Christopher Columbus — the two greatest artists of all time were commissioned to decorate opposite walls in the Hall of the Five Hundred in Florence, Italy.
Leonardo da Vinci and his rival Michelangelo both began studies on their respective frescos and worked diligently to sketch out two glorious battle scenes on the walls of the great hall. This would be the only time these two masters ever worked together, at least until the invention of ninja turtles.
Michelangelo left Florence long before the completion of his masterpiece. But Leonardo persisted, erecting scaffolding and canvasing the walls with scenes of great turmoil — clashing horses, shouting warriors, historical figures. Ultimately, the Battle of Anghiari was abandoned, but not before it became one of the most respected unfinished works in art history. Renderings of the da Vinci original can be found hanging in the Louvre in France to this day.
About sixty years later, the Grand Duke decided that he needed to expand the hall in order to hold court, and he commissioned a painter/architect named Giorgio Vasari for the work. Michelangelo's work had already been destroyed by a jealous artist several decades before, but Leonardo's Battle of Anghiari was still in place when Vasari began.
Vasari was a talent, but he was no da Vinci. Yet if you were to go to Florence today and set foot in the Hall of the Five Hundred in the Palazzo Vecchio, it is Vasari's work — not da Vinci's — that you will see adorning the walls. Vasari expanded the walls and painted his own frescos. The da Vinci painting disappeared, and for centuries the Battle of Anghiari has been known as the "Lost Leonardo."
Yesterday, the news came down that the Sorcerer's Hat at Disney's Hollywood Studios will be dismantled in January of 2015. The Studios has been open for a quarter of a century, and for more than half that time, the Hat has stood at the end of Hollywood Boulevard. This "temporary" structure outlived original attractions SuperStar Television, Monster Sound Show, The Magic of Disney Animation, and the Backlot Tour. It's been around longer than the park's most popular attraction (Toy Story Mania), and even predates the park's current name.
An entire generation of Disney fans have never seen the park without that hat.
I'm barely old enough to remember the fall of the Berlin wall. I have foggy memories of people dancing in the streets, ripping sections away. The celebration on social media yesterday seemed a lot like that. Finally the hat would be gone. But there was one segment of the fan population that seemed a little saddened by all this.
Generation Z.
Their only family photos contain the hat. They have never owned a Disney Parks t-shirt that did not represent the Studios with a triangle of blue headgear. Every time they've walked through the gate, Mickey's gloved hand was waiting at the end of the street, pointed to the sky, beckoning them onwards.
"I loved the hat." "The park needs an icon." "What will they replace it with?"
These are a sampling of the cries heard yesterday. I am not here to berate you or tell you you're wrong for your love of the hat. It's all you've ever known. The hat is your hometown.  You grew up there. You get resentful if other people don't like it, and you take it personally when people point out its flaws. And you especially don't want to hear from old timers telling you how much better things were back in the day. Stop living in the past, you might say. And you might have a point.
In 2007 — a mere six years after a garish, giant pin trading station was plunked down in the middle of Disney MGM Studios' main Hub — an Italian art expert named Maurizio Seracini discovered a hidden message painted on an obscure flag held by an obscure soldier in one of Giorgio Vasari's frescos in the Hall of the Five Hundred. The message was located a full twelve meters off the ground. In tiny gold script, it contained two simple words:
Cerca Trova.
Translation: He who seeks shall find.
Vasari was an art historian — perhaps the first in history. He held Leonardo da Vinci in the highest esteem, and the Battle of Anghiari was praised even in Vasari's own writings. The Hall of the Five Hundred was not the first time Vasari had been hired to demolish famous artwork. His renovation of a Dominican church had forced him to paint over a fresco known as the Holy Trinity by early Renaissance master Masaccio. But Vasari — without the permission of his employer — did not destroy the artwork. Instead, he had it plastered over, leaving a small pocket of air for the painting to survive behind the new fresco. And so it did, until it was rediscovered almost 400 years later during renovations of the chapel in 1860.
Seracini knew at once what Cerca Trova meant. Armed with the latest high tech gadgetry and the permission of the Italian government, he went to work. He bored holes into the Vasari fresco in the Hall of the Five Hundred and discovered old paint underneath. The black pigment was analyzed and found to be a very similar composition to that of da Vinci's most famous work — the most valuable work of art on the entire planet — the Mona Lisa.
Preserved behind Vasari's fresco. The Lost Leonardo. Waiting to be revealed again.
So to those of you who mourn the removal of the hat, do not fear. You will soon see for yourself. What you have observed up till this moment is but a shadow. You have been held prisoner in Plato's cave. Darkness is all you have ever known. But in January, the chains come off, and you will crawl towards the light. And the brilliance of it will hurt.
But in the end, you will see and you will not wish to return to that darkness. Life under the sun is far better.