After a short break we are finally rounding the bend into the top three (or according the Shane the only ones that count) of the Top Ten Disney Theme Park Controversies.
Click HERE to see the previous seven.
3) And speaking of Disney's California Adventure…
Of all the many propositions one could come up with for a theme park the muddy idea of "The history and culture of California" seems pretty far down the list.
The ongoing mess with Euro Disney dampened Michael Eisner's enthusiasm for theme parks, however he recognized the potential the parks and resorts division held. Disneyland was always considered a one-day attraction visited mostly by locals while Walt Disney World was a vacation destination with the majority of guests visiting from out of the state or from overseas. The average visitor to Walt Disney World spends a week on property. They stay at Disney owned hotels and eat at Disney owned restaurants; those guests are worth a fortune. Disney wanted to transform Disneyland into a similar multiday destination resort and so it needed to expand.
Short on space Disneyland had only one area for a major expansion: the parking lot. Concepts were tossed around for several years including a west coast version of Epcot Center (Westcot) and a U.S. version of DisneySea. Now skittish about overspending on parks Disney scraped those grandiose plans and went in search of something much more modest.
Fortunately for the Disney accountants (and to the chagrin of park fans everywhere) they decided to dust of the plans for Disney's America. However California holds none of the historic gravitas of the parks's original east coast location. Staging Civil War battles or telling the story of immigrants crossing the Atlantic made no sense for a park located in the Golden State. But California is a very diverse state with a rich history all it's own and thus Disney's California Adventure was born.
Disney's California Adventure was nothing more than a reimagining of the original Disney's America concept stripped of its historical relevance and with a few parts swapped out. Victory Field became Condor Flats; it still had a cool albeit modified flight simulator and an airfield theme. The State Fair area became Paradise Pier replete with carnival rides galore. The Lewis and Clark raft ride became the "extreme" sports raft ride named Grizzly Rapids. A tour of a steel mill became a tour of a bakery. The farm themed area became… a farm themed area and so on. A couple things could not be translated; Hall of Presidents and broad stories of American History no longer fit so the park got a movie about the history of California instead. The entertainment industry plays a big part in California's economy so a miniature version of Disney MGM studios was grafted onto the new park as well.
The idea of placing a park with a California theme within the state of California struck many people as odd; why simulate what is just outside the front gate? The name too was clunky and awkward but it was the park's execution that really got fans riled up. Off-the-shelf carnival rides with little or no thematic elements played a major role in the new plans. Even the more elaborate attractions tended to be copies of rides that already existed in other parks (and often better executed in those parks). When one thinks of the original version of Disney's California Adventure the term "hobbled together" leaps to mind (as well as cheap, ugly and under-developed); from concept on down it felt half-baked.
Disney's California Adventure (or DCA as it was referred to it) opened in February 2001 and was immediately met with criticism from both the fan community and the general public alike. Fans missed the special and unique aspects that were typical of previous Disney parks. They complained about the lack of quality attractions, garish and tacky signs and too much emphasis placed on dining and retail locations. The public as a whole shrugged with indifference.
The original line-up of attractions included:
Hollywood Pictures Back lot:
• Muppet Vision 3-D: A 3-D movie that was a duplicate of an attraction from Disney-MGM Studios that opened a decade earlier.
• Disney Animation: A single building that contained several interactive exhibits relating to animation including the Animation Academy and the Sorcerer's Workshop. This was very similar to the animation attraction at Disney-MGM Studios.
• Hyperion Theater: A live performance venue with little decoration, detail or theme.
• Superstar Limo: A modest and bizarre dark ride through a cartoon version of Hollywood.
Golden State:
• Grizzly River Run: A white water rafting experience similar to those found at many other parks (including Kali River Rapids at Disney's Animal Kingdom).
• Redwood Creek Challenge Trail: A children's play area.
• It's Tough to be a Bug!: A 3-D movie that was a duplicate of the same show found in Disney's Animal Kingdom.
• Soarin' Over California: A flight simulator.
• The Bakery Tour: A very simple walk-through of a Boudin Bakery. The highlight being a small sample of bread guests received at the end of the short tour.
• The Tortilla Factory Tour: Similar to the Bakery Tour yet even more modest.
• Seasons on the Vine: A short movie highlighting winemaking.
• Golden Dreams: A twenty-minute movie about the history of California.
Paradise Pier:
• California Screamin': A large -scale yet generic roller coaster similar to those found in parks such as Six Flags. As an aside what did Disney have against the suffix "ing"?
• Sun Wheel: A Ferris wheel
• Orange Stinger: A standard "swinging chair" style carnival ride.
• Mulholland Madness: A small "wild mouse" style roller coaster. This type of ride is common in most amusement parks around the world.
• Jumpin' Jellyfish (again with the "ing"): A small-scale parachute drop type of ride aimed at small children.
• Maliboomer: A typical free-fall style attraction with no theme.
• Golden Zephyr: A hanging spinner type of ride.
• King Triton's Carousel: A traditional carousel outfitted with sea creatures.
• S.S. Rustworthy: A children's water play area.
That is a total of 21 attractions, not too bad for a brand new park. But there is a huge difference between the sheer number of attractions and attractions that people actually care or get excited about. Upon further inspection 8 of the attractions were off-the-shelf amusement park rides, 2 were simple playgrounds, 2 were 3-D movies (that had been at other Disney parks for years), 2 were basic walk through tours of bakeries and 1 was a brief movie about wine.
That left 6 attractions that could be considered the marquee points of interest; still not a bad number… lets check them out:
1) Disney Animation was for all intent and purposes a clone of the Disney-MGM Studios attraction. It was several small-scale hands-on exhibits and nothing more.
2) Hyperion Theater was a stripped down, basic venue… the actual theater lacked in details and the live performance at the time (a show called Steps in Time) was underwhelming.
3) Superstar Limo was an attempt at creating a Disney style dark ride. It featured simplistic caricatures of Disney friendly celebrities such as Whoopi Goldberg, Tim Allen and the ubiquitous Drew Carey seen along a manic tour of tinsel-town. It was so ill received and poorly executed that it lasted only a year before being closed permanently. It is considered the worst dark ride Disney has ever produced. As an aside Superstar Limo had it's own mini controversy… not just because it was laughably bad but because rumor had it that an exciting chase scene was to be included. The chase featured paparazzi running down your limo to get your picture and was cut due to the circumstances surrounding the death of Princess Diana. There has never been real evidence of this but who knows.
4) Grizzly River Run looked nice from the outside. It was housed in the park's iconic bear-shaped mountain but ultimately was a simple raft ride. It featured nothing to make it "Disney" or special, or to differentiate it from similar offerings at many other parks. Nevertheless it was one of the stronger opening day offerings.
5) Golden Dreams was a comedic film that looked at the history of California. Oddly it also featured Whoopi Goldberg. While not offensive in any way it was a second tier attraction at best.
6) Finally we were left with Soarin' Over California, a new flight simulator attraction. Though corners were cut in its creation the end results were still well received. It was the one stand out attraction within the park.
Disney was obviously aware of criticism it had received after opening Disney's Animal Kingdom with just a handful of rides. They pumped up the attraction number at DCA to be respectable and yet only one on the roster of rides could be considered special in any way.
Making matters worse no berm or landscaped barrier was erected around the park. Unlike Disneyland guests could easily see outside of Disney's California Adventure. Visitors could plainly see hotels, a neighboring convention center, power lines and more. Frankly it was just plain ugly. Even within DCA there was very little shade or true themed elements. All of Paradise Pier was nothing more than stock amusement park rides with flat signs touting whacky names. The Hollywood Pictures Back lot featured painted flats as facades and most other areas felt low-end and poorly done.
On the other hand Disney lavished time and money into building high-end restaurants from Wolfgang Puck and Robert Mondavi (both gone within the first year) and built far too many retail locations. The intent was clear; Disney thought this formula would attract the same crowd who visit the World Showcase at Epcot. It was a cost effective way of getting a second gate open without spending money on high-end rides.
Salt was rubbed into park fan's wounds when Disney opened Tokyo DisneySea at the Tokyo Disney Resort seven months after Disney's California Adventure premiered. Tokyo Disney Sea was an incredibly lavish and detailed park. Where as California Adventure had virtually no unique or "E Ticket" rides DisneySea was bursting at the seams with them. Every single element of Tokyo Disney Sea was well thought out, expertly crafted and often stunningly executed. The American Waterfront section of the park even borrowed some old themes from Disney's America's "We The People" area, now executed amazingly well. Tokyo DisneySea showed what Disney was capable of while Disney's California Adventure showed what shortsighted marketing driven decisions lead to. The startling contrast and obvious quality gap between the two parks alienated many of Disney's faithful.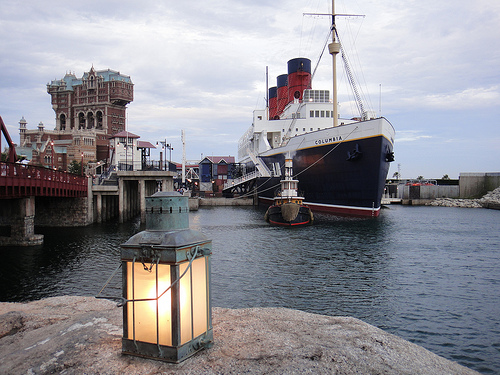 DCA was such an underwhelming mess that many fans refused to set foot in it. It became a black eye for the entire company. Rather than expanding Disneyland into a multiple day resort, Disney's California Adventure became a consistent drain on the bottom line and a public relations nightmare; in other words it was a total failure on all fronts.
The attendance numbers were a fraction of the projections (while those of Tokyo Disney Sea easily met and beat even the most optimistic goals). Disney soon tried every quick fix they could think of; prices were slashed, package deals were created (often giving away tickets to the new park) and new advertising campaigns were created. Nothing helped. Meanwhile Disneyland next door was setting attendance records.
Fans knew that it is attractions and specifically stellar, big budget rides that draw the crowds however Disney was blind to this fact. Tokyo DisneySea proved that the Imagineers had not lost their touch; they simply were not given a reasonable budget or directive to work with.
Several makeshift additions were quickly green-lit for the park. A version of Who Wants to be a Millionaire: Play It! Was added. A simplified version of the Tower of Terror was installed and a Bug's Life themed kids ride area was put in. But the numbers for the park were still abysmal. It was too little, too late and without enough care, thought or originality.
Disney finally realized that there was no choice other than to dramatically alter the park. In an unprecedented move Disney rebuilt, redesigned, reconceptualized and expanded huge swaths of the park. They spent over a billion dollars adding unique attractions and creating a sense of time and place that was previously absent. Nearly a decade after the park opened the new Disney's California Adventure became a hit. Attendance number rose dramatically and despite the rocky start the park is now considered a success.
It's still frustrating to think of what they could have done if given the proper budget to work with form the get go, but at least this one has a mostly happy ending and is hopefully a lesson well learned.
For #2 click HERE!
Photo credits (thank you!):
Yesterdayland, J. Spence, Mouse Planet, Mice Chat