The list of Top Ten Disney Theme Park Controversies continues today with #2.
If you just joined us click HERE for the first 8 entries on our list.
2) Horizons is shuttered and demolished
Take a beloved fan-favorite attraction. An attraction built on a huge scale. An attraction designed by some of Walt Disney Imagineering's greatest. An attraction that showcased everything Disney does best. Then suddenly shut it down… permanently. And then for good measure demolish the building in full view for the world to see. No problem right? It's a perfect storm for fan frustration.
If EPCOT Center was an exploration of our optimistic future shared by a united world then Horizons was a crystallization of that future. It was the crown jewel of EPCOT Center. It was the single attraction that represented the spirit, the hope and the goals of EPCOT Center (and Walt Disney's personal ideals) more than any other.
Each of the other Future World pavilions focused on a singular idea or industry: Communications, Agriculture, Imagination, Transportation and so on whereas Horizons encapsulated them all into one glorious mega-attraction. Poised like a spaceship on the brink of take-off Horizons was architecturally unique, a beautifully detailed and skillfully executed vision of the future. It was an exciting and unifying vision of things to come and a knowing nod at our past visionaries. Using a side facing Omni-mover ride system Horizons picked up where the Carousel of Progress left off. Guests explored the future of life on Earth, both on land and under the sea, before leaving terra firma and venturing into outer space. It was a long attraction with an abundance of technology and deft storytelling… in other words it was classic EPCOT. Though Horizons debuted a year after the park's grand opening, and had its budget and scope reduced along the way, the end result immediately made it a classic and the first attraction many think of when discussing EPCOT Center… and then it was gone.
The exact reasons for the closure are murky at best. We know that Horizons lost its sponsor (General Electric) and that is never a good sign for an attraction. But there is a lot more to it than just that. The most popular theory or excuse is that the building was collapsing upon itself and that the land beneath it was hiding a sinkhole necessitating its removal. Some say that Disney management felt the attraction was corny, old-fashioned and passé. Others claim that it simply came down to dollars and cents and that Disney needed the space and a fresh start in order to attract a new sponsor. No one outside of Disney really knows the true reasons why Horizons was so unceremoniously dismantled but we do know that it sent fans into a tizzy.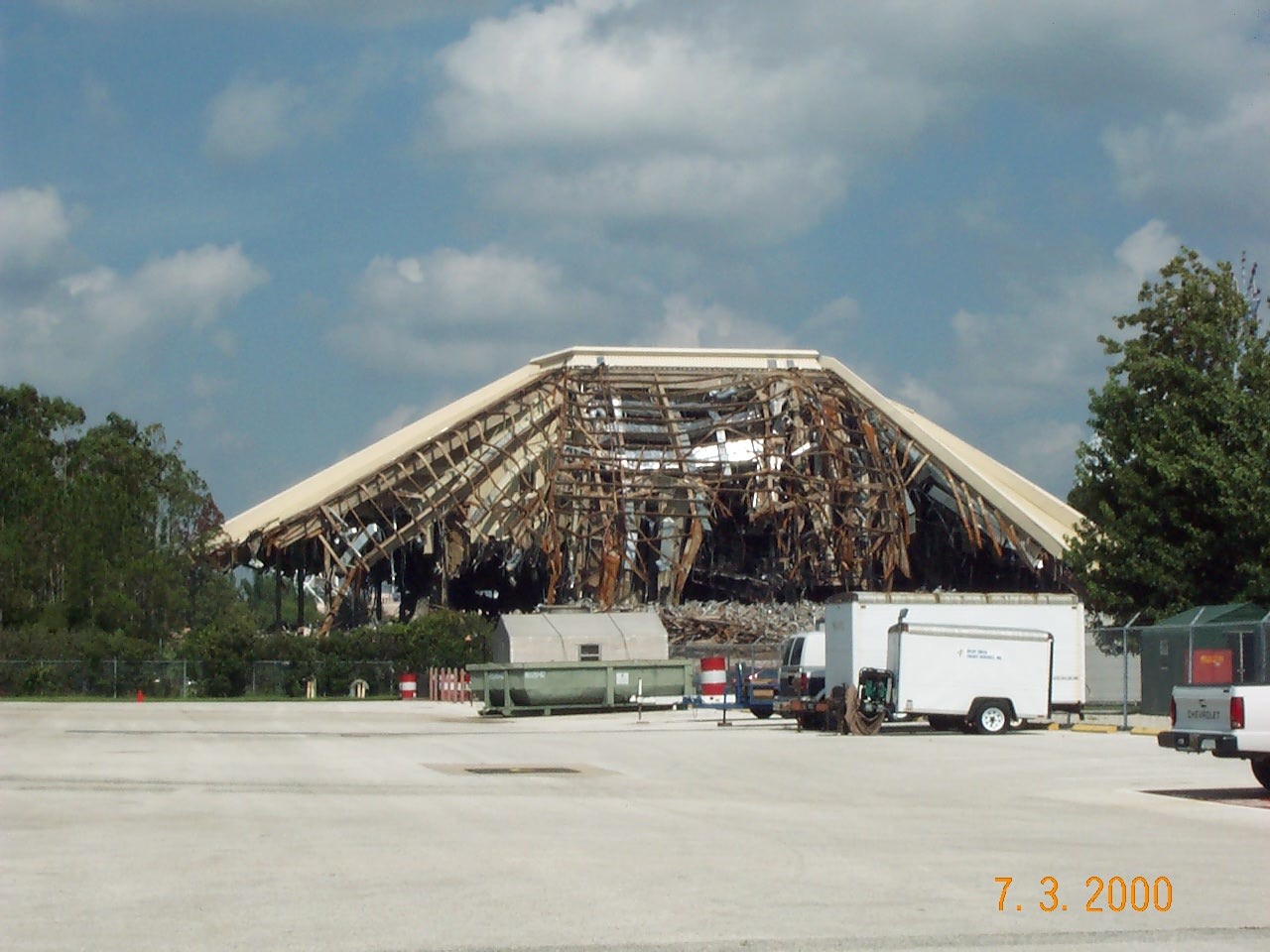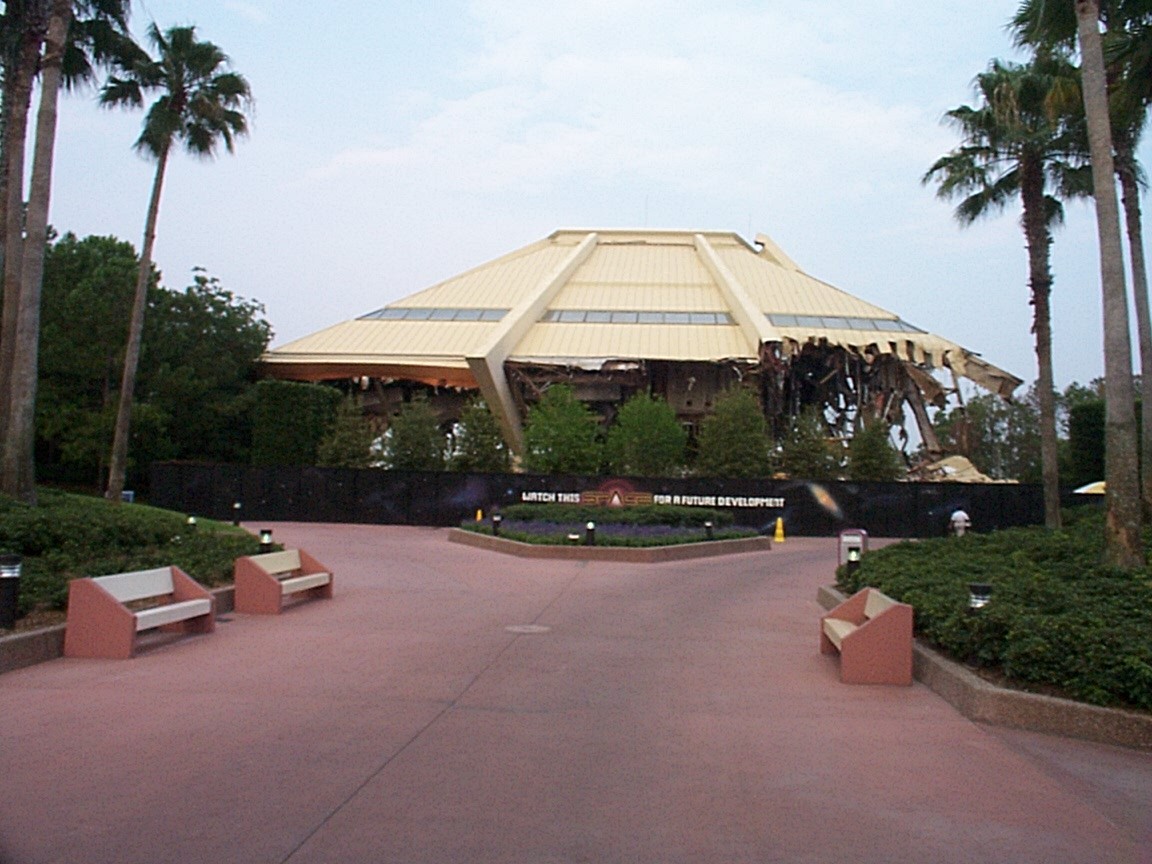 This was the first time in history that a marquee "E-Ticket" attraction was not only shut down, but the entire building was razed erasing any trace of its existence. A new version was not being created, the building was not being re-used, and instead the entire shebang was simply being deleted.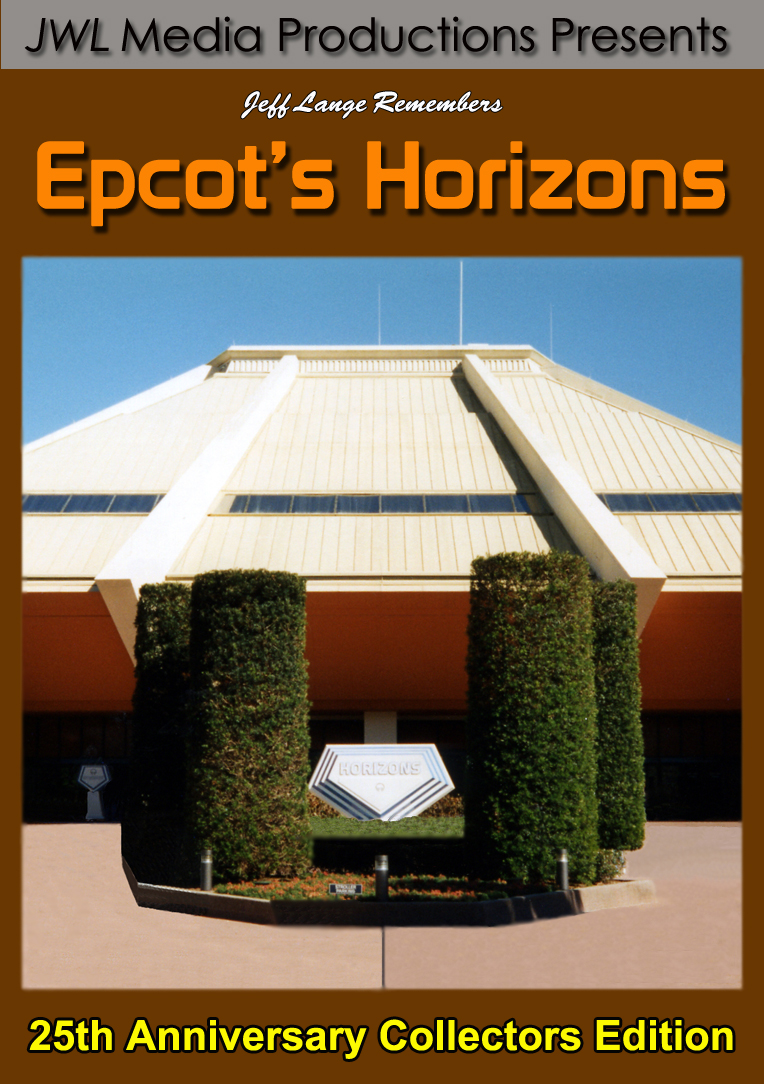 Perhaps more than any other now extinct attraction fans have kept Horizons alive in their hearts. Fan-made DVDs, tribute web pages and even fully recreated interactive virtual rides have been created to keep Horizon's message optimism for the future going strong. If you are old enough to know the original spirit of EPCOT Center then you know that the loss of Horizons was almost unimaginable. It was ripping the very heart out of the park and in fact Epcot has never been the same since.
Horizons was closed in December of 1994. A year later it suddenly re-opened unchanged (thwarting many theories that it had to be closed due to pressing safety issues). Horizons remained open while both World of Motion and Universe of Energy were closed (due to a bad mismanagement of refurbishments brought on by major design issues with the new Test Track ride) but by 1996 was no longer operating on any regular basis and by the start of 1999 was closed for good. In 2000 the Horizons building is slowly, painfully demolished.
Today Horizons lives on in the memories of the legions of fans that so fondly recall the power of the message it carried. Far more than a thrill ride or a cavalcade of special effects, Horizons had a soul. A few relics of the attraction have survived and Disney occasionally trots out the robotic butler figure for display on special occasions. Most of the attraction found it's way to a landfill and a few parts oddly ended up rotting in the Parisian sun (click here to see what I mean).
I recently met a park enthusiast in his twenties, he considered himself a fairly hardcore fan. He had visited the parks annually since he was a kid; I could relate. Then I found out that he had never even heard of Horizons… it meant nothing to him, that was a bit sad for me to hear. Sure he was probably 7 or 8 when it shut down and likely never rode it, but to never have heard of it at all was a shock. We all want our heroes and our most vivid memories to live forever… but they cannot.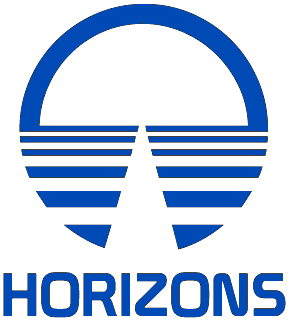 As loud and sustained as the fan community complaints may have been Disney knows that eventually they will all subside and that new generations of fans will come in replacing the jeers of the old guard with cheers for the newest and "best" attraction to come along. Such is the theme park circle of life.
Did you ride Horizons? Do you miss it?
For the next entry click HERE