This week, a lucky quirk in scheduling has paved the way for another Parkeology run at the WDW46 Challenge.
On Thursday, Ted will leave snow-swept Chicago en route to sunny Florida, arriving just in time to join Shane on an attempt to ride all 46 rides at Walt Disney World in a single day this Friday, May 29th, 2015.
As the saying goes… One Day. Every Ride. Again.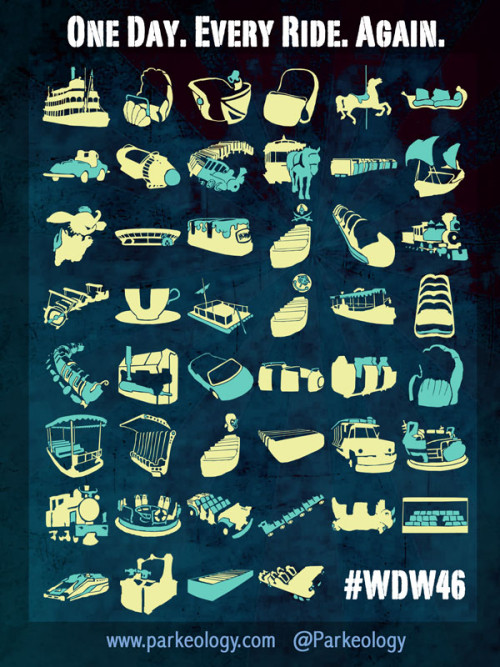 Yes, like a certain Disney franchise of apple-based dessert outlaws, we are trotting out another entry in our WDW46 series.
And this time it's personal.
No, really. We've enjoyed the success of the Official Parkeology WDW46 Challenge. But now thanks to the refurbishment schedule, the window of opportunity is closing. This is one of the last chances for anyone to attempt the challenge before the end of the year.
We hope to provide a book-end to this inaugural season by doing it again. This is just Ted and Shane's chance to relax and have fun together.
… Because nothing says relaxation like non-stop sprinting through muggy theme parks during a jam-packed summer weekend.
Especially when we only have 16 hours this time instead of 17. With a lousy set of Extra Magic Hours. On a Star Wars Weekend (why do we always schedule these things during super crowded days??)
In typical Parkeology fashion, we have been hearing reports of severe weather forecasted for Friday evening—possibly even more severe than we faced during our first attempt.
With our luck, they'll probably sound the tornado sirens just before midnight.
So that should be fun.
We invite you to follow us on Twitter, where we'll give you the play-by-play from @Parkeology and hashtag #WDW46.