In 1998, I flew down for a long week at Walt Disney World. My third such long week trip in as many years. Only this time was different. This time, there was a whole new theme park waiting for me.
People say Animal Kingdom is a half day park. That trip, I spent half the week there. That sounds nuts to the average tourist, but I got lost in the details. We spent days just diving into everything. I rode Countdown to Extinction seven times on that trip. I can't remember how many Safaris. For a Disney fan accustomed to soaking in the atmosphere, it was exhilarating to have that much new territory to explore. It didn't matter that there were only three rides.
When Everest was being built, I haunted the construction site, celebrating each new bathroom as it opened, each cleared path, each planted rice field. It was an ancient kingdom being unveiled before my eyes. It's a different sensation than when they simply refurbish an existing area. It's a movement into the frontier, into virgin Walt Disney World territory, never before developed. When you practically live in the parks, it's hard to describe how strange it feels to suddenly have a new place to go.
The Harambe Theater District (aka the new home of the Festival of the Lion King) opened a few weeks ago. I was there the day after the walls came down, and I am happy to say, it is a perfect, seamless addition to the original Harambe village. It feels like a part of Opening Day 1998–as rustic and timeworn and meticulously detailed a section as you will find.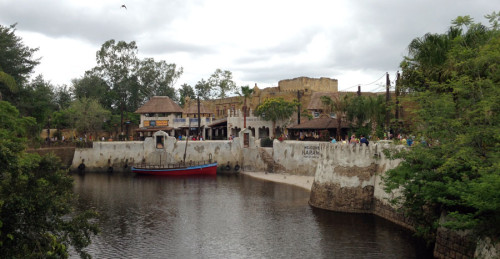 Favorite details include:
An operating license for the theater, issued by the fictional Harambe government and displayed on the wall near the Stand By queue for Lion King.
In the new gift shop, there's an old tape deck on a top shelf, loaded with a cassette of the Lion King.
On the balcony overlooking a theater sits a large boombox, whose owner must have wandered away. And if you stop and listen, you realize that's where the area music is coming from.
Then there's this view of the old geyser field, not visible since the Discovery Riverboats made their final journey around Safari Village more than a decade ago. You can see the geysers here at about the 6:30 mark.
And finally there's this path, still off limits to the public, wrapping around behind the exquisitely themed restrooms.
You know where this path goes. To the next bold new world. Pandora in 2017.