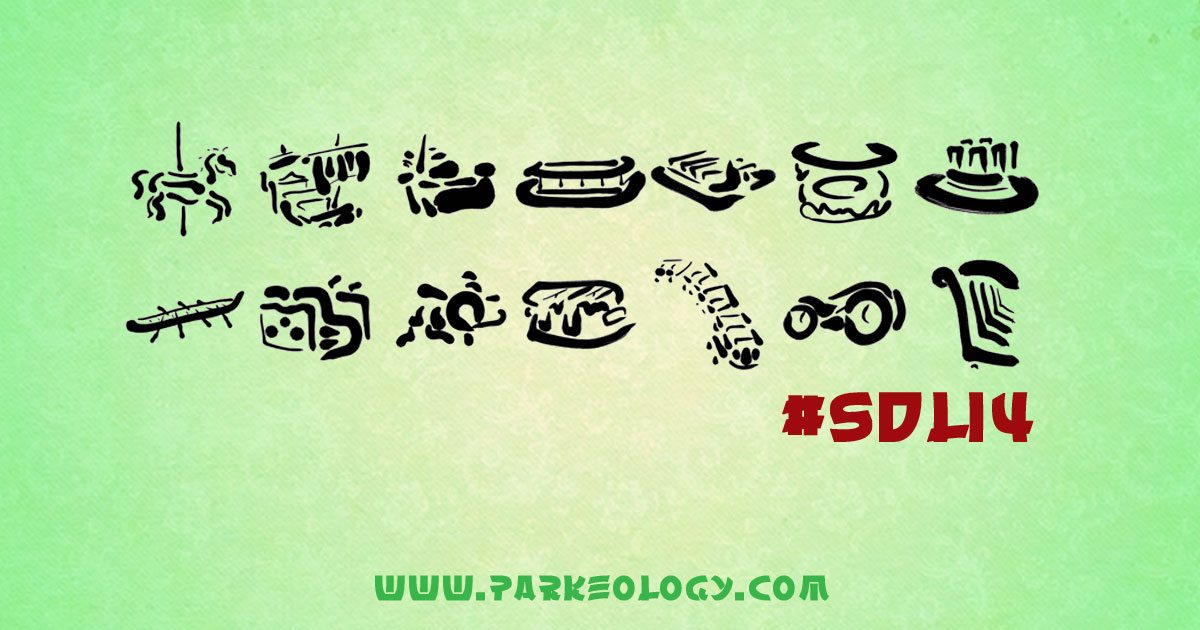 Last week Shane explained how Team Parkeology would be visiting Tokyo and then went on to list all the Japanese rides in order of his anticipation to experience them. It is not about what rides are the biggest, most expensive or even most unique, simply the rides that hold the most personal interest for whatever reason.
Since this is not a ride it failed to make Shane's list but he has some unnatural fascination with Polynesian themed dining crossed with college kids dressed in costumes; the Polynesian Terrace Mickey Rainbow luau is a dream come true for him. I think this is probably numero uno on his "must do" list… I just try to go along with the flow… whatever makes him happy is fine.
I recall the excitement of my first trip to Tokyo in spring of 2002, Tokyo Disney Sea had just opened and back then not too many westerners frequented the Tokyo Disney Resort. Even to this day (after many return trips) that elation is still there. They are great parks and if being dragged to a Hawaiian themed character meet and greet is the price I have to pay for it then so be it.
After we both hit the Tokyo parks my trip will continue on to Shanghai and of course Shanghai Disneyland. Disney may tout it as being physically large and there is no doubt that they did not cheap out on this park, but it is still a new park and therefore somewhat light on rides. When you strip away the shows and other non-ride attractions you are left with 14 actual rides. That's plenty to fill a day or two, especially when it appears that there will be 4-hour waits for everything from pretzel carts to pirate rides.
Over two days I'd like to ride every attraction at least once and the big ones a couple of times a piece. On paper it may not sound as impressive as #WDW46 but considering that 24 million people live in Shanghai and that apparently 23 million of them will be at the park, this may be the biggest challenge of careers.
Here are the 14 Shanghai Disneyland rides ranked in reverse order of what I am anticipating the most:
14. Fantasia Carousel
I rarely bother to ride the carousels in any park and the light re-theme here does nothing to excite me. In fact before we had our daughter (now 11) I am not positive that I had ever been on the carousels. This one is in a nice setting and has different figures but if I miss it I will survive.
13. Dumbo the Flying Elephant
Like the carousel Dumbo would be an auto-skip for me on any normal trip. Riding with my daughter (or on rare challenge days another middle aged man) adds to the fun and its unique setting in this park may up my interest a bit but at the end of the day Dumbo is Dumbo. It's a carny ride and I'm not too worried about it.
12. Hunny Pot Spin
I am not fan of the Tea Cups. They are simple carnival attractions and though I am proud of my long running no vomit streak (14 years and counting) these things can push even my limits. But my daughter loves them and I love that she has fun trying to make her parents sick. Also the new Winnie the Pooh theme earns it just enough credibility to sneak it past the bottom 2.
11. The Many Adventures of Winnie the Pooh
When the list of rides was first announced this was actually pretty high on my must see list. After all I love classic Disney dark rides and the Tokyo version is fantastic. I was looking forward to a next generation version of the Japanese powerhouse; the possibilities were limitless. Unfortunately what we got was a virtual clone of the Walt Disney World version. It does not appear to have any significant alterations or improvements at all. So while it is not a bad ride it does not hold too much interest to me on this trip either.
10. Jet Packs
Sure it's just another spinner ride but the actual seating position with dangling feet seems kind of fun and the setting and lighting effects could make this a great nighttime attraction. It's hardly a must see but at least it is cool looking.
9. Explorer Canoes
It has been a long time since I have taken the time to paddle a canoe in a Disney park, in fact half of them are no longer in operation so that makes it even tougher. Shanghai Disneyland does not have any Riverboat (or river for that matter) so this is the only way to get a good look at the waterways of Treasure Cove. It's a solid combo of old school (talking WAY old school) Disney attraction in an all-new setting.
8. Seven Dwarfs Mine Train
It's a good ride and I am hoping for some small differences between this and the Magic Kingdom original. At the end of the day though it is a clone and therefore unable to score a slot higher on the list.
7. Voyage of the Crystal Grotto
I'm expecting a perfectly pleasant though simple update to a Storybook Canal style boat ride. It's unique to the park and I love how it goes through the castle. I generally like boat rides and unless the line is insane (a distinct possibility) we should all enjoy this one.
6. Buzz Lightyear Planet Rescue
An all-new interpretation of a solid ride. It looks like they have added projection effects and this may be a case where that really works well. I'm hoping that this may be the best version of this attraction yet.
5. Roaring Rapids
Despite the incredibly generic name (something I think much of Shanghai Disneyland suffers from) this appears to be a largely original take on the genre. Disney has not done particularly well in this area in the past. Both the Animal Kingdom and the California Adventure variants are somewhat unimpressive, though admittedly better than the low bar generally set by similar attractions elsewhere. This one has a giant monster on it, always a plus. However it is the one ride not yet fully operational and appears like it may not even be open for our visit.
4.Soaring Over the Horizon
First of all I am glad to see they learned how to spell "Soaring" this time around. Yes, it is a ride I have been on scores of times before. And yes this version of the movie (while it will be new to me) will also be opened in both Florida and California by the time I ride it. However this will be the first time I see the new version and they have finally fully themed the queue and possibly the theater as well, that makes me interested in seeing it.
3. Peter pan's Flight
This is more like it. They are taking an absolute classic (and virtually everyone's favorite) Fantasyland ride and kicking it up a few notches. An all-new ride system, expanded and all new show scenes, modern special effects but still keeping the feel of the originals. This is what Disney should be doing here.
2. Tron Lightcycle Power Run
The lightcycles have always been the coolest part of Tron and since the early 80's Disney has toyed with adding them to the parks. I am not sure why now and why here but they have finally made the leap. The ride vehicles may be the coolest and most on-point for any ride anywhere. The overall setting and stylized look are awesome. I am not a huge coaster fan but this one I will be waiting for (probably for a very long time).
1. Pirates of the Caribbean Battle for the Sunken Treasure
OK, the name sort of sucks, but everything else looks incredible. This is Disney's first attempt at combining large-scale projections with physical sets. They have done similar things at a smaller scale in Hong Kong and Paris but nothing on this level, and a water ride nonetheless. It is taking my all time favorite ride and turning it on its head. It may strike me as off balance somehow or maybe the projections will get to me, but from what I can see it looks really, really good and tops my list as the number one ride I (and several million others) want to see the most.
The truth of the matter is that the top 5 are all grouped pretty close together and the rest are grouped somewhat behind them. If we can fight through the crowds and get a ride or two on each of the top 5 I will be happy.
To me much of any park experience is the atmosphere, the setting, you know, the park itself. I spent days going through Animal Kingdom when it first opened and it had far less to do. I am sure it will be a great park and an interesting adventure if nothing else.