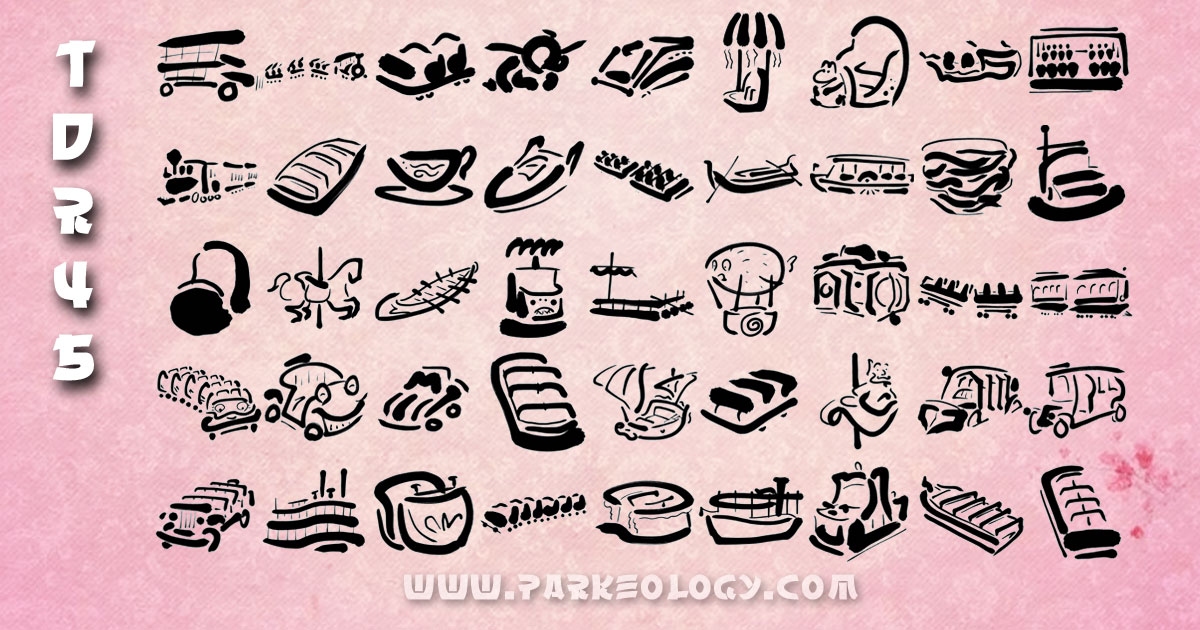 In just two weeks comes a theme park challenge of mythic proportions…
The two halves of Team Parkeology will board airplanes from our respective corners of the country and fly halfway around the world, where we will be reunited at the Tokyo Disney Resort.
And there — in the span of just four days!! — we will attempt TDR45.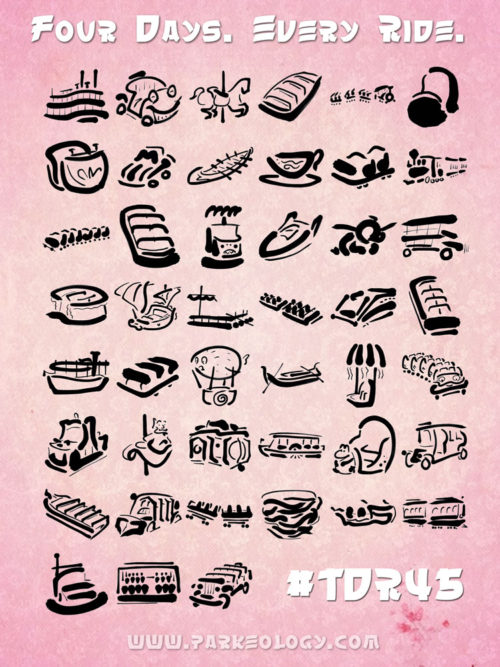 Yeah, okay, maybe not that impressive for the guys who invented WDW46 (which is actually restored to its original WDW47 glory again while we are in Tokyo! Sign up today!).
But consider this dismaying observation:
Tokyo Disneyland opened when I was 10 years old, a shimmering jewel on the other side of the planet. And I have never set foot inside. This is the Disney theme park gift I have been waiting to unwrap for three decades.
Why spoil it by running around like a crazy person with little sleep, less food, and a 101 code away from a nervous breakdown?
We want to enjoy the Japan experience the way it was meant to be enjoyed — by spending all our time at a U.S. company's theme park.
Most of the rides will be familiar to me, but subtly different, like a dream version of my backyard. I thought it would be fun to rank my personal anticipation for them before the trip, and then again when I get back, to see how things change once I actually experience Tokyo Disneyland and Tokyo DisneySea.
And who knows? Maybe this will even lay the groundwork for an actual run at TDR45 at some point in the distant future.
But not this trip, because…
---
45. Mark Twain Riverboat
Out of all 45 rides, the riverboat alone makes TDR45 an auto-fail. It's under refurbishment during our trip. The riverboat has come to represent a brief respite from the hectic pace of WDW46 attempts, but we'll have no such rest on this trip. Maybe next time.
---
44. Big City Vehicles
These are Tokyo DisneySea's answer to the Main Street Vehicles, which are a pain in the butt when we do them during WDW46. At least at TDS, they don't close an hour after opening, meaning we should be able to fit these in without a problem. Not that we're particularly excited about it.
---
43. Jasmine's Flying Carpets
Jasmine never had a flying carpet, so I don't know why Tokyo gave them to her. The carpets tarnished Magic Kingdom's Adventureland, and while they are thematically appropriate to Arabian Coast, they are still a carbon copy of a basic spinner ride that we already have here in the States. I'd be surprised if we ride these more than once.
---
42. Castle Carrousel
You can see that the back of this list is loaded with the usual flat rides, including the ubiquitous carrousel in Fantasyland. The carrousels always have a slight bit of Disney charm, but are nothing to get excited about.
---
41. Jumpin' Jellyfish
A standard parachute drop, very similar to the version at California Adventure. This one looks more colorful, but I also wonder if some of its appeal is limited by being indoors.
---
40. Scuttle's Scooters
This appears to be some kind of snail-version of the traditional amusement park Flying Bobs. The character designs are appealing, but is again another off-the-shelf carnival ride, which has the double-strike of going around in puke-inducing circles.
---
39. Blowfish Balloon Race
The Blowfish themselves look cute, but the ride mechanism appears to be the same as Flik's Flyers at California Adventure. This one will be fun to look at, but is basically the Dumbo experience indoors and squarely aimed at the 5-year-old crowd.
---
38. Grand Circuit Raceway
Another Disneyland "classic" (Autopia) which I barely tolerate because of its long lines, lack of theming, and exhaust fumes. Working in Tokyo's favor is the old-school vibe very reminiscent of early Walt Disney World. Enough to bump it ahead of the flat rides in Mermaid Lagoon, but not much else.
---
37. Dumbo the Flying Elephant
Dumbo gets ranked a little higher in my anticipation list simply because he is the last of the old school ugly Dumbos. Flying over beautiful flowing fountains in the U.S. is nice and all, but sometimes you just want to land your elephant on a concrete helipad.
---
36. Gadget's Go Coaster
This kiddie coaster is always skippable at Disneyland, but I'm hoping the legendary Tokyo upkeep has kept all the props and scenery in Toontown in better shape than in California.
---
35. Alice's Tea Party
The tea cups are required Disney fare and visually are the most charming of these types of carnival rides. But I don't see a whole lot here to separate the Tokyo version from MK or Disneyland.
---
34. The Whirlpool
This looks like Mermaid Lagoon's version of the Tea Cups. I dig the look of them, and they have a zippy little twist to their motion, so I'm more excited about these than the actual Tea Cups.
---
33. Omnibus
This is the only ride in Tokyo Disneyland's Main Street (World Bazaar). The Omnibus is always the best of the Main Street Vehicles, because of the requisite upper-deck seating, which offers nice views of the street.
---
32. Star Tours: The Adventures Continue
Remember, this list is about anticipation, not necessarily quality. Star Tours is an all-time great Disney ride, but working against Tokyo is the fact that the ride itself is movie-based and will be identical to the U.S. versions I've ridden countless times. The appeal here is in seeing the different configuration of the queue, enough to drop it low on the list.
---
31. Star Jets
In no other universe does this Dumbo clone outrank Star Tours. But this one has me interested because of the vintage look of the rocket, which I'm expecting to act as a time machine, transporting me back to 1970s Walt Disney World.
---
30. Toy Story Mania
Much like Star Tours, I'm expecting the video-game ride screens to be identical to the stateside version. But I think the setting has the potential to outshine what I'm used to in Florida. Gotta love them using Woody as a Gatorland style entrance.
---
29. Caravan Carousel
A double-decker carousel and a chance to ride a genie help to nudge this one up the list. I call dibs on Purple Genie. Purple Whale from Triton's Carousel, please don't be jealous.
---
28. DisneySea Transit Steamer Line
This looks like TDS's answer to Epcot's FriendShips. I'm not expecting a breathtaking experience, but should offer some unique views of the park, or perhaps a chance encounter with an animatronic shark.
---
27. Flounder's Flying Fish Coaster
This kiddie coaster appears to be light on theme, so I don't have high expectations. But on the other hand, there is some potential for a few surprises, maybe some actual seafood smell pumped into the ride. I'll take a flyer on it.
---
26. Venetian Gondolas
I'm sure these are minor diversions, but they'll offer some interesting views of the Mediterranean Harbor. Bonus points if the gondoliers sing. Extra bonus points if they sing Japanese songs in Italian.
---
25. DisneySea Electric Railway
Could provide some interesting views, the way that the Magic Kingdom's railroad does. Also has some potential for thematic surprises and details. Will we get a Primeval World or Grand Canyon Diorama? Probably not, but maybe a bullfrog on a tree stump trapped by some alligators. That could work.
---
24. Buzz Lightyear's Astro Blasters
The Buzz rides are always similar, but with their own original sets and props. I suspect this is just a clone of Disneyland's version, but will at least be different enough from the Florida version I'm used to, and it won't take much for Tokyo to outshine the Magic Kingdom's deplorable queue conditions.
---
23. Aquatopia
I've heard that this trackless ride is more interesting in concept than execution, but I'm still looking forward to trying it out. The recent Luigi ride at DCA sounds like a similar concept, minus the water.
---
22. Tom Sawyer Island
The experience will be familiar, but the fun will be in comparing Tokyo's island with its U.S. counterparts. The U.S. versions are different enough from each other to make each one worthwhile.
---
21. Beaver Brothers Explorer Canoes
I'm not a fan of the canoe experience in general, but with the Mark Twain under refurb, this is my one chance to see the rivers of Westernland and compare them to the U.S. parks. Burning cabin, are you still out there?
---
20. Jungle Cruise
Will the skippers do their jokes in English or Japanese? I prefer to be surprised. The appeal of the American versions is in the simultaneously corny and dangerous sight gags. Excluding the video-based Star Tours and Toy Story Mania, Jungle Cruise becomes the first E-ticket ride on this list.
---
19. Western River Railroad
Never under-estimate the power of a Primeval World scene to a Floridian. I expect the experience to be a cut below Disneyland's train, but fresh enough to my east coast sensibilities to make me fall in love with it.
---
18. Raging Spirits
I intentionally know very little about Raging Spirits, and what I've heard is not encouraging. The theming does seem a little sparse, but it's unique to Tokyo and I'm curious to see what comes of this. This could be a case of low expectations working in my favor.
---
17. It's a Small World
We all know what we're getting with Small World, but the two American versions are very different from each other. I want to see what Tokyo has up its sleeve. I'm already intrigued by the different color palette.
---
16. Space Mountain
Florida's Space Mountain is a great attraction, which Disneyland takes to the next level with its onboard audio. I expect TDL's version to fall somewhere in the middle, which will be just fine.
---
15. Roger Rabbit's Car Toon Spin
Likely this is a total clone of Disneyland's version, but still very exciting to me, since I don't get to Disneyland very often. Roger Rabbit is an excellent dark ride fully worthy of its Fantasyland cousins.
---
14. Haunted Mansion
It looks so odd placed in the middle of Fantasyland. I expect the interior to be a Disney World clone, minus the recent upgrades, which should make for a satisfying time travel experience, but Mansion won't hold as much weight for me as it would for a Disney newbie.
---
13. Pinocchio's Daring Journey
This definitely shows the personal ranking at work, as opposed to ruthless objectivity. When taken together, the Disneyland Fantasyland dark rides are for me the quintessential Disney experience. And since we don't have Pinocchio in Florida, Tokyo earns points in the freshness category, which is how I can rank it ahead of something like Haunted Mansion.
---
12. Pirates of the Caribbean
This one has the potential to fit nicely between MK's version, which is really good, and Disneyland's version, which is probably the best theme park ride on the planet. If not for the fact that I've already ridden the two U.S. versions hundreds of times, this would be near the top of the list.
---
11. Big Thunder Mountain
The U.S. versions are both awesome and both very different from each other. I expect no less from Tokyo. Working against Thunder is that it likely has huge lines, and I may be more apt to skip multiple rides in favor of the other totally original Tokyo experiences.
---
10. Snow White's Adventures
For all the same reasons as Pinocchio above, and ranked even higher because Snow White tells a much more cohesive dark ride story. Snow White is truly undervalued as a dark ride and as the years go by, I feel its loss in Florida more and more.
---
9. Splash Mountain
For all the same reasons as Big Thunder above, and ranked even higher because Splash is more leisurely, with more opportunities to soak it all in. I remember seeing concept art of Tokyo's Splash Mountain and being blown away. I wonder how the real deal will measure up.
---
8. Peter Pan's Flight
The all-time greatest Fantasyland dark ride. I expect Tokyo's take to be similar to Disneyland, which will put it a cut above the Florida version. There is no other ride from my childhood more magical than Peter Pan's Flight.
---
7. Indiana Jones Adventure
I'm sure this is more or less a carbon copy of Disneyland's version, but with a slightly different plot. But since Disneyland's Indy is the thing I look forward to most whenever I make it out West, so I don't care if it's a clone.
---
6. Monsters Inc. Ride and Go Seek
I hear Monsters may be the toughest ticket in Tokyo. The dread of the crowds keeps it out of the Top Five for me, as well as some of my prejudices from DCA's Monsters ride, which does not live up to the potential. Hopefully, this one will exceed all my expectations.
---
5. Tower of Terror
A different storyline and a stunning show building should make for an incredible Tower of Terror experience. Jettisoning the Twilight Zone theme in favor of a more cohesive and sinister storyline is sure to put a unique spin on this modern classic.
---
4. 20,000 Leagues Under the Sea
Whenever I hear this ride discussed, the tone is always apathetic. But this has potential to be a truly unique dark ride experience. In order for this to fulfill my hopes, it needs to have narration similar to the original submarine voyages, while updating the quality of the show scenes.
---
3. Sinbad's Storybook Voyage
Tokyo's answer to Pirates of the Caribbean, with a distinctive art direction on the level of It's a Small World, a catchy theme song, and memorable characters. How can I not fall in love with this one?
---
2. Pooh's Hunny Hunt
Take the U.S. parks' solid versions of the Winnie the Pooh ride and amp it up several hundred degrees. This is sure to push all the nostalgia buttons while cranking up the wow factor.
---
1. Journey to the Center of the Earth
A full-on E-ticket thrill ride in the heart of a man-made volcano. None of the other rides have a pitch like that.