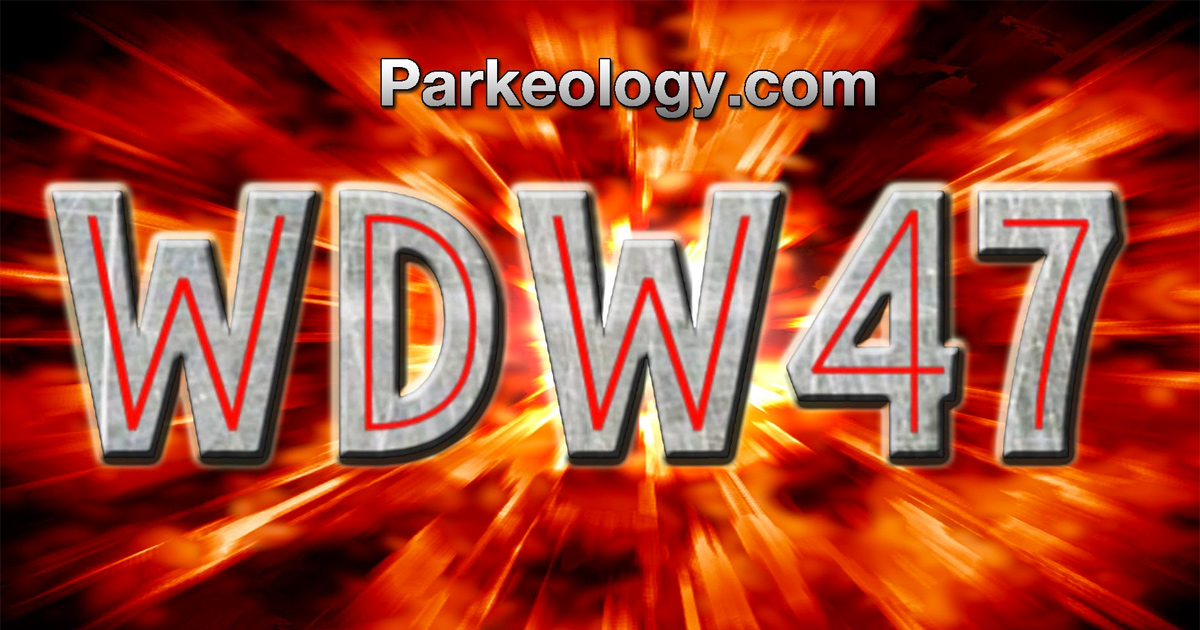 If you're wondering why it's been kind of quiet here on Parkeology, it's because I've been working on a new obsession. It's a little project of mine. An insane, magnificent little project of great worth to humankind. I mentioned this way back in April (4/7), which is appropriate because this mission is entitled WDW47.
We are now only 10 days away on this, and I've kept it under wraps for a few reasons. The first is obviously security. I didn't want the communists or the terrorists or the cast of Glee to find out about this and wreak their usual havoc on our national infrastructure. The second is that due to the nature of this mission, there was simply no point in announcing it earlier. Circumstances beyond our control dictated when WDW47 could be attempted, as shall be made clear below. And the third — possibly most important reason — every single person I have confided in on this has predicted complete and utter failure.
I take no great pleasure in embarrassing myself for the world to see (for the world will surely be watching). Teevtee, who has been an invaluable strategist and architect in the planning of WDW47, has been near despair for the past several weeks, due to insurmountable obstacles that threaten to thwart our quest at every turn. Together, we have been ingenious in our pursuit of out-of-the-box solutions — reworking our plan, tearing it down, starting over — squeezing every last drop of efficiency beyond the capacity of mere mortals. And yet still we find ourselves with roadblocks that no human being has ever overcome.
I have scoured the internet for strategies, research papers, military maneuvers. And in the end, they all fall short. My own wife has smiled politely, offered me her full support, patted me on the head, and reminded me not to be sad when the crashing failure inevitably comes.
Yet here we are, on the brink of another great step in civilization. Like the first lunar landing, Parkeology will send one man into the field in an attempt to make history — or die trying.
But first… some background:
As a child, my parents were wonderful people who took us to Walt Disney World every year. There were four kids in my family, which could be an expensive proposition when talking about WDW. So we would make our annual trip… and spend one day in the parks.
A single day. That was our reward. It didn't matter when EPCOT Center opened in 1982. We had to choose our park, or deal with hopping for that one day. When Hollywood Studios opened in '89, I was in high school. We still went only one day. It was not until a trip in college where I finally went to WDW on multiple days.
I had always been obsessed with the parks. I would study the guidemaps for hours — the old guidemaps were booklets, with pages and staples and everything. I had shops memorized. Restaurant menus ingrained in my consciousness. And most of all, I knew the rides.
I became obsessed with planning for my one day in the parks. With only so many hours to work with, I needed to chart a course through 6 themed lands of Fantasy, Adventure, etc. in the most efficient manner possible, accounting for traffic patterns, ride times, crowds, bathroom breaks. I was driven at the highest level to see every possible attraction. I drove my family nuts.
This led to a particularly horrible moment sometime during our one trip to Disneyland, where I forced my sister onto the Rivers of America 4 straight times in a row, because I had to see everything, and Columbia, Mark Twain, the Keelboats, and the Canoes were all listed separately in the guidemap. It was most efficient to see everything in Frontierland all at once.
Ah, those dreaded keelboats… Years later, on my honeymoon, I warned my wife that we would be seeing everything at Walt Disney World during our week-long stay (not a problem with that many days at the parks). She gamely played along, and since we never waited more than 20 minutes for anything, we had a blast. Until that last day, when I forced her into a 50-minute keelboat line because it was the only thing left to check off.
For years, I have always wondered what it would be like today, if I only had one day at the parks. The idea of seeing every attraction is simply impossible without breaking the laws of physics. The cumulative attraction ride/show time is greater than a single operating day. And what really constitutes an attraction anyway? Surely Peter Pan's Flight and Hall of Presidents and those things count. But what about Wishes or Illuminations? What about all those World Showcase cultural exhibits? How does one define "seeing" the Boneyard playground, or what happens if I skip out on a few Innoventions exhibits? Too much gray area, nevermind the fact that Lights Motors Actions runs 2 shows a day, and they overlap with Beauty and the Beast and Indiana Jones. No, it is not possible.
But yet it occurred to me that there was a special type of attraction for which there is no wiggle room. No way to cheat. A clear start and end, and easily categorized.
The all-important, all-favorite, all-mighty Ride.
Here without further ado is the goal of WDW47: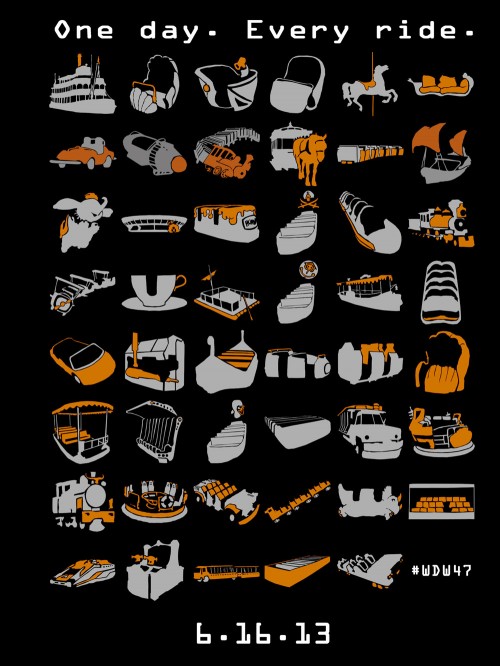 Yes, 47 rides spread across four parks. An official list taken straight from the official Disney website, of every attraction that involves a vehicle. Big E-ticket rides, small A-ticket rides. Rides with extra-long ride times, rides with painfully short durations. Rides that shake you, spin you, rattle you, drop you, bore you, soak you, race you, and in one awful case odorize you. 47 of them. All in a single day.
Here's the list, in order by park:
Walt Disney World Railroad
Main Street Vehicles
Magic Carpets of Aladdin
Jungle Cruise
Pirates of the Caribbean
Big Thunder Mountain
Splash Mountain
Tom Sawyer Island
Liberty Belle Riverboat
Haunted Mansion
It's a Small World
Peter Pan's Flight
Many Adventures of Winnie the Pooh
Prince Charming Regal Carousel
Under the Sea: Journey of the Little Mermaid
Barnstormer
Dumbo
Mad Tea Party
Tomorrowland Speedway
Tomorrowland Transit Authority PeopleMover
Carousel of Progress
Buzz Lightyear Space Ranger Spin
AstroOrbitor
Space Mountain
Spaceship Earth
The Seas with Nemo and Friends
Living with the Land
Soarin'
Journey Into Imagination
Test Track
Mission Space
Ellen's Energy Adventure
Maelstrom
Gran Fiesta Tour
Twilight Zone Tower of Terror
Great Movie Ride
Rock n Roller Coaster
Star Tours
Toy Story Mania
Backlot Tour
Kiliminjaro Safari
Wildlife Express
Kali River Rapids
Expedition Everest
Primeval Whirl
Triceratops Spin
Dinosaur
The rules are quite simple:
All 47 rides must be experienced in a single operating day (depending on hours, the operating day may actually end on a different calendar day, if open until the wee hours of the morning).
No outside help. I must be able to attempt this without having a team of people gathering up FastPasses, ferrying me from place to place, getting backdoor-ed by Cast Member friends, etc.
No breaking park rules by cutting in lines or being deceitful to other guests or Cast Members or jumping off the Jungle Cruise early so that I can swim back early.
Certain rides do require a judgement call. The WDW Railroad, for instance, has 3 stops it can make. For the sake of sanity, I'm going to consider riding any single leg of the round trip as good enough. There are several Main Street Vehicles (Omnibus, Horse Cars, Fire Engine, etc.), but the official site groups them all together, so I only need to ride one of them. Mission Space has Orange and Green sides, but I only need to see one (and I can assure you that it will not be the Orange side).
Everything else is fair game. I can utilize features that are available to a reasonable park guest, such as FastPasses and Extra Magic Hours, both of which are critical to success. My only other weapon is my wits. I read in one of those unofficial guides a long time ago that the average family sees about 8 attractions in a single day. I'm aiming for 6 times that, with a minimum of 3 park hops in between, in the middle of summer tourist season.
And yet I feel pretty good about my plan. I will be live tweeting the attempt (at least until my phone battery runs out, so if you're bored in 10 days, follow us on Twitter (hashtag #WDW47) and see how far I get.
Right now, the prediction on the table from a family member is 30. I'm pretty confident I can beat that. What do you think?