I have a love-hate relationship with Universal Studios. By which I mean, I love to hate them. For an entire decade and a half, they deserved all the hate and then some. Universal Studios Florida was a masterpiece of ugly when it opened. Islands of Adventure left so many opportunities on the table. They were such a source of perpetual disappointment, they might as well have called themselves the Knicks.
For almost 60 years, Disney has been setting the gold standard for how a theme park should operate, and everyone else is forced to copy them or die trying. Other parks could be counted on for the occasional ride vehicle innovation (floorless suspended standing coaster!) or record-setting coaster arms race (tallest wooden looping coaster!) — but these were just variations on the same thing. The real game changers (themed environments, onsite resorts, ride reservation systems, integrated infrastructure, gift shop exits) either came out of Disney or were perfected by them.
Somehow in the last 5 years, Universal has managed to steal a huge slumbering dragon treasure straight out from Disney's nose (or under it, if you want to be less gross — but the metaphors stay mixed)
Yes, yes, the so-called "mini-parks" are all well and good (SeaWorld just opened their own copycat this past weekend). But mini-park is just a different branding of the typical Disney land (as in Tomorrowland, Frontierland, etc.), and no different than the kind of mega-themed experiences that Disney has been doing pretty much since Eisenhower was in office. But with Wizarding World of Harry Potter and now the upcoming Simpsons area of USF, Universal has discovered the gift that keeps on giving: highly recognizable unique food items.
How Disney missed this one, I'm not sure. They are usually so far ahead of the game when it comes to making a buck that it is stunning just how this little market has exploded in the last half-decade, and it's all thanks to Universal. They wisely recognized that every kid and adult in the country who has ever read a Harry Potter book (which is probably every kid and adult in the country) is not only familiar with butterbeer, but would love the opportunity to try some. So they mixed up a cream-soda concoction and sold them that exact experience at its one-of-a-kind theme park destination.
Don't think Butterbeer is a big deal? All you have to do is look at the competition. Disney wasted no time rolling out their own weird marshmallow drink at New Fantasyland, called LeFou's Brew, highlighting it in the marketing materials. And SeaWorld promptly rolled out a South Pole Chill "infused with Vanilla flavor." Will it ever stop? Yo, I don't know. Turn out the lights and it'll glow.
There's just one problem with LeFou's Brew and South Pole Chill: Nobody has any idea what the frick those things are.
Butterbeer has an audience primed to desire it. They've been desiring it for years, and never had anybody bother to offer it to them. Universal saw that market and it quickly became one of their biggest success stories. It was so popular, they couldn't make it fast enough. Not so the frothy concoction named after a very minor character in a 20-year old movie, who never had any association with any beverage anyway, other than as a prop in a song and dance number for the villain. It's not a must-have drink. No kid is popping in the DVD of Beauty and the Beast and salivating over that time LeFou spilled some foam on Gaston.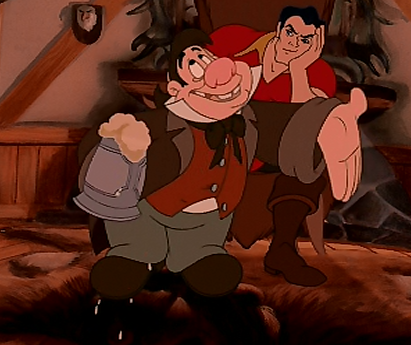 What I find fascinating is that Universal has already spotted a second opportunity to do the same thing, and again it's sheer brilliance. Duff Beer will be served at Simpsons-land. The fake refreshment that launched a thousand pop-culture t-shirts now lands at Universal, again in a one-of-a-kind unique tasting extravaganza. I predict their sales will be huge.
I commend Universal for coming up with these pre-made markets and incorporating them into their parks. It's the kind of opportunity the Mouse dreams about: Not just getting people into their parks with a slick entertainment offering, but finding something they are not only willing to pay for, but pleading to pay for. You expect the Harry Potter ride to be included in your admission, but not a single person would ever think that Butterbeer should be gratis. We're conditioned to pay for food. If you're not a raccoon, it ain't free.
Disney keeps trying to find a unique food item. Carsland brought us the Cones (Chili cone queso, etc.) I'm sure Avatar will bring about Pandoraberry Plunge or something. But they keep bumping into the same trap of making the food an extension of the existing theme, rather than finding something that can be a focal point. I'm wondering if they even have any food items at their disposal that they can capitalize on. Is there anything in the entire Disney pantheon as iconic as Butterbeer or Duff's Beer?
Let me know if you can think of anything. The best I've come up with is Poison Apples and Flubber, neither of which sound all that appetizing. Maybe Pooh's Hunny Ice Cream or something (served in a plastic Hunny pot). It has to be better than Old Yeller Jerky though.