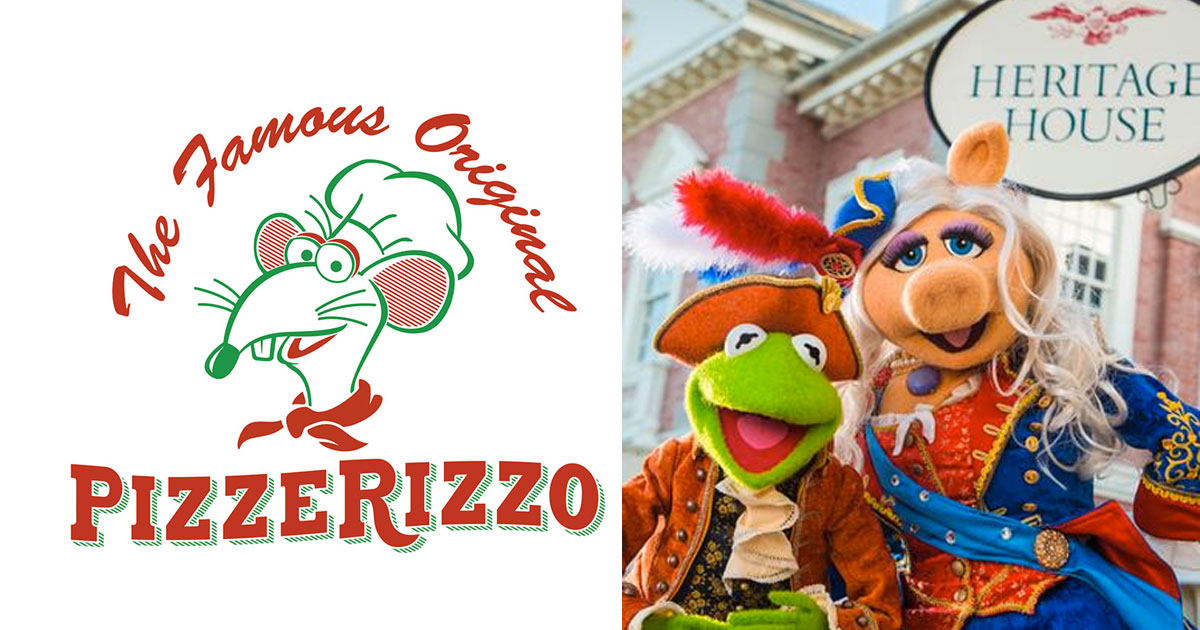 While its rival opens up yet another ho-hum thrill ride based on a monkey from the 1930s, Disney has revolutionized the theme park business with announcements for not one but two next-generation themed experiences, aimed squarely at the emerging Millenial audience.
Dubbed a "Potter-killer" by industry pundits (a reference to Universal's well-received Harry Potter lands), the two Disney experiences are expected to draw massive — and decidedly younger, more hip — crowds to the aging Orlando property.
First up will be an anchor restaurant to a new Muppet Courtyard area of Hollywood Studios. PizzeRizzo — scheduled to open in October of this year — will feature cafeteria-grade pizzas served by Rizzo the Rat, the breakout star of Muppets Take Manhattan, the 39th highest-grossing movie of 1984.
Disney is playing it close to the vest with details about this pizza/rat combination. But if history is any indication, we can expect a healthy slice of cheesy gags. This represents a major turnaround for a company that used to dominate the lucrative cheese pun market with octogenarian star Mickey Mouse, but which recently was forced to cheddar the doors of its Comedy R&D division for its failure to turn out gouda jokes (an act which shareholders found particularly grating).
The move to add PizzeRizzo acts as a clear rebuttal to criticism from fringe website parkeology.com, which has lambasted the company for its failure to produce any sort of synergistic food tie-ins with its Intellectual Property (IP) — unlike competitor Universal, which has brought Harry Potter ButterBeer and Simpsons food-related cross-overs to the park.
Someday the Disney/Pixar machine will get their act together and create a film with a highly themed pizza-based restaurant universe that can be lifted straight from the movies and plopped into a theme park. But until that day comes, a fast food diner based on a fringe Muppet is an ingenious solution.
Or, as another industry expert put it, the idea of a rat running some kind of fancy restaurant is rife with comic possibilities. And if the Studios can't come up with quality stories built around this idea, it will be up to the theme parks to do it.
Elsewhere on property, the Muppets are again being called upon to lend authenticity to an otherwise low-rent district of the Magic Kingdom. Liberty Square, one of the park's original lands, has long been recognized as the most creatively challenged and minimally themed areas of Disney's most popular park. Fans derisively refer to it as "the Dinorama of the Magic Kingdom."
Hoping to inject a bit of 21st-century relevance to an area whose biggest attractions are a House and a Hall full of long-since-dead people, Disney has tapped the modern cultural phenomenon that is the Muppets, who will present "Great Moments in American History" from a dedicated area in the heart of Liberty Square — finally solving a problem that has baffled the Disney Imagineers for decades in how to realistically re-create Colonial America.
The move has been heralded as a brilliant coup by Hollywood insiders, where the Muppets are viewed as one of the hottest entertainment commodities around. Their most recent chart-topping movie shot to #69 of the all-time box office champions of 2014, and a recent TV offering garnered a monster 1.9 Nielson rating and an unprecedented string of 1 seasons before succumbing to parent company ABC's random cancellation process.
As an IP that has produced 8 movies in the last four decades — more than double the number of Marvel movies released since last year — it's clear that Disney places lots of value in this acquisition and that audiences are hungry for even more. Schoolchildren bored by the dated offerings of Liberty Square are sure to welcome this immersive, historically accurate diversion of ironic humor sung by green felt frogs and blonde wig pigs.
Disney is no stranger to cutting-edge park shows about American History. A similar high-tech extravaganza ran in Disneyland for 14 years before a thrill ride based on a 40-year-old culturally insensitive movie robbed it of all the singing animals. Many longtime Disney fans agree that this process of building high-end immersive attractions at the expense of dated corny musicals was a dark time for the company.
Though many fans have fond memories of the show, no one wants to see the company return to the America Sings glory days of 1974. Which is why the Muppets, which hit the airwaves during Jimmy Carter's first year, are considered such a breath of fresh air.
Now that Disney is finally focusing on disco-era puppet shows as a way of staying relevant in today's fast-moving "Pokemon Go" culture, most pundits agree that the future could not be brighter. There are rumors that Disney may tap the Muppets yet again for an overlay to Florida's aging Twilight Zone ride, since modern audiences simply don't connect with TV shows from nearly half a century ago.