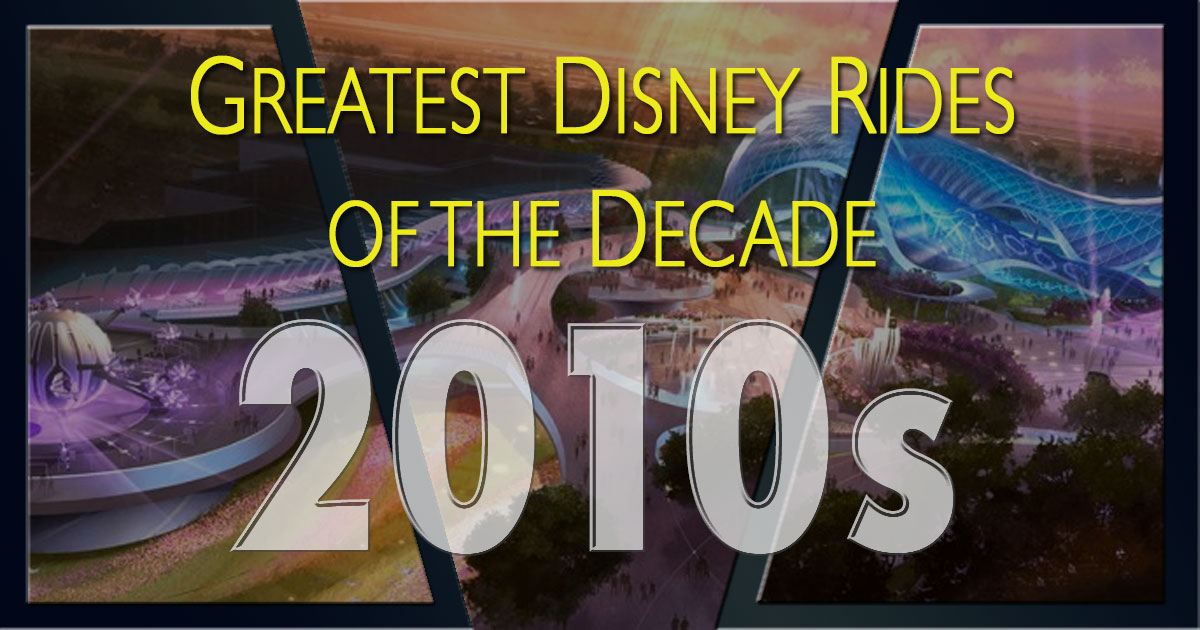 We've come along way since we started our journey. From Disneyland's humble beginnings all the way into a new millennium. We've ranked 5 of the greatest Disney attractions from each decade. And now we come to the 2010s.
Want to revisit earlier decades before we continue? Click below:
What follows are the most recent rides on the list. The most cutting edge. Rides that stand on the shoulders of the giants that came before.
What will this last decade bring?
The 2010s
At last, the theme park expansion has slowed. The only new park to open in the 2010s was Shanghai Disneyland. It tossed out many of the conventions of a Disneyland-style park in favor of bold new ideas.
And for the other parks, it was now time to borrow those same ideas.
Welcome to the age of the massive IP-themed land.
IP stands for Intellectual Property, for you uninitiated. Bob Iger's laser-focus on IP left precious few opportunities for original concepts. Now Disney could zero in on highly marketable horses and wring every last ounce of potential.
IP was everywhere. From Toy Story to Avatar, Star Wars to Cars. If it wasn't attached to a hit movie franchise and a billion-dollar merchandise valuation, it wouldn't be built.
But as we will see with the first ride on our list, sometimes accidents sneak their way in.
5. Mystic Manor
Hong Kong Disneyland, 2013
It's such a nutty concept — a monkey opens a magic music box and causes mayhem in a museum of odd relics. Even if this was IP, how would this thing ever get built?
Mystic Manor is a happy oddball symphony, utilizing the zippy trackless vehicles from Pooh's Hunny Hunt. And it owes a lot to Haunted Mansion as well. And echoes a dozen great rides before it — Indiana Jones Adventure, Tokyo's Tower of Terror, even the Enchanted Tiki Room.
Though spooky in description, it feels more like a Scooby Doo mystery. All it's missing are the meddling kids (like Joe Rohde).
To this day, Mystic Manor remains a Hong Kong original. But its gorgeous show building facade and fun-for-all-ages concept makes it a great candidate for replication some day.
4. Avatar Flight of Passage
Disney's Animal Kingdom, 2017
This next evolution of Soarin' suspends riders over another huge IMAX screen. And it packs in so much detail that it's hard to believe it was all rendered by a couple of iMacs or something.
The flight over Pandora takes place while perched on a vehicle that breathes and banks like a living creature. Mist effects and strategic scents assault your senses. Soaring music echoes from the jungle.
Exhilarating without being overpowering, Flight of Passage hits the sweet spot of thrill rides.
As the anchor to the entire Pandora land (one of those IP-land ideas mentioned earlier), it reminded people that some things might be worth waiting 4 hours in line.
No wonder they needed that killer queue.
3. Pirates of the Caribbean: Battle for the Sunken Treasure
Shanghai Disneyland, 2016
It starts off like all the other Pirates of the Caribbean rides. Glistening caverns, old shipwrecks, and lost plunder.
But then things take a dramatic turn. That dog with the keys is as dead as the pirates. And this is not Walt's New Orleans Square.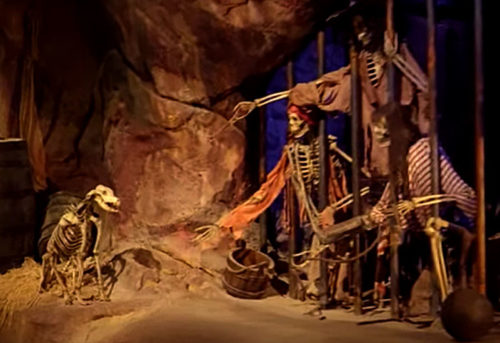 Pirates of the Caribbean: Battle for the Sunken Treasure is Disney technology on steroids. Even when showcasing fully-dimensional art-direction and beautifully staged sets.
The ride upends the conventional boat journey by sinking you into the depths of the sea. Shanghai's pirates surrounds you on all sides via a series of towering high-definition projections. Before you realize what's happening, you're smack in the middle of a swashbuckling phantasmagoria.
The trackless boats slow, spin, and redirect themselves in the current. A disorienting, vast ocean replaces the familiar show-building. How'd-they-do-that projection effects ripple before your eyes.
It set the stage for the massive screen attractions to come later in the 2010s.
2. Radiator Springs Racers
Disney California Adventure, 2012
The rockwork alone might warrant placement on this list. The golden Cadillac Range of Carsland seems to wrap around you for miles.
Disney took the Test Track slot-car conveyance and updated it with a much more compelling storyline. The resulting ride is one of those delightful Disney confections — totally thrilling yet instantly accessible.
With its amazing soundtrack, advanced animatronics, and picture-perfect ride vehicles, Radiator Springs Racers is single-handedly responsible for saving Disney California Adventure (it definitely wasn't this one).
1. Star Wars: Rise of the Resistance
Disney's Hollywood Studios, 2019
Here it is. The culmination of everything Disney has done to date.
Rise of the Resistance is too new to understand its staying power. Especially when compared with, say, the 50+ years of Mansion and Pirates. But it's certainly the most complex attraction ever designed.
Rise of the Resistance blurs the line between where the line ends and the show begins. Just what is the ride vehicle? It's a trackless dark ride, a cargo shuttle, a simulator base, and a high-speed elevator rolled into one.
It has screens, it has animatronics, it has brilliant music. The one thing it doesn't have is 3D — and thank God for that.
This is the new benchmark. And as we pull into the unloading station with a crash of John Williams music, it provides a fitting end to our journey.
The 2020s and Beyond
To paraphrase Carousel of Progress, we have a whole new decade waiting for us out there. Full of rides and attractions that haven't even been announced.
But we do have some clue of what's to come.
Tune in tomorrow for a special bonus post as we break down the 5 Disney rides that we're most looking forward to in the decade to come!