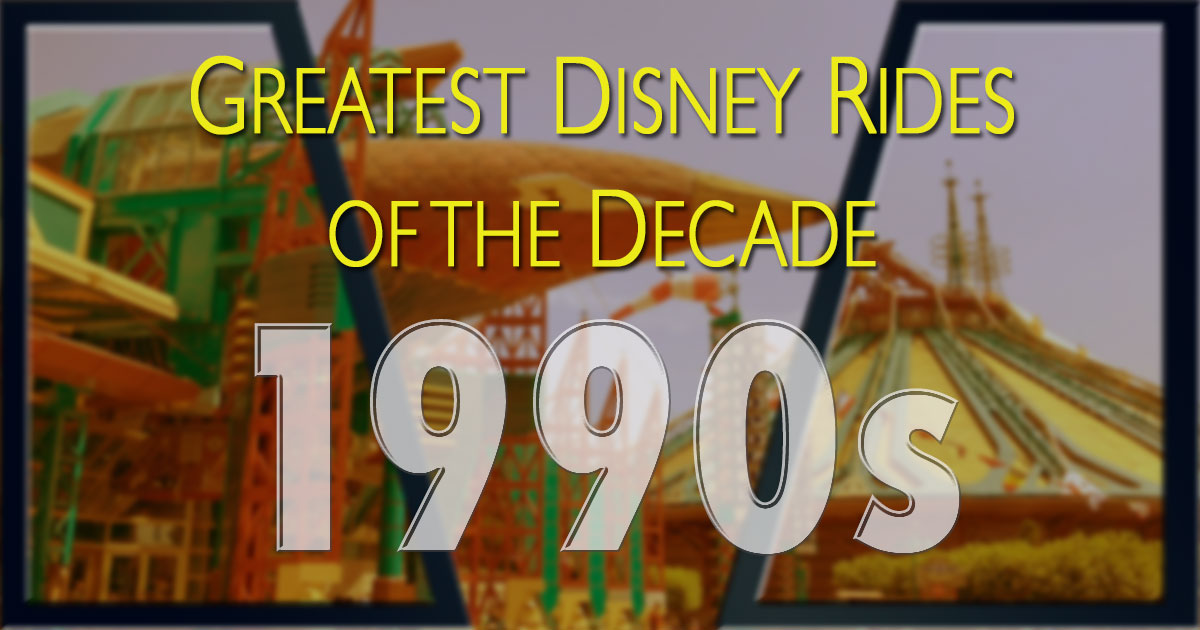 Michael Eisner once promised that the 1990s would be the Disney Decade.
Maybe he was right. The company continued adding theme parks across the globe while the animation studio entered its second golden age.
But there was also trouble brewing. Would the Disney Decade deliver enough greatness before the wheels fell off?
Welcome to our exploration of the 5 greatest Disney rides of each decade. Click below to jump to the decade of your choice:
The 1990s
The opening of Euro Disneyland in 1992 brought Disney parks to Europe for the first time ever. Much like Tokyo Disneyland, the park was mostly a clone of the original Disneyland.
Unlike Tokyo Disneyland, nobody came.
The company clearly did right with the delicate and fanciful architecture. But critics said the rides and attractions were just too much like their obese American cousins. The European elites preferred things a little topsy turvy.
Most of the groundbreaking work came stateside. Especially Walt Disney World, which introduced the world's first theme park to feature live animals!
I know what you're thinking, but no.
Animal Kingdom was Nahtazu!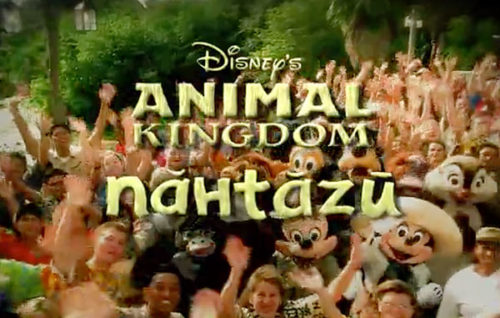 5. Muppet Vision 3D
Disney MGM Studios, 1991
Muppet Vision 3D owes a lot to Captain EO. But while that earlier film benefited from marquee names like Michael Jackson and George Lucas, Muppet Vision 3D had only a forgotten 70s puppet show to work with.
The attraction touted itself as "4D" — which meant an onslaught of in-theater effects.
Multiple Audio-Animatronics surround the stage. Soap bubbles, high powered fans, and squirts of water blast you from every angle. Scrim techniques and hidden compartments transform the theater into a disaster zone.
There's even a live performer dressed like Sweetums at one point, which really disrupts continuity if you know to look for it.
Muppet Vision 3D was one of the last projects supervised by the legendary Jim Henson. It paved the way for a clone at Disney's California Adventure, as well as future 3D spectacles like Honey I Shrunk the Audience and It's Tough to Be a Bug.
It's still running today, beating even the legendary Captain EO, who only survived 10 years.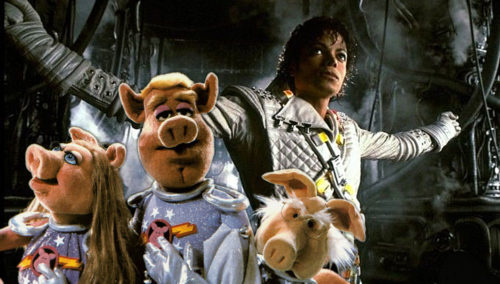 4. Buzz Lightyear's Space Ranger Spin
Magic Kingdom, 1998
Tomorrowland has always had some sort of Omnimover dark ride. Usually an airplane commercial masked as an attraction.
The unexpected popularity of the Toy Story movies in the 1990s sent shockwaves through the company. Buzz Lightyear's Space Ranger Spin was the happy result.
Buzz would eventually spread to every Disneyland-style park in the world. The spunky Space Ranger could only shake his head in disgust when Hong Kong Disneyland replaced him for a much-inferior Ant-Man ride.
For the first time, Imagineering threw off the training wheels on the carefully programmed choreography of the Omnimover. By mounting a free-spinning vehicle on the ride track, they put guests in the driver's seat.
Then — just to flex their muscles — they turned the whole ride into a shooting gallery.
Buzz Lightyear's Space Ranger Spin was the first major instance of gamification in a Disney ride — even if it does promote an impossible score. More recent attractions like Toy Story Mania and Millennium Falcon: Smuggler's Run owe it their sworn fealty.
3. Kilimanjaro Safaris
Disney's Animal Kingdom, 1998
By acreage, it's the largest Disney ride ever developed — almost the size of the entire Magic Kingdom.
Kilimanjaro Safaris took the basic idea of visiting cuddly predators and turned it into a breathtaking story of peril on the African savannah — complete with collapsing bridges, shootouts with poachers, and a nerve-wracking journey over a pit of live crocodiles.
Imagineers had to overcome challenges that had thwarted them since the Jungle Cruise way back in 1955. Like how to keep several species of wild animals from hiding, humping, pooping, or tearing each other apart on stage.
Animal Kingdom absolutely depends on it. In more than 20 years of operation, it has never experienced any significant downtime.
2. Indiana Jones Adventure
Disneyland Park, 1995
By injecting more of that sweet, sweet George Lucas goodness, Disneyland reinvigorated Adventureland with a new kind of thrill ride.
It used to be that there were roller coasters and there were flight simulators. And then someone had the audacity to smash them together and send them hurdling through a special effects dark ride.
Indiana Jones Adventure also elevated the art of waiting in line. Designers cleverly orchestrated a series of dimly lit, highly themed tunnels to draw visitors outside the berm — and packed them to the gills with interactive features and spooky sound effects.
Finally, Indy just has that good old fashioned adventure feel. From the John Williams opening to the Rolling Stones finale, it's a Greatest Hits version of the Indiana Jones saga.
It spawned a clone at Tokyo DisneySea, as well as a less-than-perfect re-skin in the form of Animal Kingdom's Dinosaur.
1. Twilight Zone Tower of Terror
Disney MGM Studios, 1994
Just like Indiana Jones Adventure reinvented simulators, Tower of Terror set its sights on the standard free-fall drop concept.
And they stuck it in an updated version of the Haunted Mansion, no less.
Tower of Terror subverts expectations at every turn. It's one of the first to feature an elaborate dedicated pre-show room, sparking an overused trend in the 1990s. Then it turns dark and grungy as you traverse a spooky basement.
By the time your elevator leaves the shaft and travels forward into a dark corridor, you're totally convinced you are about to die.
Over the years, Tower of Terror has only gotten better. Multiple drops and randomized sequences have given the ride an endless element of surprise.
Of no surprise, however, was how popular the ride turned out to be. It was cloned into Disney's California Adventure, Walt Disney Studios Park, and Tokyo DisneySea.
The 2000s and Beyond
By the dawn of the new millennium, a darkness was starting to spread. Would economic chaos and leadership turmoil overshadow the next decade of great Disney rides?
Come back tomorrow to find out.