In the early 2000s, the number of Disney parks would increase once again. But for the first time ever, the company would falter.
Come with us as we explore the not only a new decade but a new millennium and the chance to rank 5 more of Disney's greatest and most important rides.
You can click below to jump to the decade of your choice:
The 2000s
In 2001, the park that started it all finally gained a baby sister.
And the slow building horror felt like an episode of The Conjuring.
Disney's California Adventure opened right across the esplanade from Disneyland. Right away, it seemed they had a flop on their hands.
It was utterly lacking in the usual Disney detail. The characters were anathema. The dark ride starred Regis, Whoopi, and Drew Carey. The attraction names were… I mean, just the puns alone were enough to drive you insane.

To make matters worse, the vast majority of rides were a slap in the face to everything Disneyland stood for. Paradise Pier marked a return to the days of unthemed amusement park fare — including a Ferris Wheel, something Walt swore he would never have in his park.
But the final heartbreak came only a few months later, when Tokyo Disneyland also opened a sister park.
Tokyo DisneySea was breathtaking in its scope. An exclamation point on top of everything Disney had been doing for the last 50 years. It was the polar opposite of California Adventure. Fans immediately hailed it as the greatest theme park of the 2000s.
It seemed the company couldn't get out of its own way. The next year they opened a sister park in Paris — and it was like an even worse episode of the Conjuring. One of those Annabelle movies, maybe.
Stripped of detail even far below California Adventure level, Walt Disney Studios Park barely out-themed most Disney parking lots.
The budget cuts continued with the opening of Hong Kong Disneyland. They just managed to establish a workable framework. But for most of the 2000s, it remained only a shell of possibility.
Fortunately, the established parks of the time were not left dormant.
5. Toy Story Mania!
Disney's Hollywood Studios, 2008
That's just great, we all thought. Yet another Toy Story shooting arcade ride.
But Toy Story Mania ultimately proved to be the late-2000s catalyst for a gradual reinvention of the disastrous Paradise Pier at Disney's California Adventure.
The Florida version technically opened a few weeks earlier and instantly became the most popular attraction on property. Once again the Imagineers were able to mix-and-match elements from other innovative rides to produce a modern day classic.
In California, it gave purpose to the boardwalk and brought to life some important Disney characters. They would swarm over Paradise Pier in the years to come.
Toy Story Mania soon crossed the Pacific to land in the American Waterfront area of Tokyo DisneySea. Once again it was an instant smash.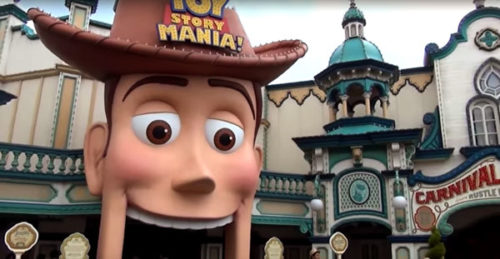 A few years ago, Hollywood Studios park operations made an unprecedented move by adding a third track to accommodate demand.
I mean they could have built a whole new ride, but hey, we'll take it.
4. Expedition Everest: Legend of the Forbidden Mountain
Disney's Animal Kingdom, 2006
Topping out just shy of 200 feet, Everest is the tallest artificial mountain in the world. It's so huge, it's a wonder Tom Cruise hasn't dangled from it in a movie or something.
It is a master class of rockwork, set dressing, and placemaking. And the ride ain't half bad either.
Featuring an innovative track-switching component that sends riders forwards, then backwards, then forwards again, Everest is a breakneck rollercoaster that slows down only to propel the story forward. By the time you encounter the fearsome Yeti in all his dreadlocked glory, you are completely breathless.
It has also courted controversy for most of its existence. The massive Yeti animatronic reportedly ruptured his support beam and has been stuck in B-mode ever since, too large to fit through the tunnel for repairs.
Finally, it must be noted that Everest is the lost resting place of the famous Animal Kingdom water temple. And someday we are going inside.
3. Soarin' Over California
Disney's California Adventure, 2001
The one bright spot in Disney's California Adventure proved to be this simple, charming flight simulator over an IMAX screen. Soarin' was a gentle thrill ride — as exciting for grandma as it was for teenagers.
By keeping its aspirations in check, the ride made guests fall in love with it — and all its hilarious quirks.
It mixed in nostalgic scent effects borrowed from the best EPCOT attractions. The smells of orange groves, forest pines, and sea spray helped to suspend disbelief while suspended over a giant movie screen.
It had such an EPCOT feel that Disney soon moved it to Future World in the mid 2000s. It proved so popular, they had to build a third theater — something Food Rocks could never manage.
When it was added to Shanghai Disneyland, all three locations swapped out the original California film for a global trip around the world.
Tokyo DisneySea got in on the act in 2019. They added an impressive themed queue to go with the ride, just because Tokyo DisneySea likes to taunt us.
2. Journey to the Center of the Earth
Tokyo DisneySea, 2001
What do you get when you cross the best Jules Verne theming from Disneyland Paris with a colossal man-made volcano in the grand tradition of Disney mountain ranges? A massive, sprawling epic that sends you hurtling through glowing magma tunnels, past bioluminescent life forms and massive Audio Animatronics.
Built on top of the Test Track-style slot-car mechanism and borrowing tricks from diverse attractions like the Living Seas Hydrolators, Journey to the Center of the Earth proves that Imagineering works best when recombining old ideas in exciting new ways.
It also features one of the greatest original scores for any theme park attraction — no small feat in a time when that art form has been slowly disappearing.
So considerate is the theming in Journey to the Center of the Earth that it actually contains one-of-a-kind themed umbrella holders. A thrill ride first!
1. Pooh's Hunny Hunt
Tokyo Disneyland, 2000
There was a time when Winnie-the-Pooh began to dominate everything. He heartlessly evicted Mr. Toad in the Magic Kingdom, then did the same thing to the Country Bears in Disneyland.
On the surface, Pooh's Hunny Hunt would appear to be just a clone of that same dark ride, similar to the clones that would also appear in Hong Kong Disneyland and Shanghai Disneyland.
But nothing could be further from the truth.
Pooh's Hunny Hunt is everything that its cousins are not. Fully articulated, fuzzy, and full of surprises. It is the Fantasyland dark ride updated to the modern age.
Pooh's Hunny Hunt was the first use ever of the stunning trackless ride vehicle. Your car dances through the Hundred Acre Wood in an elaborate and effervescent waltz, encountering all your favorite friends. Each and every one of them a cuddly, huggable, talking, and moving creature that bears (ha) no resemblance to the plastic static sculptures of the other Pooh rides.
So revolutionary is the ride system that Disney has started using it everywhere, from Ratatouille to Rise of the Resistance and the upcoming Beauty and the Beast ride in Tokyo.
The 2010s and Beyond
Tomorrow brings us to the last decade in our journey. There's only one more theme park to open. Can we find 5 more of Disney's greatest rides?
Let's find out.