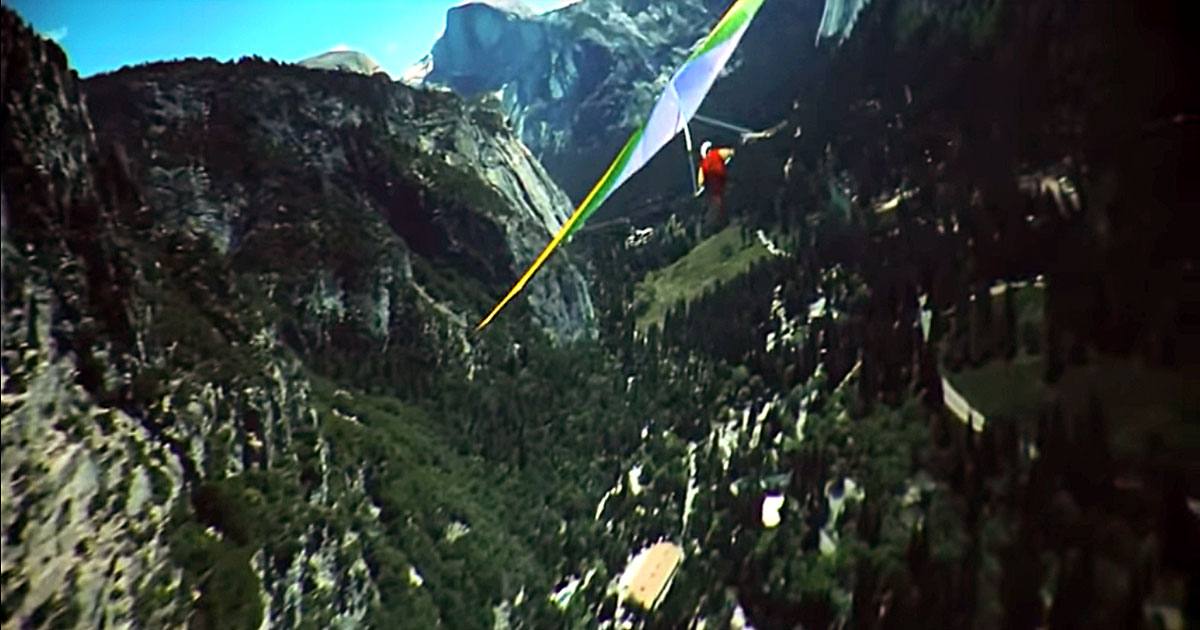 Like many of you, I've ridden Soarin' a number of times.  I'm talking Peyton-Manning-to-Marvin-Harrison number of times.  Cher-Cosmetic-Procedures number of times.  Maybe not Rednecks-on-COPS number of times, but certainly Jessica-Simpson-Attempts-Fourth-Grade number of times.  I'm telling you, I can recite every line of dialog in the movie word for word (that's a little Soarin' joke.  Some of you get it).
I've talked before about the Rocky Horror Picture Show aspect of Disney, for those of us that go a lot.  You tend to find little things that you fixate on and quote in your head or watch for.  When the bumblebees start singing in It's Tough To Be a Bug, I'm the only idiot in the audience watching Flik do his little dance on his way off the stage.  And when Waldo starts bouncing on people's heads, I'm listening for Beaker's only intelligible line.
So today I thought I would drag everyone into my own obsessive-compulsive world and highlight all the stupid things that I can't help noticing as I ride Soarin'.  And in an admirable show of restraint, I will not mention my tendency to lean out over my seat and see if I can spot a baseball cap lying in the pit at the foot of the screen.
Some of these are easter eggs that you're already familiar with.  Some of them are just things that bother me.  And now that I point them out to you, they will be stuck in your head and you will just have to watch for them also.  You're welcome.
"Hello, and welcome to Soarin' (over California)"
You West Coasters can't find this one, but at Epcot, the ride's title is just a single word.  The only problem is, it uses the same preshow video as "Soarin' Over California" at DCA.  So when Patrick Warburton gives his little spiel, there is a very subtle dissolve after the word "Soarin'", in order to cut out the extra words.  It's hard to catch, but it's there.  Blink and you'll miss it.
Fly Fisherman Can Bring Down Aircraft
Early on there's a scene where you fly over a river, containing canoes, kayaks, and one guy in waders fishing.  As the helicopter carrying the camera approaches him, he casts his line, then immediately pulls it back again.
I don't know what it is about this guy, but I find his action utterly distracting.  To me it looks like he wants the helicopter to get a good shot of him fishing, but at the same time he is terrified that his line might accidentally snag the rotors and bring the whole chopper down.
Staged Snowboarders
A sweeping shot of a ski slope, with several skiers passing beneath the helicopter.  As we approach the summit, a snowboard hurdles over the cliff.  And immediately wipes out.  It's the only genuine laugh in the movie.
But what catches my eye is how the snowboarder is clearly waiting for the camera.  This isn't some fortuitous shot where the camera just happened to catch some inept idiot in midflight.  He's perched up on that cliff the whole time during the sequence and decides to shove off just as the camera nears the top of the mountain.
As a bonus, there is another snowboarder doing the exact same thing to the left.  But since he never wipes out, we never see him.  Must be Shaun White.
The Hang Glider
Nothing really special about him, other than that every time he appears in front of us, I spend the whole sequence trying to figure out if he is CGI, or a real person somehow composited into the shot.
I just find it too unbelievable that they would let a real hang glider fly out in front of a moving helicopter.  They never show the guy's face. He's in a helmet and covered head to toe in what looks like a water heater blanket.
CGI or real?  I vote CGI.
Michael Eisner on the Executive Golf Course
Maybe this is just one of those Disney urban legends, but the guy swinging the club on the golf course is rumored to be former Disney CEO Michael Eisner.
He certainly has the country club upbringing, the shiny forehead, and the obvious disdain for Jeffrey Katzenberg.  If it's not really Eisner, don't spoil it for me.  Also, I think his caddy is Roy Disney (no, not really).
Hidden Mickey on the Golf Ball!
At Parkeology, we detest Hidden Mickeys.  That stuff's for amateurs.  Nevertheless, I watch for the hidden Mickey on the golf ball every time as it zooms towards our screen.
There, I admitted it.  Now I feel dirty.
Note to Cinematographer: Your Shot is Too Dark
It was maybe my third or fourth time before I realized that people were surfing down there in the shadowy waves during that sunset flyover of the ocean.  It's like the opening scene of Jaws.  Those kids could be skinny dipping with sharks for all we know.
Christmas at Disneyland
The movie ends at Disneyland, which is fitting.  But why did they choose Christmas season to film this shot?  That's the Christmas parade down there.  You can see the big Main Street tree and It's A Small World is all decked out for the holidays.
This shot is only relative for about two months out of the year, yet it's your big finale.  You couldn't wait until January to get a more normal view?
The only thing I can think of is that maybe all the Christmas lights helped the nighttime shot to turn out a little better.  But that explanation feels weak.  No matter, I spend the whole time trying to make out which rides are open (answer: not many).
So those are my obsessions.  What do you fixate on?