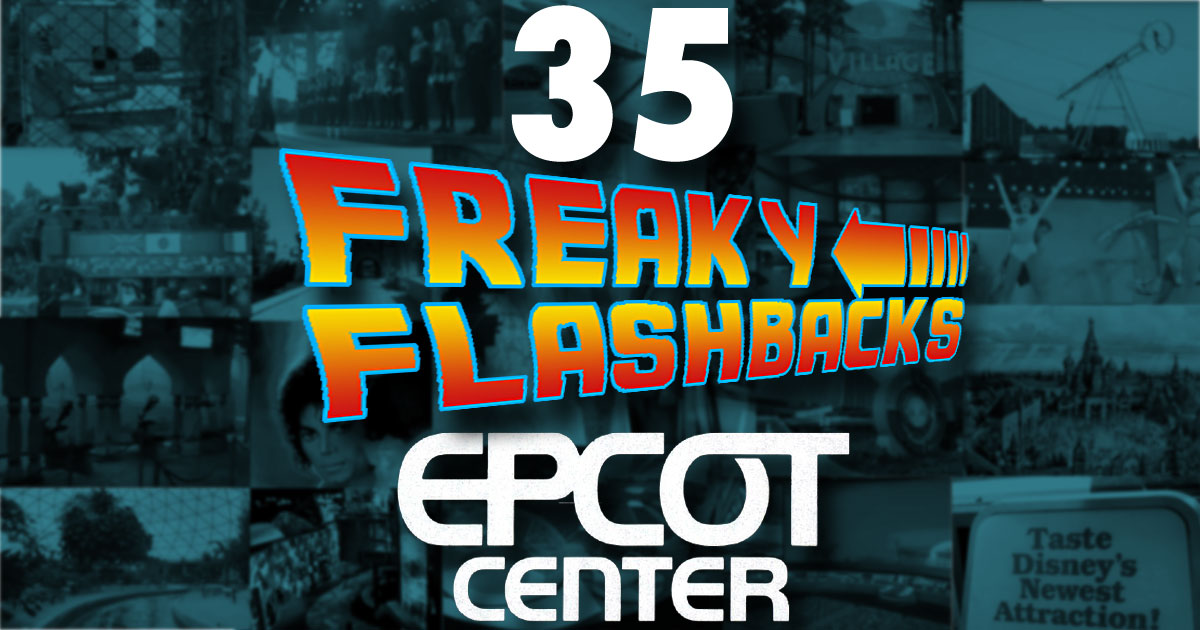 On the occasion of the Epcot 35th Anniversary, we come together with our fellow Disney fans to reaffirm Epcot's status as one of the weirdest theme parks on the planet.
It's hard to imagine anyone attempting anything like EPCOT Center today — let alone the carefully synergized Walt Disney Company. It was so different. It was the first park to separate itself from the Disneyland formula. And while it borrowed greatly from the World's Fairs of yesteryear, it was bold and futuristic — a bizarre mash-up of corporate harmony and loony travelogue.
Parkeology visited on October 1, along with several of you. We skipped the long lines for vinyl collectibles and specialty cupcakes and went straight for the one remaining unchanged attraction from EPCOT Center's Opening Day.
Impressions de France is full of early 80s fashion, pastoral countryside, and a musical score heavy on the pipe organ. It doesn't jibe with Olaf, Crush, and the Guardians of the Galaxy. With a Ratatouille ride looming on the horizon, its days may be numbered.
When this cultural curiosity disappears, it will join a long line of theme park oddities to have vanished in the decades leading up to the Epcot 35th Anniversary.
Here are 35 of our freaky favorites from the loony bin.
---
35. Somebody Thinks Tone Lōc Should Host a Kid's Show
Tone Lōc was a flash-in-the-pan rapper during the 1990s when Disney tapped him to play the role of Fud Wrapper, the hip-hop pre-packaged host of Food Rocks, a family-friendly show about proper diet. Lōc's biggest hits at the time (and at any other time) were Wild Thing, a euphemism for sex, and Funky Cold Medina, some kind of love-drug. That's good nutrition.
---
34. No Disney Characters, Like, Anywhere
When EPCOT Center first opened, park-specific characters like Dreamfinder, Figment, and SMRT-1 could be found everywhere on merchandise and greeting areas, but Mickey and the gang were banned in order to differentiate the park from the Magic Kingdom. The bottom line took a huge hit and led to Epcot's stigmatization as an adults-only venue — which it still battles today.
---
33. Fighting Evil Dragons with Rainbows
Skyleidoscope was one of the first lagoon shows for the park, with Journey Into Imagination's Dreamfinder dropping rainbow smoke-bombs from ultralight planes as "Ma Dragon" and "Pa Dragon" try to stop him. That description alone is pure insanity, even if the actual show did look pretty cool.
---
32. The History of Mexico Via Interpretive Dance
At least one Parkeologist grew up dreaming about hot Aztec dancers because of the opening scenes of El Rio del Tiempo, the original Mexico boat ride. Early in the ride, several video panels showcased scenes of dancers in elaborate native costumes. Lost in translation, however, is that the dances are meant to pay tribute to the achievement of ancient Mexican cultures, such as the Mayans' sophisticated mathematics and astronomy. The only thing weirder would be a duck Mariachi band.
---
31. The Imagination Ride Builds 5 Copies of the Same 4-Minute Scene
Everyone remembers Dreamfinder and Figment on their flying dirigible. What you may not remember is that the scene takes four minutes — an eternity when ride vehicles are continually dispatched behind you. How did Disney pull this off? By building the same scene 5 times and grouping vehicles on a giant turntable while it played out. It's a masterpiece of creative engineering — which unfortunately fell by the wayside when the original Journey Into Imagination closed forever. Martin Smith has a fantastic video that shows this in action (9:40 mark).
---
30. The Living Seas Wouldn't Let You In
Today, anyone who wants to see the manatees or talk to Crush can simply stroll right on in. But back when the pavilion purported to transport you to a deep water facility called Sea Base Alpha, such comings and goings would violate the storyline. Instead, the Living Seas made visitors wait in a dark queue, sit through a 10-minute film, board fake underwater elevators called Hydrolators, and finally ride a short Omnimover ride before they could do anything inside the sea base proper. They repeated the fake elevator charade when you wanted to leave.
---
29. Maelstrom Wouldn't Let You Out
The original Norway boat ride turned the traditional preshow film on its head, opting instead of a 6-minute post-show travelogue of Norway — and they weren't about to let you skip it. Upon disembarking your Viking vessel in a quaint Norwegian fishing village, guests were trapped in a small courtyard until the previous movie ended. Then they were herded into the theater and forced to watch it for themselves.
---
28. A Squirrely Little Animatronic Becomes the Host of Innoventions
Tom Morrow 2.0 was a bizarre baby Terminator that started on the Disney Channel and became the host of Innoventions for a short while in the 2000s. He moved like a metallic Muppet and popped up in a few different locations in the pavilion over the years. According to Theme Park Connection, he's for sale for only 28 grand.
---
27. Spain, Israel, and Others Were Announced… Then Vanished
World Showcase literally had signs in the expansion pads marking several countries as "Coming Soon." Maybe it was the final casualty of the end of the Cold War, but for whatever reason, the new countries never materialized. In all the years leading up to the Epcot 35th Anniversary, only Norway and Morocco were added to World Showcase.
---
26. That Time Eric Idle Insulted You
It's bad enough that they ripped out the classic Journey Into Imagination, but its replacement — rebranded as Journey Into YOUR Imagination — actually insulted you. Eric Idle, reprising his role as Dr. Nigel Channing from Honey I Shrunk the Audience, "scanned" your brain at the Imagination Institute and found you utterly lacking in imagination. He then proceeded to take you on a tour of sparse, hastily-conceived show scenes before finally pronouncing you cured. The ride was so bad, it only lasted a couple years before the company re-hired Figment.
---
25. Innoventions Spawns an Entirely New Theme Park
When Innoventions replaced Communicore in 1994, one of its first exhibits was a small room called the Walt Disney Imagineering Labs. Guests were treated to a new concept in themed entertainment — a wrap-around visor/helmet on strings like a science fiction marionette. The Imagineering Labs only lasted one year, but its Aladdin virtual reality game became the centerpiece attraction at the high-concept theme park, Disney Quest.
---
24. Everything About Captain EO
Captain EO was a 3-D movie extravaganza about saving the universe one song at a time starring an adult man who wanted to be Peter Pan. Captain EO replaced the original 3-D movie, Magic Journeys, and ran for almost a decade before giving way to Honey I Shrunk the Audience. When that film's popularity eventually waned, Captain EO returned for an encore — only months after its mega-weird star passed away due to a drug overdose.
---
23. World Showcase Bus System
With all the crowds jammed into World Showcase last weekend for the Epcot 35th Anniversary and the Food & Wine Festival, most people couldn't even walk, let alone pilot a motorized vehicle. But in the park's early days, a double-decker bus ferried tourists around the 1.2-mile promenade. Later, when the throngs overwhelmed its capacity, the buses became a traveling parade of picturesque Disney characters, virtually none of whom made sense in World Showcase.
---
22. Figmentzilla
A live walk-around Dreamfinder and his to-scale pet purple dragon Figment were a common sight in the heady days of Future World, but eventually, the human half of this charming duo fell victim to budget cuts or something. Without a live performer to operate the Figment puppet, the purple dragon was given his own walk-around character, in the form of a 6-foot-tall Kaiju monstrosity.
---
21. Test Track Knee-Capped Dummies For Our Amusement
Test Track replaced the original World of Motion ride in the 1990s, transforming a charming history of transportation into a thrilling race around a GM test facility. As a way of passing the time in line, they recreated a test dummy torture chamber, which included — among other horrors — repeatedly smashing a dummy's kneecap with a steel sledgehammer.
Continue Reading 35 Freaky Flashbacks to Celebrate the Epcot 35th Anniversary ...