Here we are, 32 years removed from the start of the 21st century. And that's not just a failing of the public school system. That's EPCOT Center. It's recorded in the history books. The 21st century began on October 1, 1982.
What kind of sell must this have been to an entertainment company? A theme park with rides based on (mostly American) commercial enterprises, and a United Nations lagoon. It's as far from Disneyland in theme as you can possibly get. Audio Animatronic shows about good nutrition. A giant travelling theater through the wonders of fossil fuels. Travelogue movies to China.
It is almost unbelievable that such a thing could have been considered, let alone built, let alone built at this scale. Yet there it stands, a testament to just how locked in to Walt the company still was even a decade after his death. He conducted this symphony from the grave. They built his EPCOT, even if they didn't understand it.
EPCOT stands out not just because it was so different, but because in spite of everything working against it, it turned out to be so amazingly awesome. It's lost a lot of its bizarre forward-thinking optimism over the years, which has been gradually replaced by more traditional theme park experiences. The outer shells — the show buildings and pavilions, layouts and lagoons — are mostly identical to the structures seen on opening day, but the attractions inside are quite different. As we continue this journey into the past, let's take a look at the opening day attractions:
Spaceship Earth
Listen to the Land
Symbiosis
Kitchen Kabaret
Universe of Energy
World of Motion
Magic Journeys
El Rio del Tiempo
O Canada
American Adventure
Wonders of China
Impressions de France
And a whole bunch of smaller exhibits in Communicore and in various postshows and countries
So here's something interesting. Our beloved Figment ride is not on the list. Journey Into Imagination didn't open until a few months later (1983). Even long-lost rides like Horizons and Living Seas were a few years off. So how much of original EPCOT remains?
At first glance, it might look like a surprising amount. A lot of those attractions sound familiar even today. But just how close are today's versions compared to the 1982 originals?
Let's get the easy stuff out the way. Communicore (now Innoventions) contains not a single shred of similarity. Instead of the Astuter Computer Revue and the Energy Exchange, we have the Great Piggy Bank Adventure and Sum of All Thrills. Even the requisite gift shop has changed names. Centorium, with its beloved second floor (did you remember that?) is history, replaced by MouseGear.
Magic Journeys was evicted from the 3-D theater in the late 80s, replaced by Captain EO — coincidentally still running today, despite a decade or so hiatus. Magic Journeys did briefly move to Magic Kingdom, where it ran in the theater that now houses Philharmagic, but it's been gone for dozens of years now.
World of Motion of course is bye-bye. Test Track replaced it in the late 90s and the entire showbuilding was gutted.
Kitchen Kabaret lasted until the mid-90s, when it was replaced by Food Rocks, and then later by Soarin'.
Symbiosis was the movie that used to play in the Land Pavilion, but Circle of Life: An Environmental Fable evicted it at the height of Lion King's popularity. And speaking of movies, O Canada retained its title, but the original film is virtually gone, replaced by Martin Short's version (a few of the original CircleVision clips do still pop-up in the current version). Likewise, Wonders of China became Reflections of China. The film is mostly new footage, but retains the same narrative structure, being hosted by a long-dead Chinese poet.
Universe of Energy is nothing like its former self. Aside from the part everyone remembers (dinosaurs!) it's a completely different show called Ellen's Energy Adventure. The dinos really make up a small part of the total running time for the attraction.
Now things start to get a little more interesting…
Take Spaceship Earth, for example. Many of the original show scenes are surprisingly intact. AA figures may have been replaced over the years, but the ascent to the starfield is virtually identical to opening day. What has been lost, of course, is the original narration and score. Vic Perrin is history, and with Judy Dench we are now on our fourth incarnation. And for better or worse (okay, worse), the descent has become a completely empty tunnel, except for some bad flash animation and a few faint blue triangles.
The same sort of treatment also befell the original Mexico boat ride. Today's Gran Fiesta Tour has scenes and sets that are virtually identical to opening day's El Rio del Tiempo. But the Three Caballeros substantially altered the music and all film-based portions of the ride, which change the flavor of a classic dish to something a little more slick and over-polished.
And Listen to the Land (now Living with the Land) got the exact same treatment. If you rode the ride in 1982, everything might look the same, except for some changing plants in the greenhouse, but none of it would sound the same. Your onboard Cast Member guide has been vanquished in favor of a recorded spiel. And the bouncy theme song has long disappeared.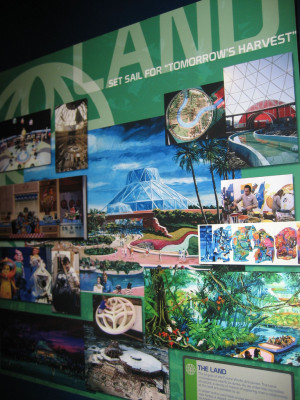 But if you really want to experience EPCOT Center attractions as they appeared on Opening Day, your best bet is to leave Future World and head into World Showcase.
At the American Adventure pavilion, the world's greatest animatronic show is still running strong, and looks and sounds almost identical to opening day. The montage movie during the Golden Dreams sequence may have been updated over the years, but otherwise the show hits all the same notes, from Ben and Mark's awkward banter to Famed Naturalist John Muir's awesome vest.
And if those minor montage additions bug you, the absolute purist sampling of original EPCOT can be had in France, where Impressions de France continues to be shown in all it's 1980s bikini grandeur. Kevin Yee recently posted a photo tour of this classic film (and provided the inspiration for this series). The France movie has always been my favorite World Showcase film (maybe because you get to sit down, maybe because of my favorite sheep). It was particularly understated, letting the music and the visuals speak in place of a narration (for the most part). It didn't follow Canada's and China's lead with a host narrator, and that one shot of all the pastries must be the most drool-inducing visual at Walt Disney World.
When you think about all the great EPCOT attractions we have lost over the years, it's nice that we still have two (often under-appreciated) original attractions so very close to their 1982 appearance. 32 years and still going strong at the American Adventure and France pavilions!
Which leads us to the last stop on our time travel journey. The Walt Disney World original. A 1971 masterpiece. Of all our parks, the Magic Kingdom had the biggest list of attractions on opening day. Are any of them left?