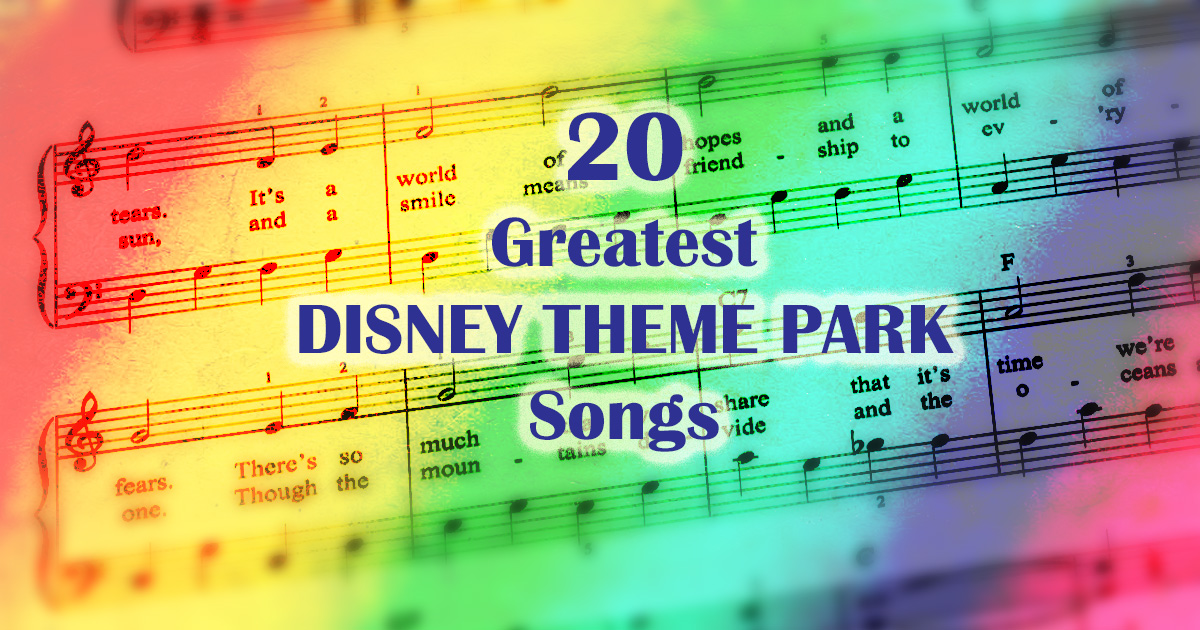 I have an entire iTunes playlist called "Disney Theme Park Music" because I don't know what is going on with these modern songs. It's all loud rock-n-roll with kids shaking their hips and whatnot. What happened to those bygone days when a "Taylor Swift" was something seen during a riveting bird-watching expedition? I wish we could all return to a time of solemn church hymns, but the world goes on.
When it comes to theme park music, Disney wrote the book (or at least Buddy Baker and the Sherman Brothers did). No self-proclaimed expert is going to be caught dead listening to the Poseidon's Fury Overture. Can you imagine? How embarrassing!
With almost sixty years of parks on four continents (Japan is a continent, right?), there's a lot to choose from. I hereby submit my top 20 Disney Theme Park Songs of all time.
I dare you to disagree.
20. Mickey Mania
Back in the 90s, there was a Magic Kingdom parade called Mickey Mania. Roger Rabbit himself called it a "def jam." And verily I say unto you, hath no jam ever soundeth so def.
Packed with hip 90s lingo and driven by a rockin' 90s dance beat, the theme music was infectious and happy. None of the Magic Kingdom parades since have come close (but the Splash Mountain Rap might).
19. Tokyo DisneySea Theme Song
I first heard this song when Ted brought back a soundtrack CD during one of his hundred trips across the Pacific (I swear he owns stock in Oriental Land Company — or has his own personal submarine). It's now used mainly as a background track for Opening Ceremonies, celebrations, and shows. But it is stirring and uplifting in the way all those goofy Disney park celebrations are.
18. Another Part of Me
This song appeared as a single on Michael Jackson's 1988 Bad album, but it was first introduced as Captain EO's grand exit song in 1986. It's got a great 80s vibe, and it is impossible to say the song title without adding Jackson's signature hee-hee at the end, because that's how it is sung. It's so groovy, Captain EO kept using it even after he was promoted to Admiral EO.
17. Tapestry of Nations
Part of the Millennium Celebration at Epcot, this theme song to the parade of the same title is mostly instrumental, with some choral chanting providing the lyrics. It somehow manages to be stately and playful at the same time. It is best listened to while envisioning bizarre oversized puppets.
16. Two Brothers
This brief, gut-wrenching musical interstitial to the Civil War portion of the American Adventure features haunting female harmony. Contrary to popular belief, it is not about the Sherman Brothers, though their favorite colors were blue and gray and neither of them could ever get cannonballs to mind.
15. If You Had Wings
…Had wings … had wings. You heard it in your head even as you read the title. The ride is no longer with us, but this extended omnimover commercial for Eastern Airlines had one of those ethereal 70s theme songs that seems to come from the land of dreams. Its successor, the Dreamflight theme song, wasn't bad either, but this Magic Kingdom classic still rules the skies. It can still be heard in instrumental form as part of Tomorrowland's background music loop.
14. New Horizons
The original incarnation of EPCOT Center was loaded with stirring, forward-looking theme songs for its pavilions, and the Horizons theme song was one of the absolute best. It mixed bellowing female vocals with a child's choir singing that famous Walt quote "If you can dream it, then you can do it (yes you can, yes you can)." If space travel ever becomes affordable in my lifetime, this is the song I'll be listening to as I break away from Earth's gravity, right before the alien bursts out of my chest.
13. There's a Great Big Beautiful Tomorrow
Carousel of Progress's theme song was heralded as a masterpiece, exiled for a short time, and then re-instated. In that sense, it has a lot in common with Napoleon. It is unrepentantly optimistic, which seems to be a theme running through a lot of these park songs. You can practically feel your seat rotating underneath you as you listen to this song, no matter where you are.
12. We Go On
Another Millennium song on the list! This one caps the end of Illuminations: Reflections of Earth. When that central torch of fire rises from the glittery LED panels of our Earth opening like a flower, you'd swear you're at the closing ceremonies of the Olympics. And whether you're already smiling in pride at the finale, or still scowling about that convention crowd which somehow managed to fence off all the prime viewing locations around the lagoon, this song will make your heart soar.
11. Monorail Song
This is old school Disneyland, and purely instrumental. Nevertheless, this is a jaunty accompaniment to a world on the move. If the orchestration sounds like it was written in the 60s, that's because it was. I first heard this "track" (see what I did there?) as a segment background from one of those Disneyland TV shows. They were showing the newly added monorail. Little did I know it really was called the Monorail Song. Happy and awesome, it is (No idea why I'm suddenly talking like Yoda).
Continue Reading The Top 20 Disney Theme Park Songs Of All Time ...