If the Sherman Brothers taught us anything in It's a Small World, it's that there is just one moon and one golden sun. And a smile means friendship to everyone unless you're a mentally unstable Batman villain or a crocodile.
But will someone please call the fire department? I don't mean to cause any panic, but we've got liars all up in this piece, and one Richard Mortimer Sherman's pants are on fire.
It's a Small World, very first room, right when you enter: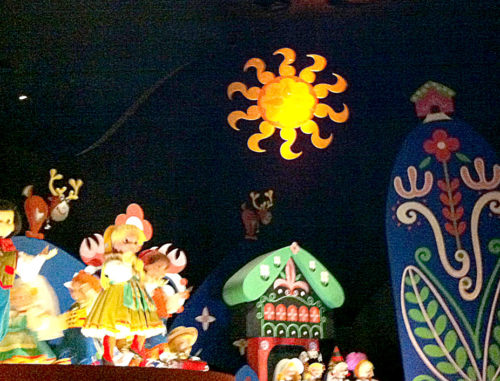 Hey, One Golden Sun! Or possibly a ninja star being thrown by reindeer. Either way, the Sherman Brothers nailed it.
Now let's just circle around Scandinavia for a second…
What the heck is this! I thought there is just one moon and one golden sun!
This is our second golden sun, and it's wearing a hat — which is how fashionable yellow dwarf stars like to appear in public. Apparently we're not the only ones who enjoy looking awkward in It's a Small World.
And a little further on, we have Don Quixote tilting at windmills in the foreground:
That's like a whole 'nother sun on the other side of the windmill. For those of you keeping score at home, we still haven't left the first room of It's a Small World, and already we have more suns than Tatooine.
Leaving the first room, we sail into India.
And from India, it is only natural to go to China.
Sailing out of China into Egypt, because I'm pretty sure they share a border. Note that here we get the first animated sun effect, a series of swirling light patterns.
This is also what happens to your vision if you try to watch a solar eclipse without looking through that little hole in the cardboard box.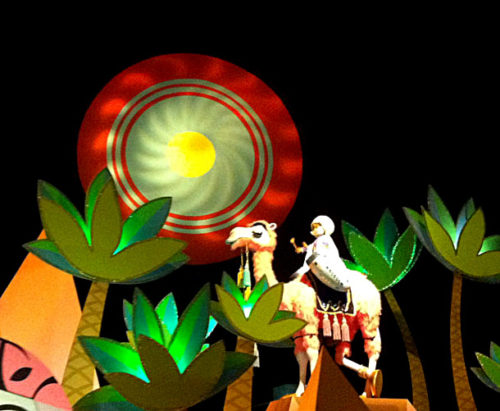 It's just a hop, skip and a jump to Latin America, home of the creepiest singing scarecrows this side of Oz. Note that we finally have a truly animated sun, with beams rotating behind other beams in a pulsating pattern, which I find kind of hypnotic.
And then on to Polynesia, home of my favorite Small World sun. I like how truly evil it looks (though not as evil as the horrible two-headed goat thing in the previous room). Clearly it is upset about the hula-dancing witches being burned at stake.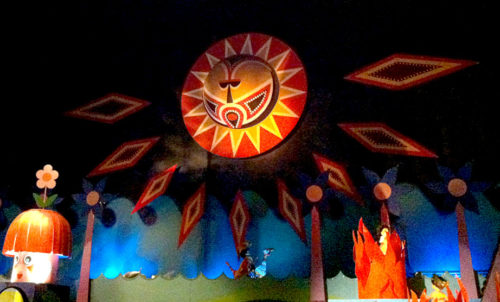 And finally the last room, which I always think of as Antarctica, mainly because of the cool color palette, and also because Antarctica is home to seven of the world's top ten roller coasters.
Wow, that's a lot of suns. Nine of them, to be exact — more than there are planets in our solar system (since Pluto recently got sacked).
So thanks for all the ruined dreams of childhood, Dick Sherman. Why don't you go back to swimming in your big pool full of hundred dollar bills?
And hey, at least when you're singing there is just one moon and one golden sun, at least you got the moon part right.