It cannot be real. I won't let it. Yet somehow the desperate, still-sane part of my mind will not let me forget the truly unsettling site I witnessed at the Magic Kingdom on the evening of March 24. As I write this, I am still quite shaken. I don't know what will come of this nightmare. But there is a dark presence at work in Walt Disney World. And it is clutching at us all.
It happened on an innocent trip to Liberty Square. Wishes had just ended. A light rain was sending even the dedicated spring break crowd streaming for the exit. A perfect time for me to circle through the pleasantly empty sidewalks of the Magic Kingdom.
I crossed over the bridge from the Hub, studied the empty moat for a few moments before moving on. I was hungry, and checked out the menu for Sleepy Hollow. I decided with the chill from the rain that an ice cream sandwich did not sound appetizing.
I continued on past Hall of Presidents. No more shows for the evening. I rounded the corner, into that little outdoor sitting area between the Presidents and Columbia Harbor House. And then I saw it.
No other people were around in this little corner of the park — though they were certainly on the main walkway between Liberty Square and Fantasyland. Something flashed in the corner of my eye, startled me, made me turn around.
The Western face of Hall of Presidents is rather unremarkable. Colonial brick, a few faux doors, and the Paul Revere window on the second floor. Here's how it looked the night of my passing: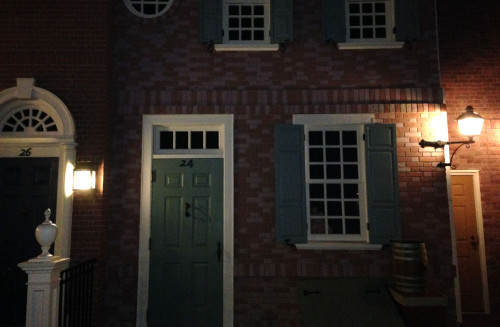 But there is something insidious behind Door 24. A strange force that delights in the creepiness of the ordinary. Allow me to brighten the above picture for you just a bit.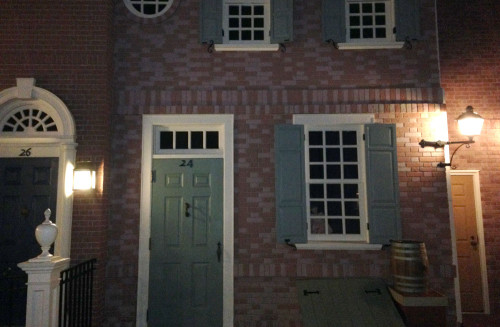 Do you see it? That thing lurking behind the window? It's a ghostly presence, I tell you. The vestiges of some spirit creature roaming the halls of Liberty Square. What is this demon spawn? I moved in as close as I dared and turned on the flash. Behold!
Is that not the creepiest doll you have seen outside of Gran Fiesta Tour? What is that thing doing in the window, grinning its knowing smile, its pinpoint eyes searching the streets for easy prey? It's got an odd wooden head, painted hair, a black backdrop. It's a warning, I tell you. We have disturbed something primeval in our travels, and now it beckons our souls to come inside Door 24, where it can show us what darkness truly looks like. Perhaps it is the same evil spawn that drove the Carousel family to madness, or etched its permanent horror on the windows of New York Street, or devoured small children whole at Test Track.
Do not set foot in Liberty Square after dark. You are not safe. None of us are.