A while back Shane gave himself a little challenge. He wanted to find the small hidden areas in the parks that he had never been to before. Not unlike the monsters lurking in the uncharted areas of old pirate maps who knew what these seldom trafficked areas held? Sadly other than getting arrested for inadvertently sneaking into the women's cast member locker room Shane's adventures were pretty docile. Perhaps the parks are so well covered that there are no surprises left?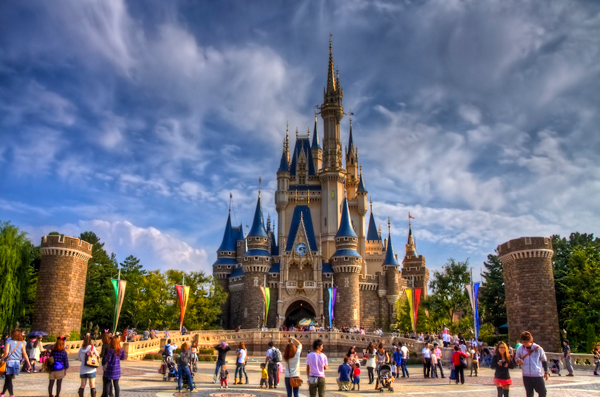 Fortunately the same cannot be said for the overseas parks. Those parks are filled to the brim with strange swarthy beasts,they are literally bursting at the seams with exotic characters that know no bounds and are always willing to push you to your limits, but enough about the typical Disneyland Paris visitor (oh those crazy Europeans!). Today we are going back to Japan to check out a newish but surprisingly not very well chronicled attraction of Tokyo Disneyland; batten down the hatches you scallywag for here there be princesses.
Prior to the gutting of the old Castle Mystery Tour I wrote a post about it (click here). Later, as has become the recent Disney tradition, management decided to remove a cool and unique attraction and replace it with something much more common and expected; the castle meet and greet was born. It's not that the new castle attraction (Cinderella's Fairy Tale Hall) is bad; it's just that it is a downgrade from what used to be there. We are not talking Alien Encounter to Stitch's chilidog eating contest downgrade but a lesser experience for sure. Perhaps what is even more odd is that there really aren't princesses there after all. There are props suggesting that a princess is near by, that a princess was there but what you mostly see are a lot of semi confused Japanese tourists with cameras wondering why they are not seeing something cooler and questioning where the dragon has gone (something I'd really like to know myself!).
Basically most of the exploration of the castle has been removed. There is no more tour guide, no more narrow passageways or narrative or really even a basic framework of a story. You walk in to a lobby, hop aboard an elevator (you know the famous story of Cinderella and the golden Otis Elevator don't you?) go up a floor and then walk through a couple nicely decorated rooms before exiting down some stairs and back out into the cold.
In those rooms are some interesting dioramas and art work telling some of the story of Cinderella but nothing as clear or comprehensive as the similar dioramas in Sleeping Beauty Castle at Disneyland and they lack the special effects of the Disneyland counterparts as well. They are unique in that each display features a distinct artistic style. They are little works of art each using it's own medium and approach (paper, metal, mixed media etc.) seemingly less interested in a traditional story telling and more focused on visual distinction. That element is nice, and the displays are all of high quality, as is the entire attraction… but it lacks the sense of adventure and thrill that the old Mystery Castle Tour had. It really lacks any distinct sense of purpose. This all looks and feels like a lovely lobby at a Disney themed hotel rather than a true theme park attraction.
It's a bit disappointing really to see that this approach has now crossed the Pacific to the Tokyo Disney Resort as well. For most of its existence Tokyo Disney has lived in it's own protective bubble seemingly immune to the Disney corporate cost cutting and homogenization of the parks. Now, slowly, we are seeing more attractions shared with the U.S. parks (Turtle Talk, Toy Story Midway Mania) and we are seeing general attitudes that are shifting to be less unique. Still, the execution in the Japanese parks is generally head and shoulders above the U.S. counterparts and the same goes here. Though at the end of the day it is nothing special it is of extremely high quality and obvious care was put into it.
Chalk this one up as another replacement that I wish never happened… I mentioned Alien Encounter previously and there is perhaps the ultimate example of the Imagination Pavilion at Epcot…what other attractions have been replaced that you wish were still the originals?