Which Hollywood star has headlined the most Disney attractions? The answer might surprise you.
When Disney needs name-brand talent at theme park pricing, they turn to one man and one man only.
The Razzie-nominated Worst Supporting Actor from Santa Clause 3.
The man who at 40 played a 10-year-old named Clifford.
Everyone's third-favorite Amigo.
Martin Short.
How did a Canadian comedian famous for nerdy SNL characters parlay a subpar film career into the biggest name in Disney theme parks?
One step at a time.
Step 1 – Martin Short is Not Afraid to Team Up
Let's be honest. If your career as a leading man has culminated in being held like a baby by Nick Nolte, it's time to step aside and let an A-lister share the heavy lifting.
And it helps if you've worked with them before.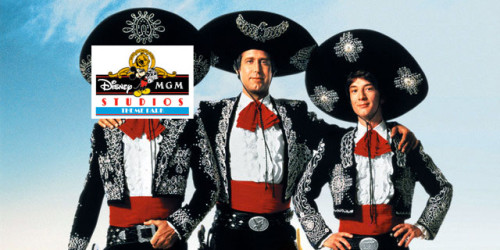 Martin Short reunited with Three Amigos co-star Chevy Chase to host The Monster Sound Show, a sound effects presentation with Chase as the straight man and Short hamming it up as a serial killer who preys on salesmen.
Though Chase was by far the bigger star at this point in their careers, thanks to a string of 80s comedies like Fletch, Caddyshack, and the Vacation movies, Short received equal billing on the press material.
And Disney execs must have liked what they saw, because Short was tapped almost immediately to headline another Disney attraction.
This time, his destination would be EPCOT Center.
Step 2 – Martin Short Adopts a Non-Threatening Persona
The Wonders of Life opened in Future World five months after the Disney MGM Studios. The new pavilion focused on health and the human body, and it seemed Disney was intentionally courting controversy when they elected to include a movie about human reproduction.
Having "The Talk" with your parents in the privacy of your home is awkward enough. Having it at a Disney theme park minutes after riding Body Wars has the potential for some serious childhood trauma.
What's a brand-sensitive mega corporation to do?
Find the least-threatening actor around and hope they can navigate the potential minefield of talking about sex with spring breakers.
Martin Short plays a dual role — himself and his own father — in The Making of Me, which ran for 18 years — long enough for some teenagers to see the movie, get pregnant, raise a kid, and then repeat the cycle all over again before the attraction closed.
Short brings exactly the sort of deft touch Disney surely hoped for. The film wisely stays away from the mechanics of the process (at least at the Tab A/Slot B level) and sticks to the cellular domain, culminating in a street race by cartoon sperm.
Step 3 – Martin Short Embraces the International Market
"Weird Al" Yankovic once made a "style parody" of Frank Zappa called Genius in France, which is basically 8 hilarious minutes mocking France's love affair with Jerry Lewis.
Martin Short is no "Weird Al" Yankovic. He may not even be Jerry Lewis. But when Disney needed a star to magically interact with classic American movies for a new theme park show in Paris, they immediately thought of someone from Canada.
Cinemagique involves a rude person (hey, it's France) interrupting a presentation about film history through that tired theme park chestnut, the "audience plant." The magician in the movie zaps the fake audience member into the film, and we find out it's Martin Short.
He stumbles his way through several classic films in the pursuit of the luminous Julie Delpy, and finally elects to stay permanently in the movie by joining her on the way to Oz.
The Paris park gets a lot of flak for its overall quality, but Cinemagique feels legitimately "Disney." It's an enjoyable second-tier attraction, at least for American audiences familiar with its movies.
And though Delpy's name lends some star power (step 1), Martin Short is the undisputed headliner as the non-threatening (step 2) love interest.
Step 4 – Martin Short Leverages His Heritage To His Advantage
In 2007, when Disney needed a Canadian star to interact with Canadian scenery for a CircleVision update for the Canada pavilion, they immediately thought of …
American voice actor Corey Burton.
Burton begins the movie talking about how much snow there is in Canada, before being interrupted by Martin Short, a real live Canadian who claims there's more to his country than frigid temperatures.
Short then handles hosting duties for the rest of the film.
The 2007 update to O Canada (as well as the transformation of the Mexico boat ride into the Gran Fiesta Tour that same year) marked a departure from the serious, respectful presentations of World Showcase's youth.
Donald Duck and Martin Short took things in a different direction.
While neither attraction is irreverent, the treatment is more casual. By this point in his career, Short had graduated from critically reviled sketch comedy shtick to legitimate theater star, with scene-stealing turns in other peoples' movies to round things out. He had become one of comedy's elder statesmen.
In fact, O Canada is the culmination of the entire Martin Short park catalog.
He's decidedly non-edgy in his role as Canadian tour guide (step 2) and not afraid to embrace the internationality of the experience (step 3). There is no team-up (step 1), but the film slyly makes the suggestion that Celine Dion would have been a better choice.
In short, it's the first of Martin Short's many Disney attractions that put his Martin-Short-ness front and center.
And in spite of some weak writing, he carries it off like a professional.
BONUS – Have At Least One Memorable Disney Character Under Your Belt
One of the bright spots in Martin Short's film career is that of wedding planner Franck, in fellow Amigo Steve Martin's two Father of the Bride movies.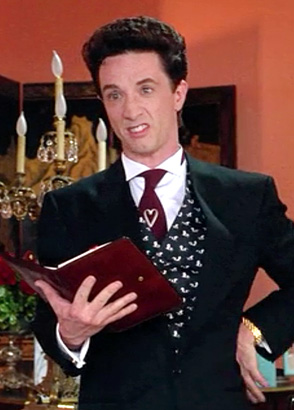 At the Walt Disney World Wedding Pavilion, the Bridal Studio takes its name from the character, serving up a lavish setting for the those willing to sell their first born for the right to get married on the shores of a man-made Florida lagoon.
Martin Short himself is nowhere to be found. But hundreds of marriages begin in a recreation of his character's studio, possibly by couples who have also seen The Making of Me. And that's got to count for something.
Summary
So the next time you find yourself on the outs with the critics, slogging your way through some other less-talented-but-more-famous comedian's screwball comedy, do yourself a favor and remember the lessons taught by Martin Short.
Who knows? Maybe you'll host your own Circle Vision movie someday.