If you missed Shane's introduction to this series click HERE!
The day you realize that you are not alone in dressing up cats in tiny, homemade, hand knitted Shakespearean costumes (often adorned with glitter), and having them act out modern day retellings of The Tempest or A Midsummer Night's Dream is a daylong remembered: It's nice to find someone else in the world that cares about the same stuff you do.
Meeting Shane twenty some years ago opened my eyes; I was not the only one who cared about this specific stuff! I was not some malformed, loaner Disney freak; in fact Shane's devotion to all things "It's a Small World" made me feel like the "normal" one. However it was the day that we started talking about these trading cards that I knew I had found a kindred spirit.
I had a few football and couple baseball cards as a kid though I much preferred Whacky Packages. I vividly recall the first time I saw the "Parky Packs" as they were referred to back then, It was 1982 or 1983. My mom was dragging me through a grocery store when something unexpectedly caught my eye. There by the register was a small display; a cardboard case with a fold-back top that made a small counter-top marquee. My eyes widened, I could hardly believe what I was seeing; on the marquee was a montage of The Pirate Auctioneer, three Hitchhiking Ghosts, Figment and many more. Big bold letters screamed out "The 50 Greatest Park Characters of All Time!" and a red starburst graphic with yellow block letters demanded that I "COLLECT THEM ALL!"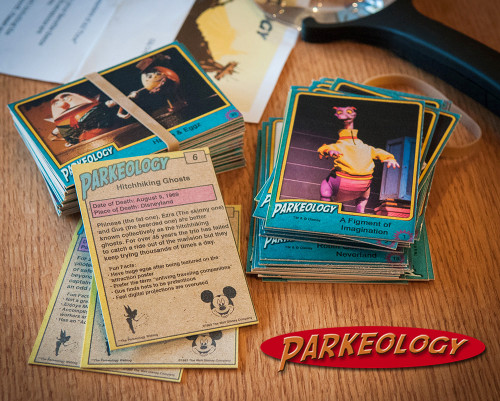 Dumbfounded and dazed I blindly started shoveling the packs into the cart; my heart was beating so hard that I thought it may rip through my chest and I would fall dead in the middle of the store. My obituary would read; "14 year old boy dies of excitement while clutching rare wrapped trading cards he could have only dreamt of."
I had them all right in my hands; the full set in a virgin box, gem-mint, then my mom looked at me as if was a three-headed troll. There was not a chance in hell that I was leaving that store with these cards, not on her watch. We were not going to "waste" money on such nonsense. I begged and pleaded (and likely cried a little) before I managed to strike a deal: she would allow ONE pack of my choosing and then I could work around the house to earn enough money to come back and buy more. I was not happy but it was the best deal I was likely to make, especially in my near hysterical state and pitted against a seasoned negotiator of such things.
Much to the chagrin of the cashier and those in line, I carefully inspected each pack. Any packs with bent corners or slightly misaligned printing were rejected. I wanted THE pack, the perfect pack, and the pack that would have all my favorites all in one. There are times in life you look back on and wish you had the foresight to do things differently; maybe buying Apple stock when it was $17 a share or in this case finding a way to have left the store with that box of cards (yes, I'm still bitter).
Days later when I returned, lawn cutting money in hand, the box of cards was gone. As I blathered on about incredible Disney collector's cards and having enough money to complete my collection the store manager looked at me like a three headed troll. Maybe this was payback for holding up the line for 20 minutes the week before?
I had magic in my hands and I let it slip away. Now, some 30 plus years later, I finally have a complete (if shared) set. I still can't go into a grocery store with my mother without having stress flashbacks. I mean I had them all right there! But I digress…
These are the first five cards in my one original pack:
I got SMRT-1 out of the gate. He's cool and all but hardly the powerhouse character I was hoping of. Still, he represents original EPCOT Center and I am all about that!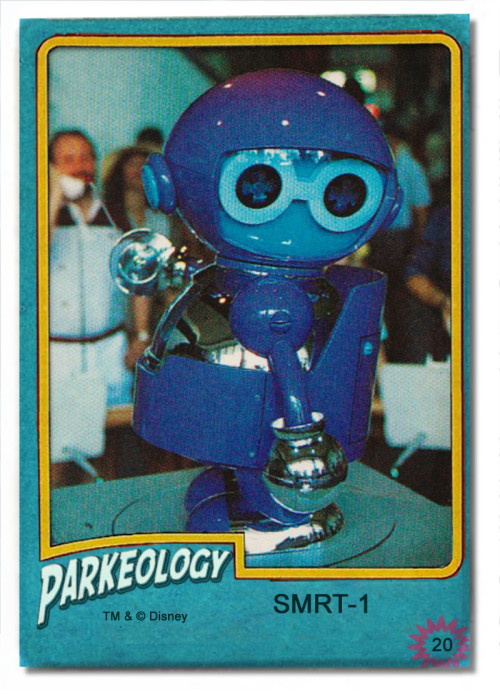 The Backside had some good insights on him; I think many of us shared his thoughts on Julie: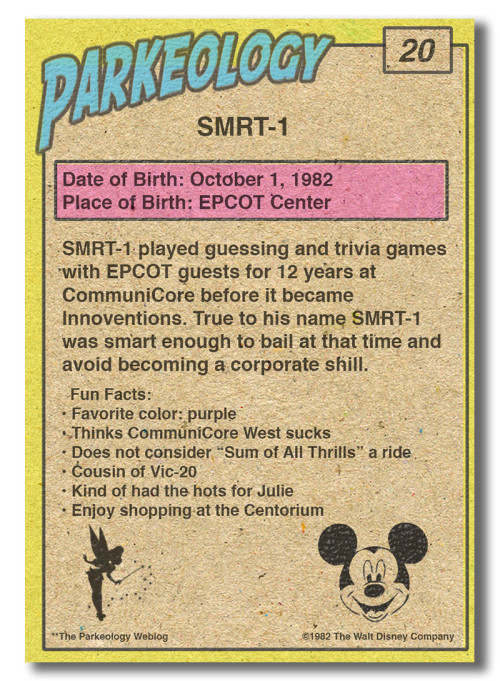 Then I hit the big time: Figment, card #1! I was super excited about this. If the cards considered him #1 that must of meant he was the best of all time right? I thought I would retire from the eventual value this card surely would obtain.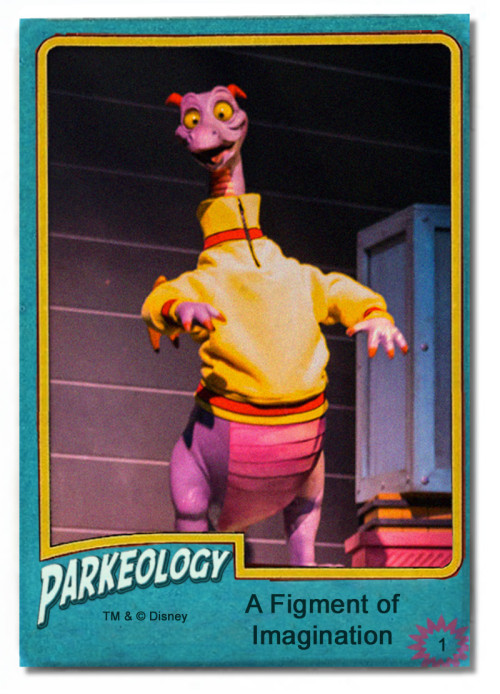 I still miss Figment… that aberration of him they have down there now is a flat joke.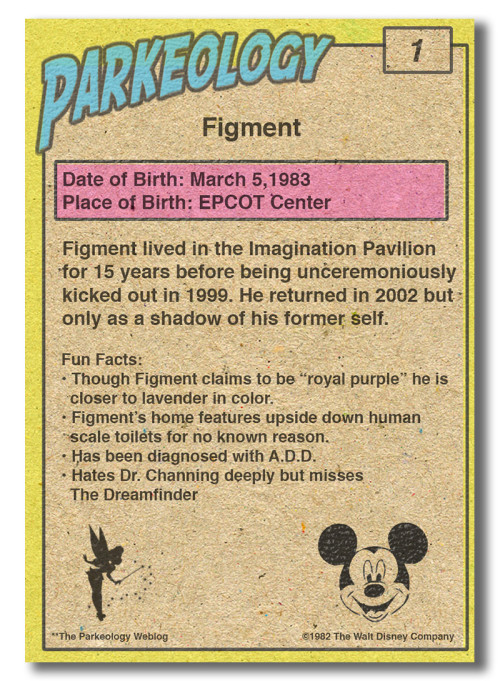 Next to be unwrapped was Patrick, so much for getting all the headliners, I mean this was nearly a decade before anyone had even heard of Seinfeld!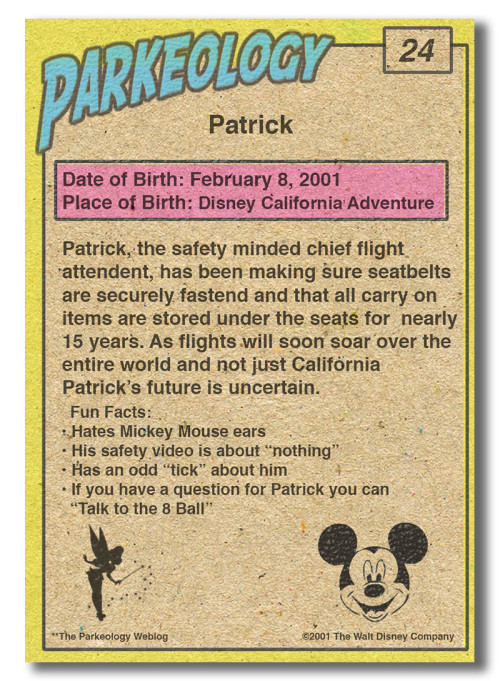 Getting back on track I pulled out The Orange Bird next. Sure he was not the biggest star in the galaxy but I was really happy to have him. He represented Walt Disney World to me and he sort of still does.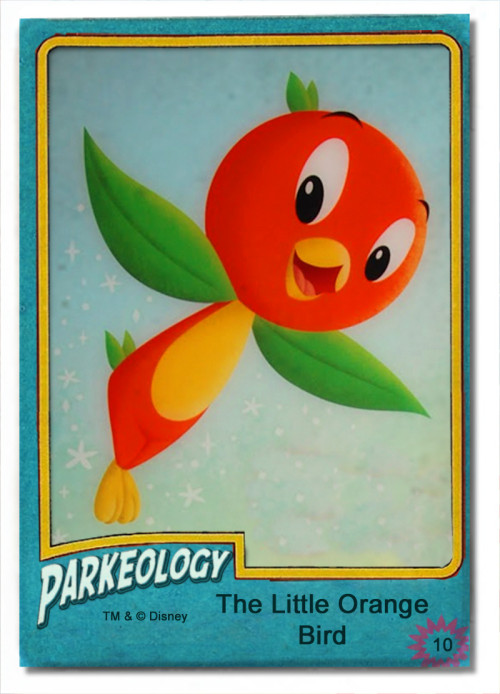 Last but hardly least was the Captain of a trip through "liquid space". Though we never actually saw him the Submarine Captain from Disneyland's Submarine Voyage was another winner for me. He was no Nemo but I also knew Captain Nemo could not qualify for this parks only collection.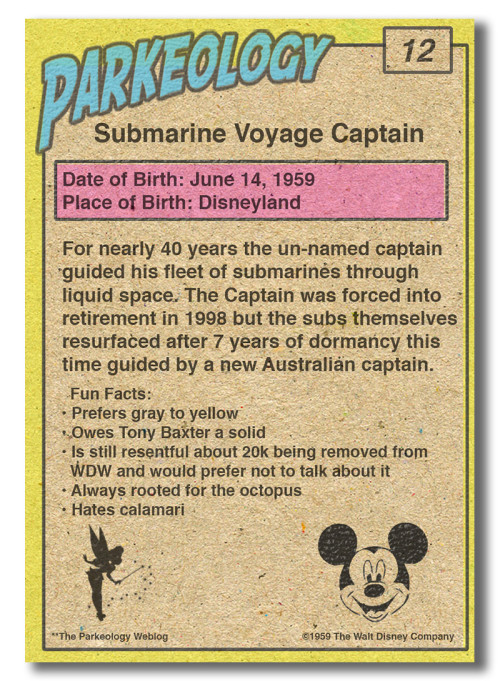 As the card noted, the Captain adopted Australia as his home country when the ride transitioned a Finding Nemo storyline (complete with an insane detail no one notices).
I'm not totally sure how Shane and I will split up the collection; I guess maybe we should just combine them and keep them in the Parkeology reference library. All I know is that if they ever do a series two I WILL be purchasing the complete case… no lawn cutting required.
Stay tuned next week when Shane will continue with another 5 of his favorites.