In case you missed last week's unveiling, here's Ted's set.
When they set out to make a trading card deck of the 50 Greatest Park Characters, it was fairly obvious to fans who should be included. Ted landed the primo card on his first try. Mr. Numero Uno himself, Figment. And when you consider the ten cards we've shown so far, you won't find any major surprises.
The creators of the set did a great job of keeping the logical choices. For instance, this next card was from my second pack: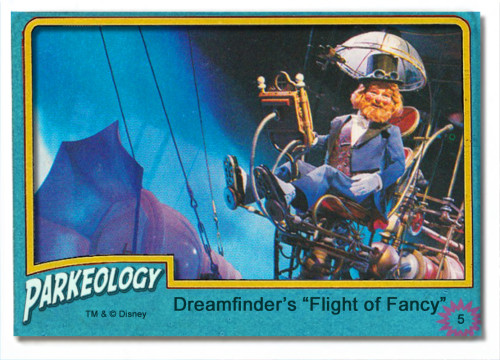 Dreamfinder was a lock for this list. Though he's not ranked quite as high as his co-star (assuming we can trust the numbering system), I do think he's worthy of his Top 10 status. Here's the back:
I acquired this second deck at Walt Disney World on the same trip (though not at the same time) as my first deck. This one was purchased on the last night of our trip, at EPCOT Center's long-gone Centorium.
The second card in the pack is again no surprise. But it does show that this deck was pretty heavy on EPCOT (it was the new park at that time).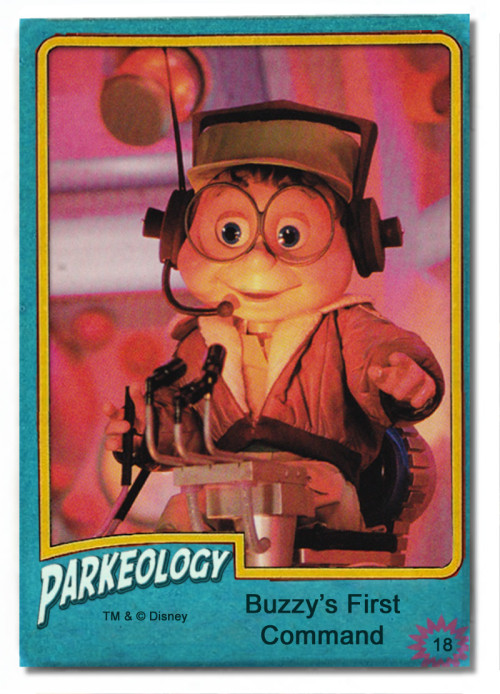 Buzzy's ranking feels a tad high at #18, but I don't have any complaints with him being on the list. I also feel compelled to point out that with this second pack, I avoided any duplicates that plagued me later. Here's the back to Buzzy.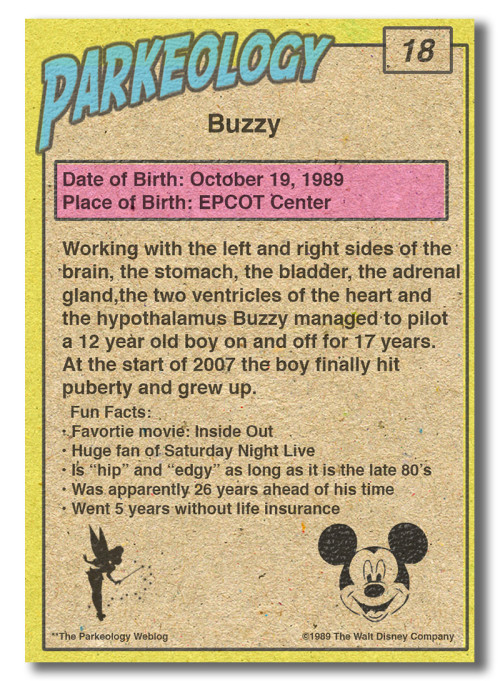 Probably my favorite thing about this set is that the designers are not afraid to spring a few oddballs on you. Not that I disagree with their inclusion at all. It's refreshing to see some appreciation for lesser known but highly worthy park characters. For instance this one: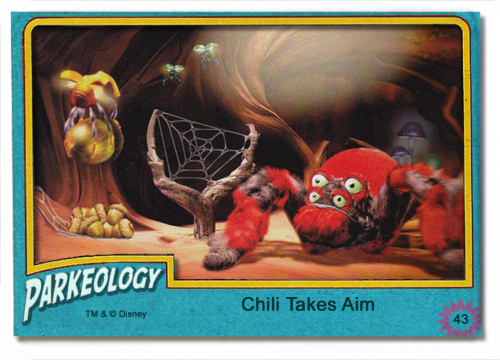 Flik himself is not in the deck, of course, because he did not originate in the parks. But you'd be hard pressed to find a better character from It's Tough To Be A Bug than our friend Chili.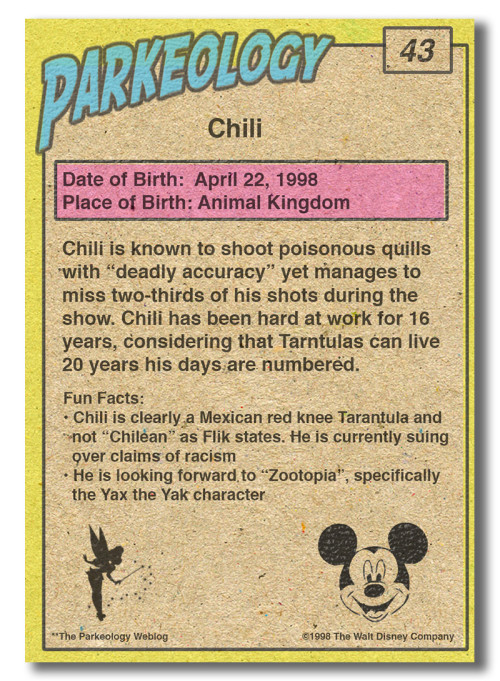 Speaking of interesting choices, here's another character that appears only as a voice (we already met the Submarine Captain in Ted's last post):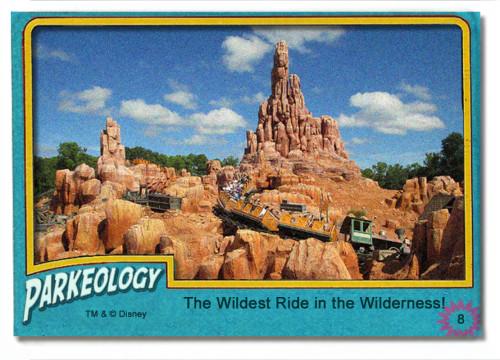 Modern fans known him for a short safety spiel — probably the most memorable safety spiel in all of Disney park history. And of course the Miner had a long (and much more involved) role before Big Thunder Mountain: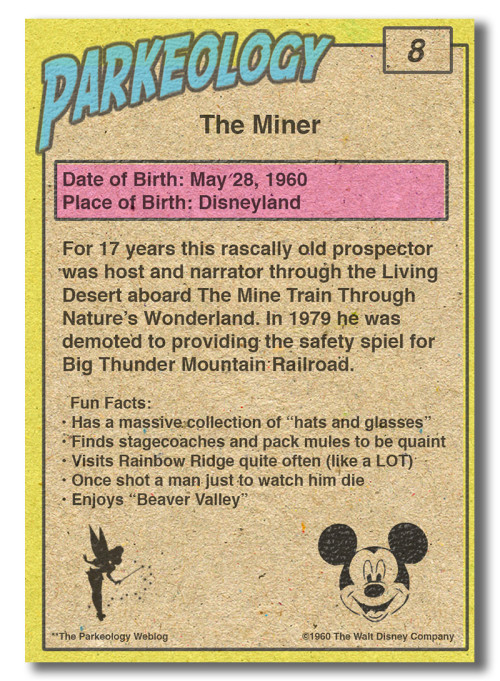 To round out this pack, we stay in the Magic Kingdom with Alien Encounter's sinister pre-show host: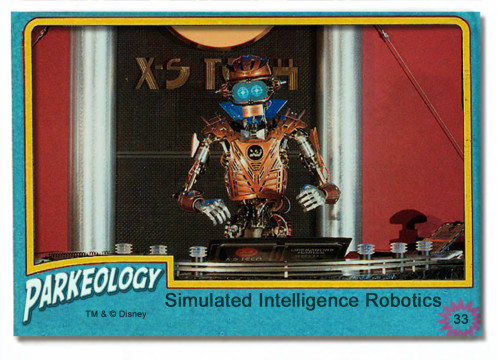 S.I.R. may be my personal favorite from this particular pack. I think he may have been unfairly ranked in the back half of the deck, but part of that may be due to the fact that Alien Encounter is simply not as beloved as some of the other attractions featured in this list.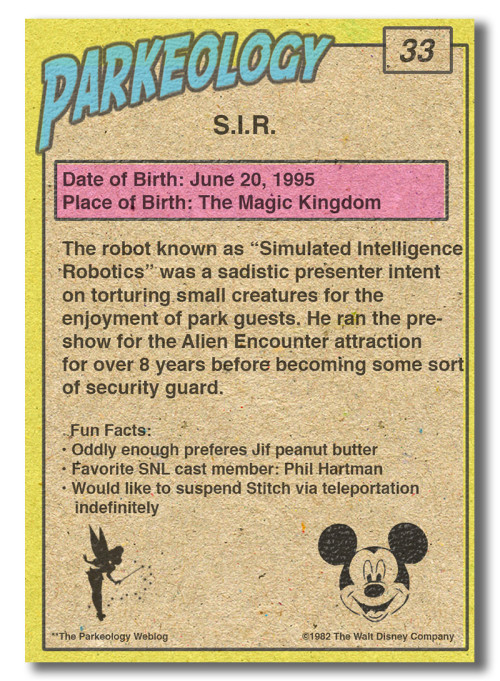 We've now unveiled 15 of the 50 Greatest Park Characters trading card set. I hope you're enjoying this series as much as we enjoyed collecting that cards that made it possible. Check again next week as Ted reveals 5 more cards. Happy trading!