Last week, Ted unveiled 5 more vintage trading cards in this improbable but magnificent deck of the 50 Greatest Park Characters of all time, including the rare (and much-coveted) Mexican Aztec Dancer Girl.
This week, I thought it would be fun to showcase cards for characters that originated in Walt's own backyard. Many of these characters made their way East and abroad, but a few never left home. Starting with…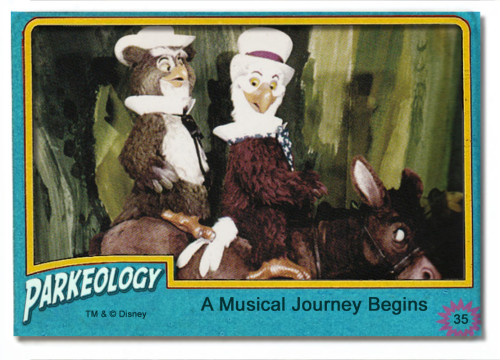 Sam Eagle was the host of the America Sings attraction, a Disneyland exclusive that supplanted the Carousel of Progress when it was moved to the Magic Kingdom.
Though he shares the same name as another patriotic eagle, it should be clear why this Sam is on the list and the blue star of Muppet Vision 3D is not. Sam was created exclusively for the parks, whereas Muppet Sam originated with the Jim Henson company. Here's the specs on Sam: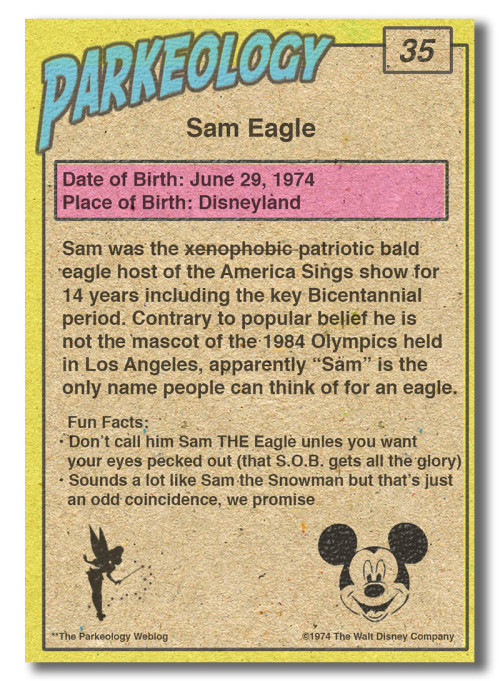 Moving on, we have another character who debuted at Disneyland, though this guy eventually found his way into the hearts of theme park fans around the globe: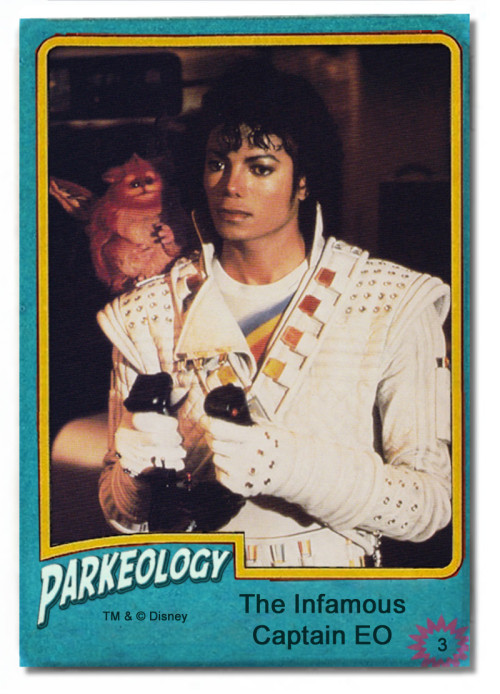 Captain EO is ranked very high on the list, for good reason. He is played by a superstar at the height of his popularity. Also he is the only character in the Top Ten to originate in a filmed presentation. This card is exceptionally valuable in light of the recent news involving EO.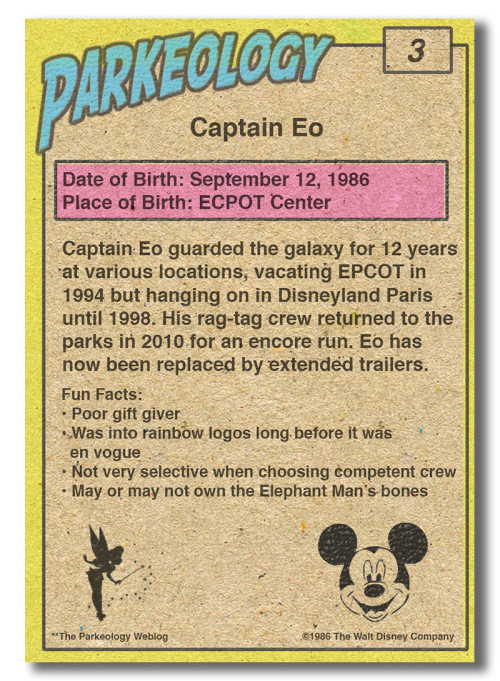 The parks don't usually make a habit of producing strong female characters, but the next card on our list is without question one of the greatest.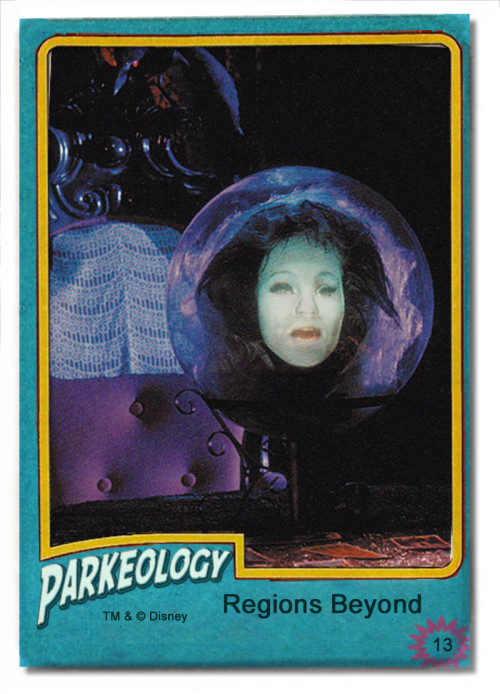 Madame Leota gets an entire scene of the Haunted Mansion all to herself, and though she might lack some of the physical presence of other great characters, she has definitely turned a few heads. Before there were Aztec Dancers, the women of the Haunted Mansion were the sexiest thing we had going.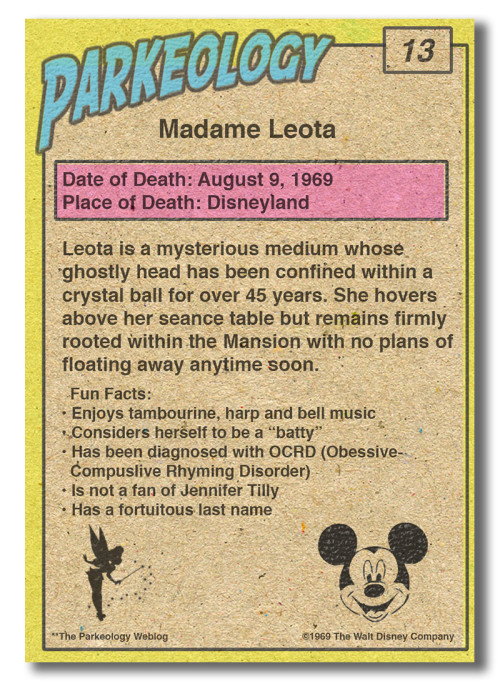 Now we come to a character Walt himself had a special fondness for. He's also historically significant, as the first Audio Animatronic to speak. Theme parks haven't been the same since.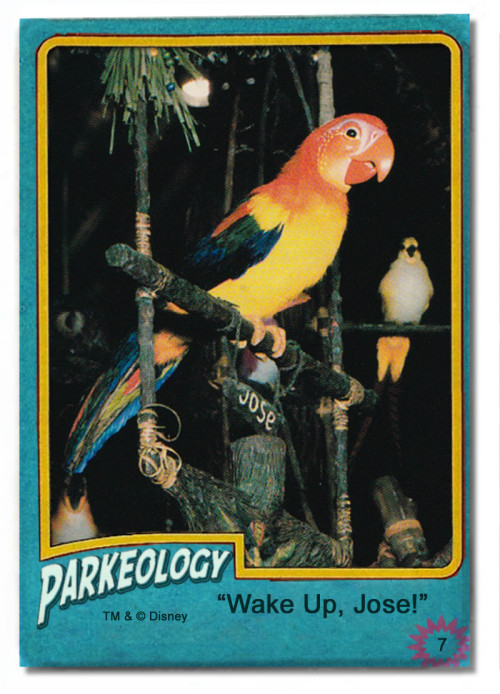 José shares the stage with his fellow Tiki Birds but he's the unequivocal leader of the group. Just look at that plumage!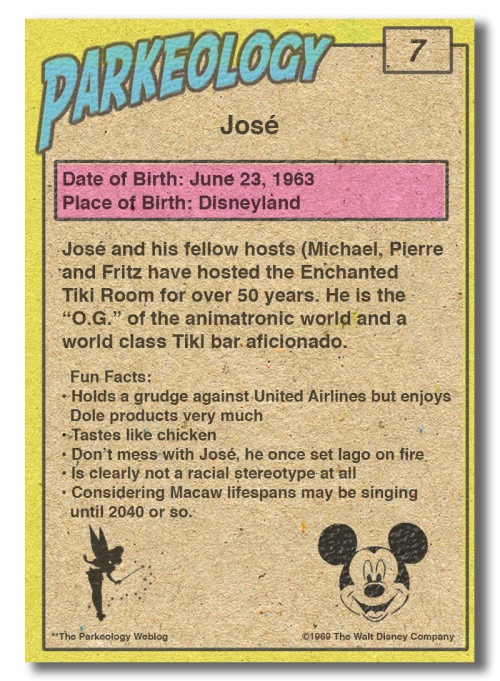 And now we come to perhaps the best card in the entire set. He's ranked ridiculously low, considering no less a personage than Walt Disney himself declared him his "favorite" performer (proving that the creators of these cards didn't get everything right).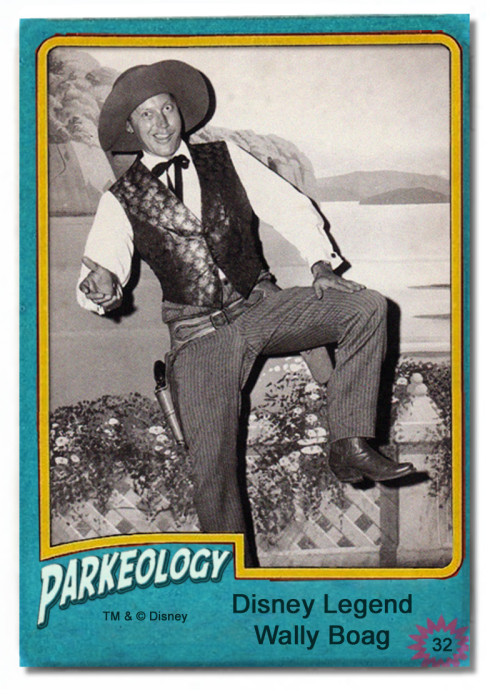 Wally Boag is a giant among men. This card features him in his most recognizable role as the Travelling Salesman (aka Pecos Bill) at the glorious Golden Horseshoe Saloon, though he also took the act East for a brief time in the 1970s when Walt Disney World first opened.
Did I say his most recognizable role? Yes, but not even his most famous. For that, you have to go back one card. Yeah, that first Audio Animatronic to ever speak was voiced by none other than Waltimus Ignacious Boag.
Wally has been credited by Steve Martin as the man who taught him how to be a comedian. And credited by Parkeologists around the globe for teaching us how to be awesome.
Wally Boag has dated more Aztec Dancers than any Aztec.
Wally Boag is so cool, when he eats Dole Whip, the Orange Bird gets a brain freeze.
When Imagineers get stuck on a problem, they ask "What Would Walt Do?" The answer, every time, is "Ask Wally Boag."
When Chuck Norris writes internet memes, they're all about Wally Boag.
Pixar once made a movie about a lovable hero who saves the planet from years of neglect. Guess that hero's name.
When Wally Boag gets on a ride, the lap bar refuses to lower. It knows that nothing can contain Wally Boag.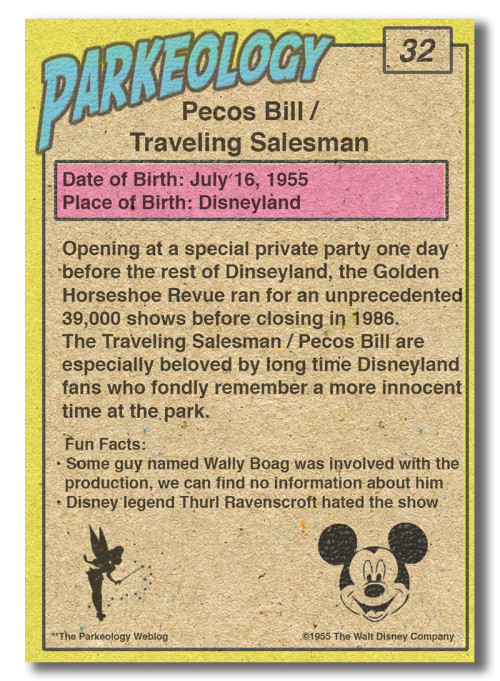 Believe it or not, this series is halfway over. Check us out again next week when Ted reveals 5 more cards from the deck!