Last week Shane reached the midway point on our list of the 50 Greatest Park Characters of all time by focusing on some Disneyland originals. His odd obsession with Wally Boag not withstanding it was a pretty strong list.
Today I dug out 5 more of these classic vintage trading cards. While the cards feature characters from several parks they all have one interesting fact in common; none of them have official names. It goes to show you that even though many of our favorite characters are secondary players they often make the largest impact on guests.
First up is someone that you know had to make this list, the famed redheaded wench from Pirates of the Caribbean. She has stolen the show for nearly 50 years and will likely still be "for sale" 50 years from now.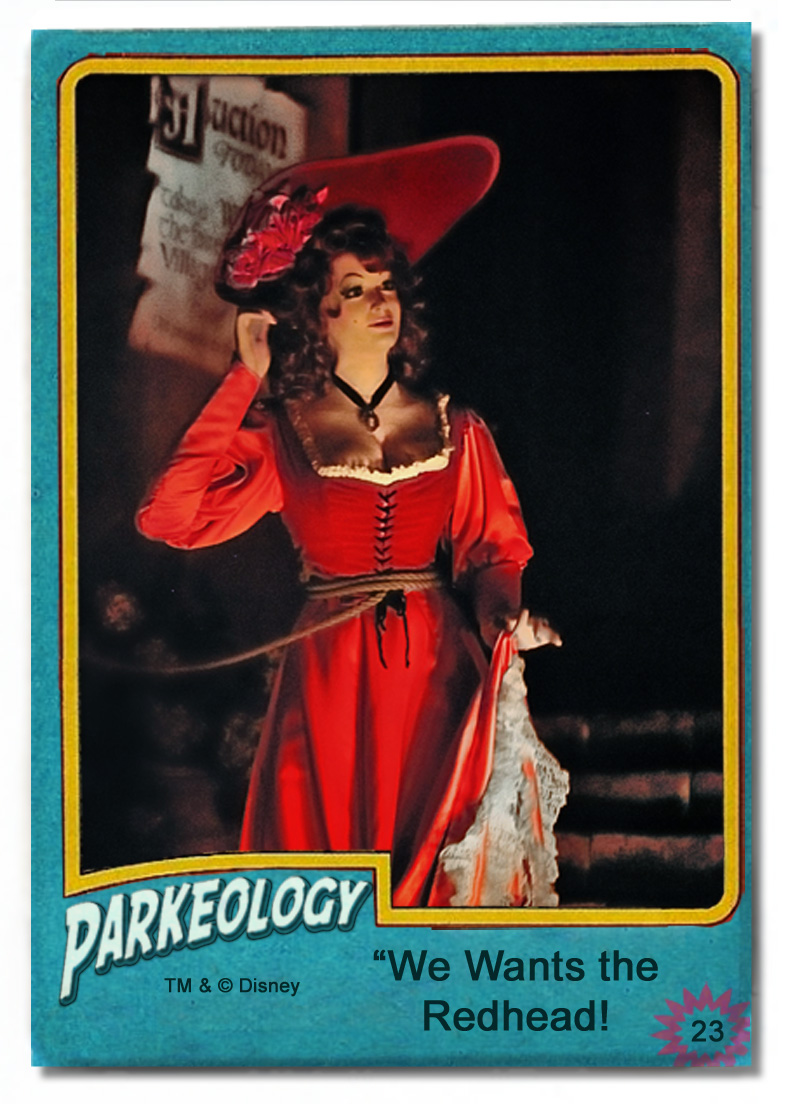 She may not come cheap but the boys in the rogues gallery will accept no substitutes.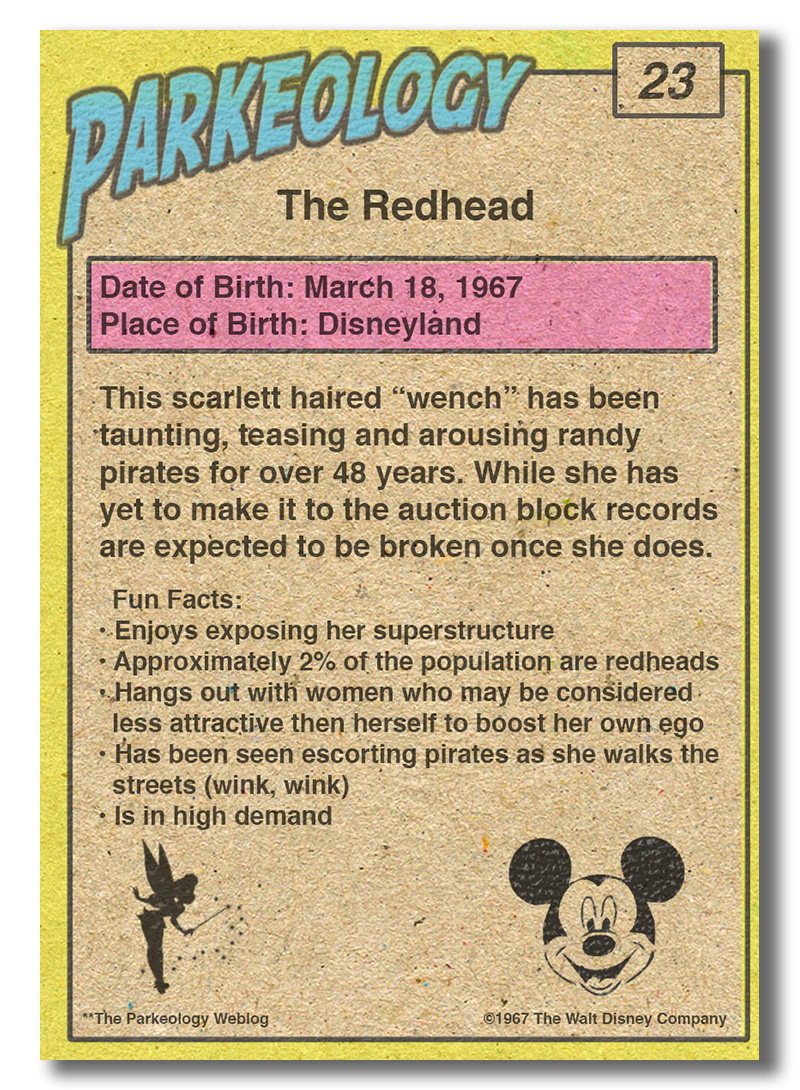 The next card features yet another unnamed ginger. She may not be the most famous redhead from the parks but she more than carried her weight and drew the attention of many early EPCOT Center visitors (perhaps the same ones who were already fired up over the also unnamed "Aztec Dancer").
I'm happy to see that some of these lesser-known characters made the list. They may not be the marquee headliners with household names (or any names at all for that matter) but they often are the most interesting.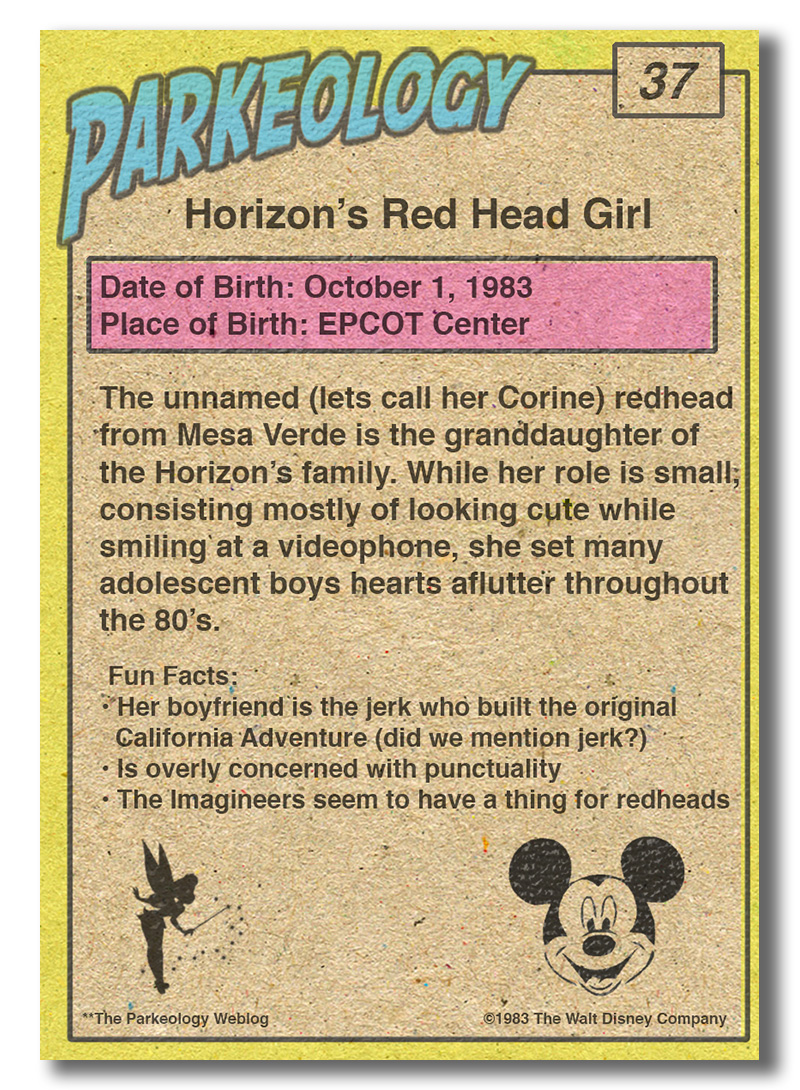 Sticking with Horizons our next card showcases a non-human character that became so popular he appeared on merchandise and was routinely featured in promotional materials.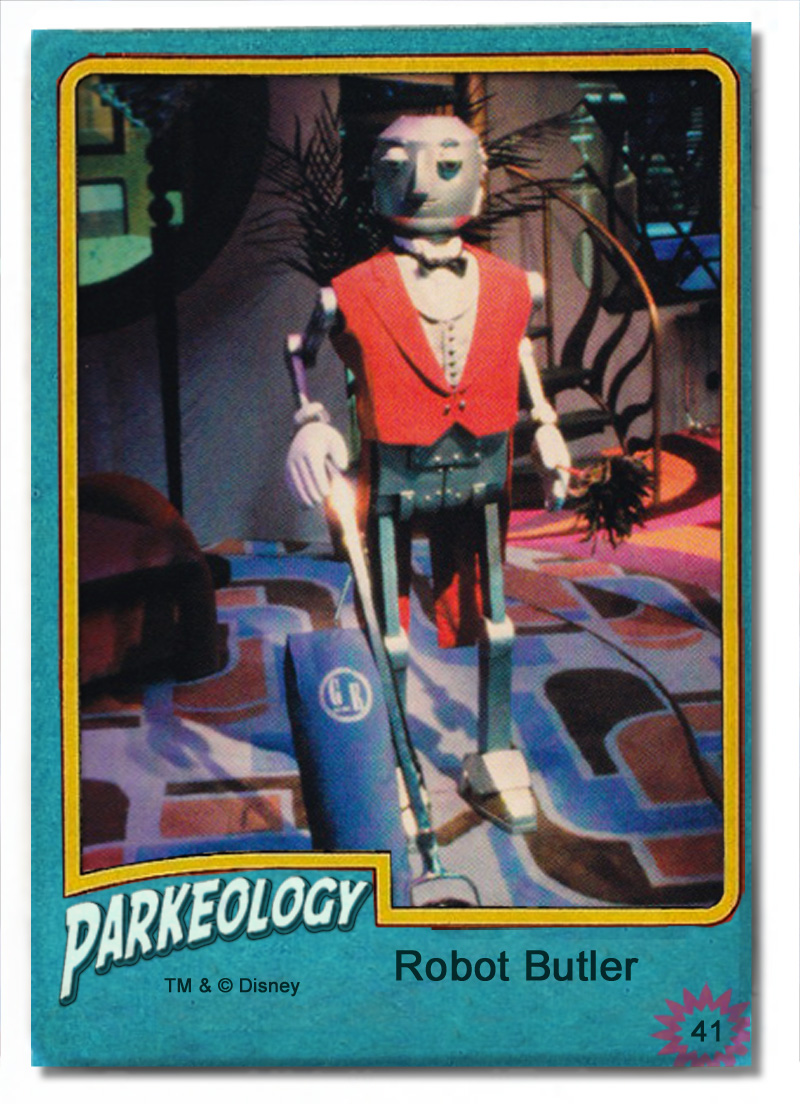 The Robot Butler managed to capture a sense of whimsy and optimism that exemplified the 1980's version of EPCOT (in other words the best EPCOT).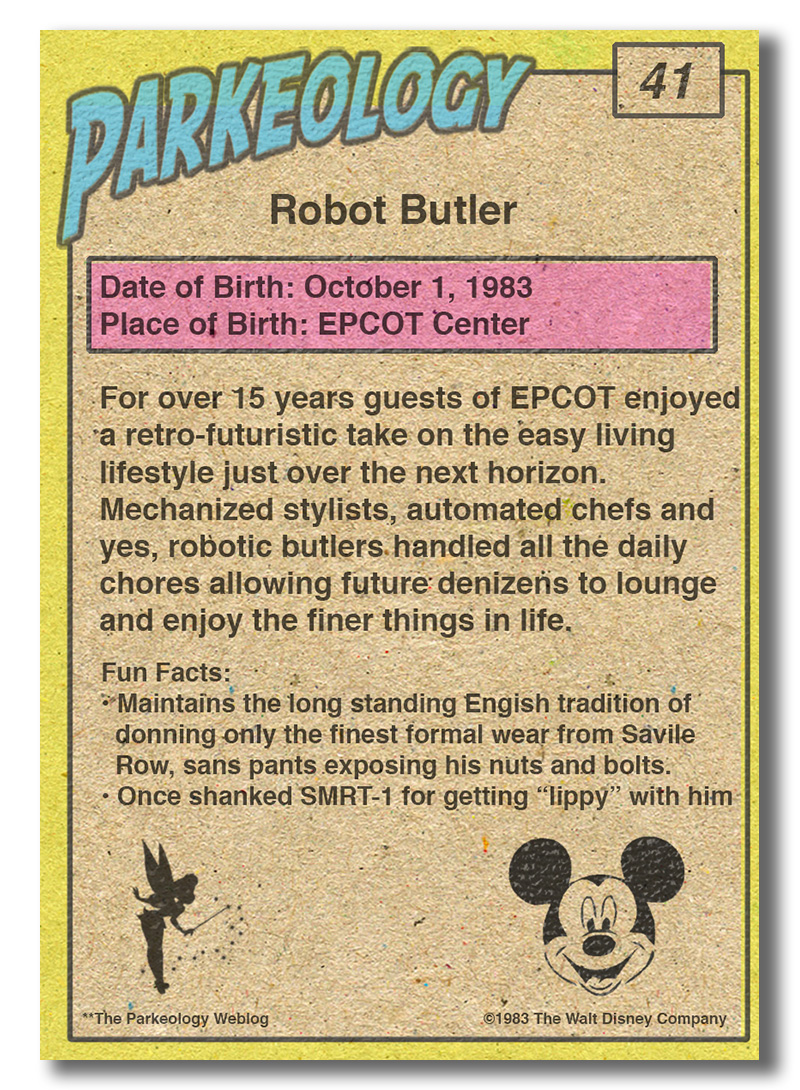 Shifting gears to yet another absolute iconic classic is a character who not only has no name but not even a body!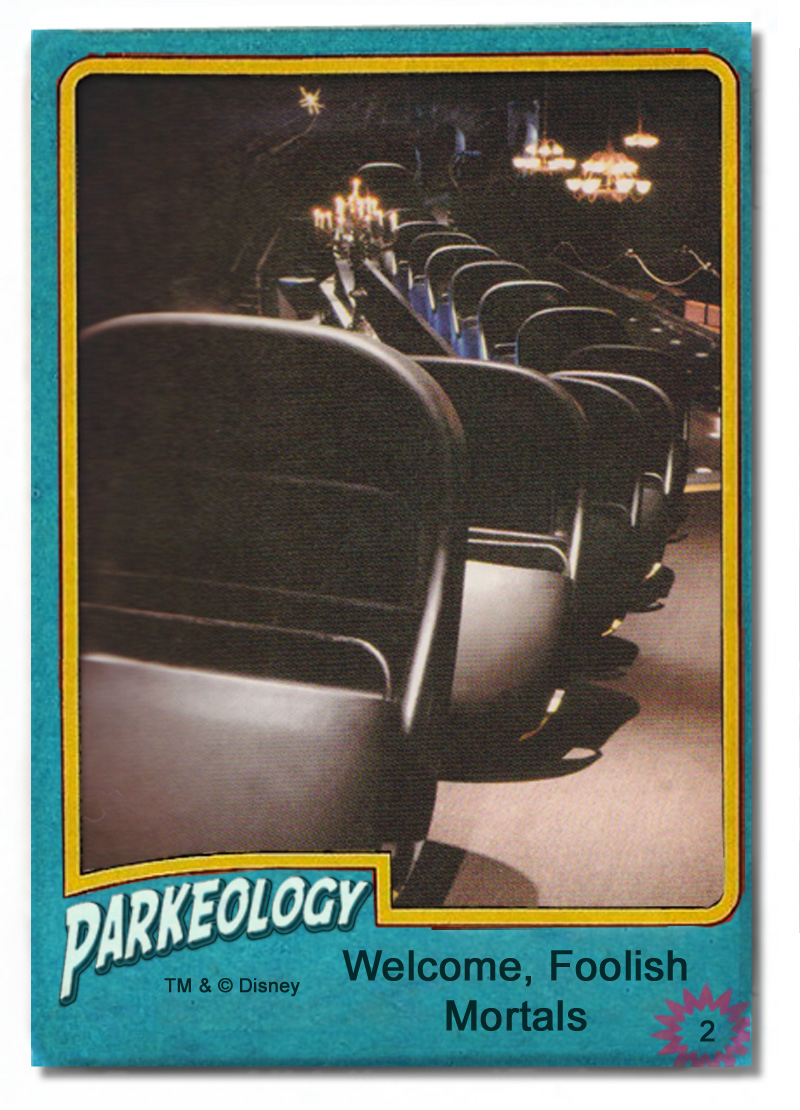 The Ghost Host is often thought to be "Master Gracey", the groom, a ship's captain or any number of hypotheticals but the truth is that he has no official name or physical being. Perhaps he is the body hanging in the portrait gallery stretch room but that is about as close as we get to discovering who he is (no, the aging portrait in the lobby is not him). Despite having no name or frame he makes number 2 on the list, impressive indeed.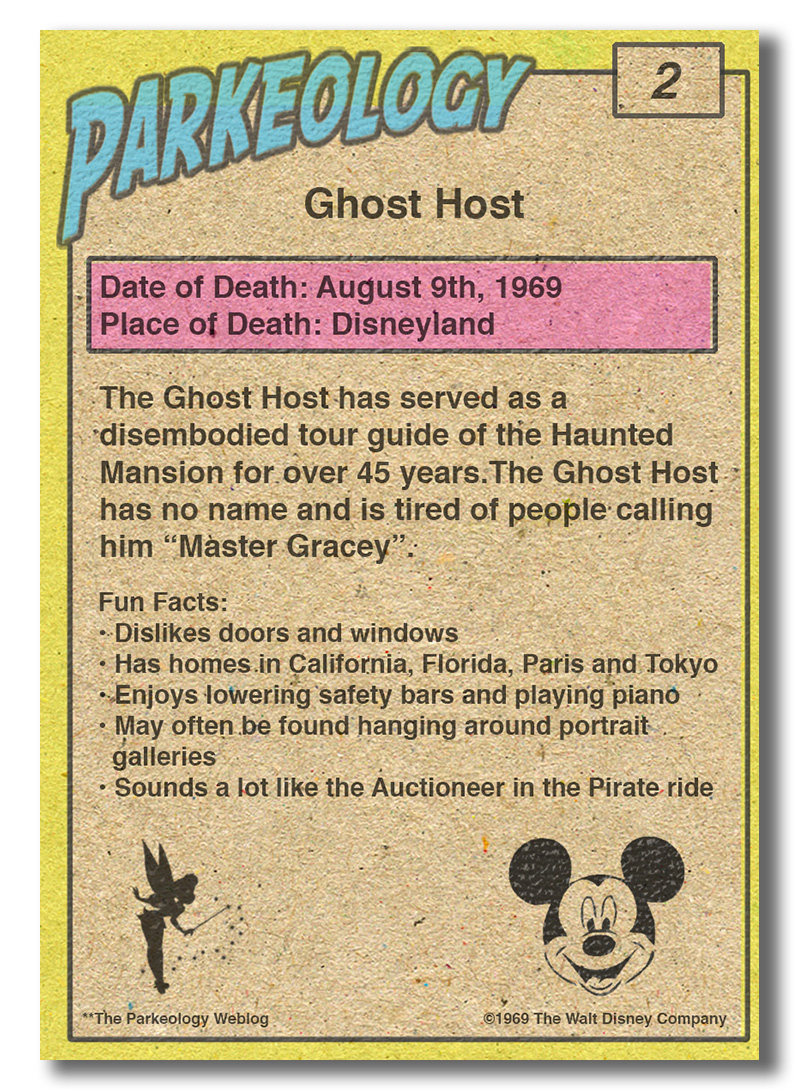 Finally one of my favorites and a character that is often overlooked despite her huge size: the unnamed dragon that lives under the castle at Disneyland Paris is the exact type of special detail that separates a good park from a great one. She is rendered with incredible skill and while she does not have red hair I can assume that she has eaten many redheads in the past.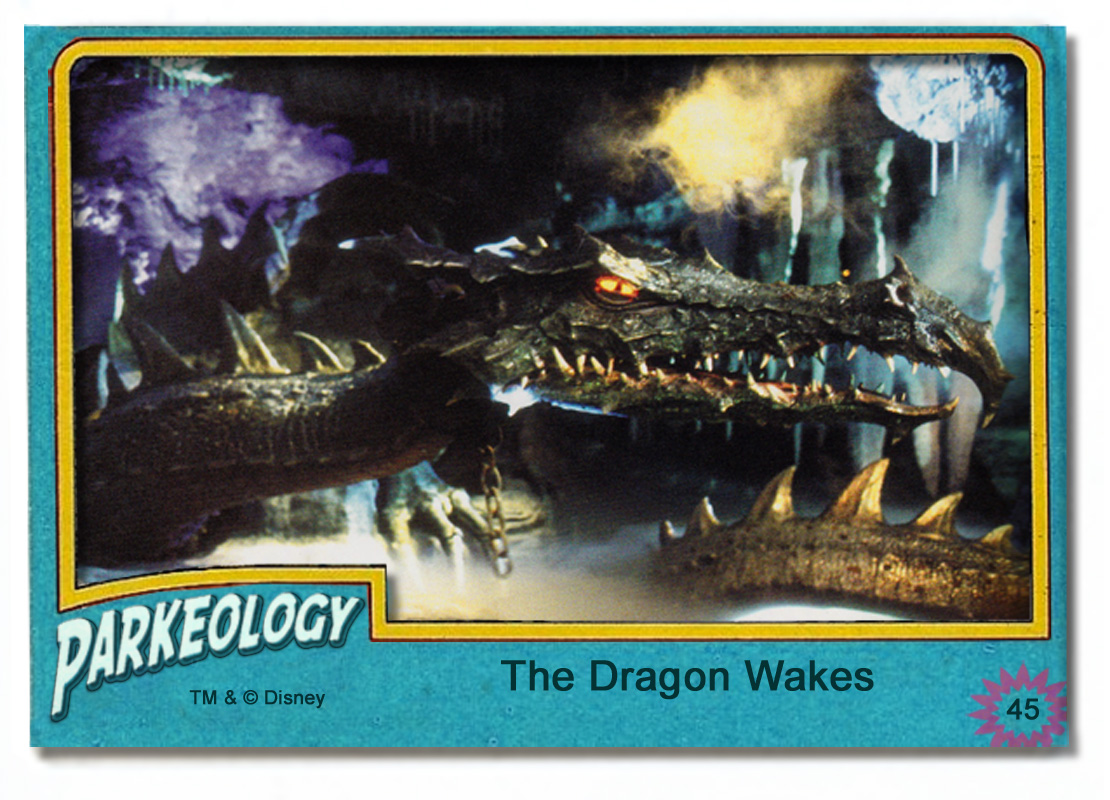 Though people frequently assume she is Maleficent she is not. She is actually meant to be Merlin's pet / friend and ties into a larger and fairly obscure backstory. Despite not having a name she certainly has a physical presence second to none.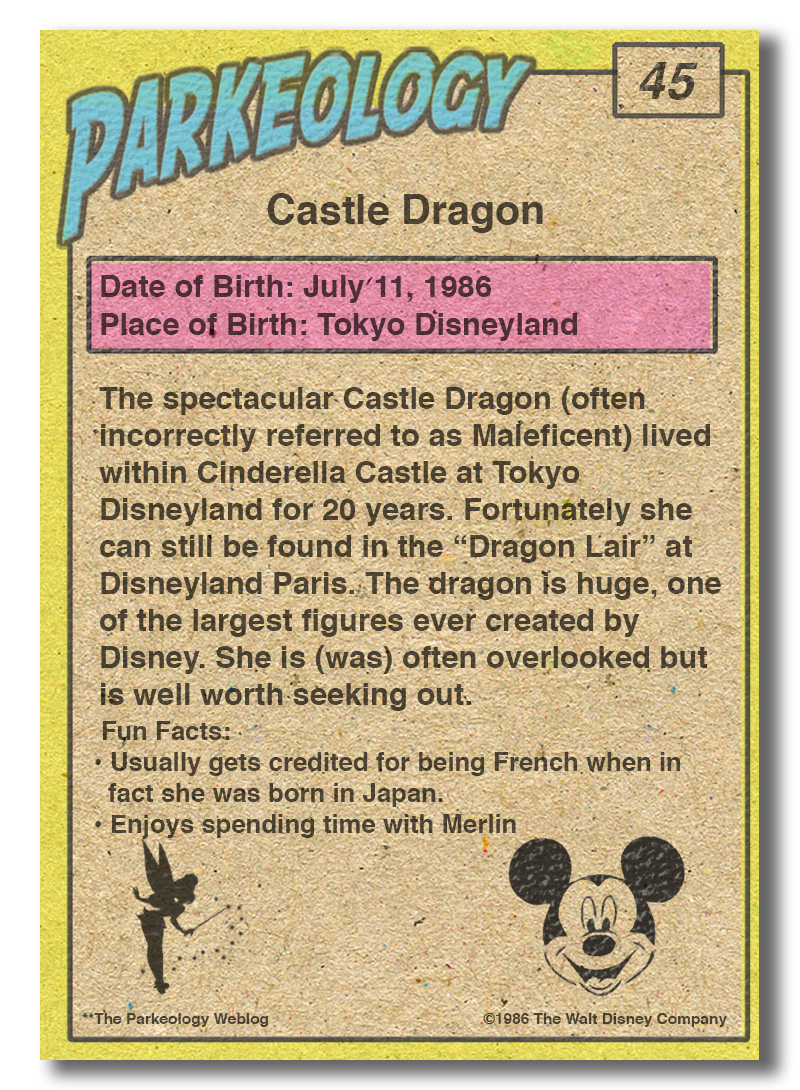 That wraps up this week's reveal, but we still have 20 cards to go! Next week Shane will dig deep into the archives and find 5 more of the most obscure, strange and all around wonderful park characters of all time.