Last week Shane showcased another five of his favorite cards RIGHT HERE.
As I have discussed in the past I was around 14 when EPCOT Center opened. As an adolescent boy my hormones were raging like bulls in Pamplona, out of control and seeking something to gore. Unfortunately I was also a Disney fan and the parks offered precious little in the way of tantalizing and enticing images that a teen boy may be longing to see.
There was however one exception, one magical moment housed in the most unlikely of places that, shall we say, always got a rise out of me.
Within the Mexico Pavilion of World Showcase was the otherwise unremarkable "Rio Del Tiempo" boat ride. It never knew quite what it wanted to be; a little bit "It's a Small World", a touch of "Pirates of the Caribbean" and a dash of "If You Had Wings", it is debatable how well those disparate elements blended together. Regardless, after cruising past a lovely Mayan pyramid perpetually backlit by a purple setting sun guests entered a chamber showcasing Mexico's "ancient times". As they rounded the turn screens featured recreations of ceremonies and rituals… and then on the main screen, there she was!
A beautifully exotic woman with tanned skin, bare feet, a perfect smile and an exposed midriff. She gyrated and pulsated with the power of a thousand suns. She was stunning; the highlight of any trip to World Showcase, hell she may have been the highlight of any trip to Walt Disney World!
Therefore you can imagine just how excited I was to find out that The Aztec Dancer actually made the list of the Top 50 Greatest Park Characters of all time, well of course she did! Despite my best efforts I could never find her card "in the wild," forcing me to pay up for it on Ebay, I'm not going to tell you how much I dropped for her but it was worth every penny!
The rest of today's cards cannot possibly compete with the first one but I do love this next one as well. Harrison Hightower is part of the fantastic Tokyo Disney Sea version of Tower of Terror. He is seen throughout the attraction including the pre-show and the queue and was the first overseas character we saw featured on the cards.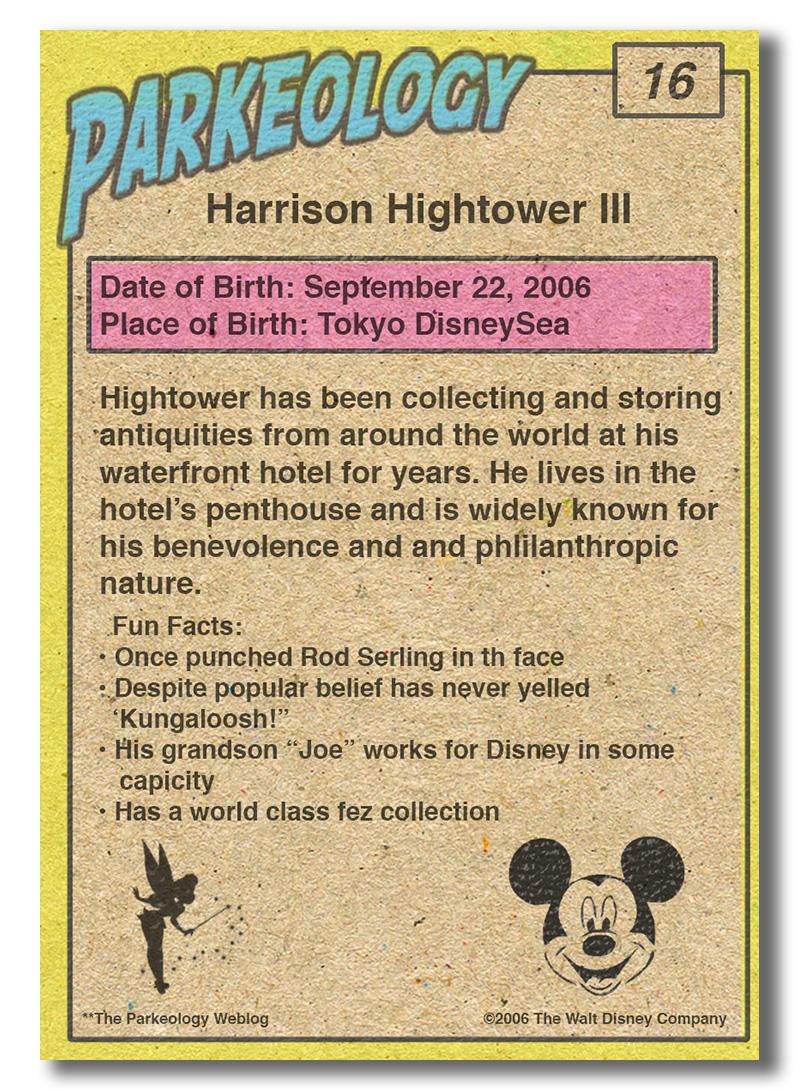 I have also written about these next two characters, you should check that out HERE. They may seem like an odd choice (and like the Aztec Dancer don't have official names, or even species) but they have been featured in three different parks and a world's fair… I love them.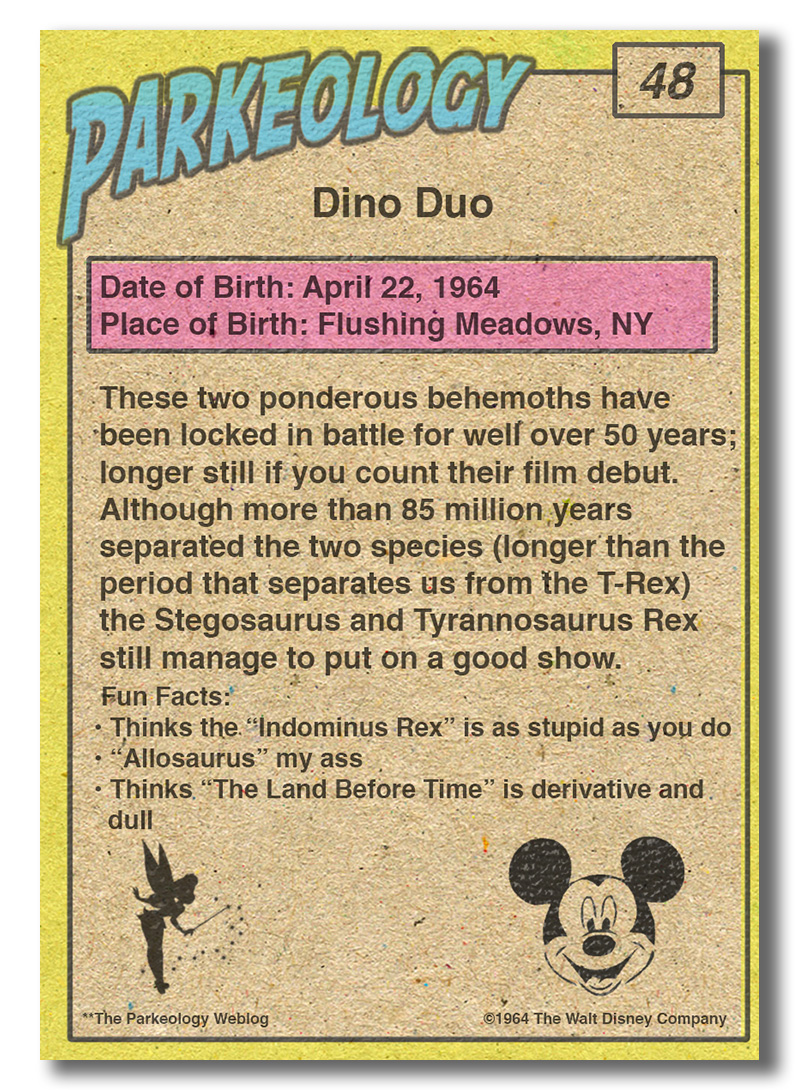 Trader Sam also holds a soft spot in my heart since I used to work on the Jungle Cruise years ago. Of course I worked at WDW where (at that time) Trader Sam was called Trader Namé, but that's a whole different story. At least he has an actual name and now bars as well!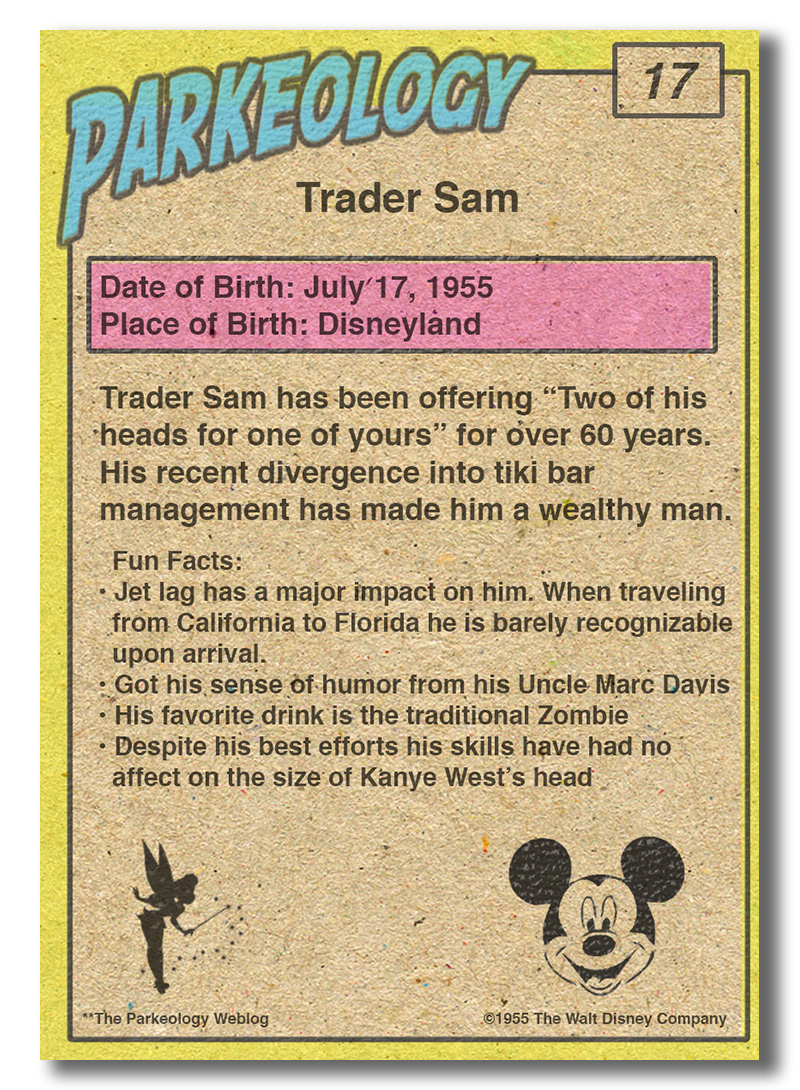 Finally is Dr. Grant Seeker, a character I always found somewhat annoying but that is probably the result of being trapped in a pre-show and forced to watch his spiel over and over and over again. He is memorable though and I appreciate that Disney wanted to spread the love around to characters from all the parks.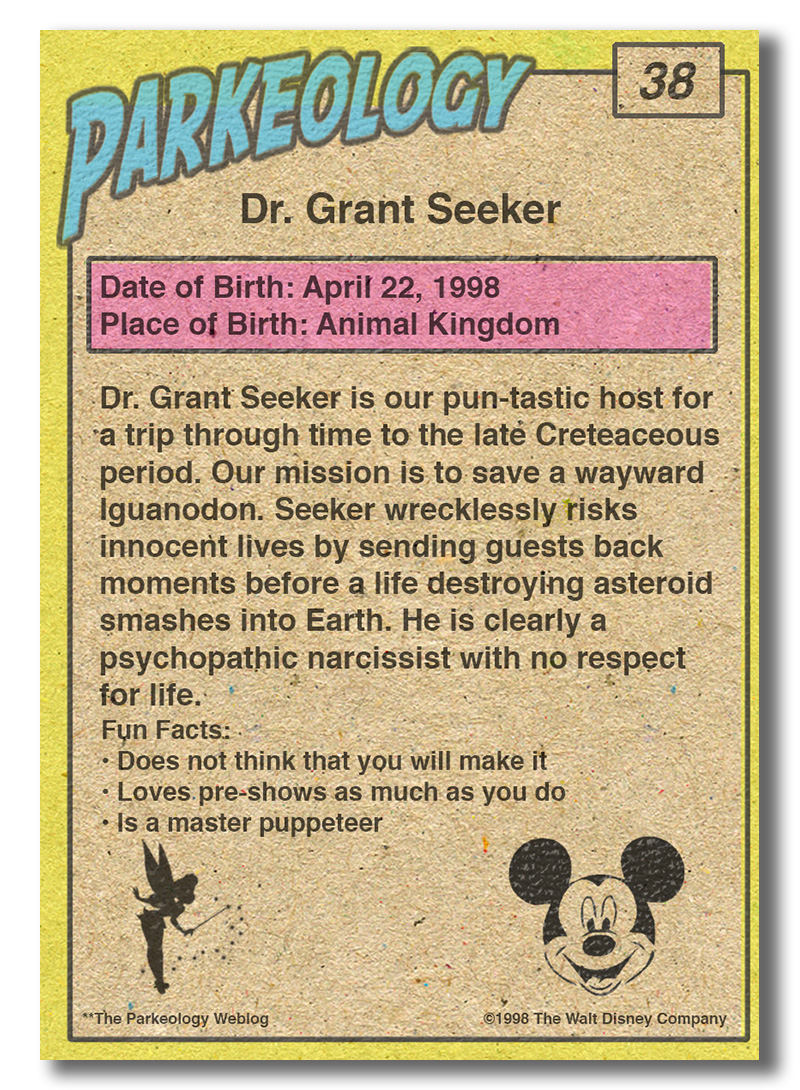 So that's it for today's update. Shane will be back next week with five more. Believe it or not, we are not even half way through the list of cards yet.
if you have missed any you can get back to the start of our list of the 50 Greatest Park Characters of all Time right HERE.