Although todays cards are awesome if you missed the previous 5 click here or of you are new to these classic trading cards click here to start from the beginning.
This set of the 50 Greatest Park Characters of All Time trading cards has featured teenage infatuations, sidekicks, Disneylanders and many more. Today I chose five cards that hit Disney's sweet spot: non-human characters.
Disney is best known for its animal characters; mice, ducks, lions or dogs they run the gamut of the animal kingdom. But the parks are no strangers to other creatures as well, some of our favorites (many already listed) are feathered, furry or from a galaxy far, far away.
Up first is a character who is lesser-known in the United States but who is a verified star in Japan: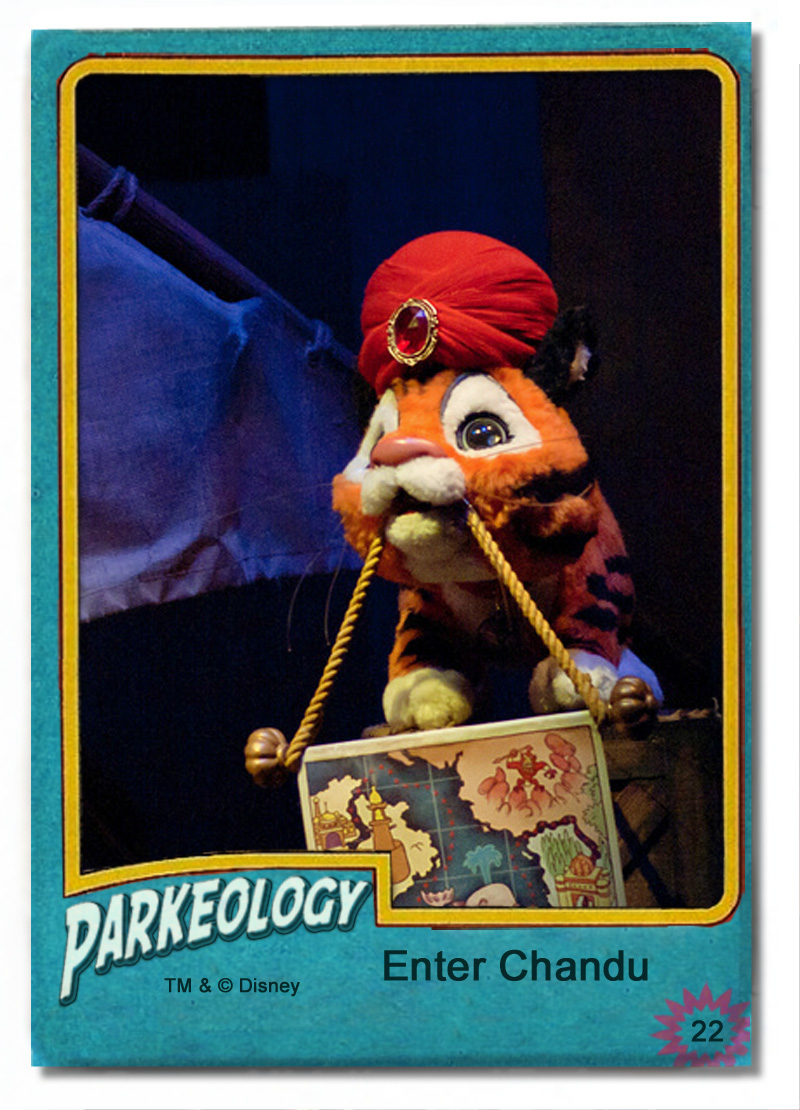 Chandu (an almost obnoxiously cute tiger cub) co-stars with Sinbad at his eponymously named Tokyo Disney Sea attraction. It wasn't always this way. When the park first opened the Sinbad attraction was much more sinister causing kawaii loving Tokyoites to stay away in droves. A few years later Chandu was brought in, the tone of the attraction was lightened and a contagious (some would say that not in a good way) theme song was added.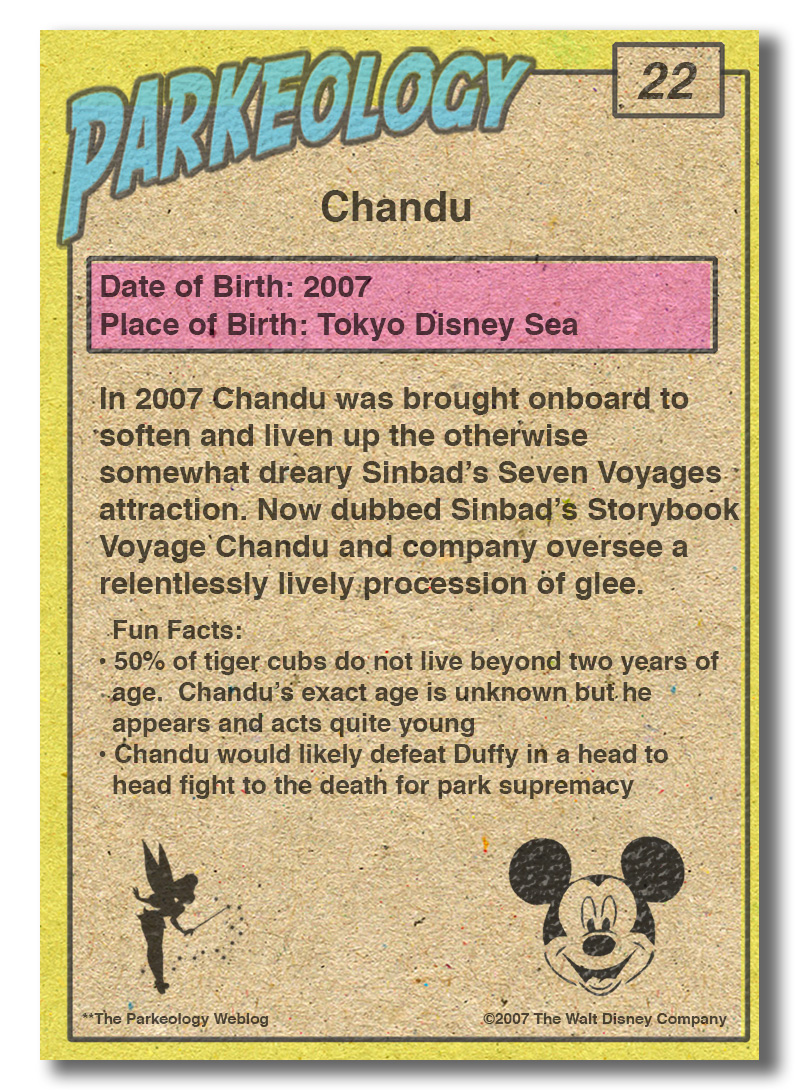 Today Chandu can be found featured on everything from popcorn buckets to household cleaning devices (a sort of feather duster featuring Chandu's tail as a handle). Speaking of his tail, it can be purchased as a snack! The "Chandu Tail" is an elaborate steamed bun that is very popular and has a following all it's own.
The next characters are no strangers to having loyal fans. The designers of these cards appear to have cheated just a little bit by lumping all three of the taxidermy heads from the Country Bear Jamboree into one mega-card.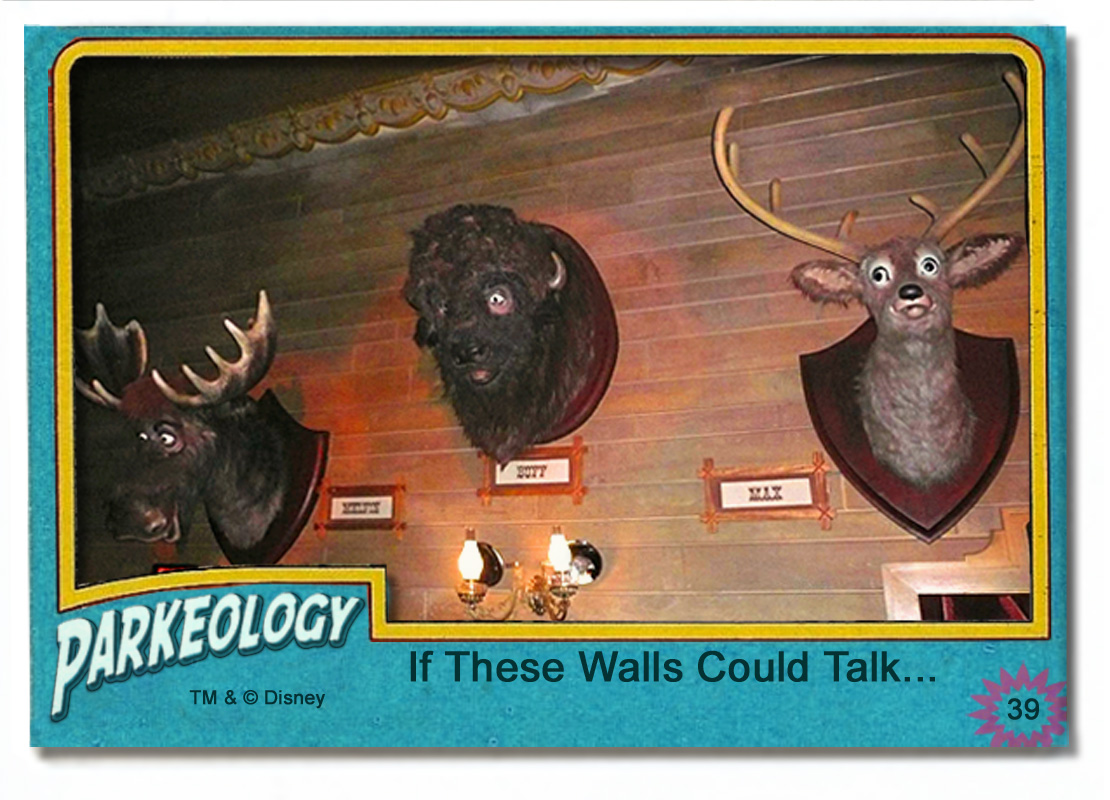 Melvin, Max and Buff may share one card but they each have distinct personalities and are a beloved part of the show. These three were so popular that at one time they were featured outside the attraction at the Mile Long Bar next door. Their removal from that fast service location is one of the earliest and best (or is it worst?) example of Disney deteriorating the in park experience.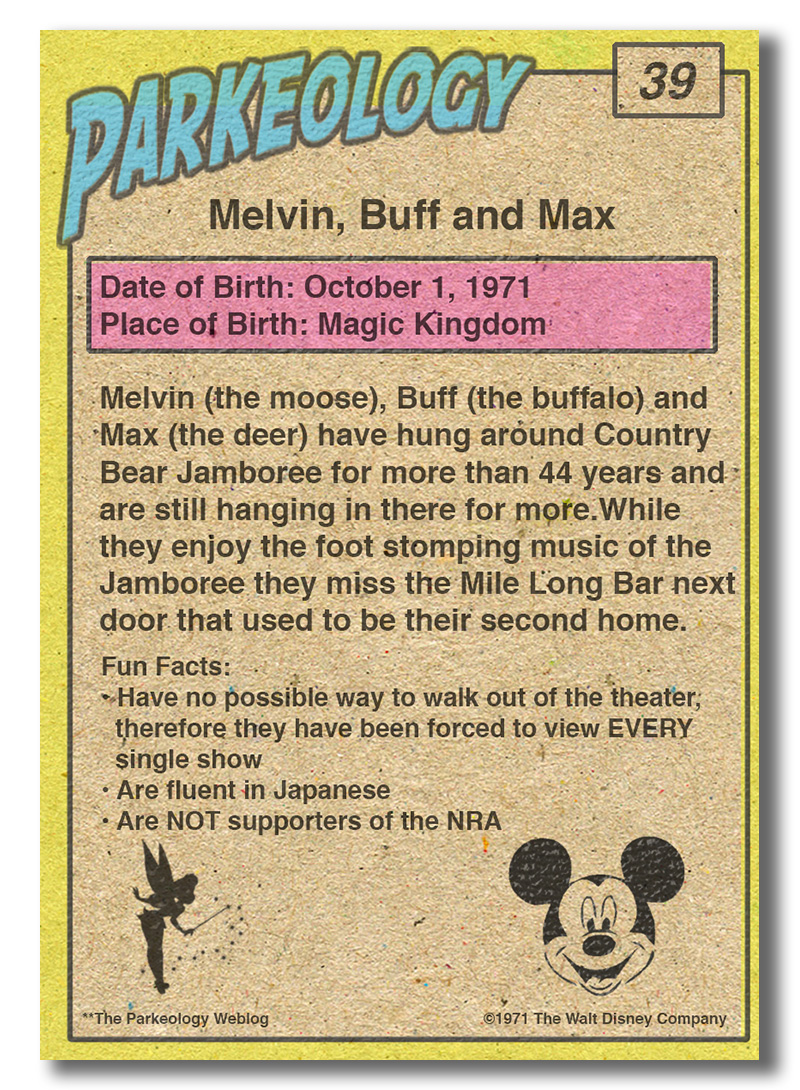 Speaking of needless removals we come to out next card: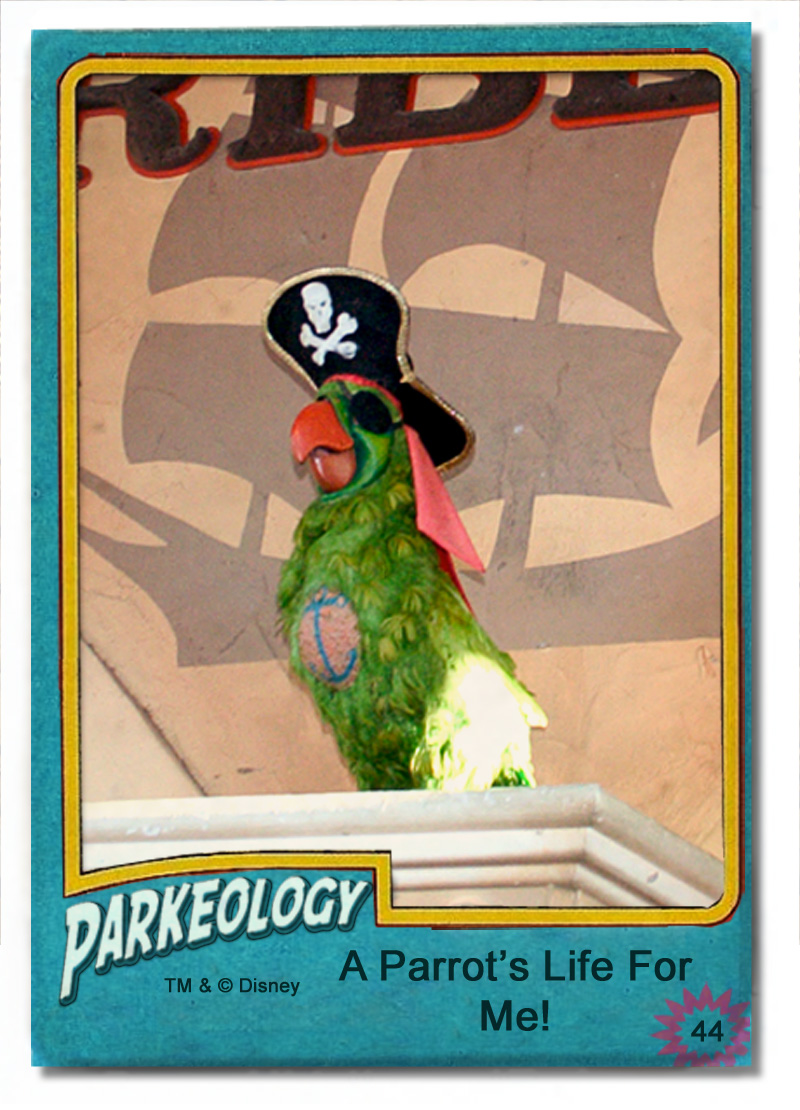 The Pirate Parrot was best known for being perched outside of The Pirates of the Caribbean at Walt Disney World for several decades before Johnny Depp had him booted out. He actually started his career inside the attraction at the unload station before being relocated for the first time. After he was removed from the pirate ride altogether he made an appearance at the World of Disney for a few years, now he is sadly lost in time.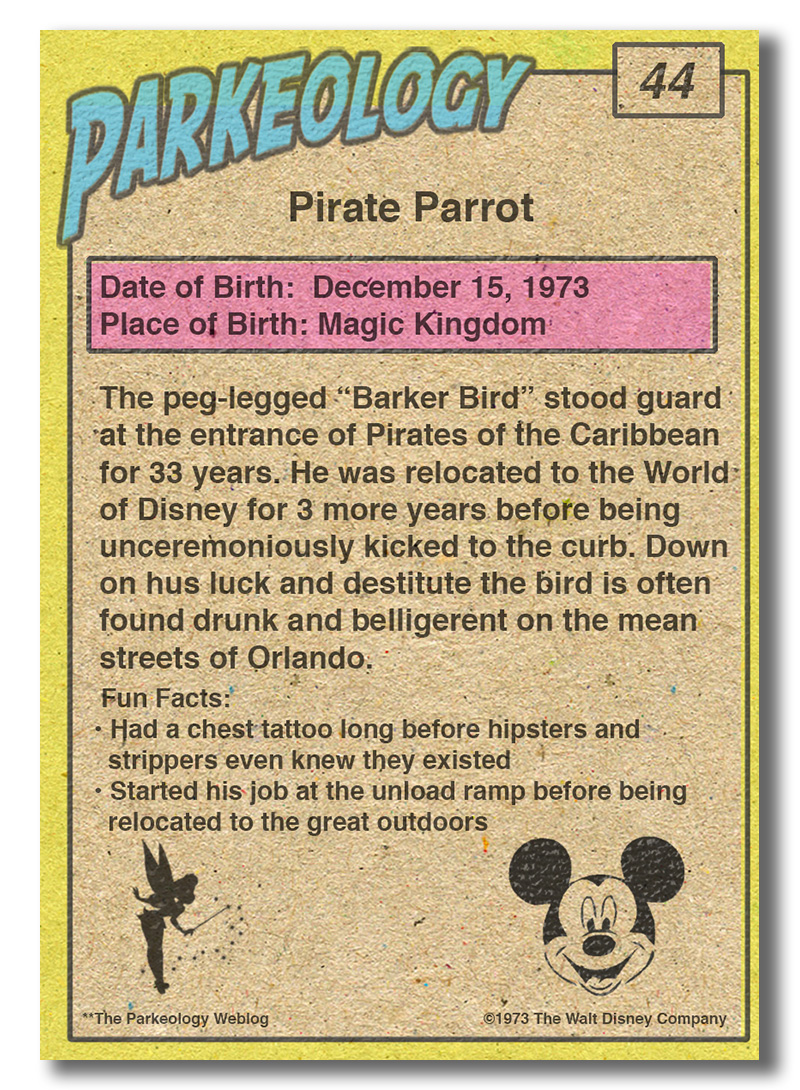 Our next card showcases a character that not only has eluded removal but has actually expanded his park presence.
Harold is the unofficial name of the yeti that has been stalking guests on Disneyland's Matterhorn attraction for many years. He may be humanoid but he is no human!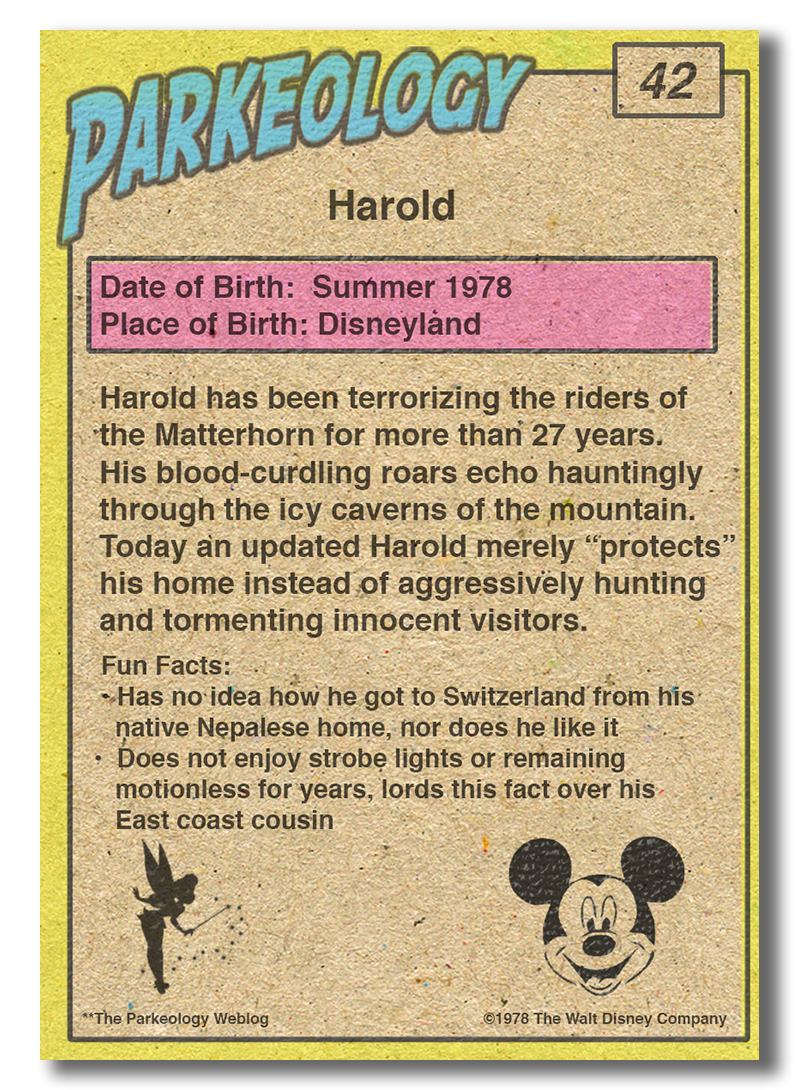 Harold has gone through several permutations since his arrival but currently looks better than ever.
The same can probably not be said for our final card of the day.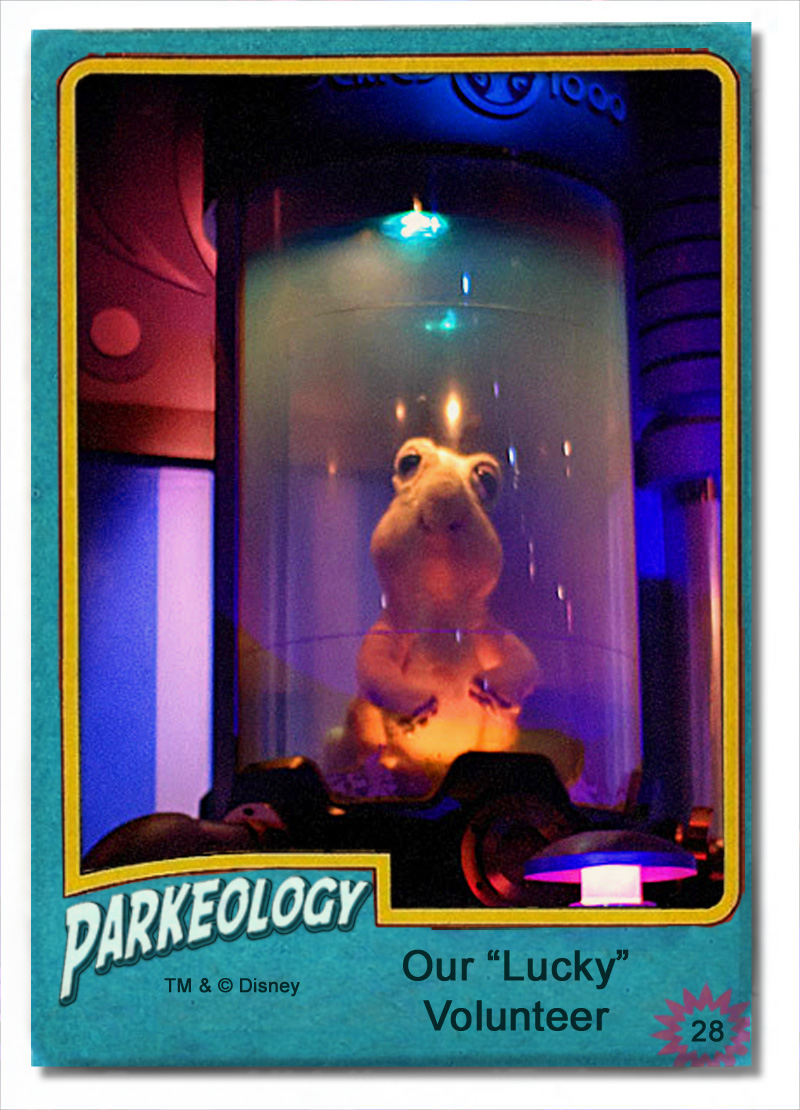 Skippy was one of the highlights of the original Alien Encounter pre-show. Once Stitch took control of the attraction Skippy was diminished to bit player. Still he left a big impression with park visitors and deserves a spot on this list (though I wonder why the actual Alien of the same attraction was oddly left off).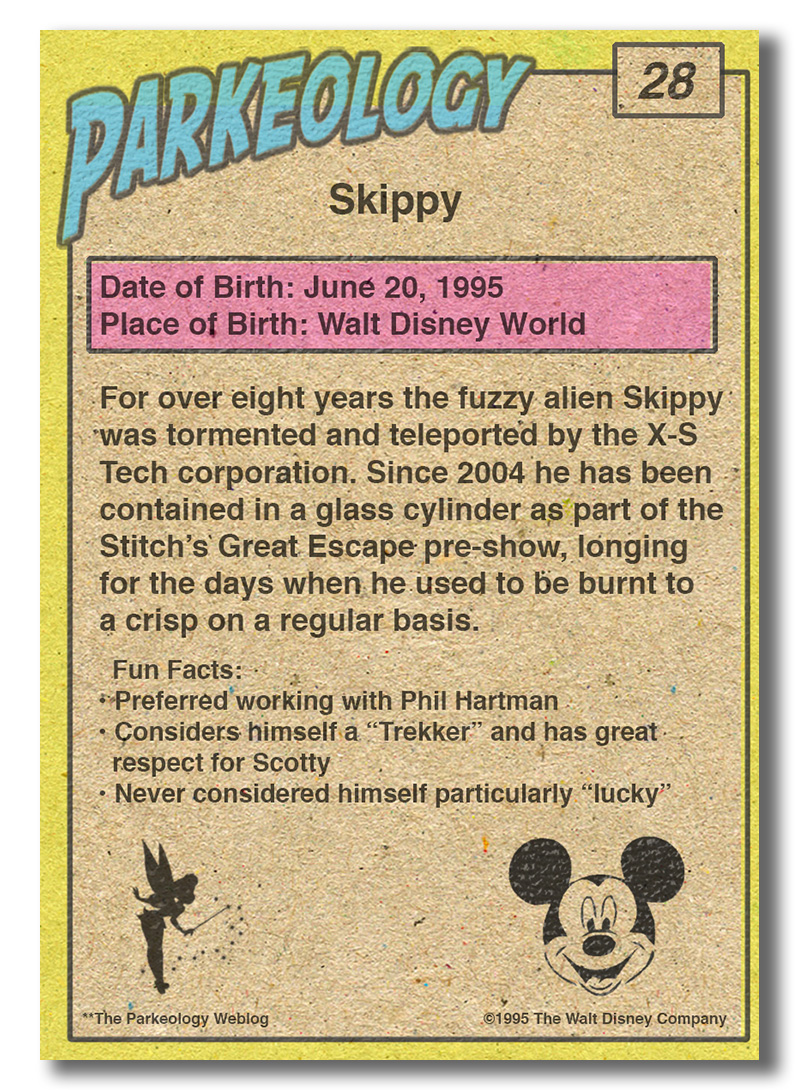 Come to think about it I bet there are more non-human park characters of note then there are humans. Animals, aliens, monsters, mythological creatures and more make up a rich tapestry of original creations that have come to shape the parks for generations.
We only have ten characters to go! Stay tuned next week when Shane posts 5 more cards to see if your favorite made the cut.