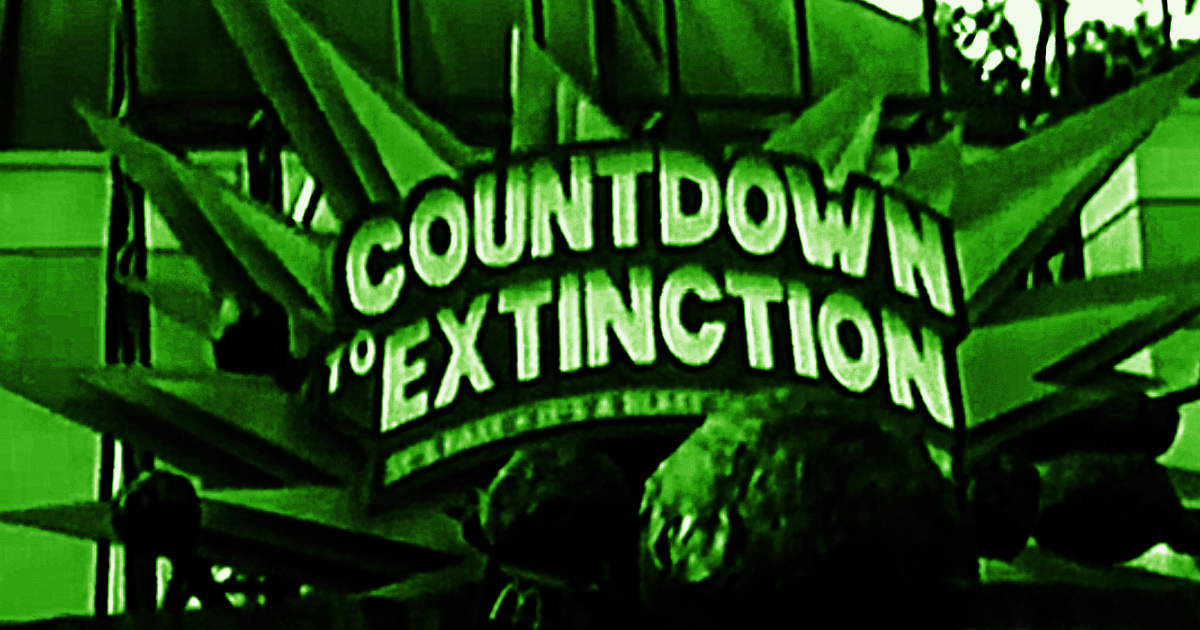 On the occasion of Disney's Animal Kingdom 20th Anniversary, we reflect on its celebration of all animals — living, imaginary, and extinct.
And since we're Parkeology, we're going to focus on that last part with a Top 20 Countdown to Extinction. It's fast! It's a blast! It's in the past!
---
20. Poached Elephants
Kilimanjaro Safari opened with a poacher-nabbing storyline that included a dead mother elephant, a high-speed machine-gun chase, and a giggling baby pachyderm in the back of a truck while a CM held bad guys at gunpoint.
The traumatic carcass of Big Red (the mother) didn't even survive the park previews. They replaced her part of the story with a radio message from Warden Wilson Matua.
The poacher storyline ran for more than a decade but was eventually phased out. The gunfire was removed and the animatronic Little Red was relocated backstage near Pride Rock, Animal Kingdom's Cast Member cafeteria.
---
19. Rollerblading Monkeys
Dinoland's Theater in the Wild has suffered through several bad productions leading up to the Animal Kingdom 20th Anniversary.
Tarzan Rocks! (exclamation point!) evicted the original show less than a year after the park opened.
Focusing on Phil Collins's rhythmic soundtrack to the animated movie, the show sought to inject a little late-90s "Extreme Sports" into a show about a cut dude in a loincloth.
And yes, this meant the monkeys were on rollerblades.
---
18. Flametree the Sea Serpent
Flametree the Sea Serpent once roamed the waters of what is now the Rivers of Light lagoon.
Back in 2010, Parkeology regretfully offended sea serpents everywhere in a series of misguided posts. Frankly, we still don't think he was that big a deal. But he was really mad at the time.
---
17. Sanitary Elephants
In 1998, you could take a train to a place with the action-packed name of Conservation Station. But since most people didn't, Disney decided to rename it to Rafiki's Planet Watch, which is what it was still called at the time of the Animal Kingdom 20th Anniversary.
A lot of it is the same, but we will never, ever forgive them for removing the awesome elephant sanitation nozzles, which allowed you to bathe your hands under the flowing streams of a pachyderm's nasal spout when exiting the Affection Section petting zoo.
---
16. Sprig, the Hyperannoying Talking Tree
Pocahontas and her Forest Friends was a stage production highlighting several North American species like raccoons, skunks, and otters.
Pocahontas and Grandmother Willow make a lot of sense in a Disney park. Less forgivable is the young sapling known as Sprig, whose every nightmarish gesture and exclamation makes you want to pick up the nearest ax and go to town.
---
15. Malaysian Tapir
In a section of the Maharajah Jungle Trek — after the Komodo Dragons but before the bats — lived a rather large, huggable grey creature known as the Malaysian Tapir.
While it looked like it should be playing keyboard in Jabba's palace, it was a delightfully strange addition to the more familiar exhibits of early Asia.
Unfortunately, the resident tapir passed away several years ago and the exhibit was repurposed into a monkey enclosure.
---
14. Safari Villagers
The middle section of Disney's Animal Kingdom hasn't always been known as Discovery Island. When the park first opened, it was called Safari Village.
Though it didn't change except in name, we wish they had stuck with the original. Disney already had something called Discovery Island, which really confuses modern search engines.
Parkeology has been known to spot secret reference to the Safari Villagers to this day. And our favorite Safari Village resident — Mr. Catfish — still prowls the waters.
---
13. Wondrous Birds
A fairly recent loss is the park's original bird show, Flights of Wonder. Featuring jokes about tour groups and hippy drug culture, the Caravan Stage provided an up-close encounter with these marvelous winged creatures.
A new show themed to Disney/Pixar's UP opened just in time for the Animal Kingdom 20th Anniversary. But we will never forget the original show, so vital to padding capacity during Animal Kingdom's days as a half-day park. And we will especially never forget that ill-fated summer when they performed it in a revival tent.
---
12. Two-headed Humans
Perhaps our favorite past-time is watching the gangly two-headed humans as they get themselves into wild predicaments.
These creatures look conspicuously like adult fathers carrying smaller child-sized humans on their shoulders, oblivious to the low hanging ceilings of monorails, queue entries, and especially the craggy arches of the Animal Kingdom Oasis.
I once saw a child take a particularly nasty smack on the noggin while his father blithely carried him to the exit. Not long after, the park removed most of the arches, turning them into pillars of rocks. It's probably safer that way, but way less entertaining.
---
11. Fluorescent Elephants
These day-glo pachyderms once swayed in time to Colonel Hathi's march in Journey Into Jungle Book before Tarzan Rocks! (exclamation point!) evicted them.
Jungle Book shows have a hard time surviving in Animal Kingdom. A nighttime spectacular based on the live action movie played briefly in the theater built for Rivers of Light, but this Bollywood spectacle disappeared in short order.
At least the hidden Baloo is still lurking in Africa, waiting to be discovered.
---
Continue Reading Animal Kingdom 20th Anniversary Countdown to Extinction ...