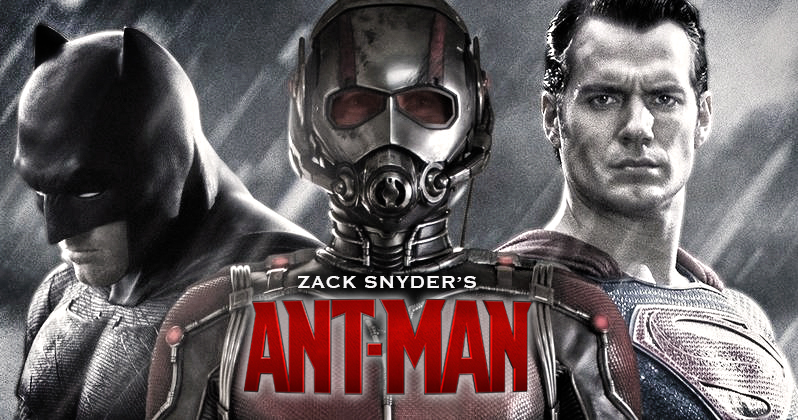 In what can only be described as a surprise move Marvel Studios has issued a press-release announcing a new partnership with former DC director Zack Snyder. Snyder has recently seen some success with the release of his FOUR HOUR version of "The Justice League" on HBO. Still, this is a somewhat perpelexing decision by Marvel.
We do not have many details so we will publish the new art-work and press-release in its entirety below: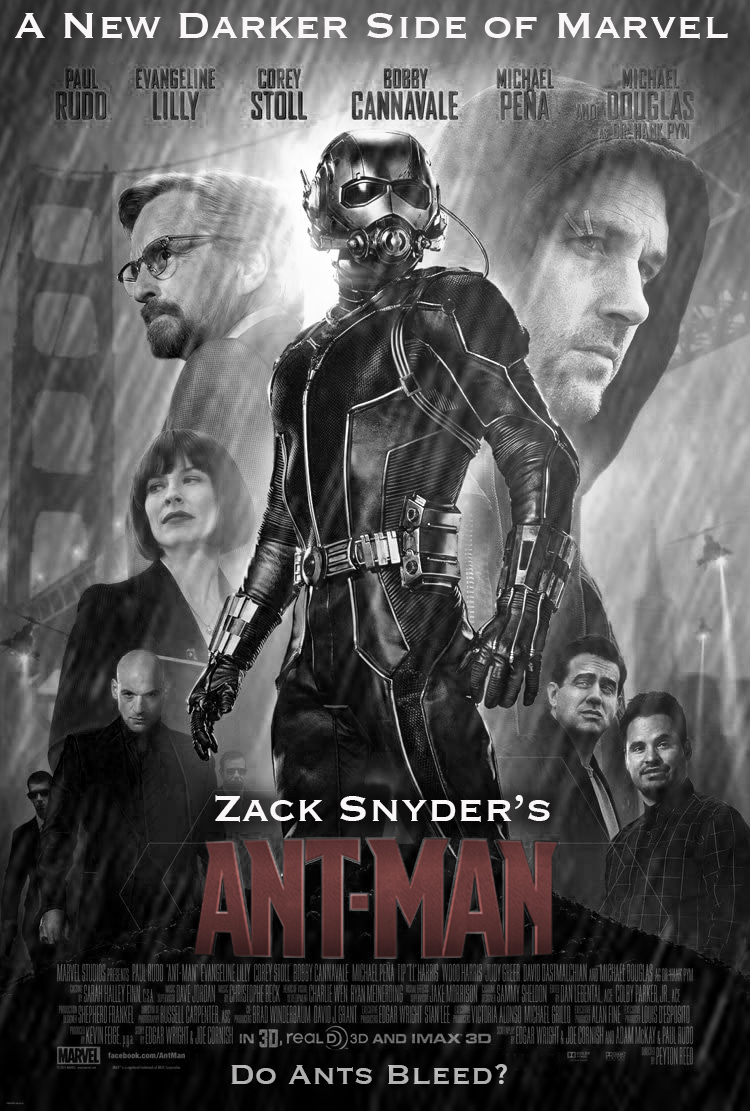 The Marvel Cinematic Universe Welcomes Its Newest Director
Famed visionary Zack Snyder directs a star-studded ensemble in re-imagining classic comic tale
March 31, 2021 9:00 Eastern Standard Time
Burbank, Calif.- (BUSINESSWIRE) – Marvel Studios has agreed to produce a new adaptation of "Antman" directed by Zack Snyder ("Man of Steel", "Batman V Superman: Dawn of Justice", "Zack Snyder's Justice League") starring Paul Rudd ("Clueless", "Knocked Up", "The 40-Year-Old Virgin") as pint-sized powerhouse Antman.
Following the unprecedented success of "Zack Snyder's Justice League" (HBOMax) Marvel intends to shift focus to a more realistic, gritty and conflicted cinematic style.
Kevin Feige President, Marvel Studios Chief Creative Officer, welcomes Snyder to the Marvel Cinematic Universe: "Zack has proven to have what it takes to guide a successful and long-lasting interconnected world of comics based entertainment to great success. Marvel is excited to work hand-in-hand with Zack as we rediscover each of our beloved characters, now seen through the grim eyes of this master story teller."
Feige and Snyder are producing the film and anticipate a total revamp of the Marvel Cinematic Universe.
Snyder, fresh off the success of the four hour epic "Zack Snyder's Justice League" is excited to bring his innovative style to Marvel: "Marvel has done reasonably well over the past decade or so but I see an opportunity to reinvent these stories bringing a grittier, gloomier and more realistic approach to them, with much more murder as well."
"Zack Snyder's Antman" is expected to have a runtime of over 240 minutes and carry an NC-17 rating. Snyder went on to say: "Humor has no place in comic book films. I will show Paul Rudd in a new light; a murderous, humorless, gravel-voiced light, just as I have done with past super hero legends. Expect guts, gore and oh yea, it will be filmed in black and white!"
Feige agrees: "Marvel is constantly looking for the best ways to expand our reach and tell stories in ways that connect with our considerable fan base. As such we are all in on Zack and look forward to the exciting new direction he brings our movies, starting with "Antman". We trust that Zack can course-correct our movies and hope to achieve even a fraction of his past successes."
Antman was created by Stan Lee, Larry Lieber and Jack Kirby whose first appearance was in "Tales to Astonish #35" in 1965 published by Marvel Comics. The new "Antman" film has been budgeted at 350 million dollars.