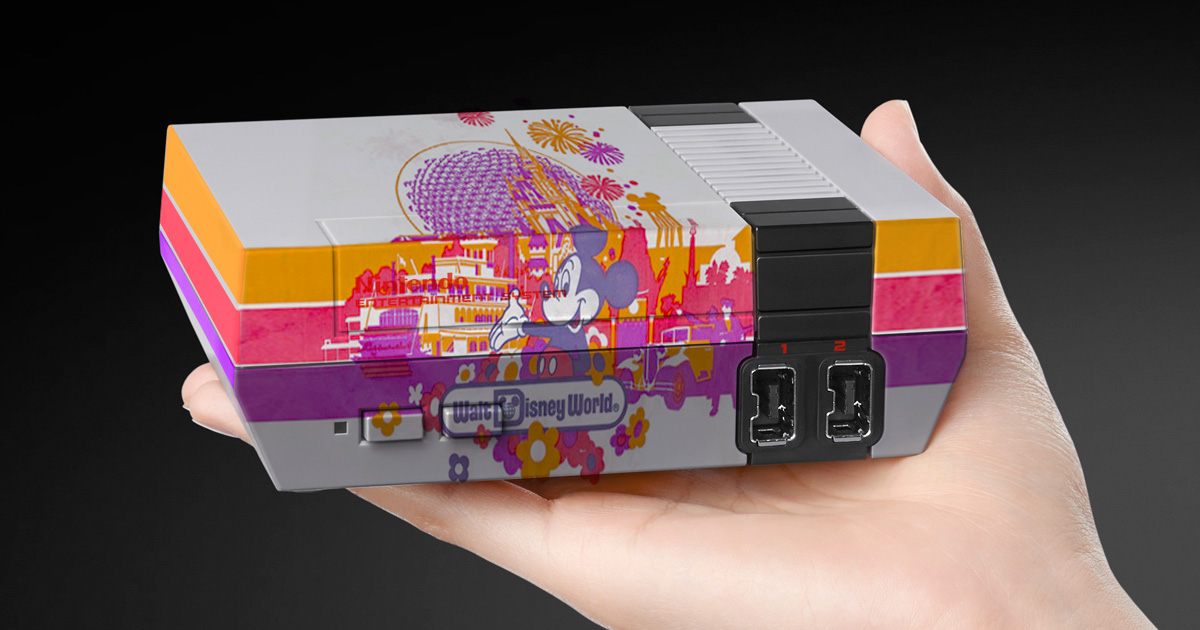 The hottest gift this holiday season is the NES Classic Edition, a video game system that Nintendo created by jamming a USB cable directly into my brain and downloading my childhood.
The NES Classic Edition contains 30 timeless games from the Nintendo Entertainment System's heyday. And if I don't get one for Christmas, I will probably weep inconsolably into my Super Mario Bros. cereal and then hide under my Triforce blankets for at least a week.
I have intense brand loyalty to only a handful of companies, of which Nintendo and Disney World are two. And even though Universal is getting Nintendo Land, I can still look forward to Nintendo's next product launch:
The WDW Classic Edition
Now you can enjoy 30 of Walt Disney World's lost attractions, all on a single device from the comfort of your own home!
Journey Into Imagination
Take control of the purple dragon in the yellow sweater, as you fend off relentless corporate accountants determined to dumb down every inch of the DreamPort.
---
Mike Fink Keelboats
Steer your keel boat through the dangerous backwaters of the Rivers of America, avoiding discarded soda cups, floating diapers, and fireworks fallout.
---
Cranium Command
Pilot the unstable brain of a talent agent on your quest to resurrect the careers of B-list celebrities by offering them roles as obnoxious human body parts.
---
Monster Sound Show
In this addicting rhythm game, follow the patterns that appear on the screen to keep Drew Carrey from becoming a thing.
---
Universe of Energy
As famed Russian wrestler Emil Radok, it's up to you to save the world's resources from dated comedy and restore seriousness to the universe.
---
If You Had Wings
Spread your wings on a white-knuckle flight to avoid bankruptcy in the world's first playable commercial. Sponsored by Eastern Airlines.
---
Lights Motors Action
Race against a revolutionary game clock that only lets you play 3 times per day and execute death-defying stunts in a series of increasingly expensive missions as you try to prove yourself the greatest stunt driver of all time.
---
Mickey Mouse Revue
Join Mickey, Minnie, and the gang on a long-format adventure as they leave their home to bolster a burgeoning foreign theme park using the power of song.
---
Penny Arcade
Test your mettle against a collection of arcade thrills and games of chance! Beat a game and you win an additional ten seconds of game time. Lose, and the game gets replaced with a t-shirt rack.
---
Star Tours
Load up your R2 unit and hop aboard a Star Speeder 2000 to save the universe from the clutches of CGI prequels.
---
Honey, I Shrunk the Audience
Take on huge level bosses like Gigabyte the python and Quark the dog as you try to track down the mysterious reason for your franchise's suddenly shrinking brand awareness.
---
Body Wars
Blast your way through a never-ending maze of blood-red images to extract a splinter from the host. One of the few games to be published with a warning label for nausea.
---
Mission to Mars
The red planet awaits in this first-of-its-kind space flight simulator, which required gamers to abandon the controller and let the computer do everything.
---
Snow White's Scary Adventures
A mine car is your ticket to the heart of the Seven Dwarfs diamond mine. But beware! The Disney Princesses have other plans.
---
Kitchen Kabaret
Bonnie Apetit needs your help! Whip up a healthy meal while government nutrition standards change right out from under your feet.
---
River Country
A world of backwoods water sports awaits you in this classic collection of thrilling mini games about the dangers of bacterial meningitis.
---
House of Magic
Step inside the hidden doors of Main Street's magic shop and unlock the mysteries of maximum merchandise shelf space before your secret society is snuffed out.
---
Horizons
The original multi-ending game! Play through endless scenarios, including the highly addicting and fondly remembered orange grove farm sim.
---
World of Motion
This first entry in the long-running "Motion Pavilion" series featured an expansive overworld and a rewarding role-playing adventure about the history of transportation — a stark departure from the first-person shooters of later entries.
---
Captain EO
Unleash the power of the rainbow as you and your rag-tag band of space explorers weather abuse accusations and increasingly bizarre surgeries before High Command decides to pull the plug.
---
Magic of Disney Animation
As Robin, a little Lost Boy, you'll explore a dying 2-D animated world of empty cubicles and outsourced production in this breathtaking platform adventure.
---
Discovery Island
Tame a wild bird. Feed a tortoise. Compete against an entire Kingdom doing the same thing as your tiny island, but on a much larger scale. These are just some of the many adventures that await in this adventure game from HudsonSoft.
---
Diamond Horseshoe Revue
Keep Frontierland safe from the latest animated IP as you and your overpriced cast of equity performers struggle to connect with modern audiences. You can-can do it!
---
Mr. Toad's Wild Ride
Team up with a friend as you race on split-screen dual tracks to the finish line. But watch out for that train or you may find yourself in a 100-Acre Hell!
---
Skyway
Soar high above Fantasyland and stack random blocks of spittle on unsuspecting guests in this ingenious puzzle game from Tengen.
---
SuperStar Television
In one of gaming's first MMO entries, you and several thousand other players get the chance to sit back and watch 8 computer players re-enact fun TV moments.
---
Backlot Studio Tour
Hulk Hogan's TV show locations have been scattered to the four winds! Guide your studio tram through the intricate maze of Residential Street in your attempt to recover them all.
---
Maelstrom
You are not the first to pass this way. Nor shall you be the last. Enter the land of the trolls, evading polar bears and swelling seas on your quest to save the world from the coming empire of the Ice Queen.
---
Alien Encounter
XS-Tech customer surveys have revealed that their demonstration lab might not be appropriate for children! And you are the only soul left alive that can tabulate the results and forestall a wholesale replacement.
---
20,000 Leagues Under the Sea
Pass under the polar ice caps as you attempt to locate a mysterious lagoon leak that is driving up the operational costs that could sink Volcania forever.
---