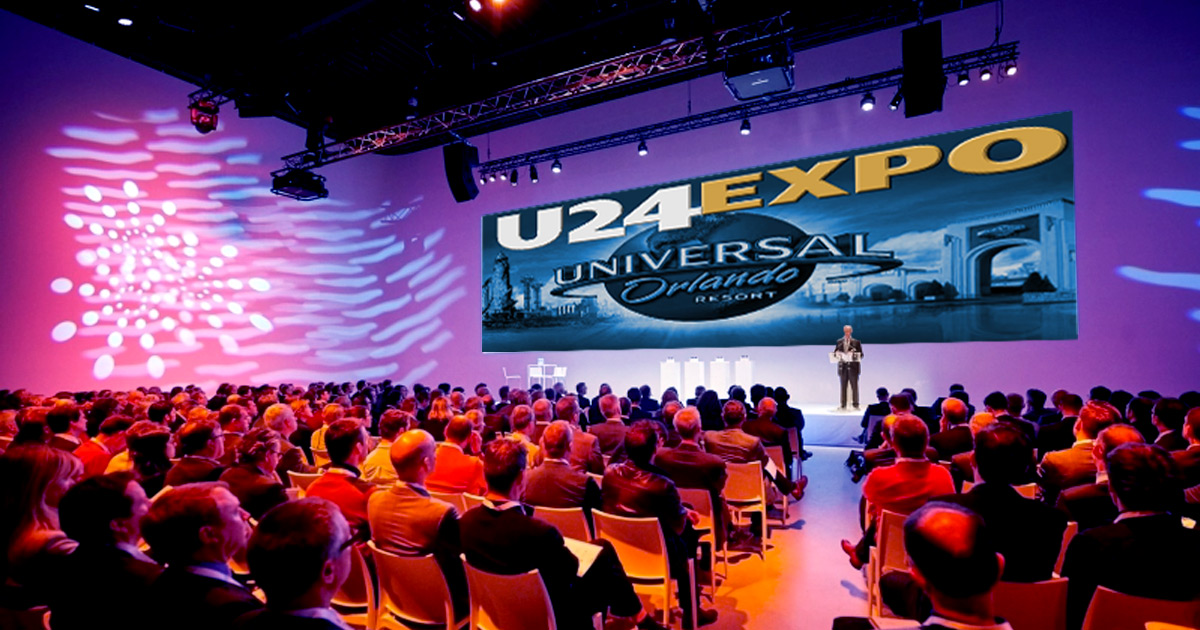 In the wake of last week's D23 Expo by Walt Disney Parks and Resorts — which announced 9 new rides, multiple new entertainment venues, several themed lands overhauls, 2 premium hotels, 1 cruise ship, and an ill-conceived gondola system — Universal Studios Orlando hastily held an impromptu U24 Expo on a giant screen outside the City Walk Panda Express early Wednesday morning. More than a dozen fans and media were in attendance, most of whom thought it was a ticket distribution center for an upcoming taping of Man vs. Food.
With the audience packed onto benches and folding chairs — including several guests taking advantage of a croissanwich special going on at the same time at the nearby Burger King — Universal Studios executives took to the stage to announce surprise project after surprise project, in a strategic effort to outdo their competitors down the road.
The game-changing announcements started right from the first speaker when Show Producer Jeffrey Cline dropped news of a massive Jurassic World simulator ride to be built next to the existing Jurassic Park boat ride at Islands of Adventure.
Utilizing a revolutionary "Surround Screen," the ride will take visitors from an air-conditioned theater themed to resemble a normal movie theater, straight into the action of a summer blockbuster, as dinosaurs are suddenly projected on all four walls. Even the ceiling will come alive, as more projections create a breathtaking primeval sky. Your seat will literally "rattle" and "kind of tilt" and even "shift a bit" as a herd of pachycephalosaurus stampede around you. And the deafening roar of the Indominus Rex will assault your senses — and may even shower you with "dino drool."
Up next was an announcement that the Universal Studios park would see a modern replacement of its tired and dated E.T. ride. The clunky sets and awkward animatronics would be replaced by a cleverly concealed bank of projection screens that can realistically provide the feeling of flight as you soar with E.T. through the galaxy.
The most star-powered part of the presentation was when film star Daniel Radcliffe appeared via teleconferencing to announce that for the first time, E.T. would be able to visit with his friends from Hogwarts as part of Universal's commitment to expand the Harry Potter presence. Videos of several cast members were also on display to break the news that they would be participating in the new Wizarding World of E.T. attraction through the magic of digital projection. Someone who played a background Hogwarts student in the fourth movie also teased the possibility of 4-D effects, like a Quidditch player's sweat flying off the screen and drenching you.
They also announced an extensive upgrade to the Portofino Bay Hotel, featuring elaborate virtual windows, purporting to give every guest a brilliant view not of an average hotel swimming pool, but of a really nice pool that sort of looks like it might be in Italy.
Universal proceeded to announce 8 more simulators and 3-D movie attractions, then threw in an Epcot-style History of Screens attraction for good measure. This delightfully meta concept will have guests board traveling screens for a screen-filled journey through the world's greatest screens, all viewed through the screen of their mobile device.
The real coup de grace came when Universal Studios Creative Executive Alan Reitman — who was seen keeping track of announcements on his fingers and cross-checking them against something written on a session guide from the D23 Expo — stood up and promised an entirely new land at Universal Studios.
Titled Green Screen: Bleeding Edge, the new land will feature the largest collection of green screens ever assembled. Guests will wear trackable "VirtualMax" bands as they explore a never-ending labyrinth of flat green walls, among which are hidden cameras recording their every move.
Later, they can go online and see the magic of chromakey, a movie effects process that can replace the dull green backgrounds with interesting pictures — all available for purchase.
Executives at Disney could not be reached for comment, as they were in the process of creating a completely immersive, role-playing Star Wars hotel which comes with its own set of costumes, an interactive personalized storyline, a lobby experience that literally blasts you into space, and bonafide working lightsabers.
But one thing is clear. The competition in Orlando is heating up.