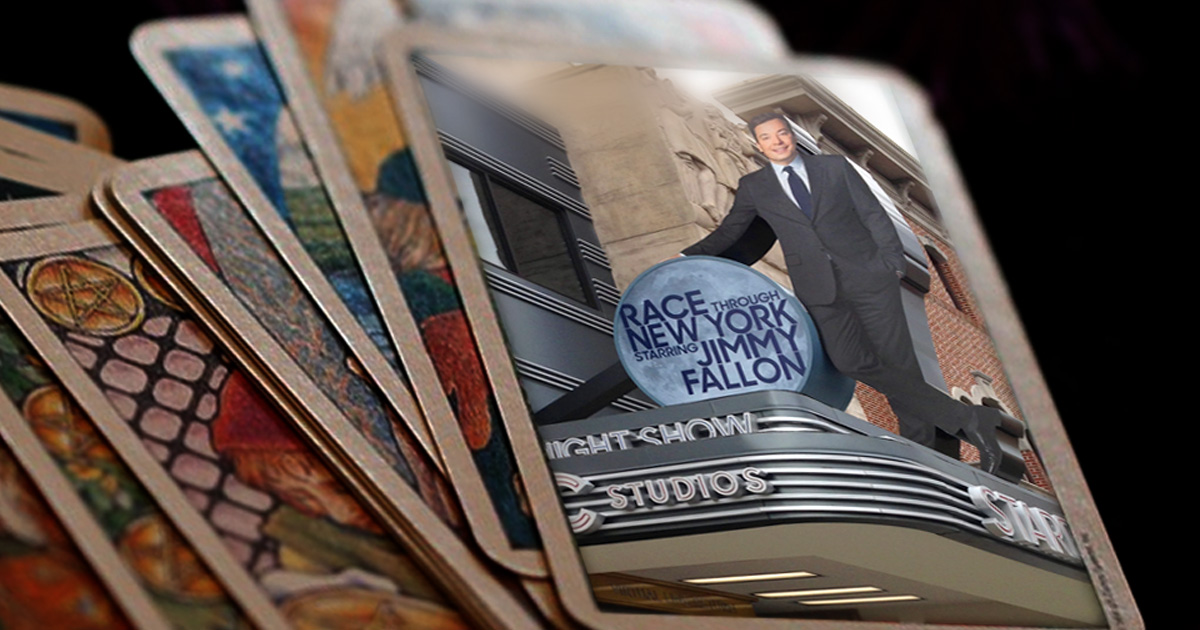 Universal Studios Orlando has just opened their new Jimmy Fallon Ride — Race Through New York, replacing the old Twister show.
They nearly stole Disney's crown with the Wizarding World of Harry Potter a few years back. And since that time, they've poured out a never-ending stream of quick jabs (Transformers, Diagon Alley, Reign of Kong) — all while Disney laboriously slogs forward on a few high-profile attractions.
The Jimmy Fallon ride is the culmination — Universal's re-invention of the theme park. But as Universal finds success with this approach, fans really should be asking themselves if this is the future they want.
Virtual Queue and the War Against Lines
The Jimmy Fallon ride is the first to feature Universal's Virtual Queue system, which supposedly frees you up to do other things like buy chocolate frogs. The next big roll-out will be the Volcano Bay water park — yet another project that was built in less than the gestation time of a baby elephant.
Here's how it works.
You can use either an in-park kiosk or the Universal phone app to reserve your spot. The employees whisper that you will get only three return times from the kiosk, but a plethora of options from the app. Sound familiar? Yeah, it's just FastPass+.
Then it turns insidious.
When you come back at your appointed time, you are issued a hall pass corresponding to a color in the NBC peacock. You are free to roam around the lobby, and when the lighting of the room transforms to your color, you are allowed to proceed up the stairs to the second floor.
The scenario plays out again, this time with Jimmy Fallon video games, Jimmy Fallon clips, and the occasional appearance by the Ragtime Gals barbershop quartet or a dude in a Hashtag the Panda costume.
Once again, the lights will eventually flash your color and you proceed to an actual queue area. Here there are overhead monitors with more Fallon clips — the same clips from levels 1 and 2. Finally, you are herded into the preshow area.
How magical is this virtual queue process?
45 minutes worth of waiting in sheep pens magical.
Annoyances abound. For instance, when you gain the second level, you'll find that the lobby lights are several steps ahead of your group. You have to wait for the entire peacock to cycle through its tail feathers before you get a chance to move on. All the while, more groups are jamming into the area from the ground floor while others fight their way to the next holding cell. Meanwhile, there's only enough seating for 12 people. Couch sniping becomes a sport.
Some of this is no doubt to make the experience seem more substantial. The actual ride is a milquetoast motion platform that resembles the old Jerusalem simulator ride from Epcot's Millennium Pavilion. Remember that classic? No?!
Most theme parks try to eliminate the waiting in line. Universal would rather hypnotize you into believing that there was no line.
A Simulation of a Thrill Ride
Harry Potter and the Forbidden Journey marked the start of the Universal renaissance. It relied on a mix of practical sets, animatronics, and integrated movie screens.
Here's what they seemed to learn from it:
Lose the corny spider robots. Go all-in on simulators.
Escape from Gringotts relies on even more screens than Forbidden Journey. The Simpsons ride, of course, is a re-purposed simulator — as is Despicable Me Minion Mayhem. Transformers is just another version of Spiderman. Reign of Kong is the biggest paper gorilla of them all — a nice show building disguising a big steaming pile of projection poopery.
In a park that already includes legacy movie attractions like Shrek 4-D and Terminator 2, the Jimmy Fallon ride is the ultimate manifestation of Universal's simulator obsession.
There is no attempt to augment the ride theater with any sort of theming. You grab your 3-D glasses, sit in benches designed by the same demon troll who did the Fantasmic bleachers, and watch Jimmy Fallon race a CGI car via the magic of a large screen TV.
I would offer a spoiler alert, but there's nothing to spoil. It has not a single memorable moment. You — the studio audience — are racing Jimmy, for no apparent reason. Along the way, you see New York City. And maybe the moon.
That's it.
Universal shows no signs of relenting. Their next ride is another screen-based attraction themed to The Fast and the Furious. It wouldn't surprise me if half the water slides at Volcano Bay are just bathtubs with televisions.
Fast – Cheap – Good. Pick Two
You business types have heard of the Iron Triangle. Projects have three aspects: Fast, Cheap, and Good. And you must sacrifice one.
Guess which one the Jimmy Fallon ride picked?
If Disney has taught us anything, it's that great theme park attractions are meticulous works of art, announced almost decades in advance, with a painstaking approach that rivals the cathedrals of the Rennaissance.
Universal has conceded Quality in a race to lock up Fast and Cheap
It's breathtaking how fast Universal can get a product to market. Diagon Alley seemingly went up a few months after Hogsmeade. Reign of Kong was built in a weekend. Transformers literally sprang from the ground when the light of a full moon struck a packet of magic beans.
It's like one of Jimmy's contrived late night games. Bring in a movie star and present him with a bucket of everyday activities. When he draws one, he has to come up with a silly theme park concept around it.
And 30 seconds later, the game is over.
I like vanilla ice cream as much as the next person, but here is an inoffensive, middle-of-the-road white guy who runs a talk show where he sits behind a desk talking to celebrities on couches. His brand involves kindergarten instruments, tight pants, and smashing raw eggs on your forehead.
There is literally nothing about Jimmy Fallon that screams "thrill ride."
The Jimmy Fallon Ride Verdict
For many years, fans have argued that competition from Universal can only force Disney to step up its game.
But as Universal invests more and more into cheap simulators and lipstick-on-a-pig virtual queue gimmicks, we can only hope that Disney is not crazy enough to follow them down this rat hole.
Already projections are replacing practical effects like the hitchhiking ghosts. Animatronics with video faces have become the norm (Seven Dwarfs Mine Train, Frozen Ever After, Hatbox Ghost), while classic Disneyland dark rides like Peter Pan and Alice are augmented with straight-up movie screens. Projected backgrounds are a huge part of Shanghai's Pirates of the Caribbean and both Pandora rides.
At least Disney still understands that they can't go all virtual. Bob Iger says that Disney still believes in a manufactured form of reality. Then he goes on to talk about the technologically advanced Avatar figures, which we all know will break down within a month.
But hey, I'll take the Disco Yeti over a virtual Jimmy Fallon any day.