One of the things I like to do from time to time is just provide pictures of various merchandise items I come across while visiting the parks. These usually take the form of clever t-shirts. Today, I'd like to branch away from that, by starting with more clever t-shirts, but ending with two other really cool items that have tempted my pocketbook.
But like I said, first I'll make you wade through the t-shirts.
We begin in Norway, where I am digging this simple Viking version of a bunch of drunk college guys spelling out their team name on their chests with war paint. The vikings are strikingly similar to those in a recent successful animated film, which makes you wonder if the merchandisers are trying to steal credit for How To Train Your Dragon. But I like it anyway.
At the other end of the Norway spectrum, you have this:
Great! A photo-realistic viking costume printed on your chest! Kind of puts those tuxedo shirts to shame.
I do love it when they go through the effort of doing not just generic stuff that can be sold anywhere in the park, but when they limit themselves to one specific area of the park, like the Norway shirts above, or these next four character shirts from the United Kingdom.
Ah, that Goofy! Isn't he just hilarious? This next one is being sold at Star Tours over at the Studios. It actually looks like it is a Disney shirt, but I think it might just be a funny Star Wars one. Either way, it works.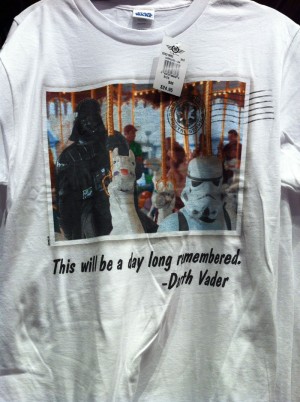 At the Studios, I also came across two other non-torso-draping items, which are really kind of delightful. I presume this next one is also available at Magic Kingdom:
How awesome is that? Little paperweight Mansion tombstones! Those are very nicely detailed, maybe three or four inches tall. They should release a complete set of these.
And here's something that is rather ingenious:
I flat out love this one. That is a drink cup design from Walt Disney World's early years, printed on what is actually a ceramic mug with a hard plastic straw and rubber lid. Who would have thought we'd see the day when the fast food trash got its own line of merchandise? Thirty years from now, perhaps we'll see some embroidered cloth napkins that look exactly like the paper ones from Epcot. Sign me up.