It is Christmastime again. The lights are strung, the stockings are hung, and giant bedecked evergreens have appeared out of nowhere in the central plazas of the theme parks. In the tantalizing shop windows along Hollywood Boulevard, the Dancing Minnie Globe Ornament Rockettes have reappeared.
O Dancing Minnie Globe Ornament Rockettes, why do you mesmerize me so? Is it your impossibly skinny legs, so shapeless, so incapable of supporting your vast rotundity, yet so enthralling in their synchronized kickline? Yes, you have come to mean the very spirit of the season to me, my dear, sweet dancing bulbs. On this holiday occasion, I think only of you.
The stores have been well-stocked with clever merchandise. I've said it before and I'll say it again. Whoever is designing Disney's t-shirts has really elevated their game in recent years. It seems I cannot set foot into a store anymore without stumbling on a fresh design that makes me laugh.
Check out Crazy Dole Whip Tiki. Would you eat a Dole Whip if you knew you were going to make a face like that? Crazy Tiki looks to be on the verge of complete insanity over the deliciousness of that blended treat. He's a torso away from becoming a Batman villain.
Or how about this rather nice spin on the tired "I'm With Stupid" shirt:
I like seeing Disney embrace some of these lesser characters. Tweedle Dee and Tweedle Dum might have been known in the 50s, but do kids know them today? When was the last time you saw standalone Tweedle Dum merchandise? Maybe never.
Speaking of old characters, this next set of shirts really made me nostalgic.
There was a time when Disney would have been embarrassed by the original character heads (and that time was 1994, when "EPCOT Center" became "Epcot '94" because it is impossible to sound cool without a name like the caption to a senior picture). Now here they are embracing those designs. Big Bad Wolf and the Three Little Pigs getting some love in there with Mickey and the gang. Lots of smiles for this one.
Norway continues its stellar trend of solid t-shirts. This one riffs on a popular ride at a different park. Nice mash-up, guys. And speaking of It's a Small World…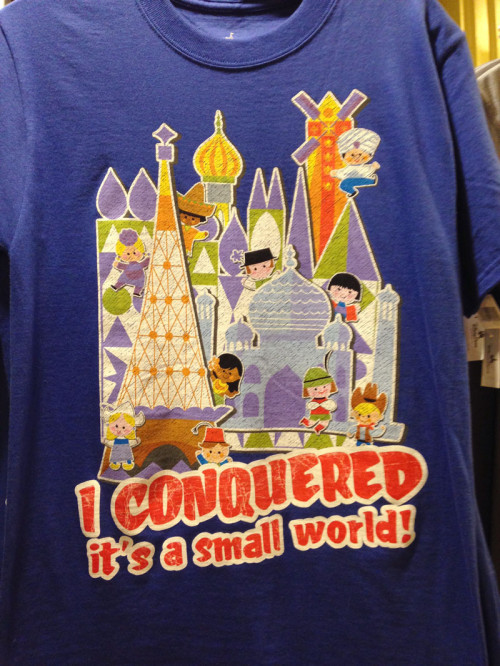 That one is genius. I am usually the guy who hates it when other people make Small World jokes ("They should turn it into a shooting gallery ha ha ha"). But this one is the right amount of irreverent. It mocks those E-ticket roller coaster shirts, while also pulling double-duty for those people for whom Small World is an endurance test. All kinds of mad props for this one.
There's a trend lately for photorealistic shirts. I saw this one at Tower of Terror:
This may be the first time that a Cast Member costume has been turned into a merchandise opportunity. It's the bellhop's uniform, complete with nametag. Notice the name: Rod. As in -ney King, whose favorite ride is Tower of Terror. Or possibly it's a reference to Rod Serling, creator of the Twilight Zone. I'm not sure.
Halloween merchandise has of course, disappeared from the shelves, but I never got a chance to post this awesome little plush:
Yes, it's Perry the Platypus (okay, Agent P for the purists), dressed as a vampire. A fanged platypus is rather awesome. He has the right amount of dead stare in his eyes. He will feast on you tonight, young one.
And last but not least, we have the Glow With the Show ears, whose latest synchronization is with the Osbourne Festival of Dancing Lights and Dinner Theater Extravaganza. There were only, like, two people wearing them, but I thought the little booth with all the (plentifully oversupplied) ears looks really awesome at night. Especially amid all the other lights on New York Street.
Happy shopping!