Riddle me this Batman: When is 46 greater than 47?
Disney may own Marvel but the DC universe queries us with an interesting quandary: is less ever more? Can 46 be greater than 47?
The answer is most assuredly yes. Though it may seem paradoxical experiencing the 46 operating rides at WDW today is in fact more difficult than riding the 47 that were up and running last year… but how can this be?
The simple answer is that the one new ride (Seven Dwarves Mine Train) has longer lines than the two now closed rides (Maelstrom and the Backlot Tour) combined. We also have FastPass Plus to contend with.
Lets break it down: Seven Dwarves is routinely packing 90-minute standby waits. You cannot get fast passes for it unless you pre-order 60 days in advance (at midnight) and if you think you are going to make some mad dash for it in the morning, think again. Disney cast members calmly escort the early bird throngs to the attraction, building lines instantly.
In terms of wait times combined with ride times the Seven Dwarves Mine Train more than makes up for an aging Norwegian travelogue and a trip past some rusted cars once used in the filming of Dick Tracy. But there is a bigger problem; the 800-pound gorilla of a problem, the billion dollar plus baby of Bob Iger known as FastPass Plus. This system was specifically designed and built to make guests ride fewer rides per day (therefore spending more time shopping and dining; something that Shane and I will have precious little time for).
FastPass Plus wants to spread guests more evenly among the parks and it wants to spread the crowds evenly among the rides at each park. It does this by greatly limiting how many FastPasses each guest can pre-order (three and only three), by limiting the FastPasses to one park and even limiting which rides a guest can hold a FastPass for (you can have Soarin' or Test Track but not both).
Basically FastPass Plus is just a whole mess of limits. It may be nice if you want to ride an attraction or two in the morning, head to the pool in the afternoon (which BTW is a Disney insider top-tip) and then hit another couple rides in the evening. However it is an absolute back-breaker if you are bold (or foolish) enough to attempt to ride EVERY ride in one day.
What may be the biggest unknown is how FastPass Plus affects smaller scale rides that used to have no lines at all. Suddenly the Imagination Institute is packing 20 or 30 minute waits as the masses mill around waiting for their Soarin' FastPass window to open up. Spaceship Earth is amassing wait times it has not seen in years when it becomes the default third FastPass you get stuck with instead of the Test Track one you really wanted.
FastPass plus is the ultimate WDW46(47) killer. It is our kryptonite. It is to Parkeology what clear cutting and strip mining is to Famed Naturalist John Muir. Or put another way we just call it a challenge.
Shane and I have spent many late nights studying the ideal routes and crafting a plan we hope has cracked the nut. A master plan that will allow us to beat the system, a bold initiative that will either have us cruising to victory with time to spare, or bitterly tasting defeat with a score of attractions yet to go. We are confident and once again we will trust the plan.
Oh, and one more thing…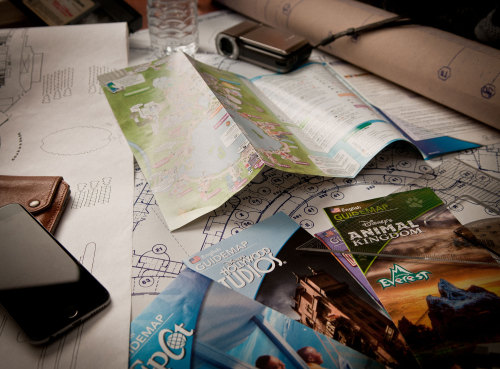 WDW46 is going down this Saturday November 8th!
We cannot reveal where or when the quest will begin but follow us on twitter and if you happen to be in the park say hello as you see two frantic dudes in orange hats fly on by.
We have learned a lot since WDW47 and we are about to prove that no fancy computerized reservations system can contain us.
One Day: EVERY Ride.