Shane has all the fun.  He lives in Orlando so he gets to visit the parks often.
He enjoys Disney Halloween parties in August and Disney Easter Egg hunts in January.  I think he took his son to see Santa in Disney Hollywood Studios sometime mid September but whatever… that's not my concern.
When things get slow he swings by the Emporium and checks out the various new t-shirts and headless torsos Disney has for sale.  Sure, it's blatant filler when we don't have better things to talk about but it's fun nonetheless.
Meanwhile I'm stuck in the frigid north only dreaming of t-shirt appropriate weather. I have to see Santa when it's actually snowing outside (I don't live by Disney's rules and schedules) and the only emporium I know about is some sort of old head shop that I try to stay far away from.
So imagine my delight when I spotted some cool and unique shirts at our local Nordstrom department store on Michigan Avenue in Chicago.  It's not often that I see Disney related merchandise just hanging around (it is exactly inversely proportional to how much you see in Orlando).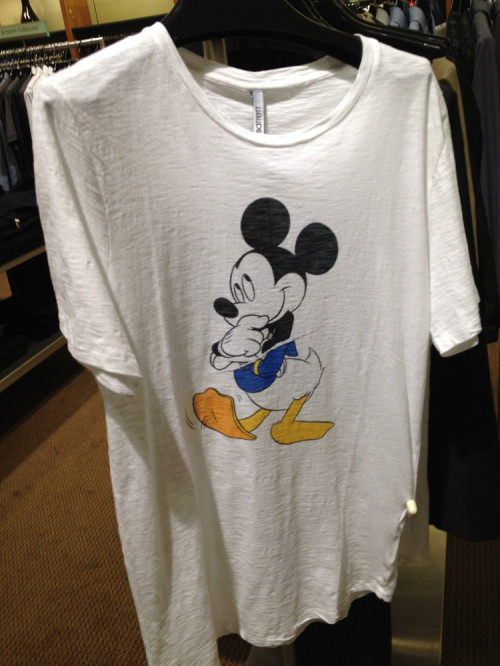 These shirts are actually pretty cool… a mash up of both Mickey and Donald as if the shirts were ripped apart and randomly reassembled.  Fun and creative while still paying homage to the classic looks and poses we all admire.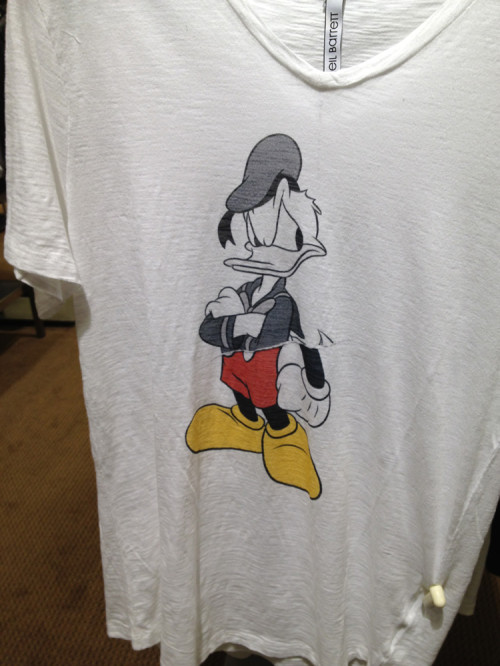 Of course there is still one big difference between Chicago and Orlando.
I picked up half a dozen because you never know when you might get a spot on one.
So there you have it… Parkeology is always on the look out for bargains and deals that our readers will be interested in.  Next week we will be taking an in depth look at the new caviar and gold leaf coated ultra premium Mickey ice cream bars.