Several weeks ago Disney announced that Maelstrom at the Norway Pavilion in Epcot was closing down to be replaced by a Frozen attraction. In fact much of the Norway pavilion will undergo changes as they add more Frozen merchandise locations and a meet and greet as well.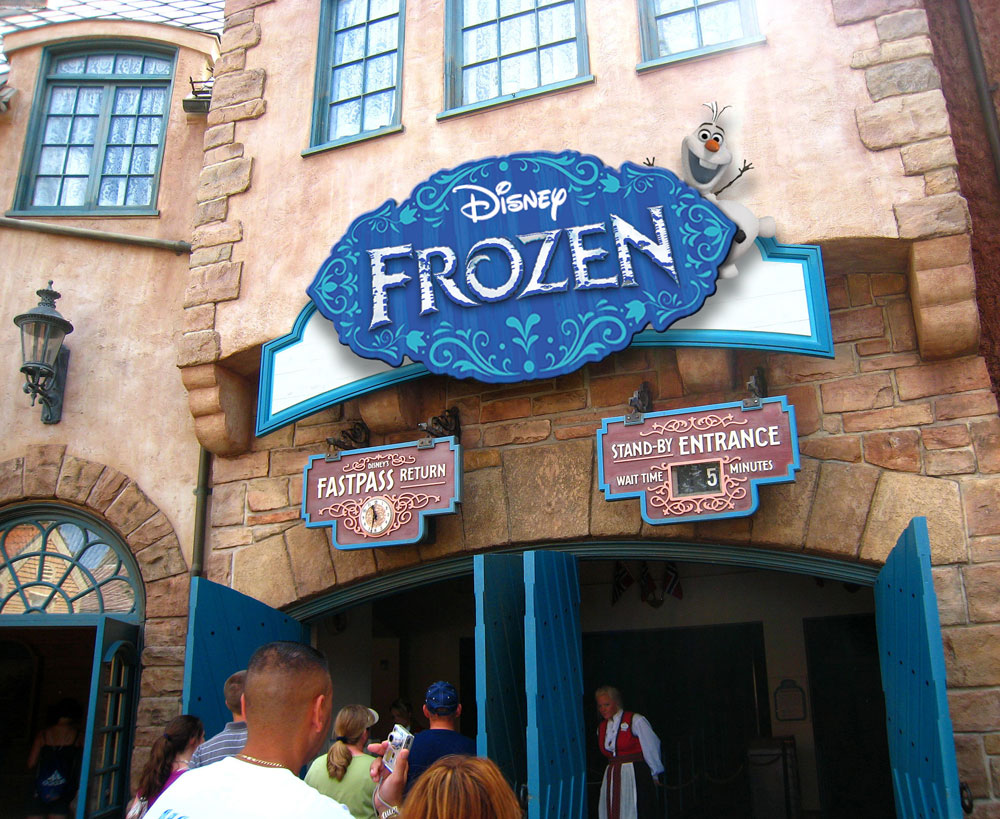 We did not have too much to say about it around Parkeology because frankly those actions speak for themselves. To be clear we think it is an idiotic idea that undermines everything World Showcase stands for, continues the "dumbing down" of all of Epcot and is yet another example of short-sided thinking on the part of Disney's parks division… and we think it will be a massive success that will have them laughing all the way to a very large bank. You see while the competition has to spend hundreds of millions of dollars to painstakingly create incredible realms of immersive fantasy while overcoming crazy logistical obstacles, all Disney has to do is stick two college girls in some costumes in order to create 5 hours wait times.
Disney has an unfair advantage; they have source material, name recognition, generations of trust and industry leadership that any other company on earth would kill for. But that advantage is too easy to rest on… it is tempting to look at the bottom line numbers and see that despite Universal's Potter additions Disney is enjoying record attendance and easily coasting past everything thrown at it… in fact when you factor in actual revenue spent (meaning not just bodies in the park but how they choose to spend their cash) Disney is so far ahead of anyone else that it is almost a bit sad. It would be like Apple worrying that the latest Casio calculator watch may steal some of the Apple Watch thunder. But guess what? When you rest on your laurels and get lazy that is when Casio comes up and surprises you… and then it may be too late.
A Frozen attraction is a great idea. The movie is more than just a huge hit, it is more than just the biggest animated movie of all time (think about that a minute) and one of the biggest movies overall ever. It is a legitimate cultural phenomenon that will go on for generations to come and is a touchstone of young girls across the world. It has the potential to be THE movie for a generation of kids (mostly girls), it may very well be their Star Wars… the movie that they recall seeing as a child that transformed how they saw movies from that point forward. No doubt about it, Frozen deserves it's own attraction, what it does not deserve is being shoe horned into a fairly small existing space in which it makes no sense to be and has all the ear marks of a rush job retrofit.
Lets get this out of the way… Frozen is not set in Norway. They can say all they want about the fictional local of Arendelle being "inspired" by Norway but the fact is that it is not Norway (and Shane and I know all about Norway!) So now sitting among the really for real locations all around World Showcase we have a purely fictional cartoon location. How is this different than our little April Fools joke a few years back when we broke the news that the many worlds of Star Wars were being placed around World Showcase? It is exactly the same and exactly as stupid (it sucks when your crazy jokes become reality). I guess it is not too much different than Donald Duck and company invading Mexico (another move I hate) but at least Mexico continues to be a real country that exists on this planet… unlike Arendelle.
Does anyone think that the ride will be reworked in any real way? My guess is that the ride system remains the same; they paint the boats "ice blue" add a bunch of mostly static figures and replace the troll with Olaf. Oh and lots and lots of "Let it Go". Your head will be ready to bust open it will be so full of "Let it Go" by the time you get out of there. You will leave through the new Frozen gift shop taking place of the current and much loved Exit Theater. Then you will have the chance to queue up for 3 hours to meet "Elsa and Anna" and if you are lucky maybe they will have a boutique to get your little girl made up to look like the queen as well. Screw Norway and its centuries of proud history… this will be a Norway pavilion in name alone; and it will crush all attendance records. The pavilion will instantly become the most popular in the park and Disney will tout how they are giving fans what they want because they are so in tune with the pulse of the fan nation… sigh.
I can't blame Disney on some level; Norway has been in need of refurbishment for many years and the actual country of Norway or its industrial leaders seem unwilling to pay. Here is an opportunity to spend very little and create a massive hit… one that surely will score very highly on every exit survey they take (lets face it, getting a 9 year old girl excited about Frozen is not all that difficult, and if the little princess is happy so too are the parents of said princess).
Vikings are fierce and all but they are about to get their asses handed to them by an army or pre-pubescent girls and there is not one damn thing anyone can do to stop it.
Just as the Disney fans were calming down after the Frozen freak out Disney came along last week and announced that the Backlot Tour at Disney Hollywood Studios was also closing… effective pretty much immediately and with no replacement yet announced. Unlike the Norway situation most fans (including us for the most part) welcome shutting down the Backlot Tour. Yes, this was an original attraction dating back to 1989 but really it's just a shadow of its former self. When it was new the tour was great fun. It featured not only the water tank and tram tour (then a bit longer than the most recent version and with the promise of more to come… that of course never did) but also special effects demonstrations and extensive walking tours through sound stages and post-production facilities. A bevy of late 80's celebrities guided us via video screens and the whole affair took several hours to complete. But over the years it was scaled back and simplified, parts were removed, the walking tour was deleted and in general it became just an excuse to bus people out to see Catastrophe Canyon (itself a blatant rip off of the superior Universal Earthquake attraction). The tour takes up a huge expanse of space and the possibilities of what may go there have fans very excited indeed.
So here we are, at a crossroads. Is Disney going to blow us away by doing something truly amazing with this land? Are they going to play it safe and do something pretty good or are they going to pull a Frozen on us and stick some cheapie nothing back there so that (on paper) they can point to the expanded attraction count and market the hell out of in essence nothing?
Lets look at the possibilities:
Dream scenario:
I think there is very little chance of this coming to fruition… but it's not impossible and it is fun to imagine what could be.
If you look at an areal view of the park you can see that about 30% – 40% of the park holds more or less nothing. Starting just past Star Tours you have Muppetvision 3-D, some shopping and dining locations, then the car stunt show "Lights, Motors. Action!" and then a bunch of now closed space that the Backlot Tour took up. Imagine if the closures were not done? Imagine if Disney announced that both Muppets and the car show were also going away. This would free up a huge expanse of space that would be absolutely perfect for the Star Wars land that we all know and hope is coming. It would give them the space to do something amazing. It would be an opportunity to show what they are capable of and with any luck they would nail it. Sure losing Muppets would be sad but it's old and in need of a refresh… maybe they could even movie it over to the Animation Building and re-theme that area a bit?
Star Tours would stay exactly where it is likely with a re-worked exterior (sorry At-At), it would serve as the entrance point to a massive world that could span multiple Star Wars locations and truly be a park within a park; beyond anything they have ever done before. Streets of America, Honey I shrunk the Kids playground, Catastrophe Canyon…. it all gets bulldozed. There is so much land there that they could fit half a dozen major rides. There is room for restaurants, shops, attractions, meet and greets and more… all perfectly situated off on it's own and with endless possibilities… eat me Potter!
More likely scenario:
Alas the dream scenario also would cost a billion or so… well worth it in my mind but since when has Disney been into spending that kind of money at Walt Disney World? Sure, new Fantasyland is nice and all but at the end of the day it is one dark ride a kiddy coaster and some meet and greets… it is not the scale of what Star Wars begs to be. So what else might be going into that now suddenly available space?
Probably an expansion of Pixar Place… this may not be all bad. For a couple of years there have been rumors of a version of Carsland coming to Florida and clearly there is space to do that now. Muppets would stay, car show would stay (and I guess possibly, just maybe, could even be re-designed into a "Cars" theme. The park would get the major ride from the Carsland expansion at DCA (Radiator Racers) and it would be a big hit. I'd much prefer keeping that unique to California but it certainly would do well in Florida and we know how Disney likes amortizing it's development costs over multiple parks… and here they certainly could do just that. We also know how they like jamming the animated films everywhere they possibly can (cough… Frozen… cough) and there you go. A nice major addition that few could complain about even if it is not the absolute greatest thing they could do.
Another option would be a similar major expansion with Pixar but with an all-new ride, perhaps the Monsters Inc. coaster we have heard a lot about over the past few years. Either way the location of the Backlot Tour lines up perfectly with Pixar Place and would make for an easy expansion while losing very little and gaining a lot. Of course this makes less room for the eventual Star Wars addition (unless they are thinking much larger… like expanding outside of the current park boundaries or- gasp – it's own park altogether).
Most likely scenario (and please let this not happen… PLEASE):
Years ago I would have bet Disney would aim high and go for one of the previous options… but Disney of today especially in Florida seem to have very different priorities… and spending a lot of money is certainly NOT one of them. So this leads to what is actually the most likely scenario and the absolute worst one I can think of: Adding a cheapo Pixar expansion; a clone of those in Paris and Hong Kong. Listen, I have been to both of those parks and I can tell you unequivocally that the Pixar Place kiddy areas are amongst the worst things Disney has ever done. They are going back to the original execution of Disney's California Adventure by taking off-the-shelf amusement park rides, painting them Disney colors and slapping a cute name on them. They have no business being in Disney parks and exist solely to add capacity and to give the marketing guys some quick ammunition. It is easy to pass them off as something new and special but they are not special… they are as far from special as you can get. But I know that the similar Bugsland stuff in DCA does reasonably well for them and the Pixar stuff in both Hong Kong and Paris have served an effective purpose. By far the easiest, cheapest and worst option would be duplicating it at Disney's Hollywood Studios.
This puts us in a bad position. It would be very hard to maintain any amount of enthusiasm for the park if this is what they decide to do. Perhaps this in addition to one of the other expansions would be OK but this alone amounts to more or less a slap in the face. It would be clearly announcing that they no longer care about the fans or even future fans… that they are going for the simplest and easiest way to market without any real desire to deliver unique or deep or creative experiences for guests. They might as well light a match to the park.
Who knows what will actually happen? I guess they will announce something soon and all we can hope is that they choose wisely. I think the D-23 Expo next summer will bring big Star Wars park news… whether the Backlot Tour closure is connected to that or not we will have to wait and see. Maybe they will announce a modest Pixar Place expansion now only to surprise us with a larger Star Wars expansion later?
What we know is that change is afoot and they have the opportunity to do something great here… or to do something that disappoints many for an easy short-term gain.
Is this going to be more of the same or mark the turning point when they get serious about the new properties they have and how to incorporate them into the parks?
Will they squander the one property they have that has the potential to redefine what a theme park experience can be or will they blow us all away and re-establish their position as the leaders and innovators of the industry?
Keep your fingers crossed… and May the Force be with them.