The Walt Disney Family Museum closes in just under three hours and I'm still exploring the lobby.
It includes a setting from the Disneyland firehouse apartment, portraits of Walt's two daughters by someone named Norman Rockwell, and hundreds of personal awards and trophies. The staff – dressed in red button-up sweaters that are part Walt Disney, part Mr. Rogers – wait patiently for me to finish my circuit.
I approach the official start of the museum and the ticket taker gives me a cheery "Ready to go inside?" It feels like a veiled shot at my time in the lobby.
I step into a dark room dominated by a WWI ambulance and blanketed in pictures of Walt's family. As I approach the first exhibit and comprehend its rabbit hole of detail, the horrible realization hits.
I am going to run out of time.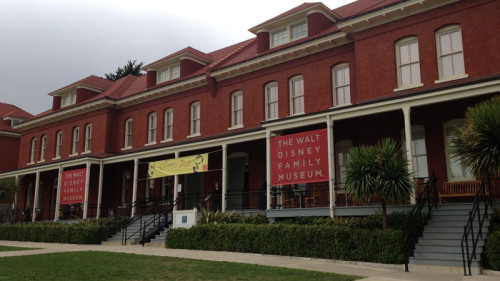 The Walt Disney Family Museum is nestled in quiet hills near San Francisco's famous Golden Gate. From the outside it looks like all the other buildings at the Presidio—wide and blocky, crusted in red brick, with a green common in front.
It's three miles and an hour's walk from Fisherman's Wharf. I know this because I hiked the entire distance from my hotel. I could have taken a car, but it felt more appropriate to walk. If Walt Disney is a religion, then this is a pilgrimage. You don't go in with a cell phone app and an uber driver. You climb the mountain and enter on your hands and knees.
Once inside, modern presentation blends seamlessly with archaic content—old telegrams, faded letters, a Hoarders episode of miniatures from Walt's personal collection. There's even a ride of sorts (#WDFM1). The elevator to the second floor is a virtual train ride from Kansas City to Hollywood, accompanied by narration. When you step out into the birth of the Walt Disney Studios, things get progressively more dynamic.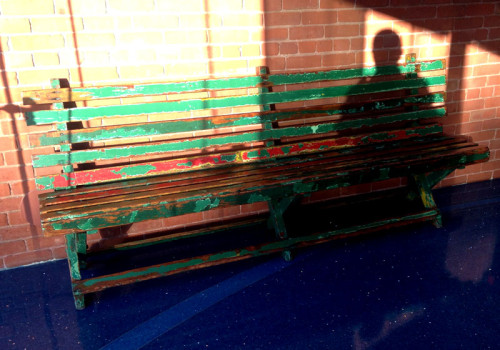 The Griffith Park bench where Walt conceived Disneyland is there. So also the spinning golden globe from the True-Life Adventures, looking delightfully like the cheap, chipped movie prop that it is. A glass case protects Elias' devil-music fiddle. A sawhorse props up Zorro's saddle. A towering multiplane camera worms through the building like a private Wonkavator.
And of course everything is carpeted in acres and acres of cartoon drawings – including the oldest verified drawing of Mickey Mouse (artist unknown).
Growing up in the Midwest, my school library had three biographies about Walt, which I endlessly devoured. For fans steeped in Disney lore, the museum offers little in the way of new information. But rarely does all this book learning come to life in such a captivating way.
If Walt Disney is a religion, then Bob Thomas' Walt Disney: An American Original is its bible. It is not the most exhaustive biography, but it is the most accessible. From its pages I first read Walt's letters to his old Kansas City cohorts begging them to come West, his telegrams to Roy on the loss of Oswald, and his simultaneously fiery and despondent feelings about the Studio strike.
To see these same words again, but on the actual documents in which they were printed is nothing short of remarkable. It's as close to a time machine as you can get.
Forty-five minutes before closing, I leave behind the Studios displays and enter the last room, with a spiral ramp through its core leading back to the main floor. And for a guy who started a website called Parkeology, it is here that the Walt Disney Family Museum delivers its knockout punch.
Theme Parks have an advantage over animation, in that everything about them is tangible, touchable, dimensional. Mechanical tiki birds, Abe Lincoln sculptures, Wally Boag prop teeth, a vintage Autopia car… They have a texture to them, a weight, a palpable scent of history. Other Disney exhibits such as One Man's Dream and the Blue Sky Cellar might present park artifacts, but the Walt Disney Family Museum lends them a sense of spirituality, as if these were holy relics buried in the church vault, now made available to the faithful.
So it's not without a touch of irony that my favorite piece in the museum is not a real artifact at all.
At the center of the spiral is a giant model of Disneyland–beautifully sculpted, animated in spots, dazzlingly illuminated and riddled with special effects. Main Street twinkles.The Pirates of the Caribbean fire their cannons. The Primeval World lava glows and flickers.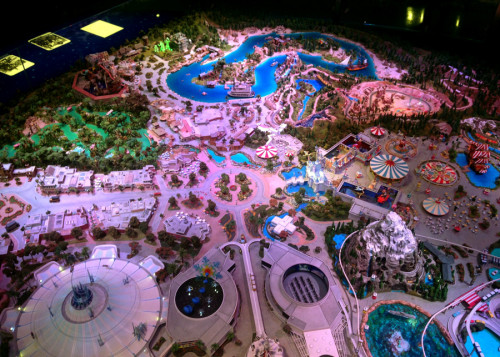 It appears to exist only for the Museum's sake. It represents a Disneyland out of time: A pre-1980s Fantasyland, a concept version of Space Mountain, a current New Orleans Square.
I spend a half hour staring at this model from every angle. With ten minutes to go, I reluctantly proceed to the rest of the museum, covering the last years of Walt's life.
As I exit into the gift shop (some Disney traditions are inescapable), I glance back for one last farewell and take in a final reminder at the projects Walt left unfinished. The revelation I received at the start of this adventure has become a universal truth.
We all run out of time.