The concept is a bit strange.
Pay a hundred bucks for the right to dress up in nice clothes and go to a theater to watch a full orchestra play background music from cartoons.
It's even crazier when you're a theme park fan and you spend half the time relating various peripheral melodies to your favorite park moments.
Last Sunday I donned my nice jeans, and my wife put on the good flip flops, and my son wore actual, bona fide pants and we went to the fancy shmancy Walt Disney Theater at the Dr. Phillips Center for the Performing Arts in downtown Orlando to see Pixar in Concert.
I had never been to see an actual orchestra except for that one time I glimpsed the Trans Siberian Orchestra playing Carol of the Bells at Universal Studios while on my way to ride The Mummy. But the Orlando Philharmonic is the real deal, and they tune up just like the beginning of Fantasia.
The tune-up process is interesting, because it basically sounds like a street fight between a few flocks of discordant geese and the Channel 4 News Team. They produce this cacophony in full view of the audience, like nothing else in live performance. It's like watching actors blow straw bubbles before Glengarry Glen Ross or the Golden State Warriors accidentally setting up their lay-up line at the concession stand. What, you can't tune your instrument unless a thousand strangers are watching you?
Finally one gal stands up (first chair violin?) and everyone plays the same note and that's how they know they're ready.
The conductor comes out, the lights go down, and the orchestra launches into the Pixar intro music. And somehow it sounds perfect. All that's missing is the hopping lamp.
Pixar in Concert turned out to be a mesmerizing experience, and comes highly recommended if it's showing in your area. Obviously, you need to love the movies and have some appreciation for music. Pixar movies differ from traditional Disney animated films in that there are not many iconic songs. But there is a surprising amount of iconic film score music, courtesy of such movie luminaries such as Randy Newman, Thomas Newman, and Michael Giacchino.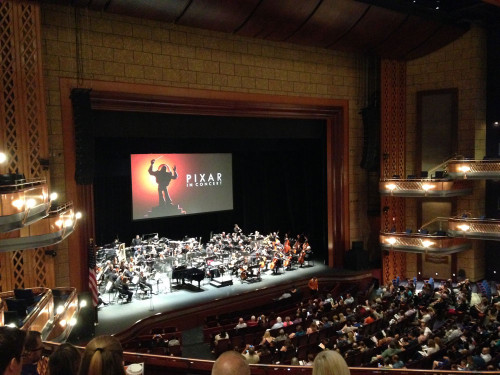 A movie screen plays clips straight from the films in synchronization with the music, and in spite of the fascinating musicians (which included a harpist, two guitar players, and during the Brave segment, a bagpiper), your eyes will be drawn to the screen until you completely lose yourself in the moment.
Every Pixar feature is represented, with the exception of Inside Out (presumably because it is too recent). Toy Story – which incredibly is 20 years old this year – kicks things off.
It's important to note that this really is about the orchestra. Vocals are non-existent, so you won't hear songs like Woody's Round-Up or When She Loved Me. And it's an illuminating experience to watch the movie clips without the benefit of dialogue or sound effects. You can see just how much of the emotion is driven by the music.
As much as I love movies, I'm hard-wired to be a park fan, so every now and then there will be a musical cue or riff that took me straight out of the movies and dropped me right into a memory from the parks.
Here are 4 of my favorites (you can hear a sample by clicking the headers below):
This song has a fast, menacing structure that repeats itself in variation throughout Monsters Inc.
Not only is it instantly recognizable, but it's one of the primary musical cues in Monsters Inc Mike and Sully to the Rescue at Disney California Adventure.
The ride is actually one of Disney's weaker dark-ride efforts, which helps make the music stand out all the more.
This jazzy riff marks the distinction between the sleepy island where Flik and his ant friends live, and the hustle and bustle of the Bug City (basically a trash heap under a mobile home).
Unsurprisingly, it also forms the catchiest background music in A Bug's Land at California Adventure, where it seems fully at home introducing the various spinning and whirling carnival rides that comprise the land.
The melody is so flexible, it can sound supremely happy or depressingly sad, depending on the context. It is used to introduce Carl and his marriage to Ellie, and goes full-tilt for both emotions.
At the Magic Kingdom in Florida, it sticks to the happy side of the scale, as one of the background loops on Main Street, U.S.A., where its meandering, simple notes seem to be a perfect fit with turn-of-the-century Americana.
This song, which is used at the beginning of Radiator Springs Racers at California Adventure, is one of the most perfect uses of a film score in a Disney ride.
The sample contains the jaunty, twangy beginning as your Racer curves its way up the Cadillac Range, and it also contains a breathtaking moment as your car goes through a tunnel for a stunning glimpse of a towering waterfall.
This moment, which occurs in both the movie (for Lightning) and in Radiator Springs Racers (for us) is one of my all-time park "reveals."
Checkout the schedule to see if Pixar in Concert will be performed in your area.