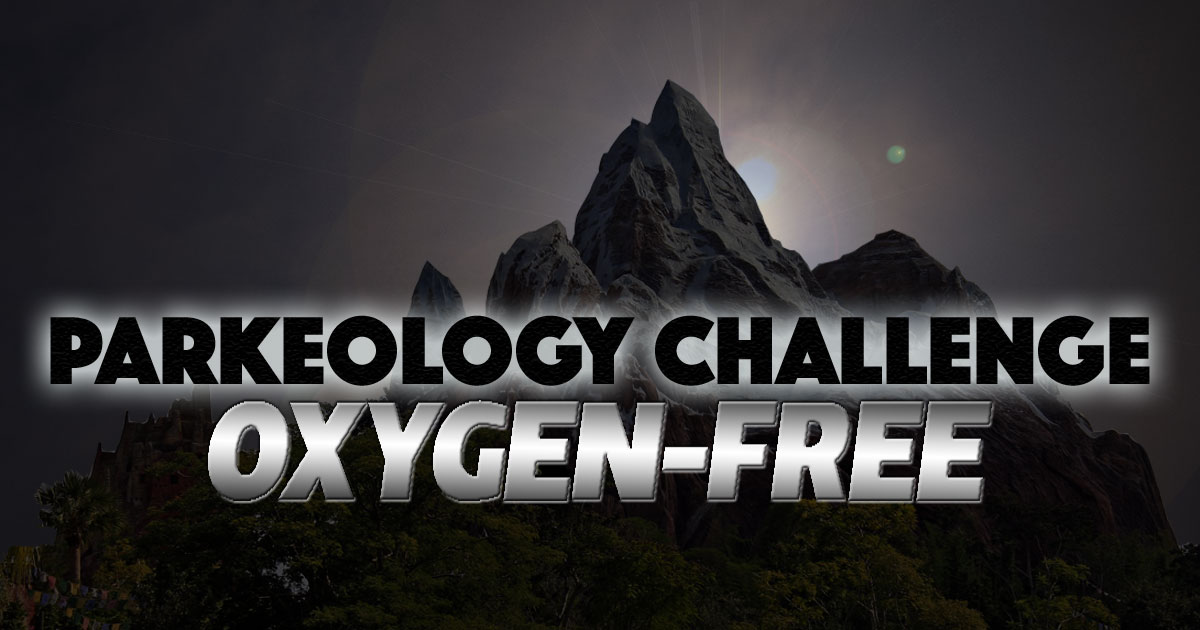 We've had many requests from Parkeology Challenge fans who want to know everything that went into the Oxygen-Free run. What follows is a detailed write-up taking you deep inside. Expect a long read. You are forewarned…
---
Flashback. June 2016.

Shane and Ted, creators of the Parkeology Challenge to ride every Walt Disney World ride in a single day, visit the Tokyo Disney Resort with their families. For once, there is no crazy theme park challenge involved.

While they are away, Frozen Ever After opens at Epcot. It is instantly the most coveted FastPass on property.

Upon their return to the States, Team Parkeology attempts the first ever Holy Grail completion of the Parkeology Challenge. They reserve 3 FastPasses at Magic Kingdom and grab 3 more using the My Disney Experience app throughout the day.

The new Frozen ride breaks down early. It never comes back up.

They fail by 1 ride.

Three months later, the My Disney Experience app receives an upgrade…
Genesis
Challengers call it "the dump."

When unused FastPasses flow back into the system, they suddenly appear as available for someone else.

That's when the smart players pounce.

In the early days of the Parkeology Challenge, FastPasses were paper tickets, dispensed by vending machines at popular rides. They provided guests with a window of opportunity. Skip the line and hop straight on the ride. Disney soon switched to a digital world, allowing guests to make reservations 60 days in advance for up to 3 rides at any one park, with the ability to grab additional FastPasses from kiosks around property.

A few years ago, things changed. Remember Steve Jobs' legendary iPod pitch — "A thousand songs in your pocket"?

In 2016, My Disney Experience introduced the same idea to rides.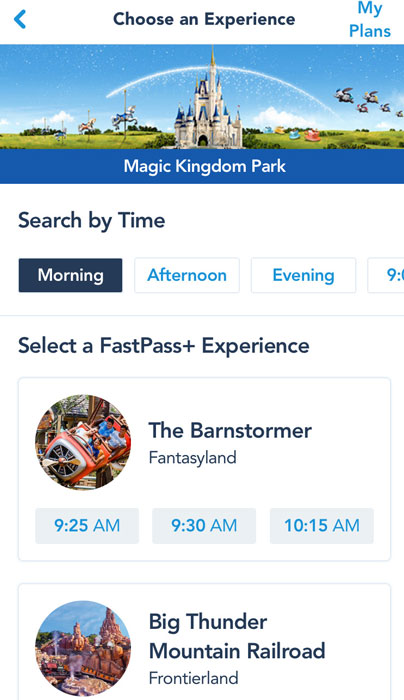 Not only could you reserve FastPasses ahead of time, but you could swap them for better ones. You could search for FastPasses in different parks. You could change the times. And you could do all this as soon as you tapped the touchpoint for your current FastPass.

Tap. Grab. Modify.

With deep understanding of the system, a fully charged phone battery, and a whole lot of patience, users could refresh their way to the perfect score.

Parkeology Challengers began snagging upwards of 20 FastPasses in a single day. And not just for mid-level rides. Challengers routinely pulled major FastPasses like Frozen Ever After or Na'vi River Journey without breaking a sweat — something the average guest considers impossible.

The truly elite challengers can do even better. Seven Dwarfs Mine Train. Slinky Dog Dash. The daunting Avatar Flight of Passage … the best players can get them.

If you want to ride every ride at Disney World in a single day, this is the best way to do it.
Countdown
"This plan doesn't work. We need two more moves."

I'm talking to Kristina of Epic Disney Escape via Marco Polo, for the hundredth time in the last several days. We still have all the logistics of our April 24, 2019 Parkeology Challenge run to work out. What time are we meeting? Who is getting the ponchos? Are we sure Oreos are a good idea?

Kristina is a Parkeology Challenge veteran. She notched her first completion last summer. I'm co-creator of the darn thing with Parkeology partner-in-crime Ted.

Kristina and I had joined forces the year before to run the challenge with an embedded reporter. It was a totally unique experience, but we came up short. Now we were about to try it again, sans reporter.

But it's all going to end the same.

We are going to fail.
Oxygen-Free
FastPasses don't guarantee anything. The challenge success rate still wallows in the single digits. You will always need knowledge, skill, and stamina.

In other words, the mountain doesn't change just because you have better shoes. You still have to climb it.

Over the years, the prevailing image is of a challenger heads-down on a ride, staring at their device, planning their next move. I'm the first to admit that enjoying the rides is not the point of the challenge. One does not run the Boston Marathon for the architecture.

But like climbers scaling Mount Everest without supplemental oxygen tanks, Kristina and I were going to test the limits. The parks are a hostile environment — enormous crowds, sweltering heat, physical exhaustion, constant stress. FastPass was the lifeline.

If you strip it away, can you still survive?
Axiom
I first broached the idea of an oxygen-free run to Ted a couple of years ago. Every time I tried to plan it, I ran into a scientific barrier.

The axiom of time.

Imagine a day at the parks. It doesn't matter how you carve it up. There are only 3 ways to spend your time:
Waiting in line
Riding a ride
Transitioning to the next ride
Ride duration (#2) is static. Every challenger will take this hit — with or without FastPass. It looks kinda like this: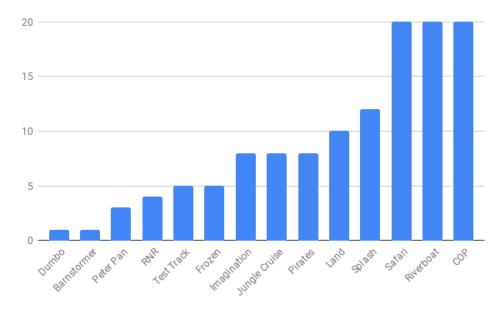 Add up every ride duration. Then strip it out of your clock.

Transition Time (#3) is not not quite static, but it is inevitable. You can't teleport from ride to ride. You must still cross distance between rides. In the longest cases, between parks. You have 3 ways to handle this:

Minimize park hops. 3 is considered the Holy Grail.
Hit rides in close proximity. This is sometimes a trap. Saving 1 minute of transit time is useless if the wait is 5 minutes longer.
Physically train to improve your cardio and endurance. You'll move faster.
That leaves #1. Waiting in line.

This part fluctuates throughout the day. As the parks fill up, standby lines get longer. During peak seasons like spring break or Christmas, the lines get way longer.

Almost every standby wait time is a bell curve. Short line at the beginning of the day. Long lines in the middle of the day. Then dropping again as we approach park closing.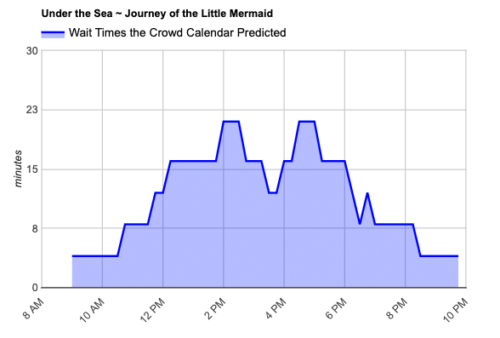 Rope-drop a ride and you're guaranteed a short line. Save it to the very end and again your wait will drop. Extra Magic Hours and staggered park hours might afford you more than one rope-drop, more than one last-minute hop-on. But there's still 46 rides to account for.

Of course, you could always grab a FastPass. But that was off the table.
Time Heist
The weeks leading up to our run had been miserable. Spring Breaks across the country flood into Central Florida, stretching theme parks to their breaking point..

But we thought we had spotted a chink in the armor.

We had Easter at the front of the week. Traditionally an extremely crowded day, but falling unusually late this year. There were cheerleader competitions the following weekend — also a no-go. But as we went state by state down the East Coast, checking spring break schedules, only some districts in New York and New Jersey were off that week. Everyone else was back in class.

Crowd calendars on the internet were predicting mid-range crowds. Yet for some reason on Wednesday, April 24, the park hours were still locked in on Spring Break norms.
Magic Kingdom open from 8am to midnight, with Extra Magic Hours until 2am
Hollywood Studios from 9am – 8:30pm
Epcot from 9am – 9pm
Animal Kingdom from 9am – 9:30pm
18 hours in total.

The Hollywood Studios (DHS) hours were slightly deceiving. DHS had an Early Morning Magic hard-ticket event from 8am – 9am in Toy Story Land, which is not allowed for purposes of the challenge. With paying customers in the park, there was a real threat that the three Toy Story Land attractions would already have lines by the time regular guests were admitted.

There were 46 rides available that day — exactly half of which were in the Magic Kingdom. Looking at the hours for the other parks, that left us a hard barrier of 12.5 hours in which to hit the remaining 23 rides.

Of course, that also means a minimum of 3 park hops in there somewhere.

And to make matters worse, there are 2 rides at the Magic Kingdom that open late and close early (Rafts to Tom Sawyer Island and the Liberty Belle Riverboat). So tack on another park hop and 2 more rides that have to fit into the same 12.5 hours.

All this assuming you can ride the remaining 21 Magic Kingdom rides either before 9am or after 9:30pm.

By utilizing all our skills from past Parkeology Challenge runs, Kristina and I thought we could come close. But no matter how we sliced it, our calculations still came up 2 rides short.

Remember the axiom. There's only 3 ways to spend time on challenge day. Waiting in line. Riding rides. Moving to the next ride.

But there is a secret buried there. To unlock it, we had to throw out all our assumptions.

There's still 3 ways to spend time. But what if you can find ways to do some of those things simultaneously?

Let the time heist begin.
Opening Moves
Nobody on Twitter ever sees the pre-game.

To take advantage of Extra Magic Hours, challengers need to book a participating hotel. Sometimes these are burners, if challengers are local like me and prefer to sleep in their own beds. But for Kristina, the challenge began on Tuesday evening, when she checked into her hotel room for an early bedtime.

She had a suitcase full of supplies: Applesauce pouches, PowerAde, caffeinated beverages. There were other items to account for as well: Magic bands, Band-Aids, hair bands. Basically anything with a band.

One thing she did not have was any sort of bag for the next day. Bag inspection at the front of each park steals time. It was the first thing we stole back.

I spent Tuesday night at my house, but I had my own list as well — bottled water, cheesesticks, and a couple of Dollar Store ponchos exclusively for use on Kali River Rapids. I arose at 4:15am on Wednesday to run through the last several items on my checklist.

Peanut-butter-and-jelly sandwiches, check.

Cooler with ice, check.

Spare phone battery, check.

I texted Kristina that I was on my way.

25 minutes later, I pulled up at the wrong hotel. Already off to a hot start.

After tailing a landscaping truck down the street for five minutes (apparently Disney does all of its curb edging at 6:00 in the morning), I finally managed to pick up Kristina at the correct hotel. We quickly loaded her gear, then went to my hotel for a very early check-in. After all, I needed Extra Magic Hours access too.

Though it was still not quite sunrise, I was surprised to find that my room was ready. I took it as a good omen. At least the resort wasn't sold-out.

For some reason people are always fascinated about bathroom breaks on this challenge. Bathroom breaks are a time stealer. Remember when you'd get ready for a long journey and your mother would ask you if you needed to go? You'd always say no. And she'd always encourage you to just try.

Hot top: If Challenge Day presents you with an available hotel bathroom, just try.

Now you know.

We had breakfast on the go and a quick walk around the hotel grounds to review the game plan one more time. The first 9 rides were completely scripted. Then the situation would get fluid in a hurry.

Just before 7am, we completed our last preparatory move. Park hops are a necessary evil for the Parkeology Challenge. Minimizing them is a dark art. Disney talks up its vaunted transportation system of buses, ferry boats, gondolas, and monorails, but the fact is that Disney transportation is often dirt slow. Aside from maybe walking.

We opted for personal vehicle.

Kristina strategically positioned the cooler in the backset for easy access. I was the designated driver. An ideal parking space was selected for quick exit, the car backed-in for a rolling start. Other supplies like spare batteries and ponchos were placed at the ready. We were locked and loaded.

With the sun on the rise, we traversed the Contemporary hotel walkway leading to the Magic Kingdom.
Continue Reading Riding Every Disney World Ride Without FastPass — An Inside Look at a Stunning Parkeology Challenge Finish ...