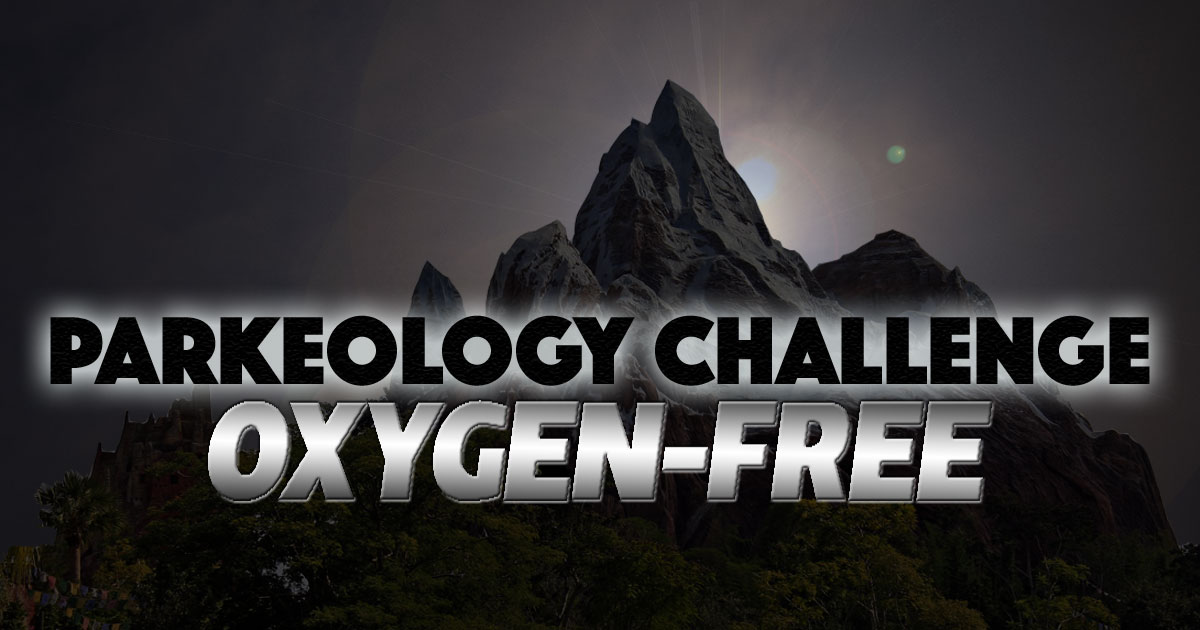 Penultimate
Late afternoon was giving way to early evening when we pulled into the Animal Kingdom lot. We had scarfed down yet another PB&J during the short drive and were by now royally sick of them. Kristina grabbed us some Oreos as I piloted into the Preferred Parking area.

Yeah, it costs a stupid amount of money. But every minute counts.

Our priorities were Dinosaur, Kali, and Safari. All three would close at 8:30 — one hour before park close. Kali and Safari were both posted at over an hour. And of course the 2 Pandora rides were monsters.

We settled on a counter-clockwise plan of attack. Dinoland to Asia, then Africa, and ending with Pandora. The early closers were critical, but the other rides were wildcards. Everest might be okay with single rider. But Ted and I had tried an evening single rider on our first completion only to find the line shut off. In a worst case scenario, we'd be backtracking.

Dinosaur was posted at 45 but Primeval Whirl was showing only 15. We decided to play the board. As we entered the Primeval queue, we saw only a handful of people in front of us. Our hopes were soon dashed when Cast Members began shutting down the left side of the ride completely — the third time that day where half capacity had burned us. We stood immobile for about 10 minutes before they finally cleared the FastPass line on the other side and routed us through.

As we got off the ride, we quickly scoped the proximity neighbor. Triceratop Spin is normally something they have to beg you to ride, but it was still a couple cycles deep. We could do better. Off we went to Dinosaur, where the posted wait was 45 minutes.

In our experience, their pants were on fire. Dino always clears out in the evening. We walked all the way to the Carnotaurus area before finally hitting a small line. After we made it through the preshow, the CM had some sort of counting deficiency and dispatched 2 straight cars with empty rows. Kristina tried to beg us on, but the CM wasn't having it. Eventually we boarded the ride.

We had just reached the halfway point. Ride 23.

We backtracked to Triceratop Spin and found that spinning non-flying dinosaur carny rides were enjoying something of a renaissance. It was still 2 cycles deep. We decided to take the hit, since backtracking later would make it a wash. Then it was off to Everest.

Here we caught another break. Single Rider was still operating, only about 15 people deep. It took maybe 10 minutes to wait through the line and knock off this major E-ticket. Half the park done.

But the other half was nothing but problems.

Flight of Passage (FOP) was over 100 minutes. Both Kali and Safari were posted around 80 — and Safari is itself a 20 minute ride. Navi River was showing down. We figured we were in for a long wait regardless. But we were about to challenge the Axiom once again.

Earlier I said that ride duration is static. It doesn't matter if use FastPass or not. Every challenger has to ride the ride, whatever length of time that may be.

Well, that's not always true.

There are some rides where duration is more fluid than you might realize. Take the Main Street Vehicles. One of them is actually much slower than the rest. The Omnibus, which ironically has the largest capacity. Filling up that capacity takes time, as does unloading. You're better off choosing a different vehicle if you can afford it.

And what about Mission Space, with its Orange and Green Team missions? Green (the Earth mission) is actually 30 seconds shorter.

But the real prize is Kilimanjaro Safari. It's listed as a 20 minute attraction. And for most of the day, it is. But at dusk the ride begins its "sunset" version — which actually deletes the signature set piece (the collapsing bridge effect) from the ride entirely. Trucks follow a shorter path, cutting off the back loop of the normal ride and deducting 2 minutes from the ride time.

We weren't quite at dusk just yet. But as we came out of Everest, we had Kali River Rapids in close proximity. We were going to wait somewhere. Might as well hit Kali now, slicing into the bell curve for Safari. That would give it time to hit its shorter sunset version, and also provide more time to get Navi River up and running.

The Kali line moved at a snail's pace. The FastPass line seemed a mile long. But around the 45 minute mark, they finally let a large swath of the Standby line go through. We cleared the merge point, donned our Dollar Store ponchos, and finally knocked off the ride.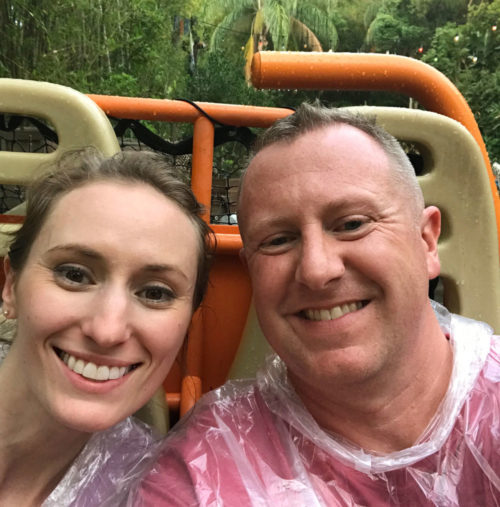 As we came up the exit ramp, we stripped off our ponchos and handed them to the next victim. Navi was still down as we raced into Africa.
I was shocked to learn that Kristina had never waited in the Safari standby line before. She had plenty of time to take it in, as we once again came to a standstill. A CM's voice crackled over the intercom. Animals on the track. Expect delays.

I took the opportunity to FaceTime with my family. For my son it was already bedtime. I still had 6 hours to go. With Safari closing at 8:30, the number of FastPass riders was dwindling and the line finally began to move. After another long wait, we boarded as darkness poured into Animal Kingdom.

The long line had one saving grace: Navi River Journey was back up.

We sprinted for Pandora. We knew from practice that both Navi and FOP would have inflated wait times as the park neared closing, to deter people from clogging the two most popular rides at the very end. We cleared Navi quickly and were in line for FOP well before the 9:30 closing time.

Only one more killer wait remained.

Standby took us all the way into the bioluminescent jungle before finally halting. We had figured to not make it into Magic Kingdom before 11pm, but at the rate the line was moving, we knew we had a shot at being back earlier. FOP still ended up as our longest wait of the day, but all told, it took only an hour to clear the most popular ride on property.

One last park hop. Back to the Contemporary one more time.
Endgame
We had 29 rides down and 17 to go as we jogged up the path to Magic Kingdom for the third time that day.

We knew what we were up against. At midnight, Extra Magic Hours would kick in — and the four rides that didn't participate would close. We'd already taken care of Jungle Cruise and Carousel of Progress. But the Tomorrowland Transit Authority PeopleMover and Splash Mountain were still out there. Both long rides. Both figured to still have some sort of line.

Splash was tricky. It's easily the more popular of the two. But at an hour to midnight, it would also be trending down. Nobody wants to get soaked at the end of the night. The app had it in the 30s, but we long ago learned to never trust the posted Disney wait times. Still, it was hard to know just how long the line really was. A lot of Splash's queue is hidden. You have to walk all the way back there to see what it looks like.

And if you're going to journey to Splash, you would want to hit Big Thunder at the same time, since those 2 rides are buried way off by themselves. Thunder for sure had a wait. We decided to give Frontierland a little extra time to calm down. We went for PeopleMover, the known quantity. And we were also hoping to pick up AstroOrbiter right next to it, if we could catch a break.

We entered Tomorrowland and quickly tossed Astro out the window. It's the worst 90-second ride on property. Slow loading, with a complicated sequence of holding pens and elevators and more pens before you even get to the ride. We took one look a the line and decided to bump Astro to a later rotation.

PeopleMover did have a line, but it moved quickly. At least it did, right up to when it was our turn to ascend the moving rampway. Then everything shut down.

We waited as the minutes ticked by until finally it started moving again. CMs kept slowly unloading people on the ride above us, sending through empty cars. Nobody at the top bothered to restart the moving ramp. The bored CM at the bottom couldn't care less. At last the guy upstairs figured out why no riders were coming through and restarted the ramps. Soon we were on. Another early closer done.

It was 10:40 with Splash Mountain still looming over our heads. It had experienced a delayed opening in the morning and had multiple downtimes throughout the day. But it also still had a wait. We went back to playing the board.

We circled back to Little Mermaid for an easy pickup, then scored another bit of good luck when we jumped into the Prince Charming Carousel line right when they were finishing loading. This one can be another slow loader, but our timing was great. 32 rides complete.

We didn't want to push our luck, but as we passed Haunted Mansion on our way to Splash, we saw that it appeared to be a walk-on. This ride can be tricky. The line moves quickly due to the Omnimover, but its popularity can sometimes cause a line even late. We called an audible and went for Mansion now, taking what the board was giving us.

Now time for playing with fire was over. We switched to defense.

We found ourselves stopped in the outside portion of the Splash Mountain queue, waiting to ascend the stairs. For a couple minutes, the line didn't move as more Fastpassers rattled through. Then things started to pick up. We quickly circled the upstairs barn portion and made our way down the rocky tunnels and onto the log. With 15 minutes to go until midnight, we had successfully completed all early closers.

We had done everything in our power to keep ourselves mathematically alive. We had 12 rides to go and 135 minutes. We would need to average a ride every 12 minutes, leaving us just enough time to hop into line for something at the end of the night.

Of the remaining rides, 3 of them had us legitimately worried. Seven Dwarfs Mine Train is always the longest line in the park — often over 80 minutes during the day. Peter Pan's Flight is a close second, with Space Mountain right behind it. Working in their favor is that they are all relatively short rides. Even still, we figured there was no chance of hitting any of them on the tail of the bell curve until sometime in the last hour.

Also still a concern were 3 long rides that each figured to take up more than 12 minutes each — even with no wait: Pirates, Small World, and AstroOrbiter.

We had already discussed our plan for the last ride of the night. Mine Train is usually the go-to move because of the line. But with the park open until 2am, we thought there was a chance that both Pan and Mine Train might dip into manageable territory after 1:30. Families with small children are simply not going to stay up that late. Even if we waited 10 minutes for a 3 minute ride, that's 2 minutes better than a 15-minute Small World ride. We decided to hold Small World until the very end.

But first we wanted Big Thunder.

Continue Reading Riding Every Disney World Ride Without FastPass — An Inside Look at a Stunning Parkeology Challenge Finish ...