If you missed round one catch up HERE.
Ladies and gentleman, I give you the most massive mega fight of all time, the ultimate showdown of the Disney gladiators, a fight that has been decades in the making, this is round two of the….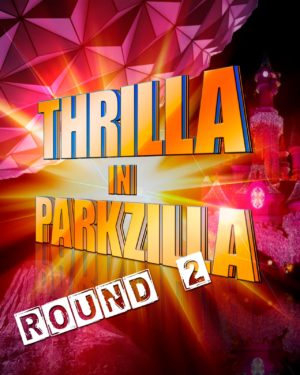 The crowd is still riled up after the first round of this epic battle but if you missed it check out round one for all the gritty details on the duel to the death of the Magic Kingdom style parks.
Before we jump back into the ring remember, this article was originally published 5 years ago. That was before Hong Kong Disneyland opened, before the additions to Walt Disney Studios Paris, before the name change of Disney-MGM Studios, before Disney's California Adventure started it's current transformation and before many attractions opened or closed at various parks. We will relive the battle as it was back then, then in round four take an all new look at how things stand today.
But with six combatants we have a lot of ground to cover, the bell is about to ring this is…
Last time we set out to answer which of the Disney flagship parks, Disneyland, Walt Disney World's Magic Kingdom, Tokyo Disneyland or Disneyland Paris was the greatest of them all. The parks were pitted against one another in a fight and evaluated in four major categories: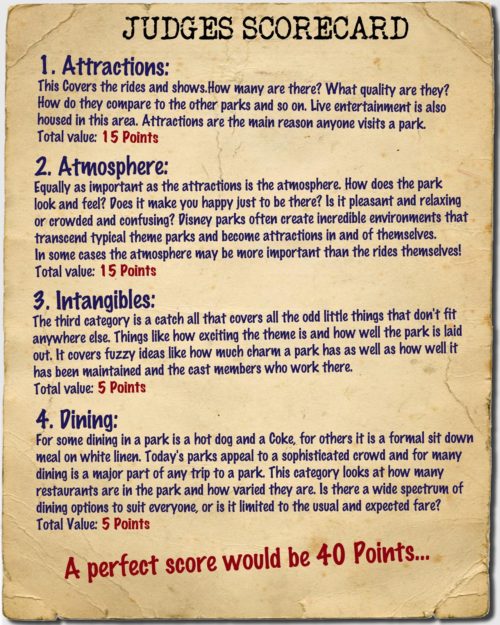 As round one drew to a close the dust settled, the smoke cleared and Disneyland stood victorious as the best of Disney's Magic Kingdom style parks the world over. It was a close fight to be sure, a near draw in fact. However as in any competition there must be a winner and Disneyland found a way to claw out the most narrow of victories. In the end it was a combination of classic and varied attractions mixed with a charm and history that the other parks cannot match that tilted the fight in Disneyland's favor.
But now there are other challengers waiting restlessly in the wings. Disney has created many other parks, parks that do not fit into the Disneyland / Magic Kingdom mold. For round two we will pit all of these other parks against each other in a battle royal to declare which alternative Disney park is king.
We will use the same rating system and the same categories as in round one. 40 points is still the perfect score. However it is important to understand that the scale is relative. In other words in round one each park was evaluated as they compare to each other. In round two each of the new parks will be compared directly with each other (not as they compare to the Magic Kingdom style parks). What this means is that a score of say 30 in this competition may not be equal to a score of 30 from the first competition. Keep this in mind when reading the final scores.
Today's competitors
I present to you the second park built at Walt Disney World and the first non-Disneyland style park built by Disney. Tipping the scales at twice the physical size of the Magic Kingdom, this is no lightweight of a park. From Orlando Florida let's hear it for the dawn of a new Disney era, Epcot!
Entering the ring next is a Hollywood heavyweight. This double fisted gladiator can deliver the glitz of showbiz or an adrenaline rush of excitement. The third park added to Walt Disney World and the most popular movie themed park in the world, give it up for Disney-MGM Studios!
The next challenger is once again coming to us from Walt Disney World in Orlando Florida. Stalking the ring now is a whole new species of theme park. The largest park in the Disney empire, the newest park on the Florida property and a wild addition to the Disney line up, roaring into this fight comes Disney's Animal Kingdom!
Hailing from Tokyo Japan is perhaps the most eagerly awaited park in history, the companion park to Tokyo Disneyland it had big shoes to fill and a lot of hype to live up to. From the salty oceanic depths comes what has been called the greatest park ever imagined. Setting sail and aiming to sink all competitors make some noise for Tokyo Disney Sea!
From Anaheim California our next combatant is the sister park to Disneyland. After years of planning it was the first park added to the California property in over 45 years and the newest Disney park in the United States. Boasting some proven winners as well as new concepts in attractions, give it up for the Golden State Warrior Disney's California Adventure!
And finally, all the way from Paris France is the newest addition to Disney's ever growing stable of parks. The sister park of Disneyland Paris and the cousin of Disney MGM Studios it hopes to prove its merit with a powerful combination of Hollywood magic and European style put your hands together for Walt Disney Studios Paris!
Epcot
Epcot takes the first swing in an offensive move designed to cripple the competition. Blessed with size Epcot was designed as almost two parks in one, the forward-looking Future World and the international mix of World Showcase. This size allows Epcot to hold a wide variety of attractions, each neatly contained in it's own pavilion.
Epcot delivers a rattling blow in the attractions department with some of the newest and most technologically advanced attractions in Disney's entire arsenal. Mission Space is it's newest addition and along with Test Track and the currently under construction Soarin' flight simulator (imported from Disney's California Adventure) make up a core of newer thrill oriented attractions. This park also enjoys a true classic and one of the best Audio Animatronics shows Disney has ever created, the still stirring American Adventure. Epcot attacks the competition with a series of body blows in the form of its remaining original attractions, things like Spaceship Earth, Universe of Energy and the Living Seas. Finally it aims to topple its foes with a slew of movies and interactive attractions found throughout the park. However Epcot's attractions are a mixed bag these days. The park must have taken a shot to the head and is seeing fuzzy double vision because Epcot does not seem to know what kind of park it wants to be or what kind of attractions it should house. It is currently an awkward mix of eighties era edutainment attractions tossed in with pure thrill rides with just a light overlay of science thrown on to add legitimacy. Across the lagoon World Showcase sits as almost a different entity entirely and it makes the park feel like it has several split personalities. Still, Epcot is strong enough in the attractions category to deliver a solid 12 and send a clear signal that it means business.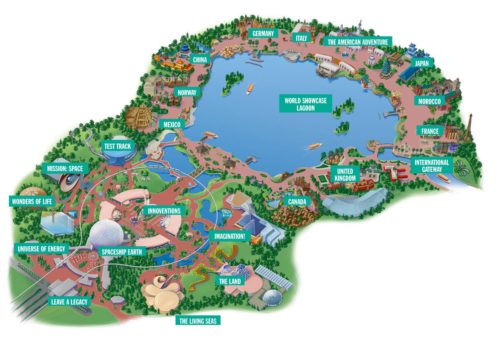 In the atmosphere category Epcot again delivers a hard straight punch to the gut of all challengers. Each pavilion of World Showcase is a beautifully detailed gem, a microcosm of each host country. Sure, these pavilions are idealized and greatly simplified versions of the real deal, but in general they are done very well and are all about atmosphere. Strolling the promenade of World Showcase on a pleasant fall evening and taking in the ambiance is one of the true pleasures Disney parks have to offer. Future World cannot match the charm of World Showcase but still features some stunning architecture and impressive themes, though it can come off as a bit sterile. With everything taken into account Epcot lands an impressive 13 points for atmosphere.
In the intangibles department Epcot hits a glancing blow. It is in general a well-maintained park but it does have an identity crisis. Is it a thrill park, an educational park, a world's fair? Who knows? While World Showcase has lots of charm, Future World lacks the optimistic love of the future it once had and is currently mired in a sort of limbo zone. 3 Points.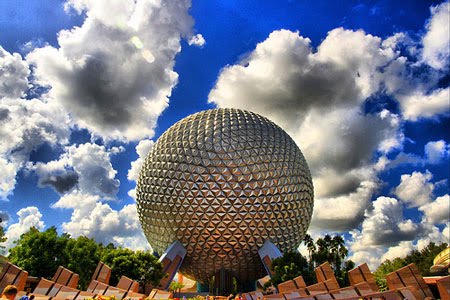 Finally Epcot digs deep and lands a devastating, jaw crunching uppercut when it comes to dining. No other park can go toe to toe with Epcot in this area. Every World Showcase pavilion features both sit down and fast food restaurants specializing in regional cuisine. Future World chimes in as well with the Coral Reef that allows you to dine while peering into an underwater world and another that silently rotates past show scenes from the Land pavilion. Dozens of fast food choices and food that literally covers everything from hot dogs to sushi to prime steaks to hand made pasta or a five course French meal on white linen, Epcot has something for everyone. In fact dining is such a core part of the Epcot experience that it hosts an annual food and wine festival which adds even more variety and quality. Notice how it is a food and WINE festival. Yes, Epcot has the freedom to serve alcohol and this adds a new dimension to the park, which allows it to cater to a more sophisticated adult market as well. It is in Dining that Epcot comes into it's own and throws down a powerful 5 out of 5 points.
As the bell rings Epcot stands tall and proud earning a mighty 33 points.
Disney-MGM Studios
Waiting ringside is Disney-MGM Studios with hopes of delivering a K.O. with its high octane thrill rides and behind the scenes look at movies.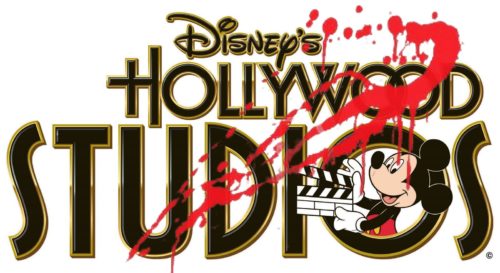 When the park opened in 1989 it was small and light on attractions, but through the nineties Disney-MGM saw steady growth and is adding attractions even now. The park proudly boasts what many consider to be the best thrill ride ever created, the Twilight Zone Tower of Terror. In addition Disney-MGM Studios is the Florida home of Star Tours, a now classic attraction that lives in the Magic Kingdom style parks at all the other resorts. Another powerful punch is held within the Rock-N- Roller Coaster, a highly charged inverted coaster that is the fastest and most intense of all the Disney coasters. These attractions make up a core group of thrill rides that keep Disney-MGM Studios in the mix. The park also offers an Indy themed stunt show, is adding an auto themed stunt show (does one park really need two stunt shows?) and has several other strong attractions such as Muppets 4-D. However the park takes a hard shot to the kidneys with it's aging and seemingly ignored backstage tour. Still the park rallies back and lands a solid 12 points for attractions.
Unfortunately Disney-MGM Studios takes a direct blow to the head that sends it to the canvas when it comes to atmosphere. This is again a park with a split personality but unlike Epcot only one part actually works. Hollywood and Sunset Boulevards are both incredibly themed and offer wonderful atmosphere. There is very little Disney has ever done that can compete with Sunset Blvd. leading the way to a looming and ominous Tower of Terror. The Hollywood that never was perfectionism of Hollywood Blvd. also creates an atmosphere that is fun to be in and feels "Disney" in every way. However the park has been hobbled with a giant sorcerer's apprentice hat that was plopped down at the end of Hollywood Blvd seemingly with total disregard to its surroundings.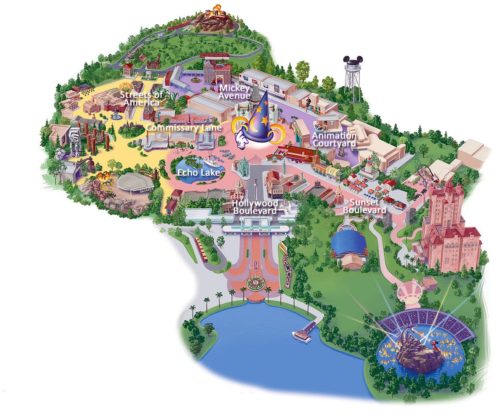 It blocks the meticulously themed Chinese theater to the point where the theater can no longer be seen at all. It is garishly colored and looms above everything else like a lurid beckon of bad taste. Perhaps worse of all, this would be icon of the park does not contain an attraction but rather a pin trading shop… it is the ultimate sign of money over content, offers nothing to the park and is a major misstep. The giant hat serves as a gateway to the rest of the park, all of which is much less themed than the entry and Sunset Blvd. The pat excuse used here is that a movie back lot does not have a pretty theme, that it is rather simply a series of warehouse like sound stages (this is a philosophy which will come back to haunt some future Disney parks as we shall see). Try as they might, no one is buying that and the result is that much of the park is bland. The good news is that improvements are being made is some areas. The fun New York City backdrop is being expanded to include sections from San Francisco and Chicago and there are a few nice pockets like the area surrounding the Muppets 3-D movie attraction. But this is not a park one visits for it's atmosphere and so it is clobbered and gets a weak 8 points.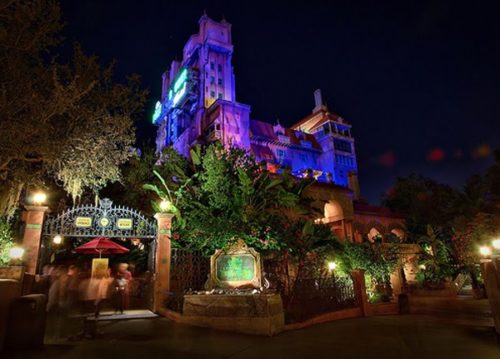 The park certainly wants to recover from this set back and it comes out aggressively swinging in the intangibles department. The theme of the park is interesting and it feels unique and different from the other parks. But an illogical and pieced together layout hurts it's efforts and limits it to only 3 points.
Finally in the dining category the park is able to land some solid hits and make up some lost points. Boasting the Prime Time Café and the Sci-Fi Diner Disney MGM Studios has some of the most fun and unique dining around. The Brown derby is a great sit down affair and there are several good counter service choices as well. It cannot quite match the breadth of options Epcot has but still nails it with a great 4 points.
Disney-MGM Studios is left slightly dazed and a bit wobbly but delivers a very sound 27 points.
Disney's Animal Kingdom
Charging into the squared circle is Disney's Animal Kingdom, it's the young gun of Walt Disney World parks as is ready to show the old timers how to do it.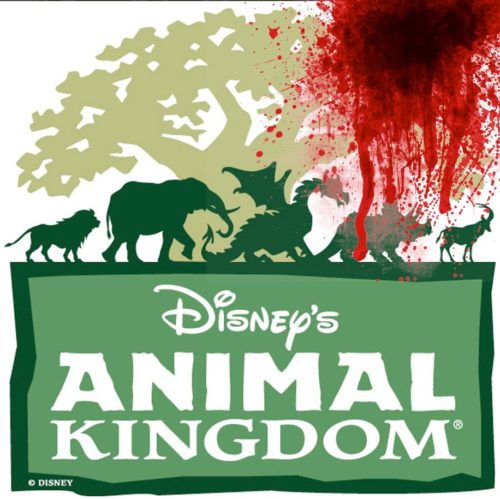 Right out of the corner the park scores big points with Kilimanjaro Safaris. This long, unique and very detailed attraction recreates African landscapes uncannily well. It is by far the largest attraction Disney has ever built and showcases live animals while telling its anti-poaching story. With the competition against the ropes Animal Kingdom shows no mercy with Dinosaur, a thrill ride using the same ride vehicle technology as the Indiana Jones Adventure from Disneyland. Featuring the largest Audio Animatronics Disney has created this ride delivers thrills and a glimpse at long extinct animals. The park now moves in for the kill with some great shows like It's Tough to be a Bug 3-D movie and The Festival of the Lion King. However, despite it's youthful exuberance Animal Kingdom runs out of firepower before it can deliver the knock out punch. While it has a raft ride and some very good walk through animal exhibit attractions the fact is that Animal Kingdom needs more attractions, especially more big attractions before it can compete for the title. This is currently being addressed with the construction of Expedition Everest, a new thrill ride due to open in 2006. But even with that new "E Ticket" extravaganza the park is still short on attractions. Animal Kingdom has the goods but needs more before it can compete in the heavyweight class and therefore pulls down a score of 10 for attractions.
The fight is not over for the scrappy young park… not by a long shot. The next category is atmosphere and this is an area that Animal Kingdom shines. Unlike Disney-MGM Studios you really feel that there is a master plan to Animal Kingdom, a single cohesive vision that has guided the park's development. This has allowed the park to create a single-minded atmosphere that makes it a true pleasure to behold. Animal Kingdom feels like a giant version of Adventureland. It is full of textures, and weathered signs and thickets of bamboo. Waterfalls spill into unseen grottos, flamingos casually relax in the shadow of the impressive Tree of Life and one could spend hours simply studying the hundreds of animals carved into the trees' trunk.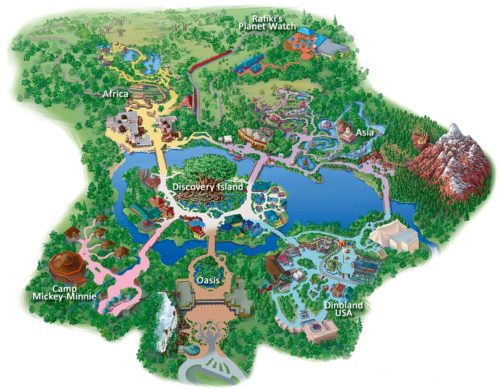 Animal Kingdom is not trying for a single knock out punch but rather wins the fight of attrition. Everywhere you look, everyplace you go is detailed and themed to the gills. It is a case of the park itself being as big of an attraction as any of the actual rides or shows held within. It is not what many people expect from a Disney park and that is exactly as it should be. Animal Kingdom delivers a huge 14 points for atmosphere and sets the competition back on it's heels.
This quality spills over to the intangibles department. The theme of Animal Kingdom is very focused and allows the designers to really create deep attractions to explore it. The layout is again unique, forgoing the typical strip of shops and restaurants at the park's entrance, opting instead for a tropical garden. In fact if not for the very temporary and out of place feeling Camp Minnie-Mickey section of the park dragging it's score down the park would receive a perfect score, as is it still manages to land an impressive 4 points.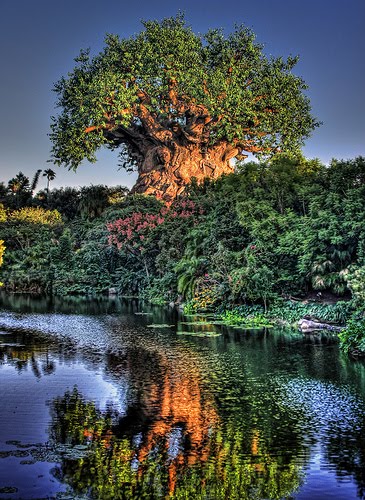 Finally Animal Kingdom shows its weaknesses again in the dining category. Unable to stand face to face with its rivals Animal Kingdom is lacking ANY sit down establishment within the park itself (though a Rain Forest Café sits at the front gate). The counter service options it has are quite good (the setting of Flame Tree Barbeque is unparalleled) but alas the lack of great depth in this area has the park swinging at air. 2 points.
Disney's Animal Kingdom is a park that clearly has the eye of the tiger. It is like a great Olympic boxer who has all the potential in the world, the only question is will he train hard enough and grow into a great champion, or will he get lazy and fat and end up as a has been?
The bell rings and Animal Kingdom has a surprising 30 points.
Tokyo Disney Sea
A hush falls over the crowd before they erupt into wild cheers as the next fighter takes the ring. Tokyo Disney Sea was wildly anticipated by millions of Tokyo Disneyland's adoring fans.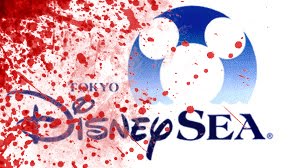 Featuring some of the biggest and best attractions Disney has ever produced Tokyo Disney Sea seems unstoppable in the attractions category. It attacks with a new version of the Indiana Jones Adventure and scores solid points; it follows up with the original Journey to the Center of the Earth and then relentlessly moves in with Twenty Thousand Leagues under the Sea and Storm Rider. A slew of smaller attractions ranging from the insanely detailed walk through Fortress Exploration to the Sinbad ride prove that Tokyo Disney Sea is not just a one-punch pony. Just when it seems like the park is running out of steam it comes back with not one but two major new attractions currently being built. A new version of Tower of Terror (minus the Twilight Zone theme) and a new coaster featuring water and fire effects going in next to the Indy ride. The park also has several major shows and really prides itself on not only the quality of the shows, but also the detail of the theaters themselves. The other combatants are quivering in their boots as Tokyo Disney Sea scores a mammoth 14 points for attractions.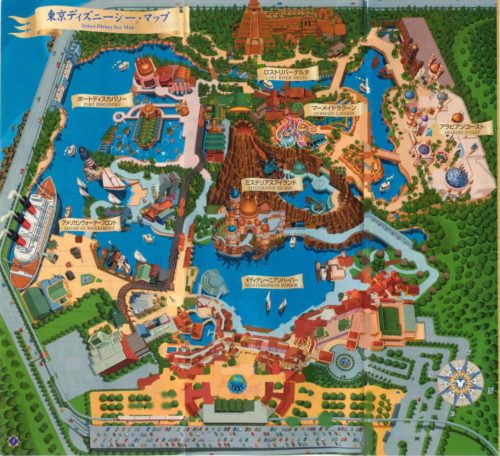 Not content with resting on its attractions might, the park continues it's aggressive onslaught in the atmosphere category. Featuring a giant volcano sitting in the middle of the park, which erupts with plumes of flame and smoke it is obvious that the look and feel of this park were very important to the designers. The Mysterious Island section of Tokyo Disney Sea may very well be the most completely themed environment in any park ever built. Nestled in the caldera of the volcano is a Captain Nemo themed world that envelops the visitor completely. Everything you see hear and smell is a carefully orchestrated mix, nothing has been left to chance. This level of detail is seen throughout the rest of the park as well. Be it an Aztec pyramid, a renaissance fortress or a Venetian canal the atmosphere of this park will leave you gasping and has the competition trembling. It is not perfect, there is a disturbing lack of greenery, the park is too new to have many large trees and its location on landfill extended into Tokyo Bay is in the flight path of the airport. However these are small quibbles as compared to the positives. In one area of the American Waterfront portion of the park a man made waterway visually lines up with the real ocean sitting outside the park's gates and the result is a seamless vista unlike anything in any other park. It is details like this that allows Tokyo Disney Sea to daze the others with powerhouse 15 points!
The park continues its roll in the intangibles category. The theme itself is brilliant and it fit's its location perfectly. A park like this can only be given true justice at a waterside home and Tokyo Bay fits the bill well (the original idea was to build this park sea side in Long Beach Ca.). The cast members are the friendliest and most helpful I have ever encountered as well. I once saw a man drop a large container of popcorn that spilled all over the walkway. A sweeper was cleaning it up literally seconds after it hit the ground, faster in fact than the guest himself could bend over to pick the cup up. This type of fanatical attention to detail and quality control set the park (and it's sister property Tokyo Disneyland) far above all the others.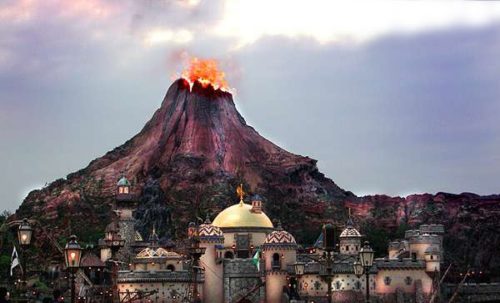 The Hotel Mira Costa is one of the most beautiful hotels in all the Disney Arsenal; it sits inside the park offering unparalleled views. The shops all offer unique and individual merchandise as well. You will not find the same plush dolls sold in store after store. You will not find that regardless of the name of the store they all sell the same items. On the contrary, here each shop carries unique merchandise available nowhere else on earth other than that one tiny store. This makes shopping and browsing much more fun and even exciting. The list goes on but at the end of the day a pattern is starting to form… Tokyo Disney Sea rises up to the challenge of its rivals with a perfect 5 points.
Finally in the Dining department the park refuses to let up. Offering high end sit down options, a wide variety of counter service and many fast food options Tokyo Disney Sea is nearly perfect. From the dining room on the S. S. Columbia to the Gyoza dumplings cart in Mysterious Island, from the formal dining of Magellan's to the counter service of the Vulcania Restaurant the themes and execution are all extremely well done. By American standards the portions are small, but then again we are the fattest nation on Earth. Tokyo Disney Sea cannot quite match the vast array of dining options Epcot offers but still lands a powerful 4 points.
Towering above the rest Tokyo Disney Sea finishes the fight with a nearly perfect 38 points… it will be tough to topple this powerhouse of as park, but the fights not over yet.
Disney's California Adventure
Next up is Disney's California Adventure. Fueled by the close connection to Disneyland this park hopes to glide to victory.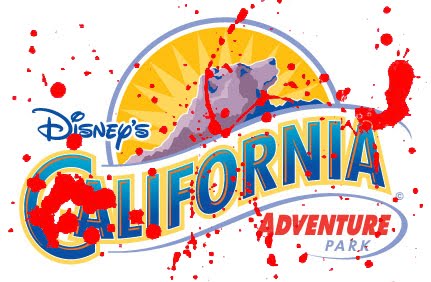 Right away the park suffers some damage in the attractions category. It is simply unable to stand up against the rest with it's unappealing mix of recycled attractions borrowed from other parks, scaled down original attractions and a handful of off the shelf amusement park rides. California Adventure is not without quality attractions however. It's version of Tower of Terror lacks the magnificent setting and some of the effects of the east coast original, but is a very good attraction in it's own right. Meanwhile Soarin' over California is a runaway hit, good enough to be transported to Epcot next year. Bust sadly that's about it for the real "E Ticket" rides. Somehow this parks version of the Muppets and Bugs 3-D movies simply don't play as well as the originals. Maybe this is due to the fact that they squandered an opportunity to do something new or maybe it is the scaled down settings they are presented in. The amusement park rides of the Paradise Pier portion of the park are no better, and in some cases worse than typical Six Flags attractions and while the back lot movie themed section of the park has a very nice animation attraction much of it is again scaled down and lacking. Not a complete wash out but still disturbingly weak California Adventure is gasping for air and it can only score 9 points for attractions.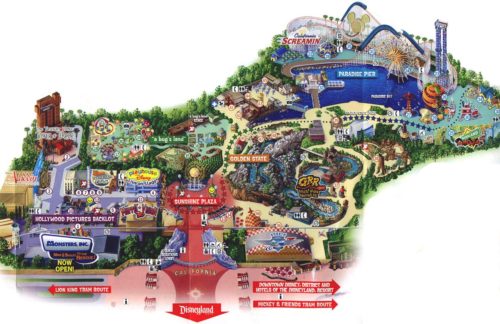 The park may be stumbling and bloodied but things are just going from bad to worse in the atmosphere category. Pockets of the park such as the area around the Grizzly Rapids raft ride or the aviation themed Condor Flats are quite nice and reach the level of detail people associate with Disney parks. But you almost need to have blinders on when walking through this park to avoid being exposed to all sorts of outside distractions (such as the convention center and neighboring hotels), which all but spoil the mood. The Paradise Pier rides shine nicely at night and glimmer of the water but in the end are just not special enough to help the park, and in many people's eyes they do nothing but hurt the overall feel of the place. No single area of the park is large enough to really envelop guests and so the park swings and again misses coming up with a paltry 9 points for atmosphere.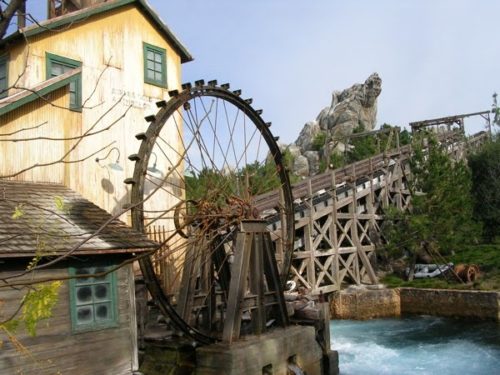 Shaken, California Adventure stays the course and again falls on it's face with intangibles. The very odd choice of a California theme for a park housed in California leaves one scratching their head. With only one truly unique major ride, a lack of well themed or uniquely stocked shops and an awkward layout the park manages to score 2 points for intangibles.
Finally California Adventure saves some face in the dining category. When the park first opened it was a real powerhouse in the area but over the years it has dropped or scaled back many of its more interesting dining options. It is still left with several nice places to eat including a very high end Vineyard themed dining room (The Vineyard Room). A popular character meal restaurant and some solid counter service options allow the park to come in with a respectable 3 points.
All said and done Disney's California Adventure manages to avoid total shame with a score of 23 points. Not as bad as it might be but so much less than it should be. California Adventure feels like a halfhearted attempt. It's not ready for prime time and is outclassed by the rest of the field.
Walt Disney Studios Paris
Finally we have Walt Disney Studios Paris, and after seeing this line up it turned tail and ran out of the ring. This recent addition to the Disneyland Resort Paris property is a scaled down version of Disney-MGM Studios in Florida… you could call it Minnie-wannabe.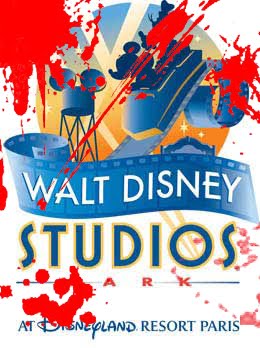 In the attractions category the park offers precious little. One could see everything there is to see in a matter of a few hours. Even a half of a day is far more time than it takes to see it all. With only one actual ride (the Rock –N- Roller Coaster) it is easy to mix up this park with a "land" or section of a more complete park, but no… this is it. To be fair there is the Aladdin carnival ride, which is a Dumbo style attraction plus the backstage tour, but these are not really rides in the sense of what people look for from Disney. Speaking of the backstage Studio Tram Tour here it is even shorter and has less to see than the Florida version. The park does boast several shows including the much talked about CineMagique and the all-new Armageddon Special effects show. The former is a solid presentation that is marred by a warehouse style theater that would be more at home at a tractor pull than a Disney park. The later seems aimed at the same crowd that enjoy the Back Draft attraction found at Universal Studios, only much smaller and less impressive. 4 points.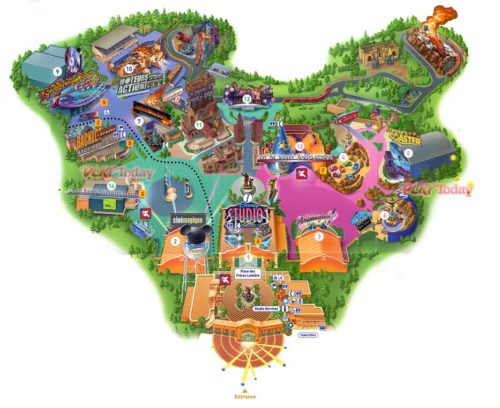 After that debacle the park hopes to rebound in the atmosphere category, but it looks like it is again in way over its head. Visually this is by far the least interesting Disney park and the only one in which the word "ugly" may honestly be applied. A series of generic cement warehouses, um excuse me, soundstages make up the bulk of the park. Even the signs, an area Disney usually excels, are uninspired and simple. In fact there is nothing special or unique or even pleasant about the atmosphere of this park. It is similar to being in an industrial park with some cheerful music being piped in. The one area with some interest is the Studio One building. Another generic concrete barn of a building but this one houses some interesting facades that act as the "Main Street' of the park. It is the only area that creates any atmosphere at all. 3 points.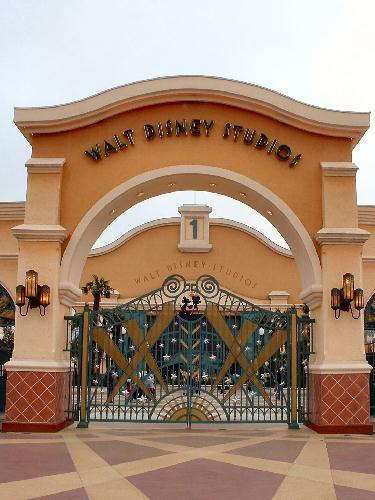 For intangibles the park manages to come up empty handed, it may be time to throw in the towel. It's small, the cast members working there seem defeated and the layout is haphazard. One can traverse the entire park, from one side to the other in a matter of minutes. There is not even a central icon or showpiece of the park. Let's be kind, 1 point.
Finally we have dining, and once again the park can barely lift its gloves to defend itself. With no sit down options and only a few counter service joints, all uninspired and lightly themed, the park manages but 1 point.
Whimpering and teary-eyed Walt Disney Studios Paris is curled up in the fetal position cowering in the corner of the ring. This park tried to bring a knife to a gunfight, then realized that it even forgot the knife. Unable to even crack double digits Walt Disney Studios Paris is destroyed with a mere 9 points total.
Scoring the Round
The fight is over, the bell has rung and there is a clear victor. Unlike the battle of the Magic Kingdom style parks in which all four contenders were locked in a virtual tie this round we see a huge disparity in quality. The top parks are all worthy of their heritage and offer a wonderful value and experience for the guests. However the bottom parks seem rushed, cheap and in some cases perhaps flat out mistakes.
Tokyo Disney Sea is an incredibly sound park that delivers very high marks in all categories. It takes the belt and looks to be getting stronger and stronger. Epcot nearly played the role of spoiler. For a park that has lost it's identity and original focus it still manages to deliver a great overall experience and took a very solid second place. Perhaps the biggest surprise is the strength of Disney's Animal Kingdom, a newer park that has an incredible foundation to build on. If handled properly it could grow into a real contender for best overall park, it is that good. Disney-MGM Studios is also a solid park. Its lack of an original master plan hurts it a bit. It is not as focused as the other parks and suffers from an awkward layout. Still, it has nothing to be ashamed of with its finish. Disney's California Adventure is another story. It suffers from major design and conceptual flaws. It is however still a pleasant place to visit and hopefully can be fixed. Sadly Walt Disney Studios Paris is such a mess in its current state that it is hard to imagine how it will ever recover. It simply does not have what it takes.
So now the two champs have been named, Disneyland as the best Magic Kingdom style park and Tokyo Disney Sea as the best NON Magic Kingdom style. But what would happen if these two parks met face-to-face, man-to-man in a single fight to settle it once and for all. Which single Disney park is the best in the world? Stay tuned for the next installment in which we will examine just such a fight and crown one park as the crème de la crème, the best Disney park in the world!
Stay tuned…
Post Fight Analysis
Tokyo Disney Sea took the title 5 years ago and has done nothing but gotten stronger. It is hard to imagine that another non Magic Kingdom style park could take it down. But Animal Kingdom has added Everest and Nemo, California Adventure is growing by leaps and bounds and Epcot should never be counted out. Midway Mania has been a huge success for Disney's Hollywood Studios and even lowly Walt Disney Studios Paris has seen major expansions. How would this fight shake out today? Once again… we shall answer some of these questions in round 4, but next up is round 3, the title fight between Disneyland and Tokyo Disney Sea… place your bets, this is going to be brutal!