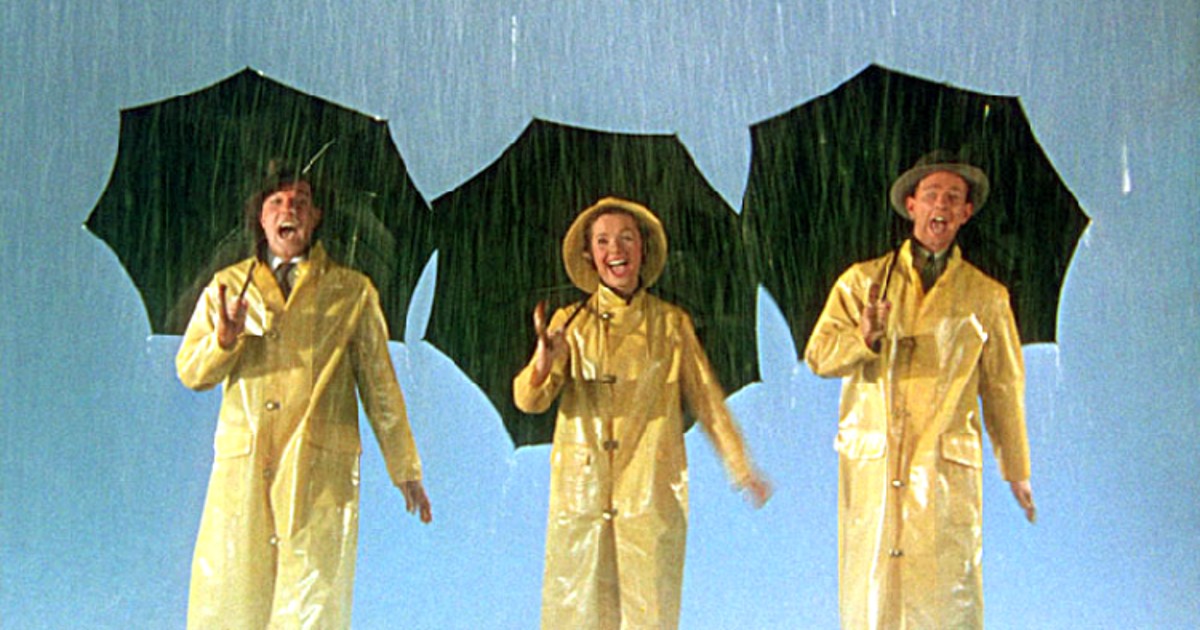 Singin' in the Rain returned to theaters tonight in one of those Fathom events that you sometimes see commercials for at movie theaters. You know these things. Pay inflated prices to watch a simulcast rock concert from Berlin, or gasp in horror as Andrew Lloyd Webber desperately tries to recapture the magic of his younger years. One night only, they usually say. Beautifully restored, or digitally mixed, or performance enhanced. Nevermind that the Blu-Ray hits the streets a couple days later.
I like Singin' in the Rain, and I hadn't seen it on the big screen since The Artist was out last winter. It's on everyone's Top 10 list. One of the few titles to enjoy a 100% Fresh rating on Rotten Tomatoes. My entire family went, leaving me behind. I hope they get stuck next to those jerks that like to sing along in theaters (usually larger, off-key people who tend to dance in their seats and shake the whole row).
It occurs to me, as I sit here at home by myself, not stewing at all about being left out, that Disney theme parks are sort of obsessed with Singin' in the Rain. Really, is there any song more used in the parks, outside of something written by Alan Menken or the Sherman Brothers? Maybe a few patriotic anthems, America the Beautiful and so forth. It seems like Disney goes out of its way to pay tribute to this little classic from the 1950s, and it's not even from their own library.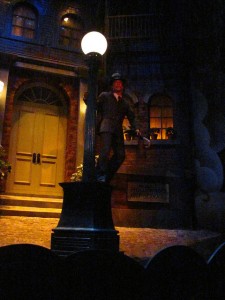 Take the obvious example. The Great Movie Ride. Singin' in the Rain makes three separate appearances. The trailer for the movie plays in an endless loop in the queue. Then Gene Kelly gets full-fledged Audio-Animatronic treatment in the ride itself. And then the movie pops up again in the ending montage.
Now wander down New York Street, where it won't take you long to spot a Singin' in the Rain photo opportunity, in the form of an umbrella and lightpole. This thing used to gush water also, though that effect is hit or miss these days (making the whole idea of standing under an umbrella for a photo op kind of ridiculous).
Flashback to 1989. The Disney MGM Studios premiered with a massive television spectacular. As Michael Eisner prepared to give the dedication speech, dozens of singers and dancers performed in front of a Hat-less Chinese theater. It literally rained that night, but the performers carried on. How appropriate that one of their elaborate dance numbers was none other than Singin' in the Rain (2:30 mark)
And this is just Hollywood Studios, where we'd expect to find a few tributes to an MGM classic. But how do you explain the song popping up in Frontierland?
For several years, both at Magic Kingdom and at Disneyland, the Country Bear Jamboree ran a version of the show called the Vacation Hoedown. Same cast, completely different soundtrack. And for the big show-stopping finale, when Teddi Berra descends from the ceiling, bedecked in a chic raincoat and a pair of bright galloshes… well, I don't need to tell you what song she's going to sing.
Let's see, Animatronic Gene Kelly, check. Animatronic Saloon Bear, check. What are we missing? Oh yes, Animatronic Barber Shop Quartet Geese.
You're looking at America Sings, Disneyland's successor to Carousel of Progress. Specifically, the start of the fourth Act, around the 5:00 mark. Yes, right about the time John Carousel is putting the diabolical touches on his Christmas turkey in our East Coast version of the show, Disneyland guests were experiencing the joy of four part fowl harmony, to the tune of a 1952 Gene Kelly movie.
Those geese are still alive today, in Disneyland's Splash Mountain, though they seem to have swapped out their theme song. Which reminds me, watching America Sings can be somewhat traumatic, if you only know these characters from Splash Mountain. Whatever that grandma horse monster is that shows up at the 2:55 mark has been known to scar young children for life.
Here's the strangest Singin' in the Rain reference I've found yet. Shockingly, it comes from Tokyo, where the Japanese are not known for strange things. It's a parade that is apparently performed only on rainy days at Tokyo Disneyland. Mickey, Goofy, and the gang singing in raincoats on some sort of cobbled together train. Three guesses as to which song opens this little performance. It's actually kind of charming, even if it's more than a little bizarre. Has to be better than that Move It Shake It Celebrate It thing at Magic Kingdom.
I'm sure this list isn't comprehensive. Heck, the Dapper Dans probably break out Singin' in the Rain every now and again. And I didn't even mention that Debbie Reynolds, the movie's female lead, is none other than the mother of Princess Leia herself, Carrie Fisher. And since Princess Leia appears in the new Star Tours… Or maybe I'm just reaching.
It does make me wonder why Disney is so obsessed with this song. Maybe it's just a bit of serendipity. Recognize this guy?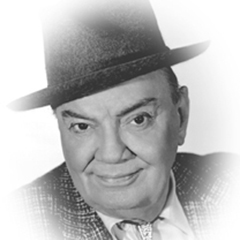 How about now?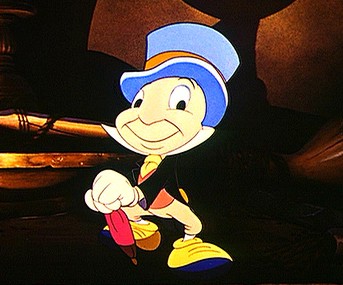 That's Disney legend Cliff Edwards, voice of Jiminy Cricket. He catapulted to stardom by singing a little unknown song in the movie The Hollywood Revue of 1929. Twenty years later, when MGM and Gene Kelly were looking to base a movie around a whole catalog of unexploited songs from the vault, this is the song they chose to headline their film. And the rest is history.
Photo Credits:
Great Movie Ride photo by Loren Javier
New York Street Photo by d.k.peterson