Today we are continuing our list of the Top Ten Disney Theme Park Controversies.If you missed the first entry click here to get caught up to date.
We are slightly obsessed with at least one aspect of the former Pleasure Island around here but the Funmeister is not the only thing we miss about Pleasure Island:
9) Goodbye Pleasure Island… good riddance… but not the Adventurer's Club!
In the late 80's a nighttime destination spot at Walt Disney World seemed like a no-brainer. Ever since opening Walt Disney World tended to be lively and bustling during the day but oddly quiet with little to do come sun fall. Non-Disney competition popped up to fill this void and suddenly Disney was watching their guests load into rental cars and head off-property to nighttime entertainment districts such as Church Street Station in downtown Orlando.
Management felt that Disney needed more than a smattering of dated dinner shows and sleepy shopping villages to keep guests (especially young adults) on property and happily spending away into the wee hours of the morning, thus Pleasure Island was born.
Named after the all-play and no-work island featured in Pinocchio Pleasure Island boasted nightclubs spanning many genres (techno, country music, classic rock, jazz etc.) as well as a comedy club a 30's era British explorers club (The Adventurers Club) and several restaurants and shops. It seemed like a very solid idea and covered a wide range of age groups and tastes and yet something also felt slightly off about it from day one.
Parkeology has never been a huge fan of Pleasure Island in part because it felt very forced and artificial. While one could certainly argue that all of the Disney parks are artificial by nature Pleasure Island felt different somehow. It felt more blatant in its commercial motivations and less organic. It had no history prior to its creation. It did not grow from Walt's original plan or even his successors interpretation of it. Maybe it was the fact that they held a fake New Years Eve party every night or that 80% of it's patrons were perpetually drunk but for whatever the reason it always felt off to us.
Nonetheless Pleasure Island had legions of fans and Disney themselves originally tried to infuse it with the Disney touch by incorporating a storyline about a fictional industrialist named Meriwether Pleasure. Clues as to the back-stories and fabricated histories of the island's facilities were incorporated into several aspects of the grounds but these subtle details were largely lost on guests who often seemed more interested in cheap shots than the Imagineers made up history lesson.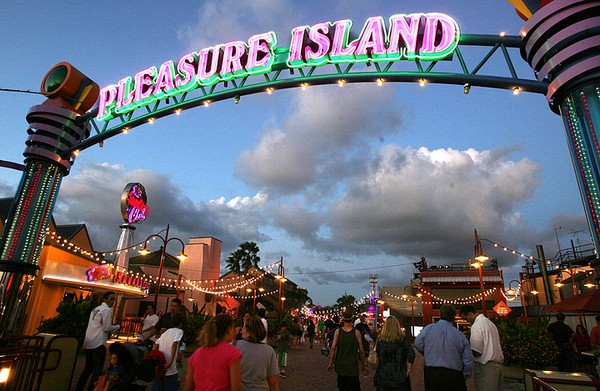 Pleasure Island was popular and successful but soon became a liability for Disney. It was attracting large crowds of locals who often did not mesh with the out of state families visiting Walt Disney World seeking wholesome family fun. Several admission policy changes made things worse as Disney eventually removed the cover charge to enter the island (originally one ticket to the island allowed guests admission to all the clubs and facilities). Now swarms of local teens used Pleasure Island as a nightly hang out.
Disney was stuck with a PR nightmare. Several drug related arrests occurred and Orlando police were a common sighting on the Island. Very little could be farther from the image Disney wanted to project than drunken teens selling drugs outside of nightclubs as DJ's pretend it is new years in the background and bewildered guests pull 8 year olds through the mess hoping to find some family fun.
In 2008 Disney decided that it no longer wanted to be in the nightclub business, at least not on this scale, and so they announced the closure of all the clubs on the Island (and eventually decided to change the name and entire concept of it).
This is all fine and good and I even think that most fans could accept this as Pleasure Island's time clearly had come and gone (attendance was down) save for one thing; The Adventurers Club was also being shut down.
Of everything that Pleasure Island had to offer, beyond the dance clubs, the BBQ restaurants or the largely leased to outside vendor shops it was the Adventures Club that park fans loved. It was the most original and Disney-like spot on the island by far.
Themed after private explorers club set in the late 1930's the Adventurers Club featured very elaborate and detailed decorating that rivaled even the best attractions in the parks. The walls were covered with trinkets explorers had brought back from around the world. Animatronics would come to life to tell stories of world travels and an improvisational comedy troop entertained guests while in character as resident adventurers.
Beyond being very well themed (created by Joe Rohde who later went on to head the design of Animal Kingdom) it was the realization of many similar ideas that had bounced around Disney for decades. Walt himself toyed with similar ideas for both the Enchanted Tiki Room as well as Club 33 at Disneyland.
So when the Adventurers Club got lumped in with such venues as Rock 'n' Roll Beach Club and 8Trax to be closed for good it's large fan base was quite taken aback.
Petitions were circulated, letters were written and for a bit it seemed like there was a possibility that the Adventurers Club could remain open even as it's lesser brethren closed around it. Sadly that was not to be… the club remained open for private parties but was closed and the interior was largely dismantled late in 2009 (props from the club can be seen in Mystic Point at Hong Kong Disneyland as well as Trader Sam's Enchanted Tiki Bar at the Disneyland Hotel).
While I personally was not sad to see Pleasure Island as a whole go the way of the dodo I was sad to see the Adventurers Club lost to "progress". Though I often found the shows too forced and the crowds overbearing there was undeniable creativity and incredible execution there and it was worthy of being saved.
Anyone have memories of the Adventurers Club or Pleasure Island in general?
Click here for number 8 on the list.