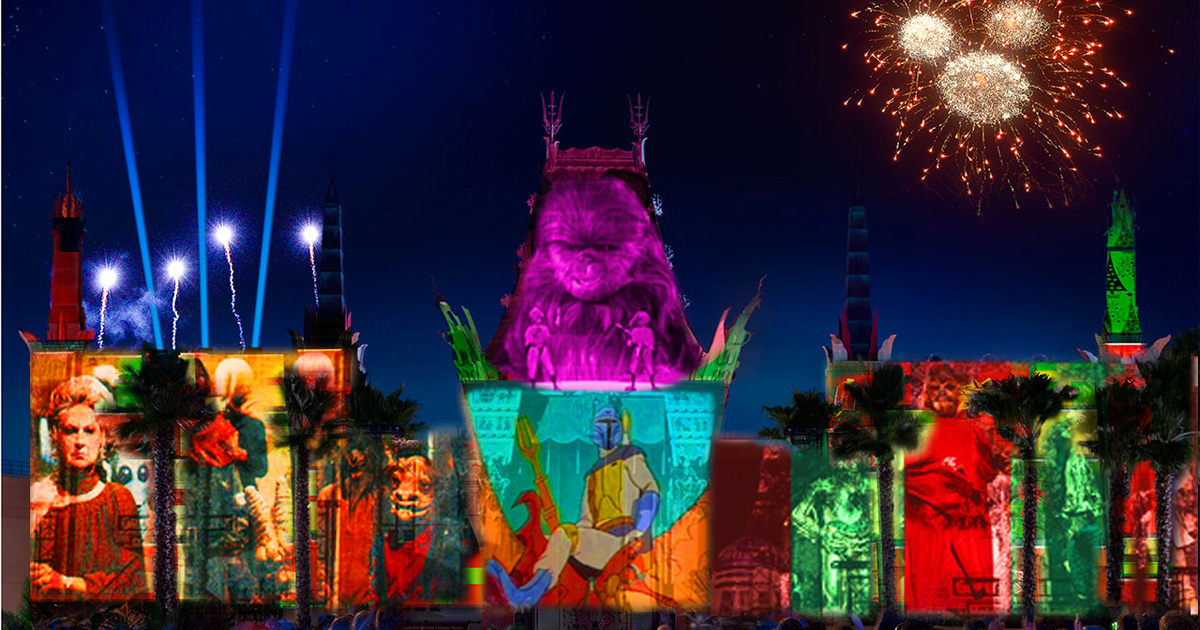 Following last week's announcement that a new Christmas show would be replacing the popular Star Wars A Galactic Spectacular at Hollywood Studios, Disney officials announced that they are retooling the show to keep both the Star Wars and the Christmas themes intact.
The Star Wars Holiday Special Nighttime Spectacular will debut on November 14, 2016.
Utilizing the existing infrastructure installed for the Galactic Spectacular show, the Star Wars Holiday Special will present the story of Chewbacca's attempts to make his way home to his family to celebrate the Wookiee Life Day on the planet Kashyyyk. Along the way, a host of Imperial roadblocks will attempt to keep Han and Chewie from getting to the planet on time.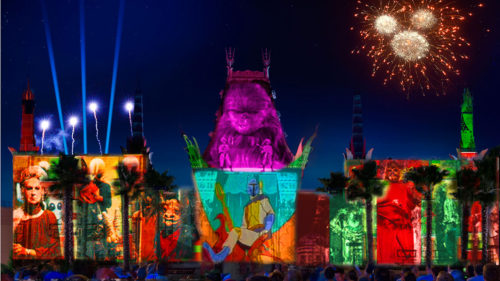 The show, which is being personally supervised by WDI Spectacular-in-Chief Steve Davison, promises to deliver a high-tech blitzkrieg of holiday cheer using lasers, high-definition projection mapping, and of course Disney's special brand of fireworks magic.
Davison even promises a snowfall of sorts, in the form of a "nightly meteor shower," which will dump buckets of glitter onto Hollywood Boulevard, bedazzling the park in Star Wars Holiday fever.
As part of the celebration, Chewbacca's entire family — including his father Itchy, his wife Malla, and his son Lumpy — will be available for character greeting experiences in the Star Wars Launch Bay facility.
Over at the Jedi Training Academy, young padawans will don the traditional red robes of the Wookiee Life Day throughout the holiday season.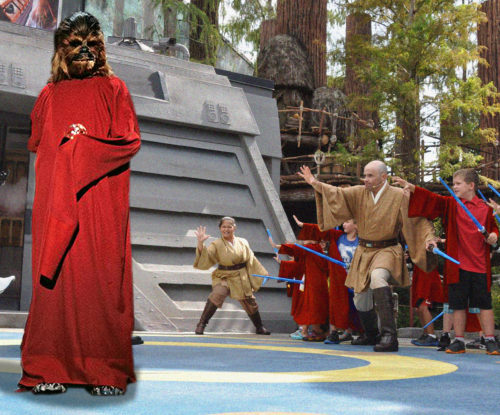 The new show is the brainchild of Disney Parks & Resorts VP Brian Chevrier, who upon hearing about plans to replace Star Wars with a Christmas show, uttered those three fateful words: "Get me Davison!'
Davison's team combed through archival footage to select clips from the original 1978 TV special that would bring the most holiday cheer to Hollywood Studios. Among the scenes expected to be projected across the Chinese Theater are:
A cookie-baking demonstration by four-armed chef Gormaanda
Han Solo being infected by a sleeping virus (while visions of sugarlplums dance in his head)
And footage from the first-ever introduction of Boba Fett, in animated form. Fett will blast-off into the night sky as fireworks burst behind him.
Disney also announced that the show will conclude with a heartfelt rendition of "Goodnight, But Not Goodbye," Bea Arthur's stirring masterpiece from the original Star Wars Holiday Special.
Disney Channel mega-star Demi Lovato will provide the vocals this time around.