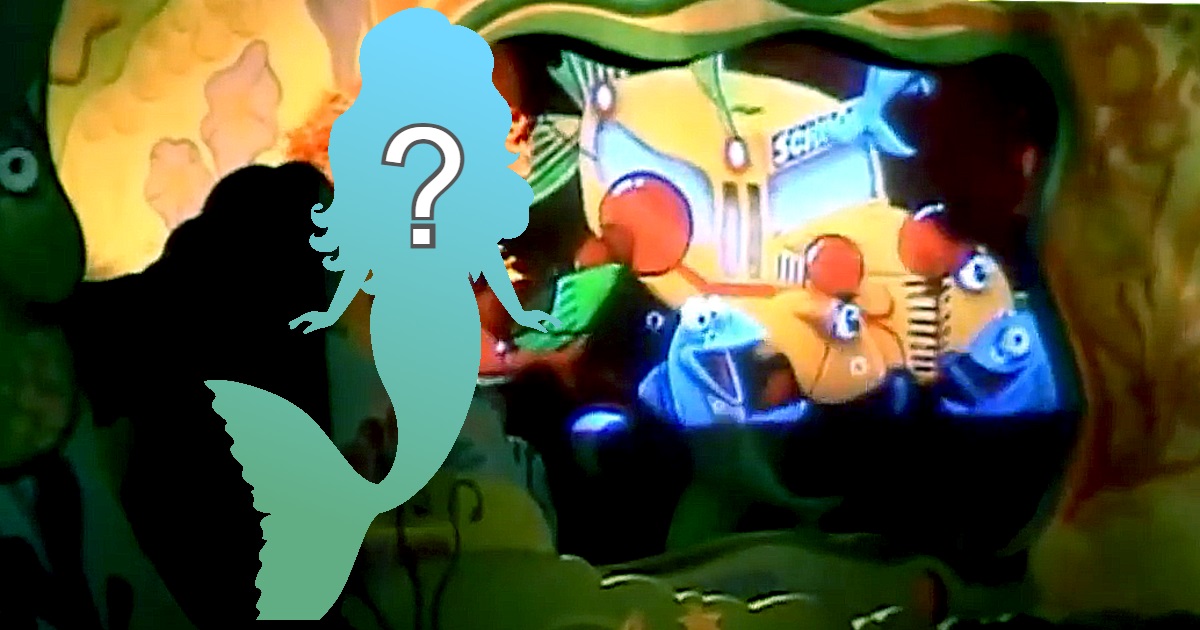 People are always coming up to us on the street. "Hey, Parkeology," they say. "What's your all-time favorite lost mermaid?" I'm sure you get that question too. It's a pretty common debate. Mermaids seem to go missing from Disney parks every other year.
I think they're expecting us to give the standard answer. The answer everyone always gives to this question. Like they have a bet with their buddy, and they'll win $5 if we say that our favorite missing mermaid is the live mermaids that they used to have in the Submarine Voyage lagoon at Disneyland.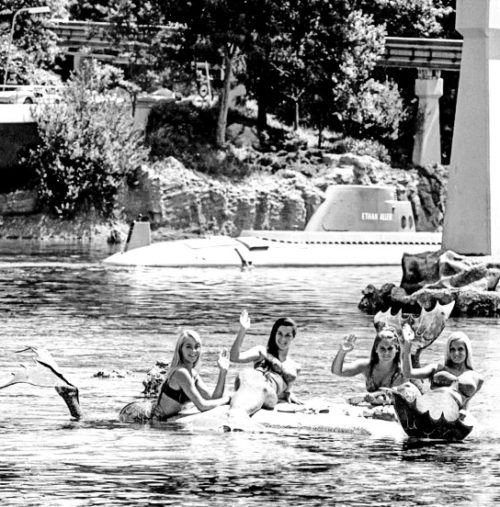 Don't get me wrong. That seems like a reasonable answer on the surface (get it?). Disneyland actually did have live mermaids during the 1950s and 60s. They were very cool and we have certainly spent a lot of time looking at pictures of them. But we are also Parkeology. Live costumed mermaids that swam in a theme park pool 60 years ago are way too mainstream for us.
Maybe you remember Dole Whip Ariel. She's certainly a candidate. She appeared briefly as part of The Little Mermaid ~ Ariel's Undersea Adventure, when it opened at Disney California Adventure in 2011. She was directly based on a scene from the actual movie, where a group of fish spiral up around her to briefly reshape her red hair into a swirl. But it didn't translate. Normal guests were completely befuddled by her appearance in the Under the Sea segment of the ride. She looked more like a collectible mug of soft-serve Dole Whip from the Tiki Room rather than the spunky mermaid heroine we all know and love. Less than a year after the ride opened, she was gone.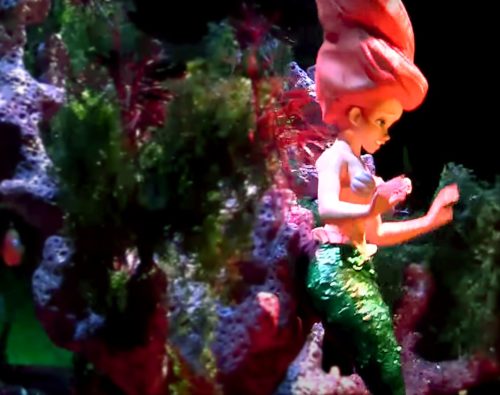 But come on. No self-respecting fan of Disney obscura is going to choose the mother-lovin Little Mermaid as the greatest lost mermaid. That's like choosing Mickey as your favorite cartoon mouse. It's just lame (it has to be Roquefort, right?)
So what are we left with? The haunting mermaids that briefly appeared in Pirates of the Caribbean? No way. We can barely stomach Jack Sparrow, let alone some underwater projections from the fourth best Pirates of the Caribbean movie, which is itself the third best Disney parks movie franchise (ahead of Haunted Mansion but behind Country Bears and the Steve Guttenberg TV movie of Tower of Terror).
So, the people on the street finally ask in exasperation, just what is the all-time greatest lost mermaid?
Mermaid Tales
Let's journey way back to 1998, to a time when Animal Kingdom was a brand new theme park, with a heavy focus on conservation and generous grants from the McDonald's Corporation.
Back then, there was no Rafiki's Planet Watch. Or at least, it wasn't known by that name. it was a place called Conservation Station. Exactly the kind of edge-of-your-seat title to entice you onto a 10-minute train ride to a veterinary hospital.
The hospital theaters and the petting zoo have been part of Conservation Station since Day One, and still remain today. But other features have slowly fallen by the wayside. The Grandmother Willow Sounds of the Rainforest Booths held on the longest, before finally disappearing in 2018. Now most of the middle of Rafiki's Planet Watch has been taken over by the Animation Academy show.
But early on in the park history, a small theater (and we're talking tiny) used to exist in what is now the back half of the Animation Academy seating area. It was a walk in / walk out type of deal, with maybe a bench or two. This page contains a layout of Conservation Station in its early years, and you can clearly see the theater smack in the middle of the blueprint.
Its name is Shelly's Theater.
Rub those Disney brain cells together and you will quickly recognize that this is a classic Disney pun. Shelly is the performer's name. Can you think of a character who might be associated with shells? Maybe someone who enjoys wearing them as a bra?
Shelly is a mermaid.
And not just any mermaid. Shelly is the full-on star of a bizarre puppet show that ran at Conservation Station until 2005. The show was called Mermaid Tales. Because those Disney puns just never quit.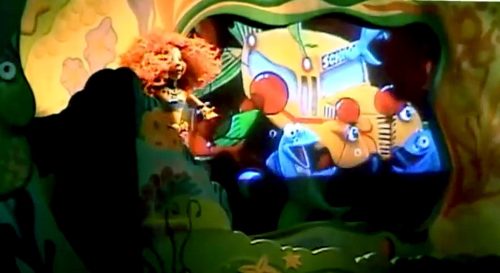 Shelly was the only puppet in the show. And unlike Ariel, she was a true little mermaid. About the size of a regular Muppet, Shelly looked like a mix between a Cabbage Patch Doll and Lady Gaga. She sort of appeared out the side of a half-wall and narrated a kid-friendly message about environmental responsibility while a video screen behind her provided helpful motion graphics.
The internet contains virtually nothing about this keystone attraction. Despite it having its own automated stage curtain, enclosed performance hall, and a "Next Show In 10 Minutes" countdown clock. Somewhere out there, there must exist Cast Members who performed as Shelly in Mermaid Tales, but to date, none of them have written an autobiography about their experience.
When the 2005 refurbishment rolled around, Shelly's Theater was ripped out wholesale. They removed entire walls, including what would have been her stage. The back wall became glass, providing another view into the hallway below, where the animal exam rooms are.
Here's a screengrab from a 2018 tour of Rafiki's Planet Watch, which shows basically what it looks like today. Compare it to the blueprint and you can see, there's nothing.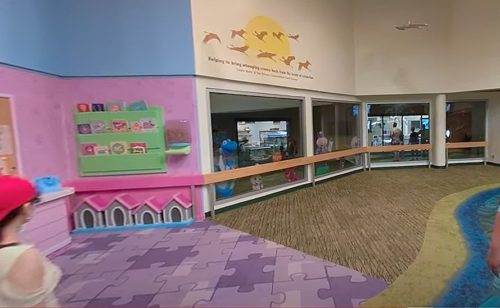 The video below comes from a 2003 walk-through of Conservation Station, and Shelly gets a bit of screen time at around the 17:30 mark. If you watch closely just before the Mermaid Tales footage begins, you can also catch a blurry glimpse of the theater entrance as the camera scans by a blue wall.
This may be all that remains of Shelly, because everyone else seems to have completely forgotten her. But for a few years there, she was the queen. And that is why she will always be our greatest lost mermaid.
The Shelly the Mermaid Animation Presentation
After posting this, we were delighted when one of the original animators of the Shelly the Mermaid video discovered this article and contacted us with some more background info. Kevin MacLean is a long-time animator at Walt Disney Disney Animation Studios. He had the privilege of working on this way back in 1997.
Will Vinton Studios in Portland, Oregon produced the animation during the summer of '97.  Vinton was famous for the Claymation California Raisins and the Dominos Noid. Both of which are obvious "claymation" heroes of the late 20th century.
You can now find the entire animated short that aired at Disney's Animal Kingdom on YouTube.