We all have one. The ride we don't ride. The ride we avoid. The ride we forget.
You'd think that since I live here, it would be nothing but Soarin' and Space Mountain all the time, but it's fairly obvious why I don't hit those rides much. Wait times.
I always make it a point to see the new stuff at least once (even the Frozen Sing-a-long), but I tend to stick with something that is A) Good and B) Available.
It took me almost two years as a local before I finally checked off every single attraction. The guy who was obsessed with seeing everything when I came on vacation turned into a very discriminate tourist when I actually moved down.
When teams try to complete WDW46, there are a surprising number of occasions where teams are riding a ride for the first time (usually the Main Street Vehicles or Tom Sawyer Island).
It got me to thinking about my frequent ridership, and what are my least-visited attractions in the parks. I wonder how would compare to folks who come on vacation, or other locals. I expect the mileage will vary, but I'm certain these forgotten Disney attractions are on everyone's lowball list.
Magic Kingdom
Of all the parks, I have probably managed to spread the wealth around the most at Magic Kingdom. I rode Mansion a ton when I first moved down, but Pirates is probably the current winner. It tends to eat lines better than Mansion lately (thanks for nothing, FastPass+). The PeopleMover is also very high on the list.
But there is one attraction I avoid like the plague. It takes a great movie, and then chucks that greatness out the window for a chance to allow kids to tell grade-school jokes via the magic of text.
Monsters Inc. Laugh Floor.
I have probably seen this a grand total of 3 times in the ten years I have lived here. The jokes are forced, the theming is out of place, and with all the great Monsters Inc. material to choose from, they latched on to a Mike Wazowski burp joke that appears just before the credits.
Whenever I walk through Tomorrowland, this attraction might as well be an empty warehouse for all the attention I give it.
As a footnote, the AstroOrbitor is probably a very close second. I have zero tolerance for the wait time. I'm sure I've ridden it five times or less since moving down.
Yes, that means the Frontierland Shootin' Gallery is higher on the list.
Animal Kingdom
The most frequent ride for me is far and away the Safari, which is odd, since it usually has some of the longer lines in the park. But it was a good FastPass deal (old FastPass), and usually a walk-on in the evenings when we are most likely to visit.
Kali would be on the lower end of the spectrum because wet underwear in a theme park is not fun. But the champ is Primeval Whirl.
This unthemed rattling monstrosity is basically a Grand Inquisition torture machine, but without any of the redeeming qualities that Grand Inquisition torture machines typically have.
Unlike Monsters Inc. Laugh Floor, I am always very aware of Primeval Whirl when I'm in the park. Usually it's because I can't hear myself think, and also because there is a sense of abject evil emanating from it, the way pea-soup vomit emanates from Linda Blair's head.
Side note: With it's limited show times, I have seen Flights of Wonder about the same number of times that I have ridden Primeval Whirl. But Flights of Wonder never crawled out of a sewer and ate my dog, so Primeval Whirl is the winner.
Disney's Hollywood Studios
Star Tours is running away with the popularity award. Like the Safari at Animal Kingdom, we always seem to end up on Star Tours during an evening at the Studios.
On the low-end of the spectrum, I am surprisingly light on Toy Story Mania. That killer, killer line is a real turn-off. Somewhere between 5 and 10 times.
But nothing can hold a candle to Beauty and the Beast Live on Stage. I've seen this a whopping two times in 10 years. The first time was simply to cross it off the list as the very last attraction I experienced as a local.
The second time was to let my son see it, because he had been bad that day and needed to be punished.
Okay, I'm being harsh. Beauty and the Beast is no Primeval Whirl, since the first time you see it it is tolerable and does not cause zombie snakes to infest your home. But subsequent viewings are just intolerable. The theater is hot and miserable, the characters are expressionless in their foam heads, and everything about it exudes blandness.
Epcot
Spaceship Earth and Nemo lead the popularity contest here. I'm also good for a turn on Living with the Land.
The movie presentations fare the worst. O Canada, Impressions de France, and Circle of Life are probably between 3-5 times each. American Adventure is about 5 times as well (awkward show times and length).
I assume we're not going to count Innoventions. I don't go out of my way to experience every little corporate slideshow. I'll usually do an exhibit once, but I don't often repeat it. Playing the Playstations for five minutes counts as "doing something" right?
Your Epcot grand winner? Wonders of China.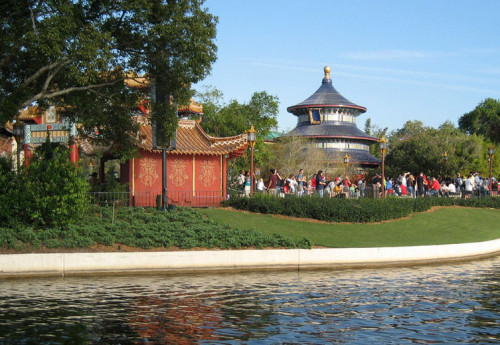 Up until last month, I had seen it only once, and actually made a special trip to see it again, just so that it wouldn't be rated worse than Beauty and the Beast. It's my least favorite of the World Showcase attractions, probably because it does not show one of the Three Amigos lacking self-awareness at how unfunny he has become.
But come on. It's not worse than Beauty and the Beast Live on Stage.
What Are Your Forgotten Disney Attractions?
So I'm curious… whether you're an infrequent visitor or if you go all the time—what wins the prize for your most Forgotten Disney Attraction?