Back in the days of War and Depression (pre-television), the children of the world had only two doorways to Fantasyland.
The first was through the magic of the movies on the silver screen.
The second was by being named Diane or Sharon Disney.
It was not until Disneyland that kids could actually step through Alice's Looking Glass without slicing their feet to ribbons. And sometimes the Other Side can be a pretty strange place. If you really could journey to Neverland, what sort of world would you find there?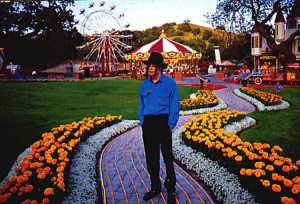 Parkeology has spent months examining every animated feature film in the vault. We have distilled the essence, coalesced the vapors, and arrived at the most basic theme park components for each film.
There has been a lot of good.
There has been some bad.
There has also been Chicken Little, but we are trying to forget that.
Now we are down to the final ten. The oldest films in the library. The venerable, aptly-named classics. These movies all pre-date Disneyland, and have had the most opportunity for exploitation. That makes them the best, right?
Don't hold your breath.
---
If you'd like to jump to any other point in the canon, click below.
#10 – Melody Time
What the…? Huh? What is this movie?
What true-blooded Disney fan does not remember this beloved anthology classic from 1948? This film is at the tail end of a very bizarre stretch for feature animation. While Walt's first handful of films were high-powered artistic masterpieces, that changed quickly when most of them failed to turn a profit.
As a stopgap, they started bundling short films into an anthology feature with a very loose through-line. For instance, the through-line to Melody Time was that all the stories had some music in them, and music has melodies. That is literally the only thing that Johnny Appleseed has in common with a tugboat named Little Toot.
We start at Storybook Circus in Florida, where they slapped the name "Melody Time" on some sort of weird pipe organ thing outside of Pete's Silly Sideshow. Pipe organs have music. Hence, melody.
Most of the film's individual segments have literally no attachment to the parks. You're not going to find an E-ticket based on a reading of the Joyce Kilmer poem "Trees."
The film is half-heartedly bailed out by having a Donald Duck/Jose Carioca short, and both of those characters have appeared in the parks (as we will see later). But listing them here is cheating.
Johnny Appleseed, the film's best segment, has an obscure reference in a Frontierland restaurant at best.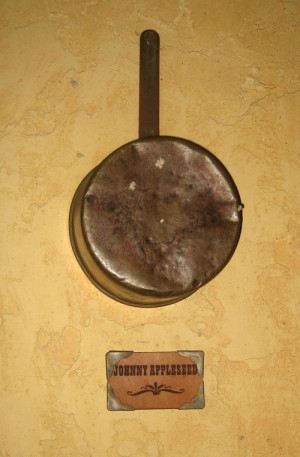 Fortunately, the last segment of Melody Time is about Pecos Bill, a cowboy who has his own Tall Tale Cafe in Frontierland at Magic Kingdom.
Of even more importance, Slue-Foot Sue (Pecos's girlfriend) emceed the Golden Horseshoe Saloon in Disneyland for decades, where she and her dancing girls would entertain travelers in Frontierland. Pecos Bill would interrupt the shoe show whenever it was time to sing some melodies.
A similar version was performed at Walt Disney World's Diamond Horseshoe, which also would lower a movie screen in this authentic Western dance hall to show the full-color sound cartoon.
#9 – Fun and Fancy Free
This anthology is another weird one. It consists of one segment you've heard of, one you haven't, and some interstitials starring Jiminy Cricket and some creepy ventriloquist dolls.
Jiminy is everywhere in the parks, but again, it's cheating to use him from this movie. The ventriloquist dolls are nowhere, thankfully.
The film's first segment is about Bongo the Circus Bear. Bongo is persona non grata in the parks. When Storybook Circus opened at the Magic Kingdom, they elected to use a national park bear named Humphrey as their ursine circus performer instead of Bongo. Famed Naturalist John Muir would not be pleased.
The second segment, however, is the classic story of Mickey and the Beanstalk. It features three anthropomorphic talking animals in the form of a dog, a mouse, and a duck, but the main draw is Willie the Giant and his beanstalk hideaway.
Sir Mickey's at the Magic Kingdom is bursting at the seams with references to this movie.
#8 – Make Mine Music
Good grief. It's bad enough that Disney used the tenuous plot line of "something with music" even once, let alone recycled it twice in the span of 3 movies.
There are no less than 10 segments in this anthology, and most of them are utterly forgettable.
Willie, the Whale Who Wanted to Sing at the Met, is one of the better ones. He gets his own poster in the queue area for Mickey's Philharmagic. And yes, this means Disney had back-to-back movies with gigantic characters named "Willie." They made up for this lack of creativity by including an evil music professor named Tetti-Tatti. His parents must have been cruel, cruel people.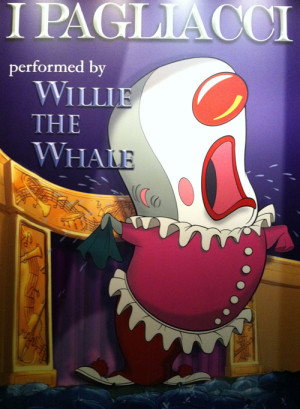 And yet we find a real inside-the-park home run buried among the wreckage of this movie. Casey at the Bat's titular hero has his own hot dog shop on Main Street, and it is home to the best dogs around.
As befits a sports star of his caliber, Casey also has his own midway game at Paradise Pier at Disney California Adventure.
Not bad for a guy who choked away more championships than Pete Carroll and Chris Webber combined.
#7 – The Three Caballeros
To get away from an ugly Studio strike, Walt and El Grupo went on a goodwill tour of South America. This anthology starring Donald, Jose, and Panchito is one of the results.
The Three Caballeros got their own Three Caballeros ride at Epcot, with the succinct title of Gran Fiesta Tour Starring the Three Caballeros (along with an Aracuan Bird cameo)
While that ride is the best representation of The Three Caballeros in the parks, there are others as well.
The Three Caballeros still do character appearances as well, and they also have their own Three Caballeros poster in Philharmagic. They hang out at the Three Caballeros pool at the All-Star Music Resort, and even before that they were salsa dancing in full audio-animatronic form during the Three Caballeros segment of the Mickey Mouse Revue. Disneyland has also added the Three Caballeros to It's a Small World.
But my favorite reference to the Three Caballeros is at Coronado Springs, which manages a Three Caballeros link without showing even a single Caballero.
Burrito, the donkey from the Flying Gauchito short in this movie, is happily carting some merchandise in the souvenir shop over there.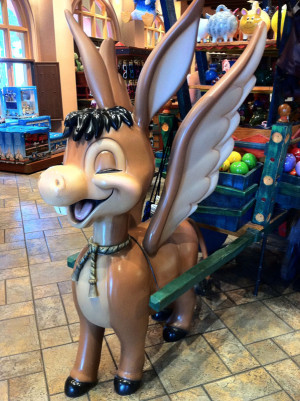 #6 – Saludos Amigos
So there was another South American package feature. This one not so good.
The Studio's star power is on display to help this movie across the finish line. Both Donald and Goofy show up, and this film was actually the debut of Jose Carioca (Two Caballeros?).
The film is ridiculously short at 42 minutes, and finding park material here is a chore. Fortunately, Parkeology already did a write-up on the best link to this movie.
Thrill to the discovery of Pedro the airplane as he appears on a gas can!
#5 – Bambi
Finally. The Final Five. And thankfully, they are all great films.
These are the ones you have known about ever since you could talk. Chances are these are some of the first movies you have ever watched. When the "Greatest Animated Feature Films of All Time" are discussed, these next five movies can't help but make the list.
Surely Disney has exploited these to the hilt. So let's see… Bambi…
Crap.
There's nothing.
You gotcha Thumper foam head. You gotcha Flower foam head. You gotcha Bambi topiary at Flower and Garden Festival. That's kind of it.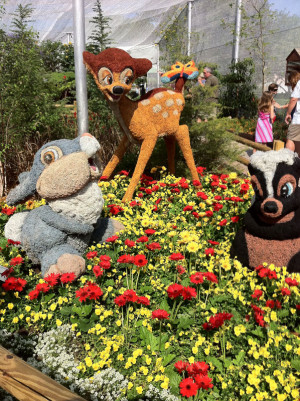 Disney has an entire theme park devoted to animals, and unless he's part of the decorating in Gaston's Tavern, Bambi has precious little.
A brief clip of this worthless deer and the bum rabbit can be seen in Fantasmic, in spectacular water-screen BlurryVision.
#4 – Dumbo
I'm sure if we all think really hard, we can come up with a ride based on this movie.
Ha! say the Disneylanders. We can think of two. And our Dumbo rides will be better than yours.
Dumbo the Flying Elephant appears at every Disney park on the planet, and also at several Six Flags, and sometimes Gatorland. Florida loves him so much they built two.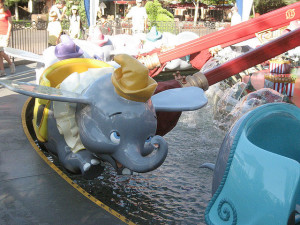 They also build an entire mini-land called Storybook Circus, which is really mostly about Dumbo, who never actually appeared in a traditional storybook. It has a Casey Junior Splash Zone, as well as a Big Top Toddler Energy Sucker, where your little one can blow off steam while waiting for the Dueling Dumbos.
Not to be outdone, Disneyland has featured Casey Junior as an actual ride since Day One, as has Disneyland Paris.
And Dumbo joined Tinker Bell and Jack Skellington's dog Zero as the only character to fly around Sleeping Beauty Castle during the fireworks.
Last but not least, Dumbo got his own booth at Paradise Pier's Games of the Boardwalk—and he had an original Dumbo fire-fighting game at DisneyQuest, which disappeared sometime after DisneyQuest stopped being relevant.
#3 – Fantasia
Since the Sorcerer's Apprentice is one of the segments of Fantasia (the original anthology feature!), one could go mad trying to catalog all the potential references in the parks. Sorcerer Mickey in Fantasmic, Sorcerer Mickey backstage on Main Street, Sorcerer Mickey in the Great Movie Ride, Sorcerer Mickey in SpectroMagic, Sorcerer Mickey destroying beautiful sightlines of the Chinese Theater. The list is endless.
Prefer a side of dancing hippos and crocodiles with your Fantasia entree? Take your pick from any parade float around.
And if you want a sampling of Pastoral Symphony, look no further than Storybookland at Disneyland Paris.
Maybe the Rite of Spring dinosaurs are more your thing. One of the most cleverly concealed references can be found in the Primeval Diorama at Disneyland or in Ellen's Energy Adventure at Epcot.
And let's not forget Chernabog, who joins in any time there's a Villain Party, whether it's Night on Bald Mountain music during the HalloWishes fireworks or hijacking Disneyland during Fantasmic. The crazy demon was famous for popping out of his own float on SpectroMagic.
The Contemporary Resort has both a Fantasia Market and a Fantasia Ballroom. And those two-handed broomsticks show up at the Fantasia pool at the All Star Movies Resort. The brooms have also been featured as outdoor garden gnomes at Disney's Hollywood Studios, and they get their own segment during Mickey's Philharmagic.
For that matter, the sorcerer's hat is the main plot device in that film.
But we never got that full-on Fantasia ride. No boat ride through the Pastoral Symphony or a track-less Dance of the Sugar Plum Fairy. We got something better.
We got mini-golf.
Eighteen Holes of Pure Fantasia Bliss at the Fantasia Gardens right across the street from Disney's Hollywood Studios. This course is actually a gold mine for obscure Fantasia references. Water-spouting brooms are de rigueur of course, but the Gardens also has time to set up the under-represented parts of the movie, such as the abstract Toccata and Fugue segment. It even gives Fantasia names such as Ave Maria and Yen Sid to its un-themed Fairways course.
And one of the picnic pavilions is named Dancing Hippo. Which sounds like a nice place to eat.
#2 – Pinocchio
Pinocchio is one of the most featured animated films in the parks. You have the walkarounds—Pinocchio, Gepetto, Jiminy, Foulfellow, and Gideon. Stromboli and Lampwick have also appeared at various times, and the Blue Fairy gets to kick off SpectroMagic and Wishes.
Jiminy Cricket is everywhere, from fireworks hosting duties, to environmental buttons at Animal Kingdom, to those little reminders in your hotel room not to waste money on towels.
At Magic Kingdom and Disneyland, Pinocchio gets his own Fantasyland restaurant, while in Tokyo the goldfish Cleo somehow gets a snack stand.
Figaro the cat appears as an animatronic at Fantasy Faire at Disneyland. He is also a popular merchandise item.
Gepetto's village shows up in Storybookland at Disneyland, but of course the big attraction is Monstro the Whale (an honorary purple whale), who literally swallows your boat to begin the ride.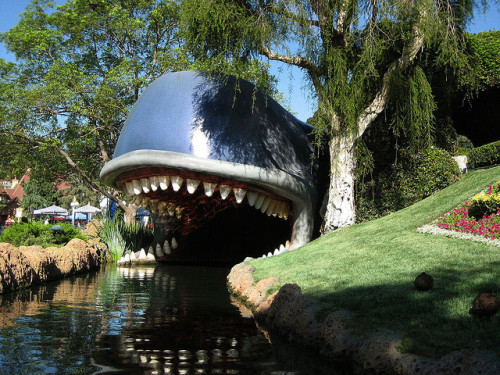 And while not renowned as the greatest of the Fantasyland dark rides, Pinocchio does manage to get his own attraction in California, Paris, and Tokyo.
But I admit I have a soft spot for one very special part of Pinocchio, that has permeated the parks and left its mark everywhere. Indeed, it is hard to imagine the theme parks without this.
When You Wish Upon a Star is the most beautiful anthem a theme park could hope for. Ever since it was used in the opening credits for the Disneyland TV show, the song has been a theme park mainstay, performed by marching bands, fireworks arrangements, and even tooted out of the smokestacks of the Disney Cruise Line.
It may not have been written for the theme parks, but it is my favorite theme park song.
#1 – Snow White and the Seven Dwarfs
Snow White is nearly 80 years old, but that hasn't stopped Disney from opening a brand new family rollercoaster in Florida based on this story—where it consistently draws the biggest lines in the park. Not bad for an octogenarian.
The story is simple. A damsel in distress. A hideous witch. And seven lovable bachelors. Before their Mine Train became the hottest ticket in Orlando, the seven dwarfs had their own diamond mine shop in Fantasyland. And they are a real crowd pleaser during parades, especially in their illuminated Main Street Electrical Parade get-up, with Dopey driving a serpentine mine train.
If the witch is more your thing, you can find the old hag everywhere. She's a key figure during Fantasmic, obviously, and she towers over visitors to the Candy Cauldron at Downtown Disney Springs.
Even corporate drones get in on the act. Outside of Team Disney in Orlando, the Seven Dwarfs can be seen in abstract cut-out form, along with the phrase "Heigh Ho, It's Off to Work We Go…"
The Snow White Grotto at Disneyland (and later Tokyo and Hong Kong) forms the basis for a nice bit of company lore. The statues were donated anonymously—and Snow White is the same height as the dwarfs.
The new Mine Train ride is nice for what it is, but it cannot compare to the classic dark ride attraction Snow White's Adventures (or occasionally Snow White's Scary Adventures). I have grown very fond of this attraction in recent years, especially since its passing at Walt Disney World. Those Fantasyland dark rides are the perfect middle-ground Disney attraction (well, maybe). And Snow White is right up there with Toad, Alice, Pooh, and Ariel.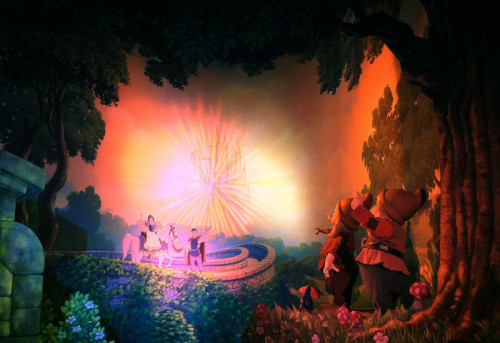 Conclusion
So now we've come to the end of this series, maneuvering our way through every nook and cranny to track down the best use of the animated feature films. Looking back through the list at all the references, it's exhausting just thinking about it.
So before we decide to do a series about every Apple Dumpling Gang movie or something, tell me… what did we miss?