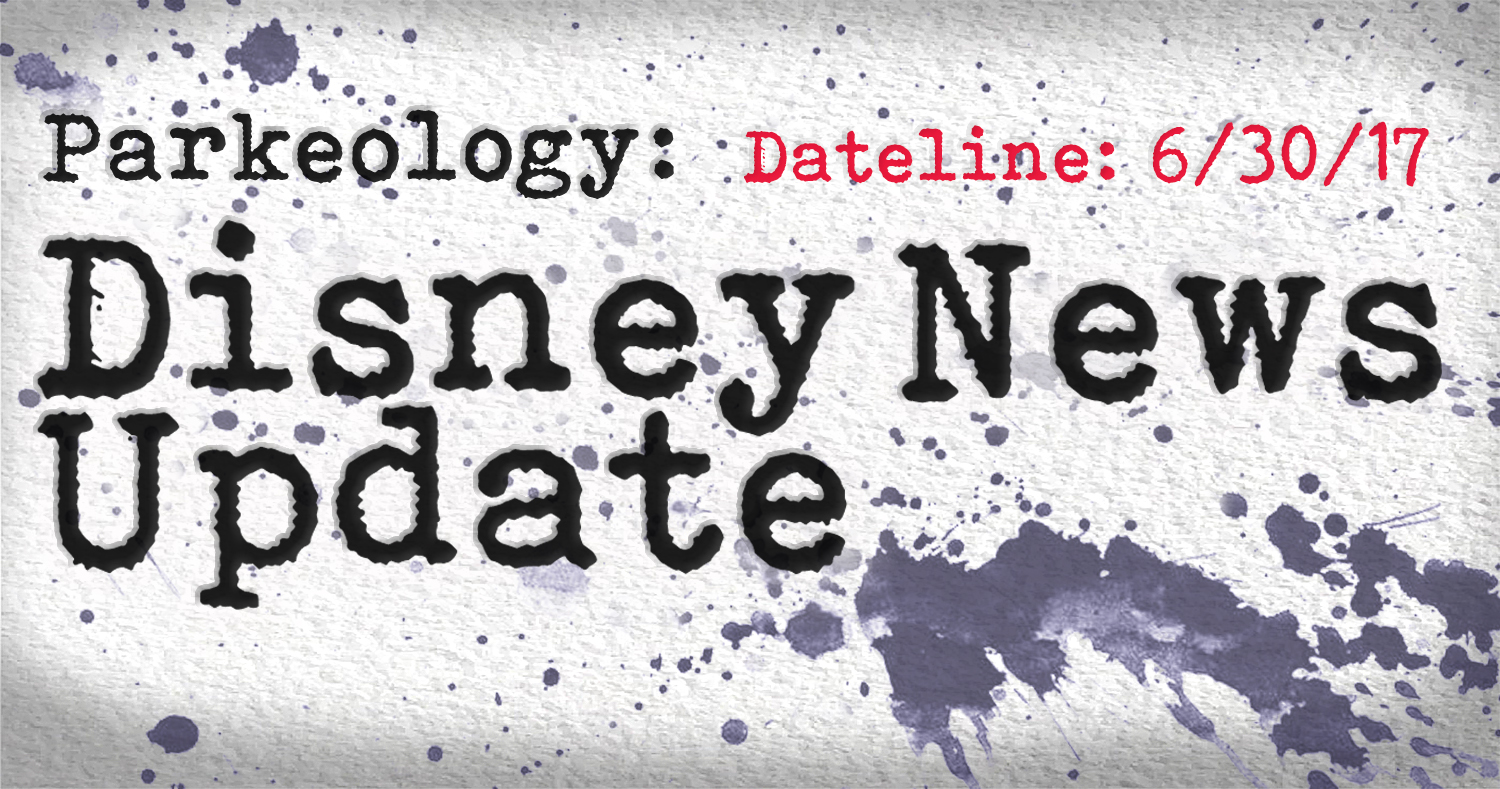 With lots of big events soon to be announced at D-23 we thought it was about time to start a semi-regular column covering some of our thoughts on the current Disney news. We know that everyone's feeds get inundated with Disney PR as is, but we hope to cut through some of the haze. Don't expect updates on the newest luggage handling procedures or soda refill controversies though, we know our limits.
More PC changes coming to stateside Pirates
Yesterday Disney announced that both the original Pirates of the Caribbean attraction at Disneyland as well as its Walt Disney World counterpart would have the bride auction scene reworked to remove offensive or degrading depictions of women. Only they did not say that, what they said was that they were "enhancing" the ride and that they are constantly looking to update attractions in order to delight guests. Now let's get this out of the way; nothing about this will delight anyone. We understand the position Disney has been in; it is a huge multinational family entertainment publically traded company. For over 50 years they have had what is perhaps their signature attraction showcasing rape and sexual slavery, it is hard to believe that they have allowed it to stay this long.
What bothers us is not that they are removing this scene (well that bothers us as well) but rather how Disney seems to try and hide the motivation behind the move. They trotted out now retired former head of Walt Disney Imagineering (who was present for the creation of the original ride) Marty Sklar to say: "To me, the Imagineers are simply reflecting what Walt started the day Disneyland opened—making changes that create exciting new experiences for our guests." Frankly, it is all a bit insulting. Why not spin it in a different way? Why not tell the truth and say that Disney does not feel comfortable showcasing women in this way, that the world has changed (for the better) quite a bit from the mid-century to now and Disney is simply adjusting to reflect their current attitudes?
Maybe worst of all is the way the new scene is being changed. Rather then removing the old figures and replacing them with all new ones at least some (if not all) of the old figures will remain, oddly reworked to fit the new auction motif. Rather than grizzled pirates bidding on "brides" (wink-wink) they will be competing for treasure and livestock. The famous redhead has now joined the pirate brigade. None of it makes any sense, not within historical context or even the comedic context of the attraction. Pirates did not steal treasure only to auction it back to other members of their crew. Nor did pirates deal in livestock auctions. Reviewing the concept art reveals a scene that appears to be straight out of an episode of Antiques Roadshow as folks line up to have rare antiquities appraised. The former "wenches" now carry portraits in gilded gold frames, chandeliers, and even a full sized grandfather clock, nothing says adventures on the untamed high seas like Victorian era horology!
Listen, we really do understand, as much as we loved the original that attraction has been gone for years. As soon as they altered the chase scenes and then added Johnny Depp the tone and charm were destroyed. The fact that the auction scene slipped by the previous alterations is actually quite stunning. There is precious little left of what was once the greatest attraction ever made. Perhaps they would be better off retiring the whole attraction and replacing it with a version of the movie based Pirates of the Caribbean attraction that premiered last year at Shanghai Disneyland. That ride avoids any and all controversy and is a modern showcase of what Disney can do, no rape, slavery or general misogyny to be found.
Hall of Presidents Delayed opening
Speaking of Misogyny…
This week Disney had to issue a press statement denying previously published reports that the revamped Hall of Presidents would relegate President Trump to a nonspeaking role. Disney insisted that despite the delay (the attraction was first slated to reopen this week) that everything was on track and that the Trump animatronic (as was the case with the past several presidents) would indeed address the audience with a speech. It has been rumored that Trump's team have wanted more control over the speech and that Disney has been forced to negotiate stricter terms than with past presidents. We actually predicted all of this last year months prior to the election (check it out here).
We are not so much concerned with the actual show (Disney will doubtlessly produce a milquetoast show that could not be offensive to anyone), as we are with the reaction from the crowds. Loathe him or love him Trump is an extremely polarizing character (I would guess Lincoln may have been a tad more so but still Trump is up there). We hope that once the show does open and robotic Trump takes the stage to deliver his message of America first that the crowds on both sides show respect and dignity for one another. It is not hard to imagine cheers, jeers, chants and worse breaking out within the theater. I have actually heard boos (though rare) during past shows as a president or two may not jibe with an audience member, but we think we will be entering uncharted territory here. Sadly it is virtually impossible to underestimate just how stupidly people can act and I hope Disney has some plans to handle this. Extra security? Maybe rousing music loud enough to drown out the audience? Perhaps the Muppets will have an unexpected appearance crashing through the set as Trump is being introduced in order to add some levity and distraction? It should be interesting regardless.
Speaking of Trump and the Hall of Presidents it got us thinking that the Trump figure may be the worst Audio-Animatronic of all time. Why? Not because reproducing his hair presents an unbelievable technical challenge, but rather because those tasked with creating this new version of the show almost surely did not vote for Donald Trump. These are after all a bunch of artists from Southern California, which is not exactly Trump territory. Nearly 70% of the population of California voted against Trump in the 2016 presidential election, if you break that down by county and specific demographics it gets even more lopsided. We have no idea what political preferences the individual Imagineers working on this have but it is very likely that they do not like President Trump or his policies. Yes, these are professionals and I am sure they can put politics aside but when you have no passion for your work it is very difficult to produce great results. If we are being cynical we could imagine intentional sabotage, maybe the figure's hands get made just a tad smaller then the other presidents on stage?
New Marquee for the Muppets
Yesterday Disney also unveiled a new marquee going up on the Muppetvision building over at Disney Hollywood Studios. Rather than the previous Six Flags-like sign the new one is actually themed to a theater and belter fits the feel of the park and the attraction. It is worth noting only inasmuch as it confirms that Disney is sticking with the Muppets and actually improving it. It is good to see them throwing a bit of love to this attraction, especially with so many higher profile projects going on. Nice.
Ratatouille coming to Epcot?
Yet more good news! Rumors are rampant that the Ratatouille attraction from Disney Studios Paris (the worst park Disney has ever been associated with) is coming to the France pavilion at World Showcase in Epcot. While the attraction itself is not quite as spectacular as we would like it would still be a welcome addition to the park (and perhaps they would improve the new version).
Currently the France Pavilion features a 35-year-old movie (starring some awesome sheep) that has never been substantially updated. Unlike the awkward fit of cramming a fictional character from a fictional country into the Norway Pavilion Ratatouille is not only based in modern Paris but the city is prominently featured throughout the film. At the French park Imagineers more or less recreated a mini version of the French World Showcase pavilion to set the attraction in, it would be a perfect fit here. Adding new rides while replacing outdated movies is never something we are going to complain about, we hope this turns out to be true and may have more on this topic soon.
Avatar finally opens
Lastly I wanted to touch on the opening of Pandora: The World of Avatar at Disney's Animal Kingdom. This is hardly news as it has been open for a while and has enjoyed a great deal of hype but I am happy to report that the headlining attraction there: Flight of Passage lives up to any and all hype. It is an incredible attraction that far exceeds any past simulator based rides and immediately propels itself to the top of any "best of" list out there.
Rather than discussing the details of the land and its attractions (there is more than enough of that out there) I would like to mention an aspect of Pandora that is both a little uncomfortable and also fascinating: it is the most overtly sexual area Disney has ever built.
I know this sounds a bit insane but the amount of phallic symbolism within the land is overwhelming, too many instances to count. One of the first thing guests encounter when entering the land is a huge throbbing semi-erect flower that guests vigorously rub until it erupts with a gush of water spraying from the tip.
On Flight of Passage guests straddle seats that reveal themselves to be "banshees" the flying dragons from the film Avatar. In the movie the native inhabitants of Pandora (the Na'vi) physically connect to the banshees with an intimate pairing. On the ride guests feel the creatures heaving and heavily breathing as they squeeze their legs tightly onto the torsos of the beasts before thrusting and gyrating over the moon of Pandora. One may feel they need a cigarette afterwards.
Everywhere you look are mushroom headed alien flowers and various alien plant life that could easily be interpreted as something one might find in a middle school "health" textbook. Even the food offerings join the fun; the jiggly blue orbs offered for dessert would be great served as a pair, 'nuff said. It is of course all completely harmless and perhaps reflects the natural feel the Imagineers were going for but maybe 50 Shades of Blue would be a better name for the land!
That's it for today, what are your thoughts on the news of the day?