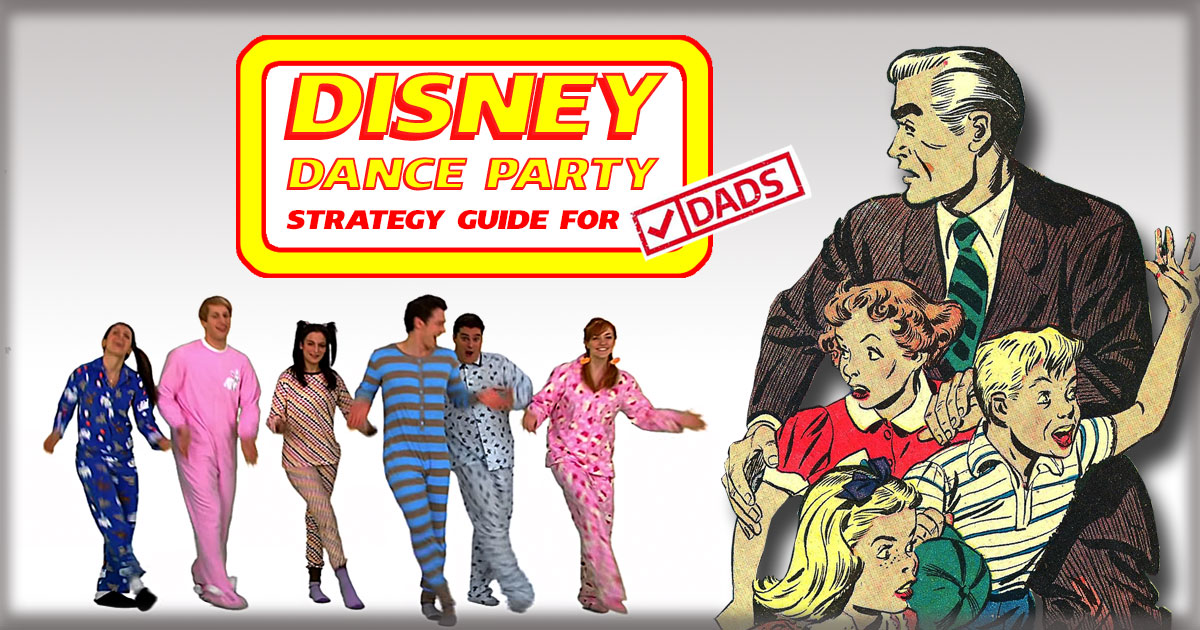 Hey, all you dads! Are you ready for a Disney Dance Party?
You grew up in an era when theme park vacations meant old-fashioned thrills like Expedition Everest or sideshow exhibits like the Living Seas. But those quaint amusements are a thing of the past. Today's modern, sophisticated theme parks run on the high-octane energy of bodies in motion.
Wide-eyed toddler bodies.
In diapers.
Gyrating to pop music.
While a giant chipmunk staggers drunkenly nearby.
Your kids think you're too lame to understand. After all, your generation still thinks fake submarine rides are the pinnacle of immersive entertainment.
But don't worry! Parkeology is here to help.
With this handy strategy guide, you'll not only own the Disney Dance Party floor, you'll win the respect of your children, be the envy of your fellow dads, and possibly even arouse the amorous affections of your wife.
Plan Before You Bust a Move
A day at the parks used to involve riding a bunch of primitive mechanical conveyances through contrived theatrical scenarios. Those cute diversions still exist today. Some of them will even draw the occasional light crowd.
But there are no fewer than 64 Disney Dance Parties happening on Walt Disney World property this very minute.
If you want to experience every one of them, you need a plan.
Showtimes are critical. Disney dance parties can spontaneously appear after dark. But they are also known to kick-off at 2pm in the middle of Tomorrowland, when the sun is at its zenith, the glare is like a surgical lamp, and your sneakers are melting into the pavement.
It doesn't matter if the temperature exceeds Mount Vesuvius. It is always a good time to trot out some fur-covered reprobates. Especially if it means the Pembroke family from Minneapolis can get their groove on.
Make sure to prioritize the daytime shows when you can. Not just the Incredibles Super Shindig Dance Party* at Hollywood Studios and the Beat the Heat DJ Party* at Disney Springs, but also the Move It! Shake It! MousekeDance It! Street Party* at Magic Kingdom and the Disney Du Jour Dance Party* at Epcot.
Pro Tip!
Only one Disney Dance Party is available on Disney's FastPass+ system. Make sure to reserve your spot for the Disney Junior Dance Party!* (exclamation point!) at least 60 days out.
Or you may find yourself without a date to the ball, so to speak.
Disney Dance Party Dress Code
In bygone times, dads could power through a week at Disney World with little more than a swimsuit, a couple of polos, and a pair of sensible shoes. Hokey timeless attractions like Buzz Lightyear Space Ranger Spin and Test Track didn't ask for anything more.
Things are different now.
To properly experience a Disney Dance Party vacation, you need to put in time at the fitting room. Count on shelling out hundreds of dollars for your daughter's ultimate princess cosplay experience. Add another couple hundred for Junior's Disco Jedi ensemble.
Most dads can cover these basics. But when it comes to their own wardrobe, they fall short.
Cargo shorts and t-shirts may have been fine for back in the day, when all you had to worry about was the occasional spitting camel on the carpet ride.
But you are playing with the big boys now. And you can bet that all of them know the difference between Millennium Pink, Rose Gold, and Purple Potion.
Mouse ears in the latest trend color are an acceptable (if somewhat pedestrian) accessory. A coordinated t-shirt with your wife is a better choice, preferably referencing you as a "Beast" or "Her Prince."
Some dads can also get by with the occasional child glorification shirt, such as one that proclaims "My daughter is my favorite Disney princess." This coordinates well with the $300 polyester gown your toddler is currently sweating through.
Shirts referencing the "Most Expensive Day Ever" are right on the cusp of bad taste. Avoid them.
For those who do not wish to publicize that they have spent thousands of dollars to fly across the country for a dance party with Elastigirl, non-Disney attire is allowed — as long as it can be reasonably classified as "dapper."
Please, leave your oversized Goofy and Mad Hatter hats at home. The 1990s are best forgotten.
Pro Tip!
If you plan to tack on a Disney Dance Party Cruise after your Disney Dance Party vacation, themed attire is de rigueur.
You should plan for as many as four separate outfits to accommodate the Star Wars Galactic Dance Party*, the Marvel Day At Sea Deck Party*, the Pirate Night Dance Party, or Mickey and Minnie's Surprise Party at Sea.*
Be Sure to Tip the DJ
All Disney Dance Parties are hosted by the same DJ. He has a fleet of high-speed limos whisking him across property from one dance party to the next.
He's very good at his job. And if you befriend him with a little something extra, he can give your dance game a boost.
He will spin it for you one more time.
He can raise the roof just for you.
And he will cheer deliriously when you take it back now y'all, one hop this time.
This man is your king. He may be a manic depressive alcoholic with severe regrets about his career choice, but if you take care of him, he won't call you out every time you botch Cotton Eye Joe.
Pro Tip!
You run the risk of showing too much of the playbook at Animal Kingdom, where no fewer than four separate Disney Dance Parties may have you fraternizing with the same competition.
Donald's Dino Bash* dance party, Burudika* dance party, the Discovery Island Carnivale*, and the Hakuna Matata Time Dance Party* will be packed to the gills with families who are basically professionals. They will quickly learn your weakness.
Our best advice is to have a set of go-to distractions available, so that you can camouflage your weakest songs. Videoing mom as she awkwardly works her way through Single Ladies is a good way to sit one out.
If all else fails, pull your brood off the dance floor by feigning an argument with your tween over her inappropriate attire.
Your Kid Is Not Cute Enough
It's time for some brutal honestly.
That little girl with the ringlet hair and the wide blue eyes. With her adorable giggle and her mom's sassiness. This little genius who could spell by age 2 and was composing symphonies in kindergarten. This sunshine of your life, who says her prayers every night with the family dog and always shares her pudding with her little brother…
She's maybe a 6 out of 10.
Princess Tiana will ignore her to dance with some other beautiful waif.
Sully is likely to step on her. And the second time, it will be intentional.
Pluto will deliberately run away to play peekaboo with someone else's little darling.
She might have a chance with that buck-toothed, slack-jawed Country Bear at one of the impromptu Frontierland hoe-down dance parties*, but let's get real. It's only because you're paying him.
The characters don't mind interacting with each other, because Tigger has a thing for Daisy Duck, who used to date Captain Hook. There's a lot of pent up energy that comes from wrapping a hormonal college kid in a fur onesie in the middle of June.
Just don't expect them to spend any of that energy on your kid.
Characters at Disney dance parties are trained to avoid children at all costs. Especially your child, who smells like parasitic bacterial gunk from running through the Casey Jr. Splash Zone too many times.
You will need to work hard to make her believe that she is having a good time. Judicious photo framing techniques can help. In the moment, she may be upset that Jessie the Yodeling Cowgirl shunned her like all those stuck-up upper city girls at Day Care. But when you view the pictures back at the hotel and see her dancing in front of a slightly blurry Baloo with his back turned, she may be convinced that it was all a great time.
If you can afford it, spring for tickets to the Club Villain Dance Party* at Hollywood Studios, the Not So Scary Halloween Dance Party* at Magic Kingdom, the Club Tinsel* dance party during Christmas time, or the Disney Vacation Club Moonlight Magic dance party*. The smaller crowds often mean more face time between your child and the theater major playing Cruella de Vil.
Pro Tip!
The H2O Glow* dance party at Typhoon Lagoon severely handicaps the character movement, due to all the sand and/or imminent death by wave pool.
With the right strategy, you can isolate individual characters from the herd and maneuver your child into their direct flight path. They will have no choice but to spend a few moments wagging their arms with the little munchkin as they silently scream for their handlers to rescue them.
Brush Up on the Dance Party Basics
Here at last is some good news!
We find that many dads lack confidence in their knowledge of current music trends. They are especially leery of popular dance. More than a few harbor deep suspicions that everything involves twerking.
Do not fear. At a Disney Dance Party, you will never encounter anything more intimidating than that Justin Timberlake song from the Trolls movie.
The Macarena. The Chicken Dance. The Electric Slide.
Practice these at home. Practice only these. You will literally not need any other dance move in your repertoire. And the good news is, you already have them.
Grandpas, you can rest easy as well. YMCA is still in heavy rotation.
You will find that as you go from party to party, you know more than you think you do. You may not understand Whip Nae Nae, but your six-year-old has probably performed it enough times that you can bluff your way through it in a pinch.
Every dad also gets a freebie, where they can pretend they are too cool for that dance. Gangnam Style is a good time to exercise this benefit.
Pro Tip!
Do not — I repeat, do not, under any circumstances — attempt to floss.
Conclusion
With all the Disney Dance Parties kicking into high gear this year, there has never been a better time to start saving for the vacation of your dreams.
It may seem overwhelming at first. But stick with the strategies offered here, and you will be well on your way to a trip your family will remember for a lifetime.
And if by some chance you get bored of all those dancing hordes, just remember that Walt Disney World also has many quiet places to escape.
For instance, Atlantic Dance Hall at Disney's BoardWalk is almost always empty.
See you on the dance floor!
We hope you enjoyed these hot tips. Be on the look out for our next self-help guide — Disney Drum Show Strategy Guide for Dads, featuring the latest tips on the JAMMitors**, Green Army Man Drum Corp**, Matsuriza Japanese Drummers**, and the Pandora World of Avatar Drum Circle!**
* Every single one of these is an actual Disney Dance Party. We wish we were joking.
** These are all real drum shows too. God help us.